As the Bank of Japan comes into focus - making tweaks to its stimulus program, it's worth paying attention to some of the key macro trends underway in this sometimes forgotten economy. Indeed, Japan may turn out to matter more than you think for global markets.
The chart of the week comes from a report on the broader macro view for Japan and the key asset classes (bonds, currency, and stockmarket).
The chart shows the longer term pace of GDP growth for Japan (with projections based on IMF forecasts) against the Japanese 10-year government bond yield. The key point is that the 10-year yield looks "too low" and were it to be trading more in line with the longer term pace of GDP growth would suggest a yield more in the order of 1% (vs. virtually zero right now).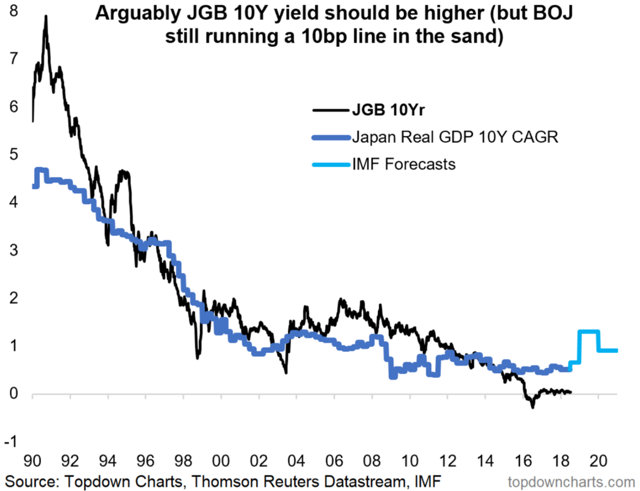 If you take the pace of longer term GDP growth as say a "neutral level" of the 10-year Japanese government bond yield, then you would say that the current level is out of line (and hence Japanese government bonds are expensive). Indeed looking further out, the IMF forecasts point to a further rise in bond yields over the medium-term (next 1-3 years) to beyond 1%.
This is particularly relevant given the just released BOJ meeting announcement where it will allow some "upward and downward movement" in the 10-year yield (although it also mentioned a wish/preference to keep yields low for an extended period of time).
For reference, the BOJ has up until now basically pegged the 10-year yield at 10bps (officially the wording is for the 10-year yield to trade around 0%). So if we do start to see it move beyond that 'line in the sand', that could be a trigger point for higher bond yields globally as it will be the signal that the BOJ is stepping away from Quantitative Easing (after already undertaking a stealth tapering).
This is probably the biggest upside risk to bond yields globally in the immediate term. So ignore this week's chart at your peril if you care at all about global bond yields (and you may not realize that you care about bond yields until after the fact!).
Disclosure: I/we have no positions in any stocks mentioned, and no plans to initiate any positions within the next 72 hours. I wrote this article myself, and it expresses my own opinions. I am not receiving compensation for it (other than from Seeking Alpha). I have no business relationship with any company whose stock is mentioned in this article.