Growth investing is a massively popular strategy, and for good reasons. In essence, a stock is simply a share in the ownership of a business, and businesses with superior growth rates tend to generate higher returns for investors over the long term. Besides, many of the most profitable stocks in the market over the past several years have been precisely high growth companies.
Most investors would agree on the fact that growth investing can be outstandingly profitable when done right, however, implementing a solid growth investing strategy is much easier said than done. A good idea without a strong implementation can do more harm than good to your portfolio, especially when it comes to growth investing, since high-growth companies tend to be particularly risky and volatile.
The following paragraphs introduce a quantitative system that looks for companies with consistently above-average revenue growth over different time frames, accelerating earnings growth, reasonable valuations, and strong momentum.
According to the backtested performance numbers, all those factors in combination can produce market beating returns over the long term. There is no infalible formula to successfully invest in growth stocks, but the quantitative system makes a lot of sense from a fundamental perspective.
Looking For The Best Growth Stocks
Even a mediocre company can generate attractive growth numbers when the wind is on its back and industry conditions are favourable. However, it takes a particularly strong business to outperform the industry over multiple time periods. The quantitative system starts with a screener that requires companies to deliver revenue growth rates above 50% of stocks in the industry over 3 different timeframes: The most recent quarter, a trailing twelve-month period, and the past three years.
Growth investors typically focus on revenue growth over earnings growth. This approach makes sense, since high growth companies are many times reinvesting most of their earnings, so current earnings numbers don't really tell the whole story about their long term earnings potential. On the other hand, it's important to avoid companies that face permanent difficulties when it comes to translating revenue growth into earnings growth over time.
In that spirit, the system also requires earnings growth trends to be improving. This means that the increase in earnings per share over both the most recent quarter and on a trailing twelve months basis needs to be higher than the average earnings growth rate over the past three years. The point is that the business should be making progress in terms of earnings growth.
Growth stocks typically trade at a valuation premium versus the overall market, since each dollar in earnings from a high growth business is obviously more valuable than a dollar in earnings from a low growth company. However, adding a valuation limit to the quantitative system can be quite useful to keep valuation risk under control.
The screener requires companies in the system to be above the best 50% in the industry in terms of the price to earnings growth (PEG) ratio. In this case the PEG ratio is calculated by dividing the forward PE ratio by the long term growth expectations in earnings.
Among the companies that meet the criteria above, the system invests in the 25 stocks with the strongest price momentum across different timeframes. Money has an opportunity cost, when you buy a stock with mediocre returns, that capital is not available for investing in companies with superior potential. Besides, winners tend to keep on winning in the stock market, so you want to invest in stocks that are not only doing well but also doing better than other alternatives. For this reason, the system focuses on stocks delivering above-average returns over different timeframes.
Summing up the selection criteria:
Sales growth above 50% of companies in the industry over the past quarter, on a trailing twelve months basis, and in the past three years.

Earnings growth in both the past quarter and on a trailing twelve months basis higher than the average earnings growth rate over the past three years.

Price to earnings growth ratio below 50% of companies in the industry.

Among the companies that meet the parameters above, the system buys 25 stocks with the strongest price momentum
Backtested Performance And Portfolio
The following backtest considers only companies with a market capitalization of more than $250 million and excluding over the counter stocks. This is to guarantee a minimum size and liquidity level for companies in the investable universe.
The backtest builds an equally-weighted portfolio with the 25 stocks recommended by the quantitative system, and it evaluates performance since 1999. The portfolio is rebalanced every four weeks, and it has an assumed annual expense ratio of 1% to account for trading expenses and similar considerations. The benchmark is the iShares Russell 1000 Growth ETF (IWF)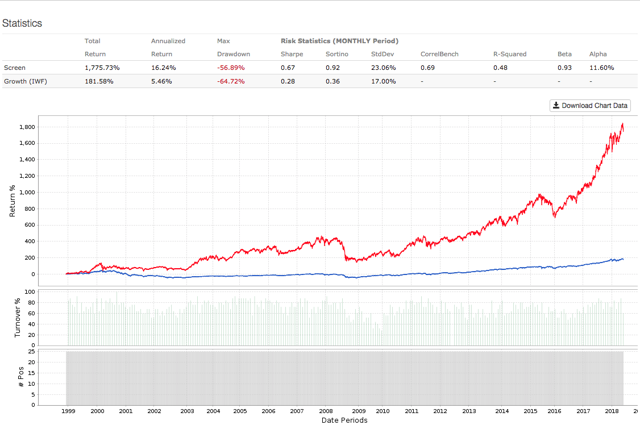 Data from S&P Global via Portfolio123
The quantitative system substantially outperformed the benchmark over the backesting period, annual return was 16.24% for the system versus 5.46% for the benchmark. In other words, a $100,000 investment in the iShares Russell 1000 Growth ETF in January of 1999 would currently be worth $281,600, and the same amount of capital allocated to the portfolio of growth stocks recommended by the quantitative system would have a much larger value of $1.87 million.
The table below shows the return statistics for the quantitative system versus the benchmark over different time periods.
| | | |
| --- | --- | --- |
| Return | System | Benchmark |
| Annualized | 16.24% | 5.46% |
| One Month | 1.72% | 3.67% |
| Three Month | 9.16% | 8.55% |
| One Year | 44.23% | 22.88% |
| Three Year | 86.31% | 52.68% |
| Five Year | 217.38% | 107.86% |
| Total | 1775.73% | 181.58% |
The table shows the 25 stocks currently selected by the quantitative system. Data in the table also shows the percentage increase in earnings per share over the most recent quarter.
| | |
| --- | --- |
| Name | EPS Growth % |
| ABIOMED (ABMD) | 137.8 |
| Allied Motion Technologies (AMOT) | 55.17 |
| BJ's Restaurants (BJRI) | 79.55 |
| DexCom (DXCM) | 42.86 |
| Domino's Pizza (DPZ) | 34.85 |
| Enanta Pharmaceuticals (ENTA) | 317.86 |
| Enova International (ENVA) | 48.57 |
| Ensign Group (ENSG) | 760 |
| Five Below (FIVE) | 160 |
| G III Apparel Group (GII) | 195.24 |
| Hailiang Education (HLG) | 60 |
| HAMILTON LANE (HLNE) | 1600 |
| Heron Therapeutics (HRTX) | 19 |
| lululemon athletica (LULU) | 139.13 |
| Mammoth Energy (TUSK) | 1053.85 |
| Neogen (NEOG) | 37.5 |
| Netflix (NFLX) | 466.67 |
| New Relic (NEWR) | 53.57 |
| Primo Water (PRMW) | 110.81 |
| Quidel Corp (QDEL) | 104.76 |
| Quotient (QTNT) | 36.23 |
| REGENXBIO (RGNX) | 470.73 |
| Tactile Systems Technology (TCMD) | 100 |
| Unicure NV (QURE) | 26.25 |
| WEX Inc (WEX) | 64.71 |
A quantitative system such as this has have both its strengths and weaknesses. The quantitative model can offer many interesting investing ideas supported by hard data, but investors need to be careful when evaluating a position in any of the stocks in the portfolio.
To begin with, growth stocks have performed particularly well over the past several years, and it would not be much of a surprise to see some kind of mean reversion in the relative performance of growth stocks versus the broad market in the years ahead. If growth stocks start underperforming the market averages, a quantitative system such as this one will probably deliver disappointing performance too.
Also, the system is relatively skewed towards sectors such as technology, biotech, and consumer discretionary. Whatever happens with these sectors will have a considerable impact on the quantitative system and its performance going forward.
Even more important, all quantitative systems are backward-looking by their own nature. A company's track record of growth can provide very important information, but growth investing is ultimately about looking through the windshield, not the rearview mirror.
The system can tell you that the company has outgrown most of its competitors over multiple timeframes, that earnings trends are improving, and that the price is not too excessive considering the company's growth prospects. However, the system does not tell you of the company can continue delivering above average growth rates in the future, and it certainly does not tell you if the stock is a right investment in accordance to your own investment strategy, specific needs, and risk tolerance levels.
The main point is that investors may want to consider a quantitative system such as this one as a potential source of ideas for further research. Even if the numbers look good, then you need to look at the company behind those numbers in order to tell if financial performance is sustainable or not into the future and if the stock is a right purchase for your own portfolio.
Past performance does not guarantee future returns, and only because a stock is included in the quantitative system, that doesn't mean that it will necessarily produce market-beating returns going forward.
That acknowledged, making investing decisions based on quantified data is certainly a sounder approach than relying on emotions and subjectivities when picking stocks. If the statistical evidence is any valid guide, it makes sense to expect attractive returns when investing in companies with consistently superior growth rates, improving earnings trends and vigorous momentum.
Capitalize on the power of data and technology to take the guesswork out of your investment decisions. Statistical research has proven that stocks and ETFs showing certain quantitative attributes tend to outperform the market over the long term. A subscription to The Data Driven Investor provides you access to profitable screeners and live portfolios based on these effective and time-proven return drivers. Forget about opinions and speculation, investing decisions based on cold-hard quantitative data can provide you superior returns with lower risk. Click here to get your free trial now.
Disclosure: I am/we are long NFLX. I wrote this article myself, and it expresses my own opinions. I am not receiving compensation for it (other than from Seeking Alpha). I have no business relationship with any company whose stock is mentioned in this article.