My last quarterly portfolio update was all about the drag of a heavy-weighting towards value stocks.
The last 3 months looked set for more of the same. For most of July, my picks were barely doing better than the rest of my portfolio. Then, I woke up one morning to this: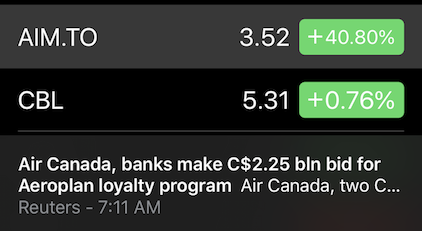 Since Aimia (OTCPK:GAPFF) is my largest single holding, this was enough for my picks to outperform the rest of my portfolio by more than 10% in July alone.
Aimia wasn't alone. CBL & Associates Properties (NYSE:CBL) also saw gains of over 50% from the bottom to the top during the last 3 months (as well as another dividend payment).
My greatest fear right now is that many of my top picks have gained too much. I know some of them are still at reasonable valuations, but it can be hard to buy more shares at twice the cost of my last trade!
Top Holdings
Aimia: +81.8% total return
I've left my position in Aimia mostly unchanged. It was already my largest, and I did some buying earlier this year when the prices were under $2. Air Canada's surprise offer validates my analysis that there is value in the business, but I didn't see this coming. I also missed the fact that Aimia might charter its own airplanes. But that's just a logical extension of the idea that it sells enough seats to secure discounts.
The optimistic scenario is that the share price could still triple from here. The buyout offer seems to have put a floor on the share price, but it could still fall back if the offer isn't bid up enough to close the deal. I still see long-term value, so in that case I would hold on and wait.
I bought some December call options at $3 and $4 strike prices, since the potential for a higher buyout bid could cause a rapid jump in the stock price. If I lose the premiums completely, they are still small relative to the profits.
It has become increasingly clear that there is real value here and that the new board and CEO are working to create more (following many of the steps I outlined in my articles 6 months ago). I don't see long-term shareholders taking any big losses from the current price.
Home Capital (OTCPK:HMCBF): +10.5%
This one has continued a slow recovery towards the recent highs. The news has died down almost completely, but each quarterly report shows more improvements in the business. It seems to be overcapitalized, and I know the board is considering dividends or buybacks once the business is more stable. That could be the major driver for an increase in the stock price, and we may see 50-100% gains from current levels.
CBL & Associates Properties: +34.7%
The profits on CBL continue to be boosted by steady dividends. I didn't quite buy at the lows this year, but it's still looking good. I've started to add more shares, since I didn't have a large position, but I'm doing it slowly, since the price keeps rising lately! I still see the potential for a multiple of the current stock price if the company continues to deliver improved results. We will probably see the first signs in the next 12 months.
Washington Prime Group (NYSE:WPG): 30.2%
The performance here has been in line with CBL, but I still see less potential due to the tighter free cash flow and the consistently higher valuation. The share price has risen as well in the last quarter. I can see potential for a doubling from here, but I won't put in more unless it gets a lot cheaper.
Netflix (NASDAQ:NFLX): +76.4%
It was nice to see the price drop back a bit from the highs. Even though it's well above my first purchase last year, I bought some more shares late in July once it started coming down. I now believe even more strongly in the potential of the business. I know it's dangerous to have your confidence increase along with the share price, but I can't deny the top-quality execution, the dominant brand, and the untapped opportunities.
Amazon (NASDAQ:AMZN): +82.7%
This one has been a consistent winner - and I've barely owned it for a year! I could see Amazon stock falling if there's a major bust, but it could rise quite a bit first, so I didn't want to wait for that. With Jeff Bezos hitting record levels of wealth, the business shows no signs of slowing down its aggressive growth or giving up its dominant position.
Shopify (NYSE:SHOP): +59.2%
I briefly saw this double my original investment, but the last week has hit the stock hard. As a result, I bought more shares in the last days of July. This is a perfect fit for my goal of buying good stocks when they are temporarily out of favor (at least in a relative sense). I don't expect that one quarter of slightly weaker results is going to materially alter the business, and the growth rate is still high.
Shopify is a very volatile stock, but even if it surges back quickly, I won't sell. Given the quality of execution and the size of the market it is in, the market cap is still very small. Long-term gains of 5x-10x from current prices still seem possible.
Booking (NASDAQ:BKNG): +16.2%
Not much activity here. I'd like to see a big price drop, since it seems like a well-run business that I need to investigate more.
Berkshire Hathaway (BRK.A, BRK.B): +19.1%
I added more shares, since the P/B ratio has come down to a good level recently. I'm hoping Berkshire gets some more buying opportunities soon!
Other Holdings
I still hold mostly the same collection of smaller positions:
I sold off a couple of small holdings that I was buying just to learn more about them, with gains for the most part.
I sold AMC to buy more Netflix shares, then bought it back again at a lower price after reading some good arguments in its favour in the latest quarterly letter from Mittleman (the biggest proponents of Aimia shares at the moment). It's still a small position, but I would look into it more if I need to find something new to invest in.
Major Changes: Added Capital
I added another 20% to the invested capital over the last 3 months, pretty much all in the stocks I was already holding. This is my preferred strategy with concentrated positions in just a few top stocks. It allows me to dig in to new information and continue analyzing the businesses without having to start over on new stocks all the time.
I want to minimize the work for myself, so I mostly want stocks that I can hold for a long time. I can jump into a new stock quickly like I did with Aimia, but I usually want to be buying things I'm familiar with.
The returns here are adjusted for the new capital, since it mostly came at the end of July. Going forward, I'll continue measuring unadjusted total returns for individual stocks and month-to-month total returns for the portfolio as a whole.
Do I Even Have A Plan?
The strategy here may seem confusing. Can I even claim to be sane when I'm buying shopping mall operators and Amazon in the same portfolio?
I don't follow strict rules in my picks. Those can be misleading, since the market often gives you false signals. My biggest criterion is that I can understand provable reasons why the business will generate future cash flow well in excess of the current price, and there are enough alternatives to protect the value if something goes wrong.
Some of this is based on personal experience. I know Aimia's business well because I'm a customer (and I frequently use competitors as well). I can compare Shopify's metrics to my business and marketing experience to measure how good their management is.
In the end, I just want to find the best few stocks. They may not be perfect, but I don't see a lot of alternatives right now that measure up to these.
The reasons they are good can vary. Aimia and Home Capital got into positions where they could create a positive return even with mediocre management. On the other hand, Amazon and Shopify would be much smaller and growing a lot slower if it weren't for their world-class management. I can't set any hard rules on what I look for.
Overall Performance
My stock picks portfolio gained more than 22% over the past 3 months. The rest of my investment portfolio gained less than 4% during the same time. That is a healthy sign that it could meet my goal of earning 15% per year. No one knows what the next quarter will bring though!
Of course, it's easy to point to others who have seen much larger gains. I'm comfortable avoiding those because I've done a lot of research to make sure I don't run the risk of major losses that most growth stocks (or cryptocurrencies) have.
In turn, this means I can invest more in these stocks, get larger profits, and go on rolling those profits into other good stocks. When you take a risk and end up with a large loss, you also lose a lifetime of gains on that money.
After sticking to index funds for over 10 years, it's hard to limit the capital that I put into these stocks. I see a lot of potential in them and a good measure of safety. Even in a big downturn, these could do well. Some of them have seen big losses already, and others are positioned to keep growing.
Right now, my picks are about 1/4th of my investment portfolio and they're posting solid returns. This seems like a good place to be.
Disclosure: I am/we are long ALL OF THE ABOVE. I wrote this article myself, and it expresses my own opinions. I am not receiving compensation for it (other than from Seeking Alpha). I have no business relationship with any company whose stock is mentioned in this article.
Editor's Note: This article discusses one or more securities that do not trade on a major U.S. exchange. Please be aware of the risks associated with these stocks.