Dividend growth icon The Procter & Gamble Company (NYSE:PG) closed out its fiscal 2018 before the opening bell on Tuesday morning. This quarter was the latest update in Procter & Gamble's journey to return to its growing ways. With the stock initially trading lower in pre-market hours on organic sales figures that missed analyst estimates, the stock ended the session higher after it announced planned price increases for select brands. A strong change of direction, a price increase is a bold move as P&G searches for stronger sales growth.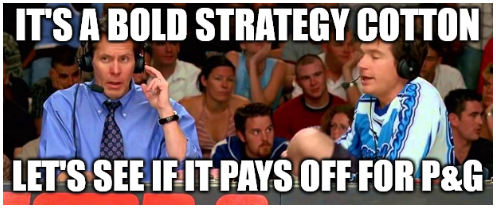 P&G had a mixed result when it released fourth quarter earnings Tuesday morning. While the company beat on the bottom line with earnings per share of $0.94 (a beat of $0.04 per share), the company slightly missed on revenue growth with total sales for the quarter at $16.5B (a slight miss of $40M). Since this quarter represented the close of the fiscal year for P&G, full year results were available. Core earnings for the full year were $4.22 per share, which represented 8% year over year growth.
The main issue I want to focus on, is what sent shares more than 2% lower pre-market. Sales for the quarter came in soft at 1% growth year over year, which were under expectations of about 1.7%. Furthermore, the company set sales growth at flat to 1% (2-3% if you pull out FX and charges) in its forecast for fiscal year 2019.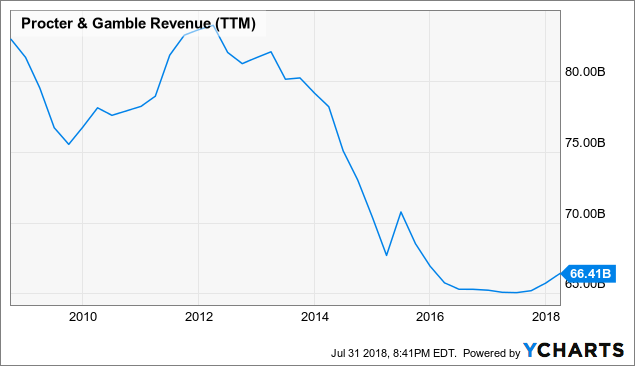 In the earnings call P&G President and CEO Mr. David S. Taylor takes a few moments to touch on the company's performance, focusing on sales growth results. He highlights some geographic and product based areas of growth in the company, and proceeds to discuss the importance of marketing effectiveness, cost cutting, and operational efficiencies. While this is all fine, I can't help but come back around to a theme of growth shortcomings surrounded by buzz words from previous calls.
It wasn't until Procter & Gamble arrived at its 2019 plans that investors sat up and applauded management for its plans to increase prices on select products:
We're taking a price increase of around 4% on Pampers diapers in North America. Just yesterday, we began notifying customers across North America that we're taking a list price increase on Bounty, Charmin, and Puffs brands, which averages around 5% across the category on an annual basis. Bounty and Charmin pricing will be effective October 31, and Puffs in February.

As commodity prices and foreign exchange rates continue to move, we'll take pricing when the degree of cost impact warrants it and competitive realities allow it. There is uncertainty and will be volatility with these pricing moves. They will negatively impact consumption. We'll have to adjust as we go and as we learn.

Against this backdrop, we're currently expecting organic sales growth in the range of 2% to 3% for fiscal 2019. We expect organic sales growth to be driven by organic volume growth. Pricing will start the year as a drag on sales growth but should turn positive by the end of the fiscal year."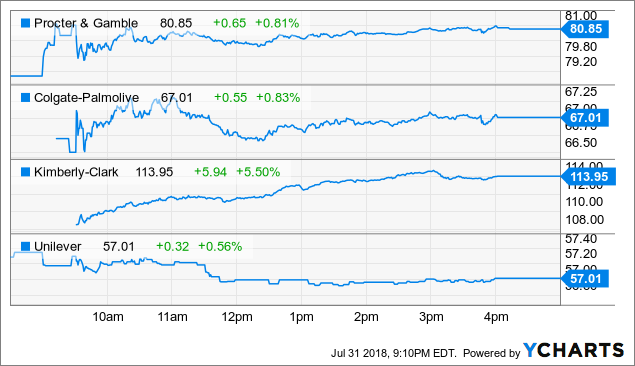 The news sent Procter & Gamble into the green for the session in addition to its peer group (potential margin expansion as peers raise prices in response). The price increases will be spread out as a trio of straight increases, promotion reductions, and packaging alterations. With this news, there are three key points to consider.
#1 Consumers Will Probably Notice
Customers don't like paying the same price, and receiving less in return. In fact, our brains are wired to recognize receiving less of something, than noticing when we are given more of something. As soon as customers notice that prices have gone up - either on the price tag, or via smaller packaging, they may not respond kindly. Management acknowledges this in the middle paragraph of my earnings call snippet. Management is banking on the fact that the strong economy has consumer spending up to the point where shoppers may not mind paying more for brand name products. This takes us to our next point.
#2 Price Increases May Not Last
This is a step in a completely different direction after Procter & Gamble's attempt to grow sales through discounts ended up squeezing margins. This strategy could easily backfire and be pulled. The price increase strategy partially relies on consumers not revolting and damaging volumes more than the increases are helping sales. Another factor is dependent on P&G not losing market share to competitors who may choose to act aggressively in the wake of P&G's price increases. This applies to name brand competitors, as well as generic brands.
#3 Failure Could Result In Some Tough Decisions
Procter & Gamble is running out of growth strategies as it tries to finally turn the ship in the direction of healthy revenue growth. P&G's pricing decision is essentially a bet on the brand power that it speaks to in every earnings call and presentation. If this strategy fails, the company may have to ponder some drastic measures (such as divesting some major brands) if it wants to return to growth. A fear of the investment community remains that this iconic company is still too big for its own good after slimming down over recent years.
Cash Flows Are Slowly Getting Stretched
P&G still converts approximately 14% of its revenues into FCF, which has gotten the company by for a long time. Despite the revenue struggles, P&G continues to raise its dividend with a growth streak that now stands at 62 years. Meanwhile, the company buys back a ton of stock every year to help nudge EPS forward. This is pretty standard procedure for a giant, stagnant company that still generates a lot of cash. Procter & Gamble is a glacier.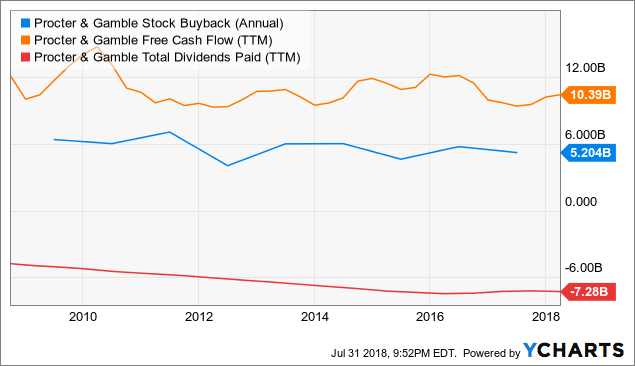 The lack of growth has started to slowly eat away at shareholder returns. The combined mix of dividend payments and buybacks exceeds cash flows.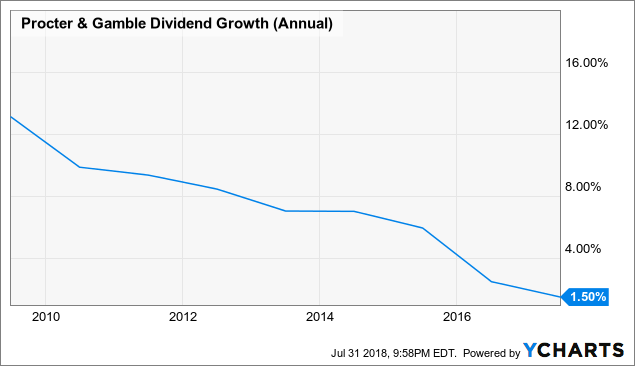 The dividend which grew at a 10 year CAGR of 7.2% has drastically decelerated over the past several years (most recent increase was 4%, not sure why Ycharts pegged it at 1.5%). The yield is still solid for income investors at 3.58% on current share prices, but the near term dividend growth is lacking.
Valuation
At approximately $81 per share, the stock is trading at 19X its TTM earnings. This is right in line with decade averages, while the dividend is a notch above decade norms with a 3.58% dividend yield versus 3.0%.
If we look at FCF yield, the current yield of 4.8% is actually near its high point over the last handful of years. The yield has only been near 4.80% a few times since 2013.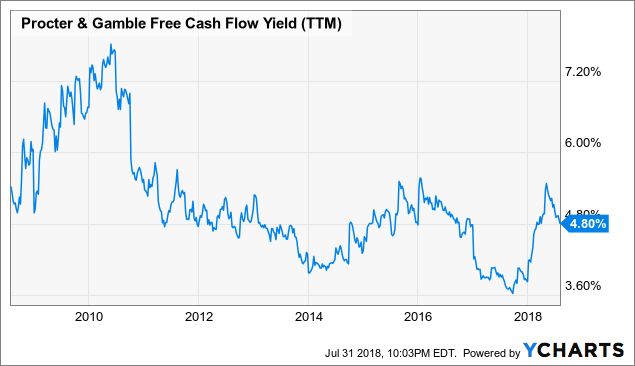 You could argue that by the numbers, Procter & Gamble is a decent value right now. The yield on cash flows isn't terrible relative to its past tendencies, while its earnings multiple is on par with norms as well.
However, I must circle back to the revenues struggles as a hang up point. Procter & Gamble is a wonderful example of what strong, steady cash flow generation can do for a stock. Even though P&G is unable to grow, its strong cash flows still fund dividend growth, and push EPS higher through massive share buybacks. The company is essentially financially engineering bottom line growth that moves the share price higher.
Wrapping Up
The ultimate decision on Procter & Gamble as an investment come down to the investor. The high cash flows that P&G is producing despite true growth are enough to maintain a low growth dividend (with solid yield), while buying back enough shares to eek out moderate EPS growth. If you are in it for the income, shares of P&G are fairly valued at current prices. If you are like me and want dividend growth coupled with total returns, P&G just isn't getting it done enough to warrant consideration.
This shift towards pricing increases is a calculated bet that has the potential to go either way for management. What is becoming clear however is that between the lines of "coach speak" regarding branding, costs, and efficiency, are subtle signs of distress. The company is running out of different ideas to attempt to spark revenue growth with. If this new strategy of price increases fails to deliver, management may be faced with some potentially drastic scenarios as P&G proves too big to turn.