The average one-day price change of the 1,000 or so stocks that have reported earnings this season has dipped into negative territory. This means that investors are on average taking profits in stocks on the first trading day following earnings. This is in stark contrast to gains seen in reaction to earnings reports over the last few quarters.
There have been major differences in price reactions to earnings by sector this season. Five sectors are seeing their stocks catch bids following earnings, while six are seeing declines.
Below we show the average one-day price change in reaction to earnings for stocks by sector so far this season. As shown, Consumer Staples and Industrials stocks are averaging gains of more than 1.2%, meaning investors are snapping up shares in these sectors immediately following earnings releases.
On the flip side, stocks in Telecom, Technology, Consumer Discretionary, and Financials are averaging declines on their earnings reaction days. The declines have been most prominent in Telecom and Technology, where the average stock that has reported has fallen more than 1% on its earnings reaction day.
Leading up to the current earnings season, the Technology sector could do no wrong, and it was up by far more than any sector on a year-to-date basis. It's only natural to see investors take some profits after a period of big gains, and it looks like they're using earnings news this quarter to do just that. It has been a "sell the news" environment for Tech earnings so far this season.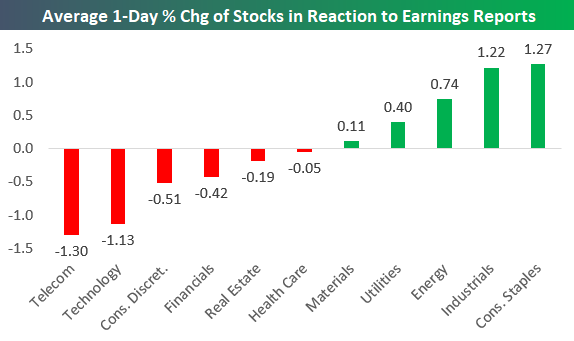 Earnings beat rates have had a minimal impact on the performance of stocks in reaction to earnings this season. Energy and Consumer Staples stocks are beating earnings estimates at the lowest rate, but they're both averaging one-day gains in reaction to their earnings reports. Tech stocks are beating at a very high rate of 75.9%, but as we noted above, they're getting sold off on the news.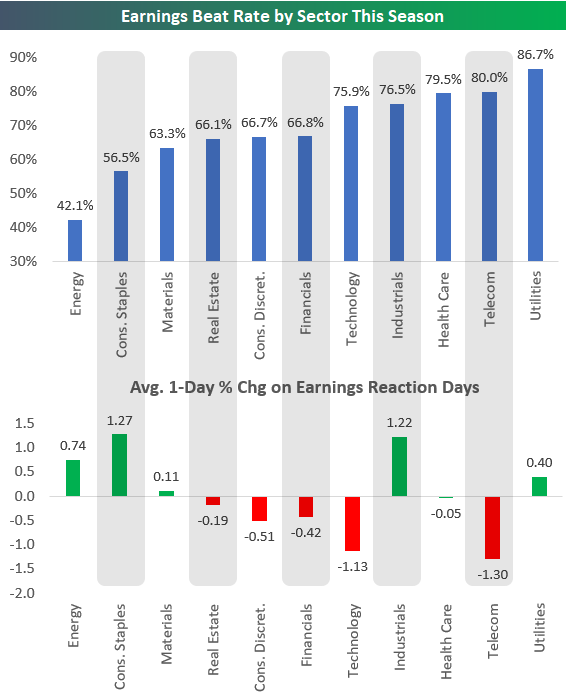 This article was written by
Bespoke Investment Group provides some of the most original content and intuitive thinking on the Street. Founded by Paul Hickey and Justin Walters, formerly of Birinyi Associates and creators of the acclaimed TickerSense blog, Bespoke offers multiple products that allow anyone, from institutions to the most modest investor, to gain the data and knowledge necessary to make intelligent and profitable investment decisions. Along with running their Think B.I.G. finance blog, Bespoke provides timely investment ideas through its Bespoke Premium (http://bespokepremium.com/) subscription service and also manages money (http://bespokepremium.com/mm) for high net worth individuals. Visit: Bespoke Investment Group (http://bespokeinvest.com/)