Summary
David Einhorn disclosed in his Q2 investor letter that his hedge funds were down 18.3% at the end of the first half.
In that letter, he wrote about getting SunEdison and Amazon wrong. Since I've written about both stocks in the past, I comment on them here, noting value investing's difficulty.
I also note that other approaches can do poorly too, including mine, and show my worst-performing portfolio so far this year.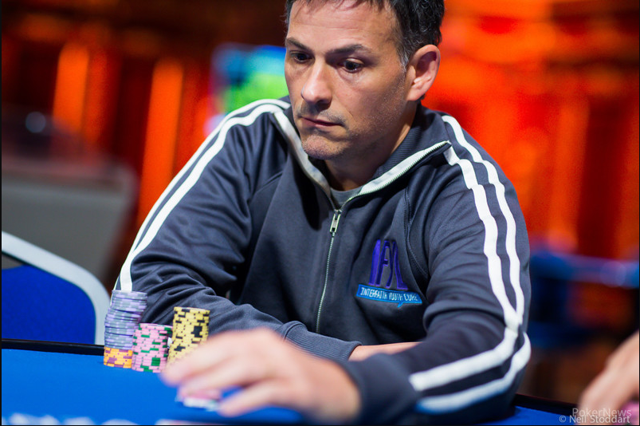 David Einhorn putting his chips on the table (via World Series Of Poker).
A Brutal First Half For A Top Value Investor
David Einhorn's Q2 letter to his Greenlight Capital's limited partners opened with a couple of sobering numbers: his funds were down 5.4% in the second quarter, making their first half return -18.3%. Since I've been presenting several portfolios each week to subscribers of my Marketplace service, it would have been easy to cherry-pick my best-performing one this year by way of comparison, but instead, I'm going to share the performance of my worst-performing one so far this year. The point of my comparison won't be to disparage Einhorn, but to contrast two approaches. First, though, I have a couple of comments on Einhorn's letter, as it mentions two names I've written about here in the past.
Einhorn On Amazon And Sun Edison
Einhorn addresses two investing mistakes of his over the last few years in the paragraph below, shorting Amazon (AMZN), and buying SunEdison (formerly (SUNE) and then (OTCPK:SUNEQ)):
Over the past three years, our results have been far worse than we could have imagined, and it's been a bull market to boot. Yes, we have made some obvious mistakes – the worst of which was not assessing that SunEdison was a fraud in 2015 – but there have been others. A number of years ago one of our investors said Amazon would surpass Apple and become the most valuable company in the world. We didn't get it then and, truthfully, we don't really get it now. But, there is a reasonable possibility that he will be proven right.
Readers may recall that I wrote about Einhorn's Amazon short at the beginning of 2016 (Einhorn Shorted Amazon - You Shouldn't), and SunEdison starting in September of 2015. In those articles, I noted that my site, Portfolio Armor, was bullish on Amazon, and bearish on SunEdison. Since then, Amazon is up 198%,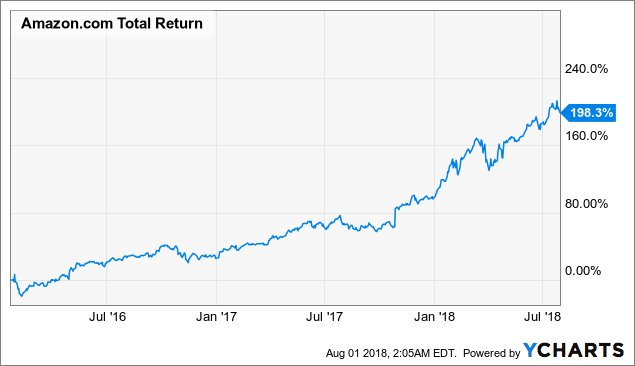 and SunEdison has gone bankrupt.
Einhorn deserves credit for acknowledging these mistakes; I don't mention them here to criticize him, but to point out how difficult value investing can be. That one of America's best value investors - one who wrote a book about sniffing out suspicious accounting practices - got caught in SunEdison illustrates that, as does the trajectory of Amazon since Einhorn's short. Looked at through the lens of value investing, it has been hard to see Amazon's strengths, as I've pointed out before (e.g., "Tell Me More About Amazon's P/E"). It was much easier to see that both stock market and options market investors were bullish on it.
My approach makes mistakes too (more on that in a moment), but it's a lot easier than value investing, since it avoids stocks that fail its initial two screens concerning total returns and options market sentiment (to simplify: it avoids stocks posting negative total returns over the mean of their most recent 6 months and average 6-month return over the last 10 years, and it avoids ones that are too expensive to hedge). But those two screens don't weed out all future poor performers, as you can see in my site's worst-performing portfolio so far this year.
Portfolio Armor's Worst Performing Portfolio This Year
This was one of the hedged portfolios I presented to my subscribers on February 1st. It contained CalAtlantic (CAA), Interactive Brokers (IBKR), Penn National Gaming (PENN), and United Rentals (URI) and primary securities, and added Accuray (ARAY) to absorb leftover cash from rounding down dollar amounts of the first four names to round lots.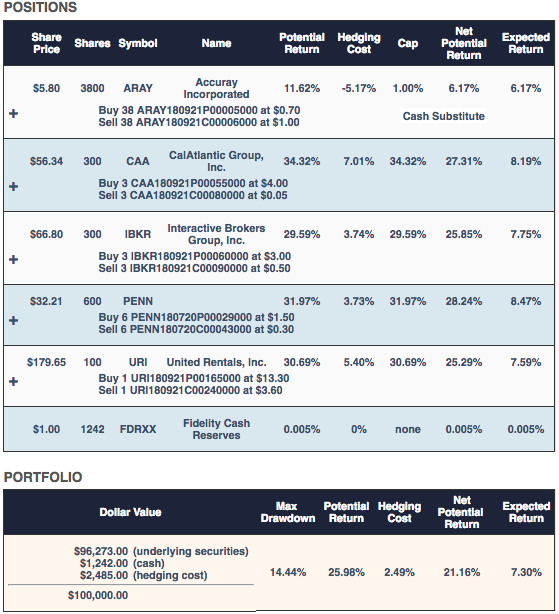 Each of those names subsequently did poorly. The portfolio exited CAA when it was acquired by Lennar (LEN); it was down about 3.5% on the CAA position at that point. You can see the performance so far of the other names in the chart below.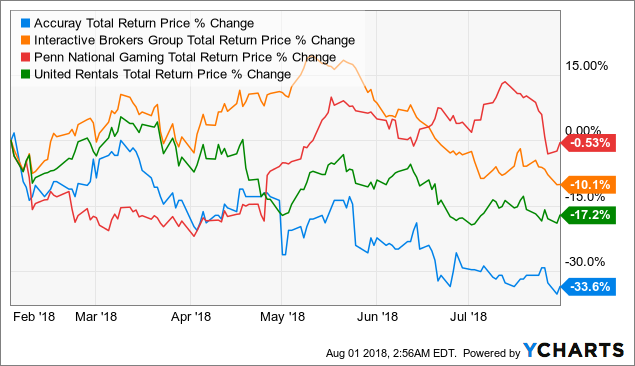 The portfolio itself was down 5.54% as of Tuesday's close, as its hedges limited the damage.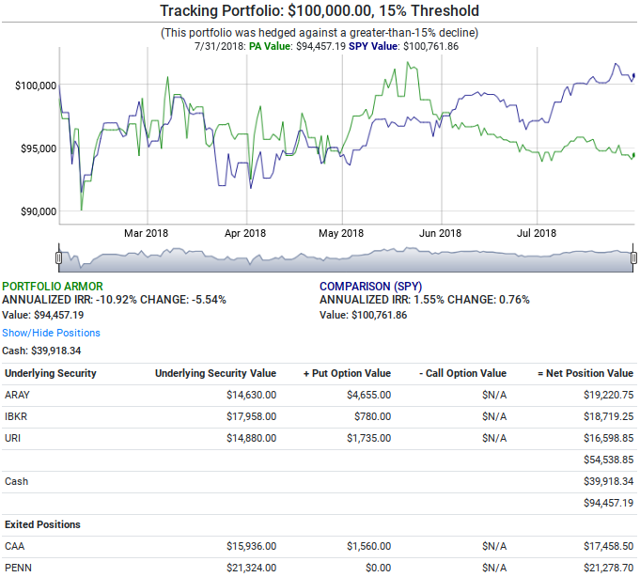 As this portfolio shows, my approach picks losers sometimes too (although, on average, its top names have outperformed the market. But hedging limits the downside when it does. And, more often than not, its portfolios tend to do well. For example, the other two portfolios I presented hedged against the same, greater-than-15% decline both posted strong 6-month returns (each portfolio lasts for 6 months):
PORTFOLIOS HEDGED AGAINST > 15.0% DECLINES
| Starting Date | Expected Return | Actual Return | SPY Return |
| --- | --- | --- | --- |
| April 23, 2017 | 6.74% | 15.45% | 10.25% |
| December 31, 2017 | 8.90% | 13.55% | 2.52% |
| Average | 7.82% | 14.50% | 6.39% |
Wrapping Up: Hedge Funds Often Don't Hedge
A reader recently expressed incredulity about this:
Hedge funds don't hedge? Or the thousands of PHDs they pay each millions of dollars to in order to devise hedging strategies couldn't come up with the extra special way to hedge their portfolios the way you do, or something better?
In response, I told him that hedge funds often don't hedge. It appears that Einhorn's didn't either. I can only speculate why that is, but I suspect that the value investing mentality militates against it. Value investors tend to be confident in their analysis, and view a decline in price as nothing more than Mr. Market panicking. My approach views a decline in price 6 months out as evidence that it got the pick wrong. And since it expects to get some picks wrong, it hedges all of them. The idea is to profit when the picks do well, and to not lose too much when they don't.
Since some portfolios, such as the one above, will do poorly, I suggest readers who can afford to do so split their money up and invest in one hedged portfolio now, and another in 3 months. that way, you'll have 4 entries per year (since each portfolio lasts 6 months), and you should generate competitive returns without losing more than you are willing to risk in any one portfolio.
To be transparent and accountable, I post a performance update for my Bulletproof Investing service every week. Here is the latest one: Performance Update - Week 35.
Disclosure: I/we have no positions in any stocks mentioned, and no plans to initiate any positions within the next 72 hours. I wrote this article myself, and it expresses my own opinions. I am not receiving compensation for it (other than from Seeking Alpha). I have no business relationship with any company whose stock is mentioned in this article.