Esperion: Elucidating The Upcoming Clinical Binaries
Summary
Esperion is innovating two promising novel medicines to potentially cut into the vast hyperlipidemia market.
Bempedoic acid is a first-in-class "prodrug" that demonstrated the strong LDL-cholesterol reduction. Combination of bempedoic acid and ezetimibe delivered even more robust clinical outcomes.
Two upcoming clinical binaries can catapult the shares to a higher level.
Members of my private investing community, Integrated BioSci Investing, can follow this idea, as well as my other top picks with access to my model portfolio. Start your free trial today >>

Esperion (NASDAQ:ESPR) is an interesting bioscience that piqued our interest due to the strong insider purchases. A member of Integrated BioSci Investing ("IBI") also requested us to conduct a research on this firm. That said, we'll share with readers the fruits of our research, which represent our efforts to assist IBI members in their own due diligence. As follows, Esperion is a growth company, powered by two highly promising oral molecules: bempedoic acid and bempedoic acid in combination with ezetimibe potentially used to manage high cholesterol (hypercholesterolemia). There are multiple ongoing developments that can improve the investing prospects. In this research, we'll present a fundamental analysis while focusing on the upcoming clinical binaries.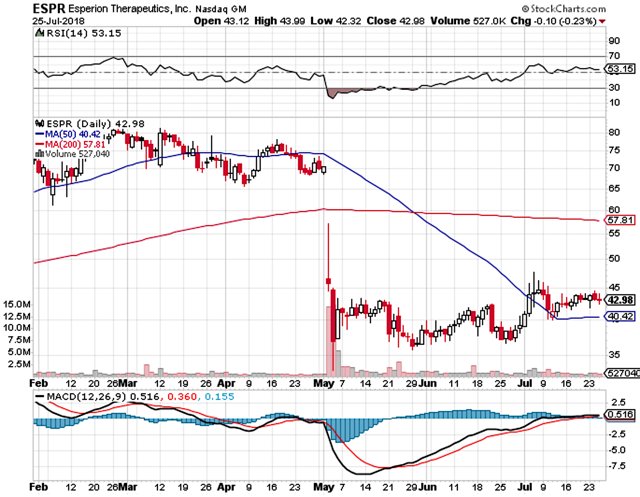 Figure 1: Esperion stock chart. (Source: StockCharts)
Fundamental Analysis
Based in Ann Arbor, Michigan, Esperion is focused on the innovation and commercialization of novel therapeutics to service the hyperlipidemia market. The company is developing two stellar molecules - oral pills of bempedoic acid and bempedoic acid with ezetimibe combination - potentially used to manage high LDL-cholesterol (LDL-cholesterol) associated with hyperlipidemia. Moreover, they seek to lower the heart disease (cardiovascular) risks associated with high blood cholesterol (Figure 2).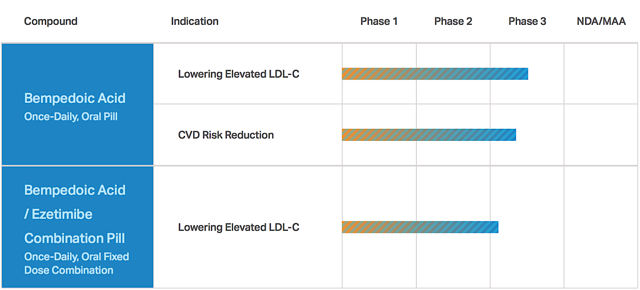 Figure 2: Therapeutic pipeline. (Source: Esperion)
Designed as a convenient once-daily, oral LDL-cholesterol lowering drug, bempedoic acid is potentially indicated for patients suffering from a specific form of hyperlipidemia (i.e., hypercholesterolemia or high LDL-cholesterol). As a first-in-class, bempedoic acid is a "pro-drug" that is converted into a coenzyme A (COA) derivative (i.e., ETC-1002-CoA) when entering circulation. ETC-1002-CoA then blocks a key enzyme - ATP citrate lyase (ACL) - that, in and of itself, provides the substrate for the cholesterol and fatty acid synthesis in the liver. Blocking ACL results in less cholesterol production in the midst of an upregulation of LDL receptor in the liver (Figure 3). Altogether, the end results are the lowering of LDL-cholesterol and reducing cardiovascular risks.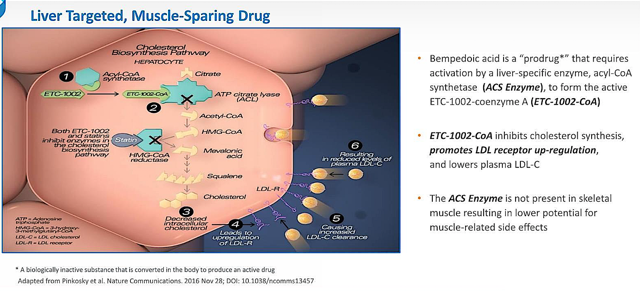 Figure 3: Bempedoic acid mechanism of action. (Source: Esperion)
The sound underlying science, as elucidated, translated into the robust clinical outcomes (as shown in the various studies outlined in Figure 4). Notably, bempedoic acid monotherapy resulted in the LDL-cholesterol reductions ranging from 20% to 28% in the phase II and III studies. The combination pill of bempedoic acid/ezetimibe demonstrated as much as 50% LDL-cholesterol reduction in the Phase II study.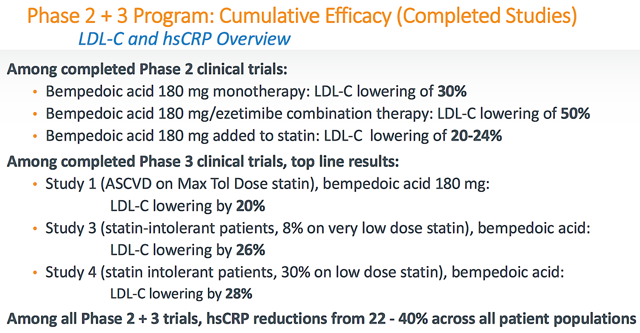 Figure 4: Clinical data of lead molecules. (Source: Esperion investor presentation)
Despite ongoing developments, the positive clinical outcomes of the first pivotal Phase III (Study 4 or 1002-048) trial is most notable in our view. In the study, the investigators assessed the efficacy and safety of bempedoic acid 180 mg compared to placebo - in hypercholesterolemia patient either suffering from atherosclerotic cardiovascular disease (ASCVD) or at high risk of developing ASCVD. Accordingly, bempedoic acid delivered the 28% and 33% LDL-cholesterol and hsCRP reductions, respectively. Commenting on the development, President and CEO Tim Mayleben noted,
The Lipid Management Team has made tremendous progress in 2018, with positive top-line results reported from two pivotal, Phase III studies and one Phase II study. The growing body of clinical evidence continues to demonstrate the potential value of bempedoic acid and the bempedoic acid /ezetimibe combination pill in delivering consistent LDL-cholesterol lowering in safe, well-tolerated, and convenient once-daily pills that are highly complementary to existing standard-of-care oral LDL-cholesterol lowering therapies. The stage is now set for the final three pivotal top-line data announcements - expected later this month and in Aug. and Sep. - rounding out what is sure to be a momentous year for Esperion.
For Q1 2018 (ended on March 31), Esperion posted a $46.1M net loss compared to $40.5M for the same period a year prior. The research and development (R&D) spending for the respective periods were $40.9M and $35.9M. The increase in R&D is expected as the lead drugs are progressing deep in their advance trials.
Investors should be cognizant that it is the norm for a relatively young bioscience like Esperion to incur significant losses for years prior to banking a net profit (due to the lengthy and low success rate of the innovation process). Nonetheless, it only takes one blockbuster to make your investment worthwhile.
Pertaining to the balance sheet, there was $239.6M in cash and marketable securities, a 12.4% improvement from the $273.6M for the same comparison. Based on the $46.8M burn rate, there should be adequate cash to fund operations into Q1 2020 (prior to any additional financing). And, this should be enough to finance the lead drugs through their approval.
Warren Buffett stated that two excellent analysts can assess the same company and come up with distinct figures. Hence, one should take valuation within its appropriate context. To minimize subjectivity, we employed the comparative market analytical method of gauging similar firms to give investors a rough estimate of an investment's value. Per Table 1, Esperion is currently valued at only $1.1B in market cap, which is comparable to peers (hence, potentially indicating a favorable valuation).
| | |
| --- | --- |
| Companies | Market capitalization |
| Esperion (ESPR) | $1.1B |
| | $4.3B |
| | $112.0M |
Table 1: Comparative market analysis. (Source: Dr. Tran BioSci)
According to the Former Fidelity-Magellan Manager Peter Lynch, "Insiders might sell their shares for any number of reasons, but they buy them for only one they think the price will rise." On July 12, 2018, the 10% owner (Biotech Target) purchased 50.0K shares for $2.0M and thereby increased their stakes to 3.2M shares. The same insider also executed another same purchase for $2.0M back on July 03, 2018 (Table 2).

Table 2: Notable insider transactions. (Source: Openinsider)
Final Remarks
Esperion is brewing two promising oral pills - bempedoic acid and bempedoic acid/ezetimibe - for the treatment of hypercholesterolemia. Our analytical research revealed that these drugs are the keys to whether Esperion will deliver the big profits for shareholders. In terms of investment risks, the main concern for Esperion is if bempedoic acid and its combination medicine will deliver the positive clinical outcomes for the two Phase III studies (1002-047 and 1002FDC-053) in Aug. and Sep., respectively. It is reasonable to expect the share price to tumble over 50% in case of a negative clinical outcome and vice versa. Moreover, even if the aforesaid medicine will be approved, it might not generate substantial sales due to market competition and other unforeseen variables, as said. Last but not least, the highly asymmetric rewards to risks warrant a small speculative bet in Esperion.
Author's Notes: We're honored that you took the time to read our market intelligence. Founded by Dr. Hung Tran, MD, MS, CNPR, (in collaborations with Analyst Vu, and other PhDs), Integrated BioSci Investing ("IBI") is delivering stellar returns. To name a few, Nektar, Spectrum, Atara, Madrigal and Kite procured over 179%, 177%, 168%, 212%, and 83% profits, respectively. Our secret sauce is extreme due diligence with expert data analysis. The service features a once-weekly exclusive Alpha-Intelligence article, daily analysis/consulting, and model portfolios. Of note, there is an IBI version of this article that is a higher-level intelligence with extensive details, which we published in advance and exclusively for our subscribers. And, we invite you to subscribe to our marketplace now to lock in the current price and save money for the future.
This article was written by
The #1 Biotech Service for Growth Investing and Catalyst Power Trading
As an astute devotee of Warren Buffet, Ben Graham, Phillip Fisher, Sir John Templeton, and Peter Lynch, Dr. Harvey devoured any resources/books on these gurus to learn their craft for over two decades. In the process, he refined their investment approaches specifically to biotech and founded Integrated BioSci Investing: The Number #1 Biotech Service for Long-Term Growth Investing and Power Catalyst Trading. 

Since inception, our flagship portfolio has delivered over 31.23% annual average (i.e. 187.39% for roughly six years). As you can appreciate, we're adept at assisting and serving institutional/retail investors/traders who are looking for alpha. Dividend investors wanting to boost your return can also benefit greatly from our investment research. We currently have over 20 docs in our service for us to tap into their clinical insight for your gains.

Check out some of our binary event forecasts that lead to meteoric gain like the 359% single-day pop from Madrigal Pharmaceuticals (MDGL)'s NASH data release. During his training at the world-renown Columbia University, Harvey Tran, M.D., M.S., developed a passion/edge for analyzing the intricacies of various preclinical/clinical studies, biostatistics, and science/medicine. Importantly, it allowed the physician-scientist Harvey to realize the internal working of various therapeutic in-development that the market tends to overlook.

In recent years, Dr. Harvey founded and led two healthcare roll-up companies. The endeavor helped him gain deep insight into the inner working of a corporate board. His experience as a consultant to common/professional investors and institutions gave him a huge advantage in biotech analysis. The combination of elite training and a passion for biotech provided Dr. Harvey with an aptitude for delivering highly accurate clinical data forecasting that is crucial to picking winning biotech investments for you.

Follow us for the latest research. And, take our FREE 2-week trial to Integrated BioSci Investing to start your winning process now!

Check out Dr. Harvey's LinkTree for his complete experience. You can make your one good decision a year as Mr. Buffett recommended by checking out  Integrated BioSci Investing!
Analyst's Disclosure: I/we have no positions in any stocks mentioned, and no plans to initiate any positions within the next 72 hours. I wrote this article myself, and it expresses my own opinions. I am not receiving compensation for it (other than from Seeking Alpha). I have no business relationship with any company whose stock is mentioned in this article.

Our research articles are best used as starting points in your own due diligence. We are not registered investment advisors and our articles are not construed as professional investment advice.
Seeking Alpha's Disclosure: Past performance is no guarantee of future results. No recommendation or advice is being given as to whether any investment is suitable for a particular investor. Any views or opinions expressed above may not reflect those of Seeking Alpha as a whole. Seeking Alpha is not a licensed securities dealer, broker or US investment adviser or investment bank. Our analysts are third party authors that include both professional investors and individual investors who may not be licensed or certified by any institute or regulatory body.