Lessons From The 99.9% Drop In MoviePass
Summary
HMNY has seen a struggling stock price as shares have fallen 99.9%.
The business appears to now be showing signs of operational struggles as well.
Despite trading at an implied market cap of around $1 million, HMNY continues to be a sell based on its poor business model.
Shares continue to have 100% downside to zero.
Helios & Matheson Analytics (OTC:HMNY) has seen a dramatic 99.9% drop since I wrote that this was going to zero. While not quite yet at zero, shares trade below a dollar again, even after a gigantic 1 for 250 reverse stock split. This places its valuation around an astounding $1 million. The recent operational issues and emergency short term loan show very clearly how much this company is struggling. In this article, I discuss the key lessons to take away from this investment experience. As for my rating for HMNY, I reiterate an important truth. Despite already falling as close to the earth as one might think feasibly possible, shares always have 100% downside to zero.

Don't Play The "Greater Fool" Game
The first lesson is in regards to my initial buy thesis, a lapse in judgment which I am not particularly proud of. My thesis was as follows: HMNY would maybe acquire a large enough subscriber base at which point they would maybe be able to negotiate concessions which would maybe allow them to operate profitably. There are a lot of "maybe's" in this thesis which I would address only later after I lost money. The lesson I learned here was that Wall Street does not reward a half-baked thesis, at least not consistently. It's a fool's game to buy something just because one thinks that someone else will pay up for it. That's exactly what I was doing when I bought HMNY thinking that my thesis which had poor odds of coming true would be enough to send shares higher from other investors who are willing to pay more for that lottery ticket.
It's Never Too Late To Change Your Thesis
After I stopped to think critically about my thesis, it suddenly hit me that I had it all wrong. I was completely wrong. But here's the problem - shares had fallen 50% since my call and my position was down about 12% (as I had initiated my long position by selling puts). It's hard to close a position out at a loss, but it's never good to hold something just because it "might" go back up. Since then, shares have fallen 99.9%, showing that we must remember that there's always the potential for more losses: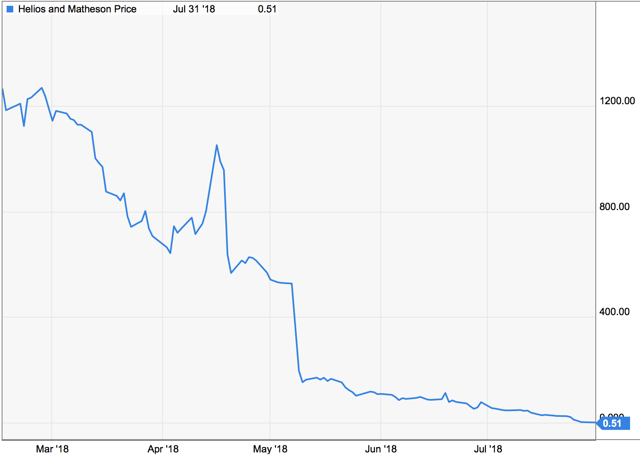 (Ycharts)
Subscriber Growth Isn't Enough
HMNY bulls may have been counting on HMNY seeing lofty valuations solely based on subscriber growth, similarly to Netflix (NFLX). The truth however is that HMNY is no NFLX as HMNY is not a differentiated platform. Subscriber growth is not important if there is no end game where they are able to utilize a large subscriber base to their advantage. In my first bearish article referenced above, I predicted that the movie theater companies would create their own competing service at some point before even considering giving significant concessions. This prediction proved true when AMC Theatres (AMC) unleashed their own subscription service allowing subscribers to see 3 movies per week for $20 a month. In the meantime, HMNY only has become more and more cash flow negative, as they recently revealed that they predict the summer months to be $45 million per month.
Do The Math Before Buying
Along the same lines as trying to properly build a long thesis, a key lesson here is to make sure you work the numbers yourself. It isn't enough to say "they have unlimited potential." In my article, I attempted to do a back of the envelope calculation of two things: how many shares would HMNY need to sell before it can reach a "critical mass," and just how much concessions would they need to receive from the movie theater companies before it would be a good investment, let alone profitable. The results were staggering: I estimated that they would need at least $700 million in additional funding before they could reach 10 million subscribers, which in itself is a monumental task. It's the other finding that was the killer: I found that even if the movie theaters gave 100% of their operating profits from tickets and concessions, then HMNY would still be operating at a loss even after subscriber fees. Further, even if the movie theaters managed to cut their operating expenses by 50% and gave all of that incremental profit to HMNY, and HMNY received an additional 10% cut from the film production companies, then HMNY would be selling for 5 times next year's earnings. This exercise revealed just how difficult the bullish thesis is for HMNY, as just reaching the critical mass would be a task in itself, but it does not appear that any reasonable level of concessions would make them profitable, let alone a good investment. This exercise showed that this business model was dead on arrival.
Even Penny Stocks Can Still Keep Falling
On May 10 I predicted that HMNY would very soon have a reverse split and that it would bring further downside. Then with shares trading at a pre-split price of 30 cents, I again expressed my bearishness. However, with HMNY at that time trading in penny stock territory, some questioned whether it had already finished its falling. After HMNY completed its reverse split, it took only one week before it fell back into penny stock territory: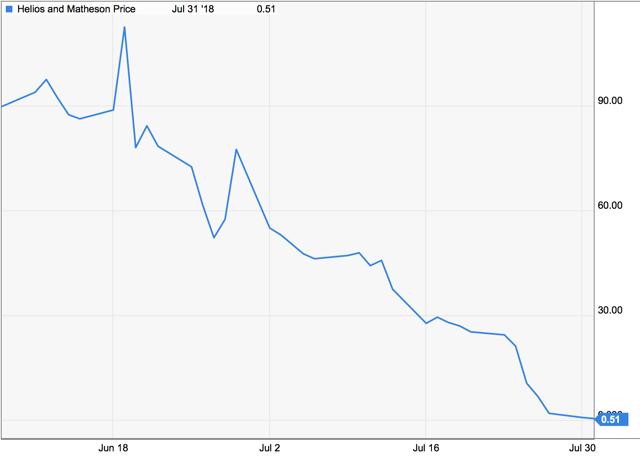 (Ycharts)
Here we see very clearly that a share price does not represent how cheap a company is - every stock has 100% downside to zero.
Why There May Still Be Further Downside
HMNY revealed that on Thursday last week, subscribers experienced an outage in service due to MoviePass being unable to pay merchant and fulfillment processors. HMNY then revealed in a SEC filing that they took an emergency loan from Hudson Bay Master Fund to the total of $6.2 million at a $1.2 million discount. This implies a near 20% interest rate for what looks like a very short term loan. This appears to have solved the outage issues, for now, but this now raises a new question: are they unable to raise enough cash through their at the market program? Even the most bullish thesis would show HMNY needing to fund their subscriber cash burn through equity dilution. It appears that the stock has fallen so out of favor that HMNY is now facing trouble finding buyers for their new shares.
But then there's the problem. They also aren't going to be able to cut down costs so easily, because they would presumably only be able to begin negotiating concessions with movie theater companies once they reach a critical mass. But with MoviePass recently implementing "Peak Pricing" which charges subscribers an extra $2-$6 to see popular movies at peak times, it appears that they are reaching a point in which they just cannot afford the mounting expenses to keep up this game of attrition.
Some may be wondering - couldn't they just end all the pain by closing up shop? Here it too is not so simple. I have a feeling that they would have trouble ridding themselves of servicing their annual memberships without either refunds or bankruptcy. It is an understatement to say that the future is very grim for this company.
Risks to Sell Thesis
As of their recent SEC filing, HMNY indicates that they have 1.685 million common shares outstanding. Based on recent prices, this suggests a market cap hovering below $1 million, more or less depending on how many shares they have sold since then. At these prices, it isn't unreasonable to wonder if someone is going to come in and make an offer to buy the company outright. After all, for a rather low buyout offer they can get a network of 3 million members. I however see the odds of this to be very low because not represented in the buyout cost is the more important cost of maintaining service for annual memberships. These memberships act like liabilities and would likely need a bankruptcy to nullify their agreements. Furthermore, at this point, it does not make sense to me why one would want to buy the company only to issue refunds or take the company under as they would likely lose the membership base in the process.

HMNY has recently submitted their plan for profitability. In it they plan to raise prices to $15 per month and cut down on abuse of their service. While I believe it unlikely for these measures to substantially improve their cash burn rate, anything is possible and achieving this goal would help HMNY greatly in their strategy of trying to get as many subscribers as possible, because they would be able to survive much longer.

With so few shares left outstanding due to the reverse split, as well as the fact that there are not many shares being lent out to short, it may be very difficult to short HMNY at reasonable interest rates. This means that most "selling" may be from current shareholders only.

Finally, if their subscribers suddenly stop going to the movies while still maintaining their service, then HMNY will begin to realize its "gym" business model it had been saying all along. Subscribers ironically have been their largest source of cash burn, thus this would be a very bullish sign and potentially send shares flying. I however still do not find this likely not a fanciful thesis to count on.
Conclusion
HMNY has seen a near complete wipeout of shareholder value which I feel was very predictable for those keeping a critical mindset of their business model. Now with their shares at new all time lows and a market cap around $1 million, they face an even greater challenge of trying to fund $45 million in monthly cash burn with share issuance. I am afraid that we may be very close to the end. While it lasted, we enjoyed very cheap movies but a distinct lack of investor returns. While shares are cheap by market cap, their implied liabilities make it still very pricey. Shares remain a sell until the bitter end.
If you liked this article, please scroll up and click "Follow" next to my name to not miss any of my future articles. I have a reputation for replying to every comment, leave a comment below!
(Tipranks: Sell HMNY)
Editor's Note: This article covers one or more microcap stocks. Please be aware of the risks associated with these stocks.
This article was written by
High conviction investment ideas in the winners of tomorrow.
Analyst's Disclosure: I/we have no positions in any stocks mentioned, and no plans to initiate any positions within the next 72 hours. I wrote this article myself, and it expresses my own opinions. I am not receiving compensation for it (other than from Seeking Alpha). I have no business relationship with any company whose stock is mentioned in this article.
Seeking Alpha's Disclosure: Past performance is no guarantee of future results. No recommendation or advice is being given as to whether any investment is suitable for a particular investor. Any views or opinions expressed above may not reflect those of Seeking Alpha as a whole. Seeking Alpha is not a licensed securities dealer, broker or US investment adviser or investment bank. Our analysts are third party authors that include both professional investors and individual investors who may not be licensed or certified by any institute or regulatory body.