America Will Win The Trade War
Includes:
AADR, ACT, ACWF, ACWI, ACWV, ACWX, ADME, ADRD, ADRU, ADX, AFTY, AGD, AGGAX, AIEQ, AIIEX, AIIQ, AIRR, AMCA, AMJ, AMJL, AMLP, AMU, AMUB, AMZA, AOD, ASG, ASHR, ASHS, ASHX, ATMP, BBC, BBEU, BBH, BBJP, BBP, BDCL, BDCS, BFOR, BGR, BIBL, BIF, BITE, BIZD, BRGL, BTEC, BTO, BUI, BUY, BUYN, BXUB, BXUC, CAF, CAPX, CBA, CDC, CEM, CEN, CET, CFA, CFO, CHAD, CHAU, CHGX, CHIE, CHII, CHIM, CHIQ, CHIX, CHN, CIZ, CLAW, CLIX, CLM, CLRG, CN, CNDA, CNDF, CNHX, CNSF, CNXT, CNYA, CQQQ, CRAK, CRF, CSF, CTR, CURE, CWEB, CWI, CWS, CXSE, CZA, DAX, DBAW, DBEF, DBES, DBEU, DBEZ, DBGR, DBIT, DBJP, DBSE, DBSP, DBUK, DDBI, DDG, DDIV, DDLS, DDM, DDWM, DEEF, DEEP, DEFA, DES, DESC, DEUS, DEW, DEWJ, DEZU, DFE, DFJ, DGRO, DGRS, DGRW, DGT, DHS, DHVW, DIA, DIG, DIM, DIV, DIVB, DIVC, DIVY, DLN, DLS, DMRL, DNL, DOD, DOG, DOL, DON, DOO, DPK, DPST, DRIP, DSE, DTD, DTEC, DTH, DTN, DUG, DUSA, DVY, DVYL, DWAQ, DWAS, DWLD, DWLV, DWM, DWMC, DWX, DXD, DXGE, DXJ, DXJC, DXJF, DXJH, DXJR, DXJS, DXJT, DXPS, DXUS, DZK, ECNS, EDEN, EDOM, EDOW, EEA, EEH, EES, EFA, EFAD, EFAV, EFG, EFNL, EFO, EFU, EFV, EFZ, EIRL, ELKU, EMLP, EMO, EMTY, ENFR, ENOR, EOD, EPOL, EPS, EPV, EQAL, EQL, EQWL, EQWS, ERGF, ERUS, ERX, ERY, ERYY, ESGD, ESGF, ESGL, ESGN, ESGS, ESGW, ETG, ETO, EUDG, EUDV, EUMF, EUMV, EURL, EUSA, EUSC, EVT, EWC, EWCS, EWD, EWG, EWGS, EWH, EWHS, EWI, EWJ, EWK, EWL, EWMC, EWN, EWO, EWP, EWQ, EWSC, EWU, EWUS, EWV, EZJ, EZM, EZU, EZY, FAB, FAD, FAS, FAZ, FAZZ, FBGX, FBT, FCA, FCAN, FCG, FCHI, FCOM, FDD, FDIS, FDL, FDLO, FDM, FDMO, FDN, FDRR, FDT, FDTS, FDVV, FEEU, FEI, FEN, FENY, FEP, FEUZ, FEX, FEZ, FFTY, FGB, FGD, FGM, FHK, FHLC, FIBG, FIDU, FIEE, FIEG, FIEU, FIF, FIGY, FIHD, FINU, FINZ, FJP, FKU, FLCA, FLCH, FLEE, FLFR, FLGB, FLGE, FLGR, FLHK, FLIO, FLIY, FLJH, FLJP, FLLV, FLQD, FLQG, FLQH, FLQL, FLQM, FLQS, FMAT, FMK, FMO, FNCF, FNCL, FNDA, FNDB, FNDC, FNDF, FNDX, FNG, FNGD, FNGU, FNK, FNX, FNY, FPL, FQAL, FSTA, FSZ, FTA, FTC, FTEC, FTXD, FTXG, FTXH, FTXL, FTXN, FTXO, FTXR, FUGAX, FUND, FUTY, FVAL, FVD, FVL, FWDD, FWDI, FXBY, FXD, FXG, FXH, FXI, FXL, FXN, FXO, FXP, FXR, FXU, FXZ, FYC, FYLD, FYT, FYX, GAB, GAM, GASL, GASX, GCH, GCOW, GDV, GER, GF, GGT, GGZ, GLCN, GLQ, GMZ, GREK, GRF, GSD, GSEU, GSEW, GSJY, GSLC, GTNDX, GUSH, GUT, GVAL, GWX, GXC, GXF, HACV, HACW, HAHA, HAIL, HAO, HAWX, HCRF, HDAW, HDEF, HDEZ, HDLV, HDMV, HDV, HECO, HEDJ, HEFA, HEFV, HEUS, HEUV, HEWC, HEWG, HEWI, HEWJ, HEWL, HEWP, HEWU, HEZU, HFXE, HFXI, HFXJ, HGSD, HIE, HJPX, HOML, HQH, HQL, HSCZ, HTD, HUSV, IAI, IAK, IAT, IBB, IBUY, IDEV, IDHQ, IDLB, IDLV, IDMO, IDOG, IDU, IDV, IEFA, IEO, IEUR, IEUS, IEV, IEZ, IGM, IGN, IGRO, IGV, IHDG, IHE, IHF, IHI, IJH, IJJ, IJK, IJR, IJS, IJT, ILPRX, IMLP, IMTM, INDF, INTF, IOO, IPKW, IQDE, IQDF, IQDG, IQDY, IQLT, IRL, ISCF, ISZE, ITA, ITB, ITOT, IUSG, IUSV, IVAL, IVE, IVES, IVLU, IVOG, IVOO, IVOV, IVV, IVW, IWB, IWC, IWD, IWF, IWL, IWM, IWN, IWO, IWP, IWR, IWS, IWV, IWX, IWY, IXUS, IYC, IYE, IYF, IYG, IYH, IYJ, IYK, IYM, IYT, IYW, IYY, IYZ, JCE, JDIV, JEQ, JFC, JGV, JHDG, JHMA, JHMC, JHME, JHMF, JHMH, JHMI, JHML, JHMM, JHMS, JHMT, JHMU, JHSC, JKD, JKE, JKF, JKG, JKH, JKI, JKJ, JKK, JKL, JMF, JMIN, JMLP, JMOM, JNMF, JOF, JPEH, JPEU, JPGE, JPIH, JPIN, JPME, JPMV, JPN, JPNH, JPNL, JPXN, JQUA, JSMD, JSML, JTA, JTD, JUNE, JVAL, KBA, KBE, KBWB, KBWD, KBWP, KBWR, KCE, KFYP, KGRN, KIE, KLDW, KMF, KNG, KRE, KWEB, KYE, KYN, LABD, LABS, LABU, LBDC, LCEAX, LEAD, LGLV, LMLP, LNGR, LRGF, LTL, LVHD, LVHI, LVL, MAGA, MATF, MCHI, MDSS, MDY, MDYG, MDYV, MENU, MFDX, MFLA, MFUS, MGC, MGK, MGV, MIDU, MIDZ, MIE, MLPA, MLPB, MLPC, MLPE, MLPG, MLPI, MLPJ, MLPN, MLPO, MLPQ, MLPS, MLPX, MLPY, MLPZ, MMTM, MOM, MTUM, MVIN, MVV, MYY, MZZ, NAIL, NANR, NDP, NML, NOBL, NORW, NTG, OBOR, OEF, OEUH, OEUR, OEW, OIH, OMFL, OMFS, OMOM, ONEO, ONEQ, ONEV, ONEY, ONLN, ONTL, OPD, OQAL, OSIZ, OTPIX, OVLC, OVLU, OYLD, PAVE, PBDM, PBE, PBJ, PBS, PBSM, PBUS, PBW, PDN, PDP, PEJ, PEO, PEY, PEZ, PFI, PFM, PGAL, PGJ, PHO, PID, PILL, PILS, PIZ, PJP, PKB, PKW, PLND, PMOM, PMR, PPA, PPDM, PPH, PPLC, PPMC, PPSC, PRF, PRFZ, PRN, PSCC, PSCD, PSCE, PSCF, PSCH, PSCI, PSCM, PSCT, PSCU, PSI, PSJ, PSL, PSQ, PTEU, PTF, PTH, PUI, PUW, PWB, PWC, PWV, PXE, PXF, PXI, PXJ, PXMC, PXQ, PXSC, PXUS, PYZ, PZI, QABA, QCAN, QCLN, QDEF, QDEU, QDF, QDIV, QDYN, QEFA, QGBR, QID, QJPN, QLD, QMOM, QQEW, QQQ, QQQC-OLD, QQQE, QQXT, QSY, QTEC, QUAL, QUS, QVAL, QVM, QWLD, QXGG, RCD, RCG, RDIV, RDVY, REGL, RESD, RESP, RETL, REW, RFDI, RFEU, RFFC, RFG, RFV, RGI, RGT, RHS, RMT, RODM, ROLA, ROM, ROSC, ROUS, RPG, RPV, RSCO, RSP, RSX, RSXJ, RTH, RTLA, RTM, RTR, RUSL, RUSS, RVRS, RVT, RWJ, RWK, RWM, RWV, RWW, RXD, RXL, RYARX, RYE, RYF, RYH, RYRSX, RYT, RYU, RZG, RZV, SAA, SBB, SBEU, SBIO, SBM, SBUS, SCAP, SCC, SCHA, SCHB, SCHC, SCHD, SCHF, SCHG, SCHM, SCHV, SCHX, SCJ, SCZ, SDD, SDIV, SDOG, SDOW, SDP, SDS, SDVY, SDY, SDYL, SEF, SFLA, SH, SICK, SIJ, SIZE, SKF, SLT, SLY, SLYG, SLYV, SMCP, SMDD, SMDV, SMEZ, SMH, SMHD, SMLF, SMLL, SMLV, SMM, SMMV, SMN, SOR, SOXL, SOXS, SOXX, SPDN, SPDV, SPDW, SPEU, SPGM, SPGP, SPHB, SPHD, SPHQ, SPLG, SPLV, SPLX, SPMD, SPMO, SPSM, SPTM, SPUU, SPVM, SPVU, SPXE, SPXL, SPXN, SPXS, SPXT, SPXU, SPXV, SPY, SPYB, SPYD, SPYG, SPYV, SQQQ, SRF, SRTY, SRV, SSG, SSO, SWIN, SWZ, SYE, SYG, SYLD, SYV, SZK, TAO, TCHF, TDF, TDIV, TECL, TECS, TECZ, THQ, TILT, TLTD, TMFC, TNA, TOTS, TQQQ, TTAC, TTAI, TTFS, TTP, TUSA, TUTT, TWM, TYG, TZA, UBIO, UCC, UDBI, UDOW, UDPIX, UGE, UIVM, ULVM, UMDD, UPRO, UPV, UPW, URTH, URTY, USA, USD, USLB, USMC, USMV, USSD, USVM, USWD, UTG, UTLF, UWM, UXI, UYG, UYM, VAMO, VAW, VB, VBK, VBR, VCR, VDC, VDE, VEA, VEU, VFH, VFINX, VGK, VGT, VHT, VIDI, VIG, VIGI, VIOG, VIOO, VIOV, VIS, VLU, VLUE, VO, VOE, VONE, VONG, VONV, VOO, VOOG, VOOV, VOT, VOX, VPU, VSS, VT, VTHR, VTI, VTSAX, VTV, VTWG, VTWO, VTWV, VUG, VUSE, VV, VWID, VXF, VXUS, VYM, VYMI, WBIA, WBIB, WBIC, WBID, WBIE, WBIF, WBIG, WBIL, WBIY, WCHN, WDIV, WDRW, WMCR, WTRX, XAR, XBI, XD, XE, XES, XF, XHB, XHE, XHS, XINA, XITK, XK, XLB, XLE, XLF, XLG, XLI, XLK, XLP, XLU, XLV, XLY, XM-OLD, XME, XMHQ, XMLV, XMMO, XMVM, XMX, XNTK, XOP, XPH, XPP, XRLV, XRT, XS, XSD, XSLV, XSMO, XSVM, XSW, XTH, XTL, XTN, XU, XUSA, XWEB, YANG, YAO, YGRO, YINN, YMLI, YMLP, YXI, ZBIO, ZF, ZMLP
by: Arthur Frentzel
Summary
Regardless of what many pundits claim, overwhelming facts support the premise that America will win big in the trade war with China.
Underlying economics of trade wins and repatriation of American companies to North America could provide a tailwind for American workers and the economy for decades.
Due to lower wages in Central and South America, much of the benefit could accrue to those regions, especially Mexico.
China has few options in a trade war with the U.S.
Worthwhile trade agreements will take time to implement.
International trade policies have complex ramifications. Intricate supply chains and manufacturing operations can subject industries and businesses to disproportionate consequences with changes in trade policy. However, when considering macro economies, paradoxically, the picture becomes much clearer on the effects of trade policy overall. For example, there is little doubt that trade policies concerning China have had detrimental effects on American workers. When it comes to China, the detrimental effect of a huge trade imbalance has resulted in a gargantuan transfer of wealth, technology and American jobs. Conversely, it is not hard to see that changes in trade policies could provide a huge benefit to the US with the implementation of fair and reciprocal trade, which China will never accept without significant pressure.
While the author undertook comprehensive studies in economics, the trade situation with China can be understood with an Econ 101 level of knowledge. As commonly understood, the great majority of pundits on the economy are highly opinionated as they present their ideas as fact, which necessitates an effort to separate fact from opinion and noise. The current article will present facts to substantiate the thesis represented.
China
Chart 1 below shows the growing imbalance of trade between the US and China from 2001 to 2017. China was admitted to the WTO (World Trade Organization) in 2001 and has extracted major benefits from the US both in terms of its economy and the level of wages for its people. By the end of 2017 the imbalance and transfer of jobs and wealth to China reached an extreme that cannot be continued. During the period, Chinese wages (as illustrated in Chart 2) increased a whopping 660%., while American wages experienced lackluster growth (Chart 3) and, when considering inflation, decreased in some periods. Similarly, wages in NAFTA partners Canada and Mexico showed similar lackluster performance in the period. In addition, wages in Mexico were highly volatile with significant decreases in two years. While one purpose of NAFTA was to grow the Mexican economy and help its citizens elevate from poverty, China became the undisputed beneficiary of growth in the US.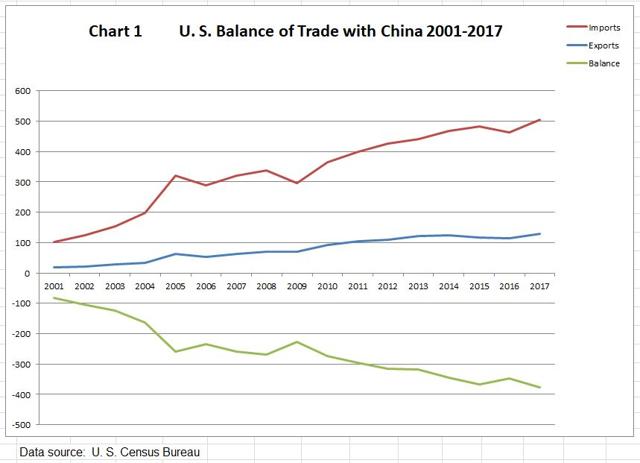 Since China was admitted to the WTO, it has repeatedly violated its agreements promised, to the detriment of the world trading system and all participants, which include the following: Refraining from requiring technology transfers from WTO members to China; reducing theft of intellectual property; substantial reduction of production and export subsidies; and requiring state-owned businesses to make purchased based on economic considerations.
Few observers, other than the Chinese, would doubt that China has severely violated the terms of their agreement as part of acceptance into the WTO. Instead, China has criticized the US and portrayed its largest trading partner as a villain. Good business relationships are characterized with gratitude to customers for patronage. China has been a gargantuan recipient of American business to the degree that it has elevated the standard of living for all Chinese. Instead of expressing gratitude, however, it continues to push back and criticize. At the same time, China continues to maintain high tariffs on imported goods which offer extreme barriers to trade.
To obtain documentation of Chinese tariffs on imported goods, it may be useful to avoid the banter and noise currently occurring by referencing a discussion of tariffs in 2016 to simplify the current complex situation. As illustrated, China taxes on imported goods start at 13% and ultimately go much higher on consumer discretionary items. The foregoing is a far cry from American tariffs on imported goods, an imbalance that cannot be sustained long term.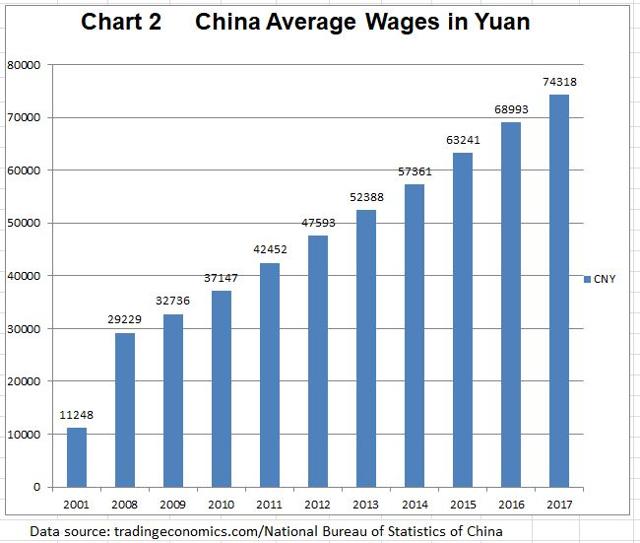 While Chinese wages have increased dramatically since 2001, average wages remain well below American wages. However, as reported by Forbes last year, Chinese wages are equal to or surpassing wages in parts of Europe. It should also be noted that the Chinese cost of living is much lower than most Western nations. Furthermore, it is becoming apparent that China is no longer the lowest cost producer as countries like India, Vietnam and other countries gain low cost advantage.
As the trade war plays out, China is threatening to increase tariffs and curtail purchases of American products, which brings into question exactly what is imported from the US. A full list of products China imports from the US is provided by the US Census Bureau. As noted, China's imports from the US are dominated by agricultural and food-related products. However, it is doubtful that China will want to break the supply chain in food-related products from the world's dominant food supplier when it unable to feed its population from its own produce. The largest single product category "Civilian aircraft, engines, and parts" is not likely to be cut much while Boeing (NYSE:BA) has a backlog of about seven years of production and supplies aircraft like the 787 Dreamliner that cannot be purchased anywhere else in the world. Increasing tariffs on US aircraft would only mean that China would itself absorb the tariffs with increased costs of the aircraft. Likewise, it is doubtful China will stop purchasing products of which the US has significant technological advantage, an action that would stifle access to competitive advantages. Doing less business with the US would reduce its ability to profit from American technology overall. An interesting observation is the fact that if China stopped importing anything from the US (with total 2017 imports of $129 billion) it would not equal the revenue of even one American company in the top 15 US companies, which range from about $500 billion to $130 billion in revenue annually.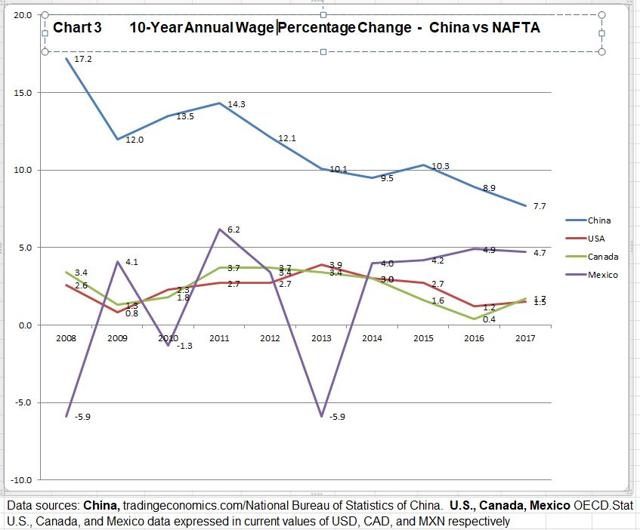 Contrast the foregoing with China's market position. With over $500 billion in exports to the US China will be the biggest loser in an extended trade war. Another key factor is that many of the exports (and jobs) are transacted by American companies and suppliers in China, operations that can be easily moved out of China to lower cost producers like India or Vietnam. With a communist government, China does have an option to devalue its currency to make its goods cheaper. However, devaluation would cause money to flee the country and also cause a burden to its citizens who would have to pay with less purchasing power. In addition, it is well known that China has a stated goal to make the yuan an international currency. Devaluation would undoubtedly destroy any hope for that happening.
NAFTA
As depicted in Chart 3, wage growth in NAFTA countries of the US, Canada, and Mexico, has been tempered in the last ten years, due in part to the Great Recession of 2008-2009 and slow recovery. However, Mexico stood out with having the most volatile wages. Mexican workers also continue to have sub-par wages of about $15,000 annually, about one-fourth the wages of American workers. With a work force of about 70 million, Mexico offers an opportunity to be a more significant and growing partner to the US
Interestingly, on July 1 a new Mexican president, Andres Manuel López Obrador, was elected in a landslide victory. As Mexican presidents in the past, Mr. Lopez Obrador has stated that he will work to change the plight of Mexicans by attacking corruption and the drug cartels. However, the landslide victory attests to the fact that Mexicans believe he will deliver. More significant for Mexicans is that, with popular support, the new president could end the cycle of a few wealthy Mexicans dominating their economy, which could be a huge boon to all Mexicans. In the context of the current article, it is particularly significant that Mr. Lopez Obrador has already sent a letter to President Donald Trump, vowing to cooperate in "commerce, immigration, development and security". Accordingly, it appears that the US and Mexico will consummate an early agreement on trade, which could only benefit Mexican workers. Also importantly, an agreement will help strengthen an alliance between the two countries in bringing jobs into the Americas.
Europe will relent
Although not as severe as the trade situation with China, Europe will have no choice but to agree to more favorable trade with the US According to the US Census Bureau, the US imported $434.6 billion and exported $283.3 billion (USD) in 2017, for a net balance of trade deficit of $151.3 billion. In addition to paying an outsized portion of the defense bill for NATO, the trade deficit compounds the lack of fairness between the US and the EU. Meanwhile Europe continues to undergo turmoil with Brexit, as well as a risk of the breakup of the entire European Union. The ongoing problem of high levels of debt with countries (like Greece, Italy, and Portugal, and others) continues to exert strain on the EU. Ultimately the only solution may be to have all debts absorbed by the EU in total, which appears unlikely. If the US implements across-the-board tariffs on unfair trade practices, the EU risks a major dent in its countries' economies. While the US economy continues to grow and have much better underpinning than Europe, the EU could incur drastic effects from an ongoing trade war with the US
United States
The US possesses a critical resource that has only begun to be tapped. It is a large supply of workers that have not participated in US economic growth. Most crucial is the fact that inner-city residents have never been presented with opportunities for good jobs that offer real living wages to support families. As noted in the chart and data below supplied by the Bureau of Labor Statistics, African-American unemployment continues to remain comparatively high at 6.5% as of June, compared to about 4% for the general population. Of key importance, however, is the fact that the 6.5% number does not include those who have dropped out of the workforce. The chart below supplied by FRED shows African-American labor participation in the low-to-mid 60 percentile. Further, it should be pointed out that the overall U6 unemployment rate for the US (which includes workers who have dropped out from seeking work) is much higher at 8.1% Since the US workforce was estimated at 157.8 million as of 2005, approximately 6.3 million workers are currently estimated to be unemployed at a rate of 4%. Nearly doubling the actual unemployment rate to 7.8% places total unemployed persons at about 12 million in total.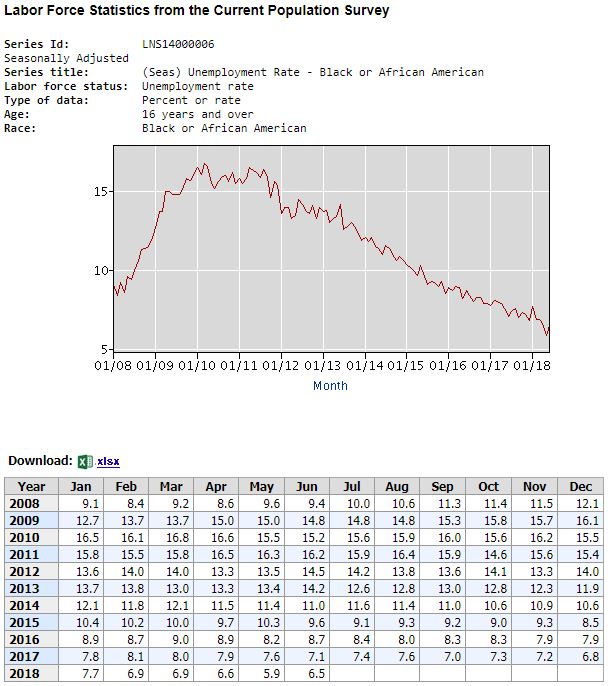 (Source: Bureau of Labor Statistics)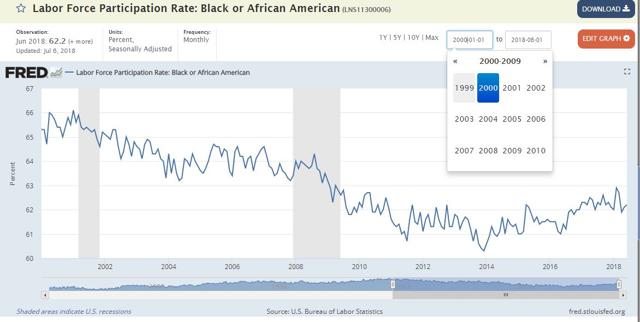 New manufacturing jobs in the US - jobs which were sent to China - will be imported to the US as America wins the trade war. The big silver lining is that manufacturing jobs will lead to much higher-skilled jobs as the US continues to innovate with automation and robotic manufacturing in many of its industries. Continuous training and retraining will be a crucial element to the renaissance of American manufacturing and job creation. Do to the wide appeal of the foregoing scenario, it will be embraced by most political constituents, and it will happen. The so-called Populist movement, which favors the plight of American workers, should be recognized as a trend-not just a fleeting idea of the president-but a trend that is going to last awhile. History tells us that such trends do not last just a year or two, but can continue for years or decades. After decades of neglect by politicians, US workers are not about to give up the fight that continues to bring progress. And their numbers support such a thesis.
Currently there is a massive amount of commentary in the US concerning the winners and losers with tariffs. Conversely, some executives express concern on business they may be deprived of in China. Most of those expressing concern do not practice any patience to the current process of securing more favorable trade policies for the US and the current near 12 million Americans without jobs, with corporate profits paramount. While all investors want profits to grow continually, most investors also want the best for our workers. A problem with some CEOs is that they are vastly overpaid and, in addition, are out-of-touch with workers, who are the ultimate end customers. The position of the serial complainers becomes more untenable when considering the massive transfer of technology to China that continues, jeopardizing the future of young Americans. More favorable trade deals will provide the best outcome for all Americans
While US companies should not want to concede the Chinese market of 1.4 billion people, long term many will not be able to sustain operations in China without more favorable terms.
On the other hand, while the tariff war continues with China, America consumers should prepare to pay a little more for some products as tariff rates kick in. It should be noted that prices on many items sourced from China are fictitiously low. To get its huge share of exports, China has manipulated its currency to make its goods cheaper. As its economy grew, the value of the yuan should have moved much higher (again, a communist government can do such things without regard for its people). Although Americans will not want to pay more for cheap Chinese products, it is a small price to pay when viewing the big picture.
It is likely the Chinese are currently waiting to see the results of the midterm elections with the prospect that, if the Republican lose control of the House of Representatives, things could change. When it comes to American jobs, however, many Democrats will side with workers over the globalists.
The market
The US stock market has made it abundantly clear that it does not like tariffs. However, short term market trends should be overlooked as the US pursues better trade policies, which will affect the market both short and long term. Markets seldom do well in advance of midterm elections due to the uncertainty that exists. As the trade deals are put together with NAFTA and Europe, and after the midterms, the market should perform much better.
Conclusion
The US should be prepared for a lengthy process of securing fair trade and lower tariffs worldwide. While politicians, corporate CEOs, and the markets seek a quick resolution to the tariff issues, a short term fix will not provide long term benefits. While US businesses will never concede a market of 1.4 billion people in China, the terms of business will have to become more favorable long term to be viable. However, focus on North, Central, and South America should be intensified both as a market for goods and a source for workers, with a combined population of about 1 billion.
The Chinese may believe they can ultimately prevail by going through a few election cycles. This kind of misunderstanding has occurred many times in the past in comprehending the resolve of Americans. Current nationalism in the US should be recognized as a trend, not likely to change in one election. With momentum in place, American workers are not going to let up after so many years of neglect by political leaders. A reduction of tariffs worldwide would offer a bonanza to world growth for all nations, which scenario should not be blocked by China.
Companies and management should minimize complaints about short term pain with increased costs of doing business. While some Wall Street pundits write off the trade war with China as simply a "tit-for-tat" spat that will end soon, it is likely that a resolution of current trade issues will take much longer than short-term traders realize or would like. Due to underlying demographics and economic data presented, and a likely coalition with NAFTA and Europe, China is positioned to be the biggest loser in a prolonged trade war. Ultimately, America will not only win, but will win big.
Disclosure: I/we have no positions in any stocks mentioned, and no plans to initiate any positions within the next 72 hours. I wrote this article myself, and it expresses my own opinions. I am not receiving compensation for it (other than from Seeking Alpha). I have no business relationship with any company whose stock is mentioned in this article.