Although it's certainly not a windfall for retired people, it's looking likely that Social Security's cost-of-living adjustment will top 3% in 2019, the highest increase since 2012.
Overall U.S. inflation (CPI-U) is running at 2.9% as of June, but the index used by Social Security Administration - the Consumer Price Index for Urban Wage Earners and Clerical Workers (CPI-W) - is slightly higher at 3.1%. The SSA's equation for the COLA is rather complex, so let me explain ...
The Index
CPI-W is similar to CPI-U (the "headline" inflation that you read about every month) but includes information only from households with at least 50% of income coming from clerical or wage-paying jobs. I've noted in the past that CPI-W generally lags slightly behind CPI-U, but 2018 is an exception to that trend, so far.
CPI-W isn't widely tracked, but the Bureau of Labor Statistics updates the index each month in its overall inflation report. In June 2018, for example, the index was set at 246.196, for a 12-month increase of 3.1%. Last year in June, the 12-month increase was only 1.5%, but the eventual COLA for 2018 came in at 2.0%.
The Formula
The SSA doesn't look at a full year's data to determine the COLA. Instead it uses the average index for the third quarter - July, August and September. Here is the language from the SSA site:
A COLA effective for December of the current year is equal to the percentage increase (if any) in the average CPI-W for the third quarter of the current year over the average for the third quarter of the last year in which a COLA became effective. If there is an increase, it must be rounded to the nearest tenth of one percent. If there is no increase, or if the rounded increase is zero, there is no COLA.
So, although 12-month CPI-W was up 3.1% in June, that number is a bit irrelevant to the 2019 COLA increase, although it sets the baseline for the third quarter -- July, August and September. The June 2018 number of 246.196 was 2.7% higher than the third quarter CPI-W average for 2017, which was 239.668.
So if we have zero inflation in the third quarter of 2018, the Social Security COLA would increase 2.7%, not 3.1%.
Projecting the 2019 COLA
Obviously, zero inflation in the third quarter of 2018 is not likely, given the current trend of annual inflation running near 3.0%. Here are my COLA projections based on average monthly inflation rates running from 0.00% to 0.35% in the third quarter: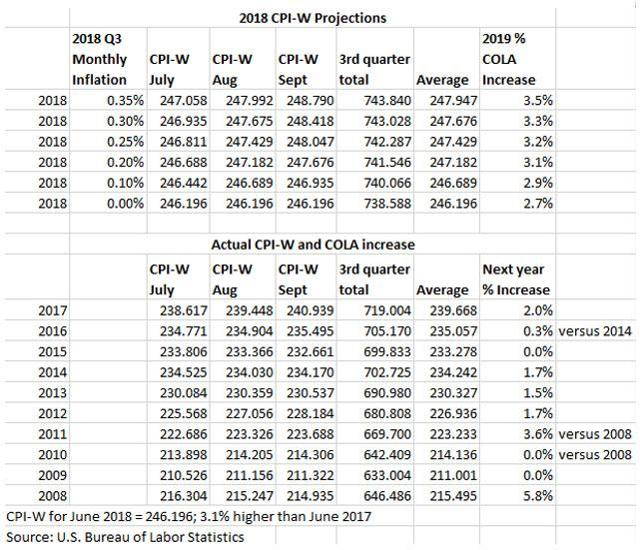 It's impossible to project future inflation, which was proved last summer in the COLA equation. Remember, the June 2017 increase was only 1.5% year-over-year, and CPI-W actually fell slightly from June to July 2017, from 238.813 to 238.617. So how did we get to a 2.0% COLA increase? In August and September, a very strong hurricane season caused a surge in energy prices, pushing overall inflation higher. The gasoline index, for example, increased a massive 13.1% in September 2017.
We don't know what will happen with hurricanes or trade barriers in the next three months, but I would project that monthly inflation will average 0.20% to 0.25% over the third quarter, which would translate to a 2019 COLA increase of 3.1% to 3.2% for Social Security recipients.
Reality check for retirees
AARP estimates that on average, U.S. recipients of Social Security receive $1,404 a month, or $16,848 a year. A 3.1% increase would push those numbers up to $1,448 a month and $17,370 a year. If you are in the Social Security "limbo" period - older than 62 but not yet taking benefits - your future benefits would also climb 3.1%.
However, recipients can also expect that Medicare Part B costs may rise in 2019, which may subtract - at least partly - from the higher benefits. The base premium is now $134 a month.
In years when the COLA increase was zero or very low, the SSA invoked its "hold harmless" policy that covered about 70% of Social Security recipients. This policy states that a increase in Medicare premiums can't reduce a Social Security recipient's net monthly check.
However, with a 3.1% increase in benefits, the net monthly check will be higher, and the recipient could face higher Part B costs, wiping out part of the increase. Here's a breakdown from the Investopedia site on the 2018 COLA increase:
In 2018, for example, Medicare estimated that 42 percent of enrollees subject to the provision would pay the full premium as increases to their benefits from the rising COLA covered the cost, wiping out some or all of the increased income they would otherwise have received.
Another factor retirees should consider is that the Medicare Part B deductible (which covers doctor visits) may increase in 2019. The deductible increased from $166 in 2016 to $183 in 2017, but held at $183 for 2018. You will pay this deductible unless you have a Medigap plan - C or F - that covers the Part B deductible.
Overall, a 3.0%+ increase in benefits in 2019 will mean more money for almost all Social Security beneficiaries, but probably not enough to match the rise in annual inflation, after higher Medicare costs are added in.
What comes next
The Social Security COLA will be finalized with the September inflation report, to be issued on October 11 at 8:30 a.m. EDT. That's also the report that will set the new inflation-adjusted variable rate for U.S. Series I Savings Bonds.
I'll be tracking both the I Bond numbers (which use non-seasonally adjusted CPI-U) and the Social Security COLA numbers (CPI-W) after each inflation report is issued for July, August and September. If you want to get updates on each of these, click on the "Follow" button on my SeekingAlpha.com profile page.
Disclosure: I/we have no positions in any stocks mentioned, and no plans to initiate any positions within the next 72 hours.
I wrote this article myself, and it expresses my own opinions. I am not receiving compensation for it (other than from Seeking Alpha). I have no business relationship with any company whose stock is mentioned in this article.