The Industrial Minefinder™ Junior Index (IMJI™)
Earlier this year I introduced the Industrial Minefinder™ Junior Index (IMJI™) to Seeking Alpha readers. I made the commitment to complete the entire index by the end of the 2nd quarter and I am happy to report that I met my goal. The IMJI™ is now complete and no longer in beta phase. This article will review the entire index and look at a few performance insights the index is already throwing off.
The IMJI™ is an index of junior miners involved in the exploration and development of industrial metals (everything but gold). The intention is to not include producers so companies that go into production will eventually be removed from the index. To my knowledge, the IMJI™ is the only index in the world dedicated exclusively to juniors mining industrial metals (excluding primary gold).
The IMJI™ began with the following constituent category weightings: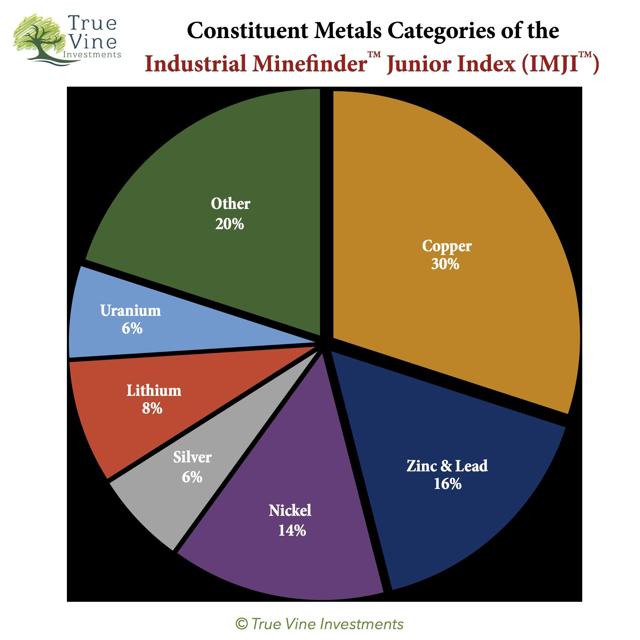 These constituent categories were derived from the relative size of each metals market. Although aluminum and iron ore are each comparable to copper, they do not have their own categories because there is little to no junior market for these metals. The lithium category was also made a bit larger to allow for the expected future expansion.
These constituent categories formed the basis of my subsector indexes. I designed the IMJI™ this way so the index would provide a representation of the overall industrial metals market and also allow for the analysis of the juniors in specific metal subsectors.
The IMJI™ has 50 holdings broken down according to the following subsectors:
Copper - 15
Zinc & Lead - 8
Nickel - 7
Lithium - 4
Silver - 3
Uranium - 3
Other - 10
The Other sector includes juniors involved in cobalt, graphite, iron ore, mineral sands, potash, scandium, tin, titanium, rare earths, and vanadium.
Company Selection
When choosing the constituents of the IMJI™, preference was given to companies with large market capitalization and defined Resources (per the Canadian 43-101 or Australian JORC standards). The IMJI™ is agnostic to jurisdictions. The general idea behind this is for the index to represent the industrial metals resource "pipeline" through 50 liquid and established juniors operating in the sector. All the companies in the index trade in Australia, Canada, the United Kingdom, and the United States.
Initial Sector Weightings
The companies in the IMJI™ have a weighting in their assigned sector and also a weighting in the overall IMJI™. Here is a breakdown of the weightings within each sector as of the inception of the index (January 1, 2018):
Copper
Ivanhoe Mines (OTCQX:IVPAF) - 44%
Solgold Plc (OTCPK:SLGGF) - 12%
Northern Dynasty Minerals (NAK) - 11%
Polymet Mining (PLM) - 6%
Nevada Copper (OTC:NEVDF) - 4%
Excelsior Mining (OTCQX:EXMGF) - 4%
NGEx Resources (OTCPK:NGQRF) - 3%
Filo Mining - 2%
Aeon Metals (OTC:AEOMF) - 2%
Trilogy Metals (TMQ) - 2%
Asiamet Resources - 2%
Xanadu Mines (OTC:XANAF) - 2%
Regulus Resources - 2%
Alderan Resources - 2%
Western Copper & Gold (WRN) - 2%
Zinc & Lead
Arizona Mining (OTCPK:WLDVF) - 62%
Tinka Resources (OTCPK:TKRFF) - 10%
Heron Resources (OTC:HRLDF) - 8%
Red River Resources (OTCPK:RRRDF) - 7%
Aquila Resources (OTCPK:AQARF) - 4%
Karmin Exploration (OTC:KRMEF) - 4%
ZincX Resources (OTC:CZXMF) - 3%
Galena Mining - 2%
Nickel
Australian Mines (OTCQB:AMSLF) - 26%
Ardea Resources (OTCPK:ARRRF) - 18%
Panoramic Resources (OTCPK:PANRF) - 17%
Noront Resources (OTCPK:NOSOF) - 11%
Jervois Mining - 11%
Horizonte Minerals -10%
Sama Resources (OTC:LNZCF) - 7%
Lithium
Silver
MAG Silver (MAG) - 79%
Bear Creek Mining (OTCPK:BCEKF) - 13%
Silvercrest Metals (OTCQX:SVCMF) - 8%
Uranium
NexGen Energy (NXE) - 59%
Fission Uranium (OTCQX:FCUUF) - 21%
Denison Mines (DNN) - 20%
Other
CleanTeQ Holdings (OTCQX:CTEQF) - 28%
First Cobalt (OTCQX:FTSSF) - 12%
Mason Graphite (OTCQX:MGPHF) - 10%
eCobalt Solutions (OTCQX:ECSIF) - 9%
Highfield Resources (OTC:HFSRF) - 8%
Flinders Mines (OTC:FLNDF) - 8%
Bluejay Mining (OTC:BLLYF) - 8%
Hastings Technology Metals - 7%
NioCorp Developments (OTCQX:NIOBF) - 5%
Alphamin Resources (OTCPK:AFMJF) - 5%
Top Holdings Overall
Here are the top 15 holdings in the overall IMJI™ as of June 30, 2018:
Ivanhoe Mines - 13%
Arizona Mining - 10.9%
MAG Silver - 7.3%
NexGen Energy - 5.3%
Kidman Resources - 3.9%
Solgold - 3.8%
Lithium Americas - 3.6%
CleanTeQ Holdings - 3.3%
Polymet Mining - 3.1%
Nemaska Lithium - 2.3%
Denison Mines - 2.2%
Fission Uranium - 2.1%
Bluejay Mining - 1.8%
Panoramic Resources - 1.8%
Trilogy Metals - 1.7%
The following graphic shows the weightings of all 50 holdings: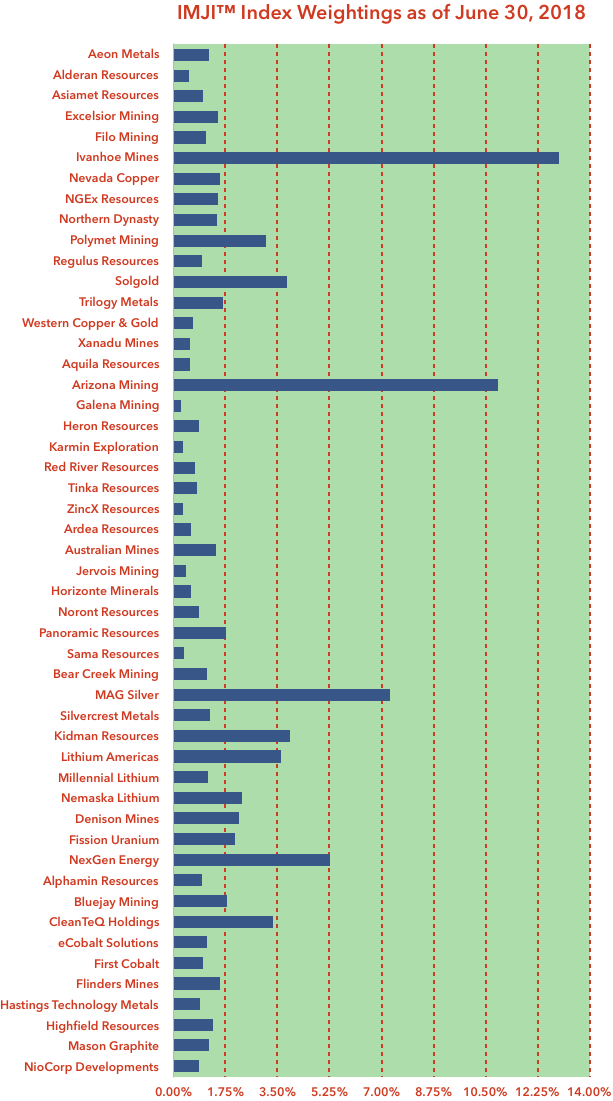 Performance
The IMJI™ started with a value of 1000 on January 1, 2018. The following chart shows the performance over the first half of 2018: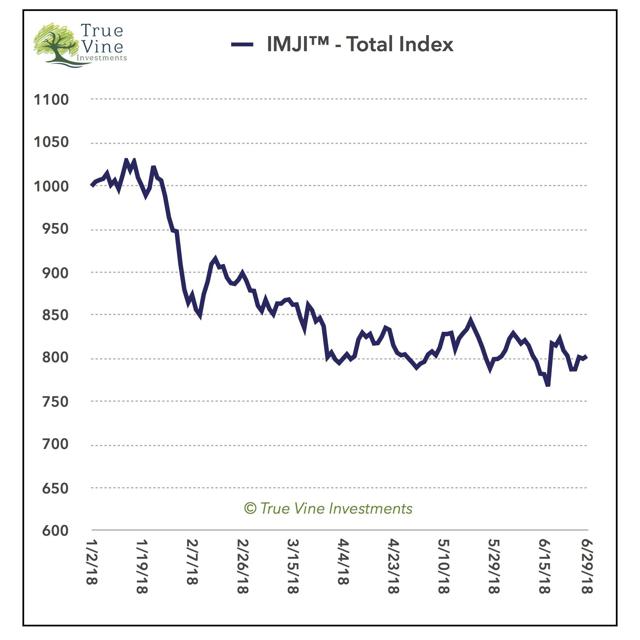 You can see here that the overall index was down about 20% during the first half of 2018.
The following chart is my favorite product of the IMJI™ data. It shows the combined charts of all the subsector indexes normalized to 100 at the start of the year: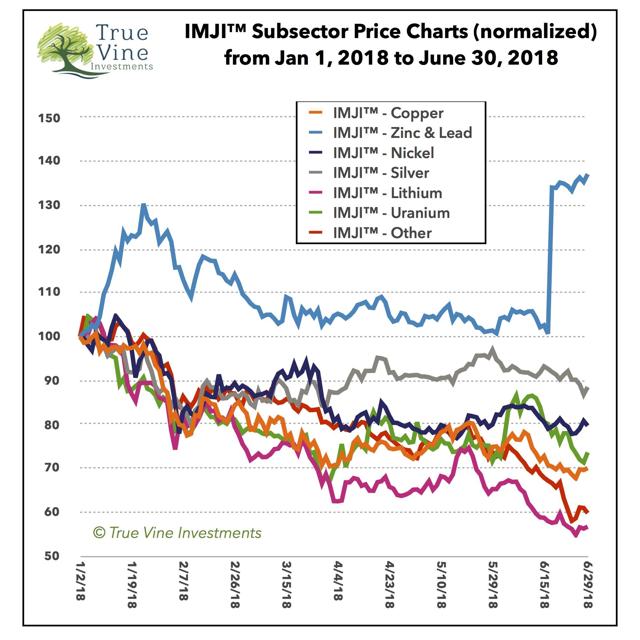 You can see here that the Zinc & Lead subsector was the only one in the green at the end of the first half of 2018 due to the announcement of South32 (OTCPK:SOUHY; OTCPK:SHTLF) moving to acquire Arizona Mining.
The Lithium and Other subsectors were the worst performers as cobalt and lithium juniors took a pounding. A more recent chart that I looked at yesterday shows that the Lithium subsector is now down almost 50% on the year.
Excluding the outsized impact of Arizona Mining, the Copper, Nickel, Silver, Uranium, and Zinc & Lead subsectors mostly moved sideways during the 2nd quarter. These sectors could be bottoming in preparation for a move higher that will no doubt come if the base metals are currently just undergoing a correction.
Future Goals for the IMJI™
As I continue to accumulate more data for the IMJI™, I have some future goals in mind.
First, I hope to be able to quantify just how volatile the index is compared to the producers. This data can help investors decide how much of a portfolio to allocate to the junior sector.
Second, I hope to be able to quantify the relative performance—notably the timing—of the IMJI™ and each of the individual subsectors in relation to a broader index of industrial metals and each specific metal. Specifically, I am curious to see if the subsector indexes tend to at all lead breakouts in the underlying metals.
Ultimately, it would be nice to have a closed-end fund that holds the IMJI™. This would provide investors with a really unique security that provides leveraged exposure to global economic growth and portfolio diversification.
Lastly, I would like to thank all the Seeking Alpha readers who provided me with feedback earlier this year.
Disclosure
I am an investment adviser and owner of True Vine Investments, a Registered Investment Advisor in the State of Pennsylvania (U.S.A.). I screen electronic communications from prospective clients in other states to ensure that I do not communicate directly with any prospect in another state where I have not met the registration requirements or do not have an applicable exemption.
Any investment advice or recommendations involving securities referenced in this article is general in nature and geared towards a readership of sophisticated investors. This article does not involve an attempt to effect transactions in a specific security nor constitute specific investment advice to any particular individual. It does not take into the account the specific financial situation, investment objectives, or particular needs of any specific person who may read this article. Individual investors are encouraged to independently evaluate specific investments and consult a licensed professional before making any investment decisions.
All data presented by the author is regarded as factual, however, its accuracy is not guaranteed. Investors are encouraged to conduct their own comprehensive analysis.
Positive comments made regarding this article should not be construed by readers to be an endorsement of my abilities to act as an investment adviser.
Editor's Note: This article covers one or more microcap stocks. Please be aware of the risks associated with these stocks.