By FS Staff
Dan Prescher from International Living says Costa Rica ranks as their number 1 spot for the "World's Best Places to Retire" Index in 2018.
"It just has almost everything going for it," Prescher said. "It's a very peaceful place. The character of the Costa Rican people is cooperative, non-confrontational, and just pleasant to get along with."
And, most importantly, for those looking to lower their cost of living, it's "very affordable," he told Financial Sense Newshour listeners last week.
Deciding on Living Abroad
Moving out of the United States for retirement isn't for everyone, Prescher noted. There are three things anyone should do to figure out if the choice is right for them.
First, those considering the move need to research everything exhaustively. The Internet has changed the entire equation, Prescher noted. Now, retirees have a massive amount of resources to help with research and can figure out how much it will likely cost to live in various areas within a new country.
Second, potential ex-pats also need to profile themselves and take into account the logistics of living abroad. One of the attractive aspects of Costa Rica is the relative logistical ease of returning to the United States, should a trip back become necessary.
Those considering a move abroad need to figure out if making the move is right for them. Can they tolerate the change in conditions? Will they miss anything that's vital to their happiness if they move abroad?
After these questions are answered, the third step is to try before you buy, meaning retirees need to have a trial run living in-country for a period of time before they elect to buy property or become full-time residents.
Ultimately, though, the opportunities of economic arbitrage can give retirees a chance to live in relative comfort and stretch their retirement dollars much farther than they would if they remained in the United States.
After Costa Rica, International Living listed Mexico, Panama, Ecuador, and Malaysia as the top 5 Best Places to Retire in 2018.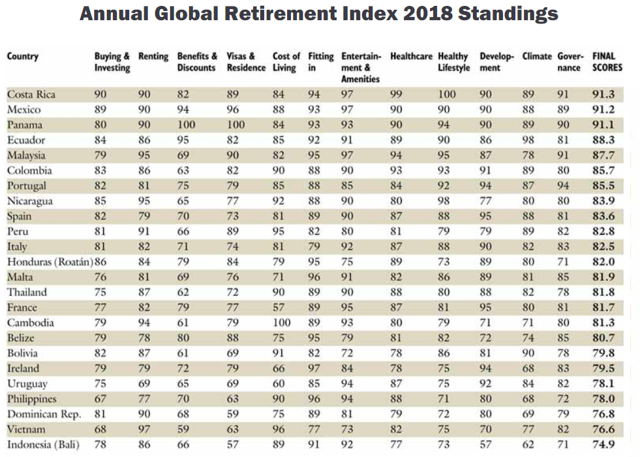 Advantages of Costa Rica
Costa Rica topped International Living's 2018 Global Retirement Index, Prescher noted, just edging out a few other countries and regions this year.
The country is a stable democracy, has no standing army, and an excellent national healthcare system residents can take advantage of. It's also focused on natural preservation and eco-tourism.
Costa Rica also has a comparatively lower cost of living, meaning that retirees' dollars will stretch farther. Considering that Costa Ricans are used to dealing in dollars and converting cash to the local currency isn't difficult, many ex-pats don't have trouble adapting. The recent strength of the dollar also helps.
Real estate opportunities are also attractive in Costa Rica. In some places, it's possible to buy ocean-adjacent property for around $200,000. While there are cheaper places to live, the combination of factors puts Costa Rica at the top of this year's rankings.
Legal Considerations and Crime
Property rights are the main concern for ex-pats, and Costa Rica offers some protections, Prescher stated. Retirees can enjoy all the rights and obligations of a local property owner when they buy property in Costa Rica.
Crime exists in Costa Rica as it does anywhere in the world, but it isn't nearly as bad as in other parts of Central and South America, Prescher noted.
Also, it's worth noting that currently, U.S. retirees who have Medicare cannot use it abroad. However, Costa Rica has a national healthcare system that legal residents can access.
Also, out-of-pocket costs are so comparatively low compared to the United States, Prescher noted, and private insurance is available.
"Compared to the United States, you have a cornucopia of healthcare choices and insurance choices in Costa Rica, as you do in most of the rest of the world," Prescher said.