A lot of my friends are asking me – what is the best ETF for this or that region/sector? Easy question, hard answer. The problem is, the best ETF for my portfolio is not necessarily the best ETF for your portfolio. Anyway, to choose the right one, it is (besides other things) important to know what your current portfolio looks like and what the ETF you're buying is exactly doing. I do not know what your portfolio looks like, but what's more interesting is that in recent months, I have found that some people (or a lot of people, if I'm speaking about my friends) do not see a difference between ETFs that are similar, but not the same – so I have decided to write a short series of articles on this issue. Many people own some US shares (directly or through ETFs), so I will focus my articles on global ex-US board equity ETFs because it's good to not own only US shares, but also to have exposure to other countries. In this first article, I will focus on Vanguard (a passive investing pioneer) ETFs. The next article will be about iShares and the (probably) last one will focus on the rest.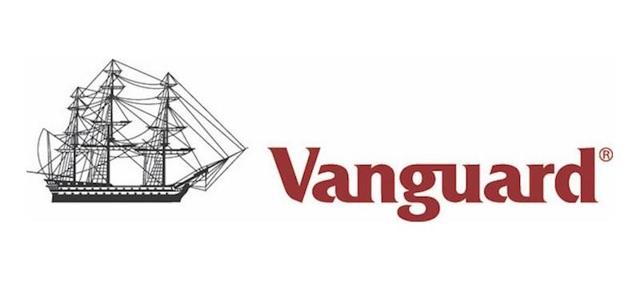 VEA, VEU, VXUS...
If you want to invest in global ex-US equity with a plain strategy (without focusing on factors such as low volatility, etc.) and you want to use Vanguard's ETFs, you could choose from the "basic holy trinity." These are Vanguard FTSE Developed Markets ETF (VEA), Vanguard FTSE All-World ex-US ETF (VEU) and Vanguard Total International Stock ETF (VXUS). They don't have the same name, but it all sounds pretty similar. So, what's the difference? Probably the most important thing in this article is in Table 1.
Table 1: VEA,VEU, VXUS; source: Vanguard
| | | | | | | | |
| --- | --- | --- | --- | --- | --- | --- | --- |
| | AUM | Average Daily $ Volume | TER | Index | Number of stocks | Region | Market cap. |
| VEA | $70.53B | $347.61M | 0,07% | FTSE Developed All Cap ex US Index* | 3906 | Developed | All |
| VEU | $22.94B | $115.94M | 0,11% | FTSE All-World ex US Index | 2714 | Developed + EM | Large/mid |
| VXUS | $11.27B | $37.98M | 0,11% | FTSE Global All Cap ex US Index | 6349 | Developed + EM | All |
Note: * since 2015
As you can see, all three ETFs are tracking indices provided by FTSE Russell. However, VEA is tracking the FTSE Developed All Cap ex-US Index, which means that this ETF is focusing only on developed markets and is investing in all types of companies – large, mid and small cap. On the contrary, VEU is investing only in large and mid-cap companies. However not only from developed markets but also from emerging markets (by tracking the FTSE All-World ex-US Index). Last but not least, VXUS is the most diversified ETF of all of those mentioned. The portfolio consists of 6,349 companies from developed as well as emerging markets and companies of all three sizes – large mid and small cap.
As you can see from Chart 1, VXUS and VEU have almost similar regional portfolio compositions, while the VEA portfolio is of course totally different. This is not a surprise. Although VXUS, unlike VEU, is investing in small-cap companies, all indices are market weighted, so the weight of small companies is relatively low and does not have a big impact.
Chart 1: Regional allocation; source: Vanguard
In Chart 2, you can see the sector allocation of all three ETFs, but I do not think there's a need for further comment. Why? Regional and sector allocation have nothing to do with over or underweighting one sector/region or another. All three ETFs are passively tracking their indices. Also, people in FTSE Russell do not over or underweight this or that sector on purpose because they think that finance or technology have now better outlook. They are only deciding whether this or that country is developed, emerging or frontier (somewhat simplified), so that a given country fits within a given index (you can read the whole methodology here if you want). However, this is important because it also means that different index providers can have different approaches to this ranking system – as you will see in my next article, not all countries that are "developed" according to FTSE are also "developed" according to MSCI (I'm speaking about South Korea). It's also important because, in a few years, you can be pretty sure that all indices will look different, although it's hard to predict exactly how.
Chart 2: Sector allocation; source: Vanguard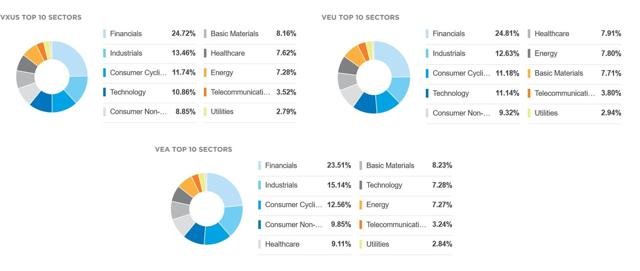 Anyway. As you can see, all three ETFs could be similar, but for sure are not the same. In Chart 3, you can see how profitable and volatile these ETFs were – volatility is almost the same, but looking at the return, VEA is the winner. Why? Well, it's simple. As most of you probably know, recent years have not exactly been the best for emerging markets. The five-year return of emerging markets is only about half of the developed markets return (MSCI EM vs. MSCI World), so if you had emerging markets in your portfolio, your return was lower. But does all this mean that VEA is the best ETF?
Chart 3: Return and volatility; source: ETFreplay.com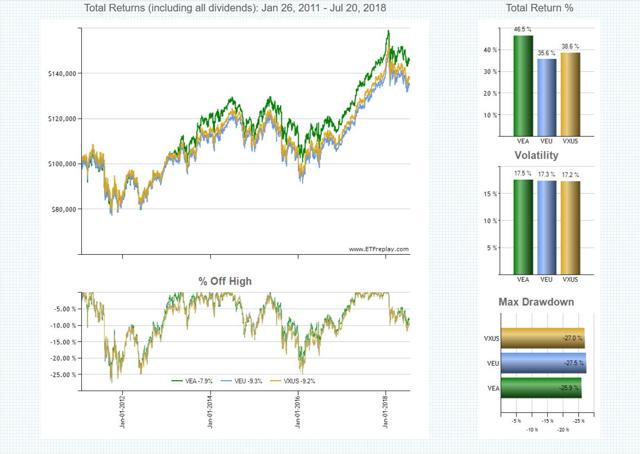 No. As I mentioned at the beginning, it all depends on what your portfolio looks like. If you are a passive long-term investor and you want to have a large diversified portfolio, you should include emerging markets, even though the last few years have not been the best for them. So, if you only have US shares in your portfolio now, I would recommend VXUS (of course I am currently speaking only about Vanguard ETFs), because this ETF is offering nice big diversification in plenty of countries and companies of all types. Although the weight of small-cap companies is small, I still think that it is better to have them in your portfolio (under normal circumstances) – so VXUS is slightly better than VEU (in my opinion).
However, if you are "a bit more sophisticated" as an investor, meaning that your portfolio already consists of some emerging markets shares (directly or through ETFs), you should look at VEA. The reason is simple. If you already own some emerging market shares and you would add an ETF that also has companies from emerging markets in its portfolio, the total position of emerging markets could be a bit high – maybe higher than you intended – so it's easier to add VEA. It's also the ETF with the lowest TER.
Well, this was Vanguard. As I have already mentioned, in my next article, I will focus on similar ETFs provided by iShares.
Note from author: Thank you for reading. If you found value in the above article and you'd like to be made aware of my opinion on another ETFs, then I encourage you to follow me by clicking the "Follow" button at the top of this page next to my name.