Shared Liquidity In Online Poker Promises Big Returns For iGaming Operators
Summary
Pooling together poker players from across state lines and from multiple countries is proving to be a winning strategy for online gaming companies.
Financial data from gaming regulators and public companies have confirmed growth resulting from new shared liquidity policies.
The Stars Group, parent company of PokerStars, the largest online poker provider in the world, was first to take advantage of the new European online gaming regulations.
In the US, WSOP.com and 888 are well-positioned to take command of the US online poker market as additional states adopt igaming.
Pooling together poker players from across state lines and from multiple countries is proving to be a winning strategy for online gaming companies and government bodies looking for an increase in tax revenue.
By bringing poker players together from multiple jurisdictions that would otherwise be segregated, online poker operators are able to increase the volume of activity on their platforms, commonly referred to as their liquidity.
In Europe, France, Spain and Portugal now allow online poker companies that operate in these jurisdictions to combine their players into a single player pool. Allowing greater access to online poker sites produces bigger tournament prize pools and the ability to offer a wider variety of games; both which are significant contributing factors leading to increased revenue.
The financial growth from European shared liquidity became apparent soon after the first online poker operator combined players from France and Spain. The Stars Group (NASDAQ: TSG), parent company of PokerStars, the largest online poker provider in the world, was the first company to take advantage of the new online gaming regulations in January 2018.
Immediate Signs of Success
Online poker traffic figures on the Poker Industry PRO data platform highlighted one of the first indicators that the new shared liquidity pool was yielding positive results. As expected, poker traffic on the new PokerStars European network spiked soon after the merger, but even as the novelty began to wane, traffic figures remained strong registering more activity than the sum of the French and Spanish markets prior to the merger.
In addition, the operator boosted guarantees on the cash prizes awarded in its two of its regular weekly tournaments, a move that signaled confidence that the combined player pools would increase participation by players at levels greater than the sum of the two markets individually.
PokerStars also launched a new tournament series on its new European network with €5 million in guaranteed cash prizes. Though the move was viewed as aggressive, the series surpassed expectations awarding over €6.1 million.
One month later, PokerStars continued to test the limits of the new shared liquidity pool with a €10 million guaranteed tournament series, the largest poker tournament series ever held by PokerStars outside of the global dot-com player pool. In total, €11.6 million was paid out during the European Spring Championship of Online Poker and more than €1.1 million was collected in fees by the operator.
Financial Data Confirms Growth
First-Quarter figures released by French gaming regulator ARJEL were the first financial indicators of the success of European shared liquidity. Online poker revenue in France grew more than 8% on an annual basis in the first quarter of 2018, following the implementation of new regulations allowing online poker operators to share their player pools with those in Spain.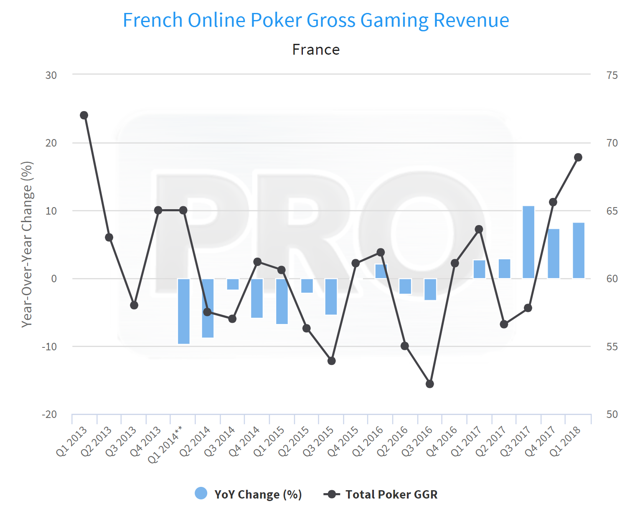 Not only was the €68.9 million in revenue a five-year high, but it was achieved with just a single operator able to leverage the new rules. During the first months of the year, only PokerStars had successfully managed to obtain approval for cross-border liquidity sharing from both France and Spain.
Other impressive figures reported by the regulator included an increase of 5% in active poker player accounts, a 15% rise in tournament poker which reached the highest amount on record, and €1.1 billion in bets placed in non-tournament games, representing 18% growth annually.
In Spain, the numbers were just as impressive as online poker revenue set a record for the market totaling €21.5 million. The historic figure represented year-over-year growth of 41.6%.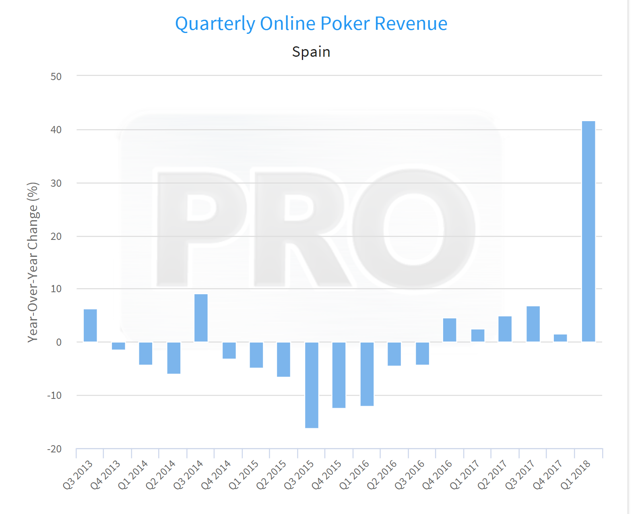 Q1 financial reporting from The Stars Group shows the company experienced a spike in online poker revenue with the vertical generating $245.9 million, the highest quarter on record.
"There are a lot of [positives signs] coming from the combination of France and Spain, and obviously we see the revenue growth," said CEO Rafi Ashkenazi speaking to analysts during the Q1 earnings call.
Though the 12.4% annual increase in poker revenue was mostly a factor of currency fluctuations, the vertical still grew 2.2% on a constant currency basis.
Such growth is still impressive considering the company faced substantial regulatory headwinds in the interim, including limitations on payment processing in Poland, pulling out of the Columbian market following the implementation of new restrictive online gambling regulations preventing international liquidity and the withdrawal from the Australian market which represented approximately 2.5% of the group's revenue.
In May, gaming regulators in Portugal provided PokerStars (the only online poker operator currently licensed in the country) with the final approval to join its Portuguese players with those in France and Spain. However, due to differences in regulations from its French and Spanish counterparts, not all games were added to the shared liquidity pool.
The Need for Shared Liquidity
Prior to the widespread regulation of online poker, players from all over the world were able to sit together and compete against each other at the same table and in the same poker tournaments, fueling what is referred to within the industry as the online poker boom.
Online poker grew virtually unabated as lawmakers scurried to modernize statutes and regulations that left gaping holes in traditional gaming laws. But as new laws were implemented, government authorities did not heed the warnings of the online poker industry not to limit global access to online poker rooms.
As a result, the first countries and states that legalized online poker also segregated the player pools by only allowing those physically present within their jurisdiction to participate in the games.
It did not take long for government agencies to see steady annual declines in tax revenue from online poker prompting them to act before the industry's biggest operators withdrew from markets with conditions viewed as increasingly untenable.
GVC Joins the Party
Online gaming giant GVC (LON: GVC), parent company of partypoker, became the second operator to join player pools from France and Spain in June.
"Today's partypoker.eu launch represents a milestone for both French and Spanish players, who can now enjoy greater variety, reduced rake and bigger and better games on the new .eu platform," partypoker Managing Director Tom Waters said. "We look forward to bringing our Spanish and French players together for the first time on our new and improved site."
Shared liquidity is expected to have less of an impact for GVC when Q2 financials are announced. The company's offering in Spain was adversely impacted by the segregation of its Spanish players, and little resources were devoted to maintain a significant presence in the market. As a result, GVC will have a steeper hill to climb to return to the prominence it had prior to regulation of the Spanish market.
Shared Liquidity Drives Success in the US
As was the case in Europe, the advent of online poker regulation in the US, coupled with the segregation of player pools by those states that chose to allow online poker, eventually led to steadily declining revenues.
And though Nevada and Delaware began sharing online poker liquidity back in 2015, their combined population was not enough to reach the critical mass required for growth. It wasn't until New Jersey joined the Multi-State Internet Gaming Agreement (MSIGA) that shared liquidity began providing clear benefits in the US.
The All-American Poker Network (AAPN), operating on the 888poker platform, welcomed online poker players in New Jersey in May, and consists of online poker rooms run by 888 (OTCPK:EIHDF) (LON: 888), WSOP.com (NASDAQ: CZR) and three Delaware racinos.
According to revenue figures reported by the New Jersey Division of Gaming (DGE) for the month of May, the online poker rooms operating under the Caesars license and on the AAPN catapulted to the top spot in terms of revenue, unseating the previous market leader, PokerStars, which does not currently offer its services in any other US state outside of New Jersey.
"This is truly a game-changer for players and we hope is the model blueprint for additional states to join the fray," stated WSOP.com's Head of Online Poker Bill Rini.
Thanks to shared liquidity, WSOP.com was able to leverage its seven-week summer festival in Nevada by offering players in New Jersey the chance to compete for a World Series of Poker gold bracelet for the first time from their home state.
Revenue reports from June showed the AAPN holding its market lead in New Jersey and continuing to benefit from shared liquidity.
Shared liquidity helped online poker rooms operating under the Caesars license notch sequential year-over-year increases of 42% and 73% in May and June, respectively, while other New Jersey online poker operators saw revenue drop an average of 27% from 2017.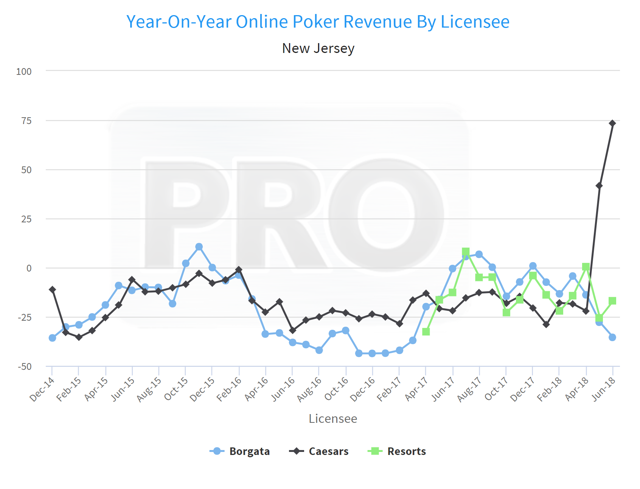 Italy and Pennsylvania Expected Next
Shared liquidity is expected to continue to expand in currently segregated markets in Europe and in additional states in the US as they come online with internet poker.
Italy has already joined the European pact but has yet to implement new regulations allowing its operators to combine their player pools with those in France, Spain and Portugal.
Pennsylvania has legalized online poker, and it is expected that operators will launch the games before the end of the year. Soon after, Pennsylvania gaming regulators are expected to give them the green light to begin sharing liquidity across state lines. This will likely mark the first time that a network other than AAPN will share online poker liquidity in the US.
The Next Chapter in Shared Liquidity Will Be Depicted in Q2 Financials
Financial data from gaming regulators in France, Spain and Portugal for Q2 2018 are expected in the coming weeks, as are those from The Stars Group and GVC; however, the numbers from Q2 may not compare favorably to those from Q1.
The second quarter is traditionally a slower period for online poker, but it will be the year-over-year comparisons that will tell the true story.
Disclosure: I/we have no positions in any stocks mentioned, and no plans to initiate any positions within the next 72 hours. Business relationship disclosure: All major online poker operators are customers/subscribers to our analytics platform.
Editor's Note: This article discusses one or more securities that do not trade on a major U.S. exchange. Please be aware of the risks associated with these stocks.