This report contains graphic pictures of wounds and injuries.
PolarityTE (COOL) recently came out with a press release stating that it expects to exceed Bloomberg consensus 3Q revenue estimates. The stated Bloomberg estimate is $350,000, which should surprise no one that the company will exceed this amount. Per investor report from Cantor Fitzgerald analyst Elemer Piros, the price of treatment with SkinTE is $60 per cm/2. The average male has roughly 18,000 cm/2 of skin. The average burn victim has burns to 14% of their body. This would reflect roughly $150k per treatment. Bloomberg estimate here is giving the company a rough target of 3 patients treated with SkinTE in a three-month period.
The bull thesis for PolarityTE is that SkinTE will become the standard in wound care, with Cantor Fitzgerald estimating $325m in sales by 2021.
The current clinical standard of care for burn patients is to be treated with a split thickness skin graft. This is great because it has a roughly 90% success rate and is almost free. Below is a sampling of the results one would expect with a split thickness skin graft.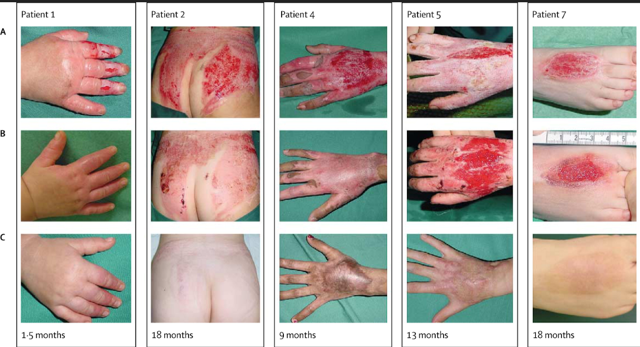 Logistical challenges
Vericel (VCEL), maker of Epicel, is a close competitor to SkinTE. It has been on the market for 20 years, and went through the more stringent 351 process through the FDA, meaning it had to obtain PreMarket Approval and underwent series of clinical trials and human testing. With Epicel, a surgeon sends off two stamp size donor samples of the patient's skin. From this, Vericel can grow enough skin to cover an entire patient. Even with this technology, Vericel only generates 18m in annual revenue from this product.
There are two main reasons why Epicel has limited use, and we believe these reasons will also apply to SkinTE. For every patient that is a potential candidate for use of Epicel, it faces an (IRB) or institutional review board where the hospital administration determines if this treatment should be approved, as well as approval from the patient's insurance provider. Based on the parallels between the two products, we believe SkinTE will also face IRB before every use.
The second challenge that is shared between the two is that the product is processed and developed off-site. A surgeon must send a donor sample to PolarityTE's lab in Utah, where it is processed and returned to be applied to the patient. During transport, the tissue sample is slowly degrading and thus less of it is viable to be used for making the final product. Previously, in its 10-K PolarityTE claimed a 24-48 hour turn time. This has been changed on its website now to reflect 48-72 hours. In speaking with an expert physician with experience with the product who wishes to remain anonymous, the time frame is more likely in the range of 10-14 days. This time delay is significant as it delays healing, where a skin graft would have been applied on the first day. This mail away system also is challenging for providers, as they are not paid for the second appointment where the patient receives the final product. Similar products such as Cellutome by Acelity give the surgeon or physician the ability to harvest on site, and with minimal trauma to the donor site.

Source: PolarityTE KOL Webcast
From this we can reasonably conclude that with SkinTE, the donor site required size scales with regards to the area being treated. This also is backed up by my conversation with an expert physician familiar with the product, who wishes to remain anonymous, who stated that the donor site requested by PolarityTE was roughly the size of a fist.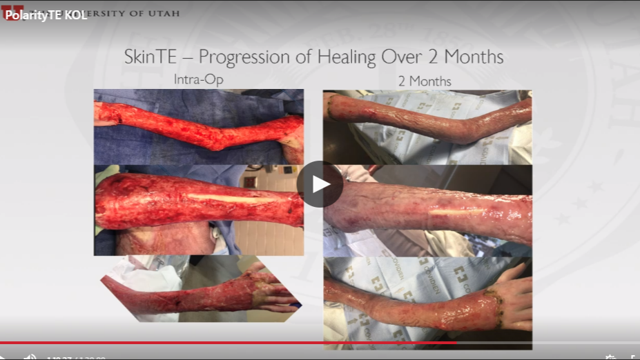 Source: PolarityTE KOL Webcast
In this patient with third degree burns to the arm, Dr. Stephen Morris advised that the SkinTE treatment only provided 50% coverage to this patient. It should be noted that the patient experienced a pseudomonas infection, and as a result the SkinTE treated area was removed and replaced with BTM and cadaver skin.
A Reimbursement challenge
PolarityTE hired Nicholas Anderson as 'Director of Market Access,' as he is viewed as an expert in product reimbursement. In his work "Health Economics and Reimbursement Counsel from a Payer" he outlines what he sees as the four most important points in obtaining product reimbursement.
Evidence of an improvement in health outcomes resulting from the use of the technology
Evidence that the technology is non-inferior or better than the standard of care
Evidence that the outcome is durable
Evidence-based pricing
These points outline what we view is a significant hurdle for SkinTE sales. Since the product is so new and is registered under FDA 361c, it went straight from mice to commercial sales to humans. As disclosed by CEO Denver Lough during the company's analyst call with Cantor Fitzgerald, there are three institutions that are currently running trials comparing SkinTE to a split thickness skin graft. These results will not be published for at least a year, which poses a problem for PolarityTE. The company has requested an HCPCS code for its SkinTE product, with an effective date of January 1st, 2019. Based on the lack of data surrounding the product, we believe that this will be an unlikely outcome. In speaking with an expert physician who wishes to remain anonymous, we were advised that with regards to the hospital system they work for, no products are accepted that lack human data in peer-reviewed context and RCT (randomized controlled trial). Currently, according to HCPCS, the product would be billed under the DRG using "the miscellaneous code Q4100, skin substitute not otherwise specified." With regards to the DRG, the hospital receives a set payment based on the condition of the admitted patient; therefore, it is in the economic interest of the hospital to utilize the treatment method that presents the best outcome for the lowest cost.
New competitor joins the fold
Launching this year, Medline is releasing its ART device, or Autologous Regeneration of Tissue. ART is a full-thickness skin graft device that is used in an outpatient setting. Here we see a much smaller donor site with minimal trauma, and it is developed on site. This product appears to accomplish what PolarityTE aims in SkinTE, without a large donor site or the need to wait multiple days to apply the graft, and appears to be significantly less expensive.
Conclusion
Based on the challenges facing the product, we believe it is unlikely that SkinTE will achieve the "paradigm shift" and become the clinical standard of care for burn and wound patients. To quote CEO Denver Lough, "SkinTE is no panacea." PolarityTE must demonstrate that SkinTE is significantly better than the current standard of care, which is a split thickness skin graft to justify the expensive treatment. Based on the results we have seen thus far, we do not believe the company has proven this to be an improvement over the current standard of treatment. We reached out to PolarityTE for comment but did not receive a response.