China And Asia Continue To Thrive For Apple
Summary
Q3 results illustrated continuing strength in both China and Rest of Asia Pacific.
India still a work in progress.
Growing population in Asia will provide secular growth for the company.
Strong brand and product synergies will drive future growth in the world's fastest-growing region.
The Q3 results from Apple (NASDAQ:AAPL) once again showed the importance of Asia to the company. 31% of Q3 revenues came from the region. China was especially strong. Asia's growing population provides a strong basis for growth not just based on new products or increased market share. Tim Cook continues to understand this growth driver even though it is underestimated by many analysts. The strength of the brand resonates with the continent's growing population.
Asia
Growth for Apple is being seen across the complete product range. Much of this is based around the value of its brand.
My article in February gave details of why Asia's 4.3 billion consumers matter so much to the company. This is not surprising when you see that:
Asia = 34% of world GDP.
North America = 28% of world GDP.
Europe = 21% of world GDP.
The World Bank detail is illustrated below: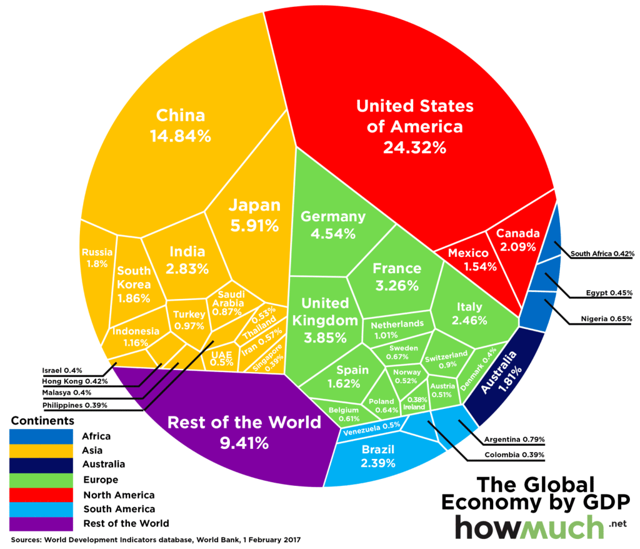 Apple's Q3 results showed continuing year-on-year healthy growth in Asia although this quarter the Americas had the strongest growth: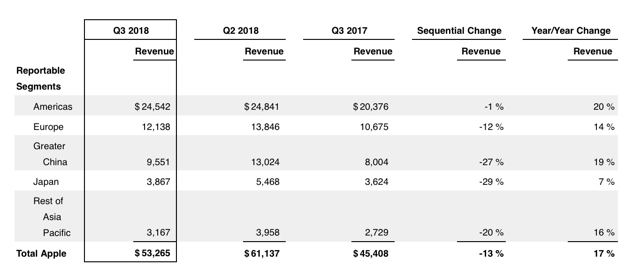 Apple
Of course, GDP per capita is lower in Asia than in North America or Europe. However, the growth drivers are there. Most importantly, the region has generally young populations and strong economic growth rates.
Many of the newer product areas from Apple are those that will appeal to Asian consumers. In particular, there is the Apple Watch. A new report from Canalys estimates that Apple sold 3.5 million in the last quarter out of a world total 10 million. This represented an increase of 35% in what is a strongly growing market in general. Apple has been able to leverage the business on the back of its iPhone customer base although competitors such as Fitbit (FIT) and Garmin (GRMN) also did well.
The report stated that Asia is leading this surge in watch shipments for Apple. The Apple Watch is the best-selling smartwatch on the continent. 250,000 units were sold in Asia outside of China. Existing LTE partnerships in Singapore, Australia and Japan had done well. New partnerships had been signed with Thailand, India, Taiwan and South Korea. 60% of the sales are for the LTE version.
Luxury watch sales are soaring all across Asia and the Apple Watch fits into this narrative. China and Hong Kong are the world's biggest market for luxury watches. Apple does not break down exactly its "wearables" category. Its total revenue for this segment grew 60% in Q3. Much of this growth is thought to come from Asia. At the Q3 analyst call, Tim Cook said the Apple Watch did "extremely well" in China.
Health apps are doing well. The GymKit app is typical of this. It was initially launched in Australia and has recently been brought to Hong Kong and Japan. In Q3, AppleCare had its highest growth rate in 18 quarters. Again, much of this surge in growth is thought to have come from Asia.
"HomeKit" is said to have attracted a lot of interest in China where the Government has been actively promoting home automation. Elsewhere in Asia, it is reported that it is picking up sales. For instance, in Singapore up to 10% of new home owners are interested in such applications. The Apple product is in some ways less developed than those from Google (GOOG) (GOOGL) and Amazon (AMZN). It has the advantage though of the frequency of use of the iPhone in the country.
Apple Pay is also the right product for the right time. Asia, especially China, is leading the world in the usage of cashless payments.
iPads had a good Q3 around the region. They enjoyed double-digit sales growth both in Greater China and in Rest of Asia Pacific
Branding is key for Apple in Asia. It is why they have been able to sell expensive iPhones despite the high cost of the product compared to personal incomes. Anyone who has travelled around Asia will have noted the plethora of expensive branded goods.
According to Interbrand, the most valuable brand in the world in 2017 was Apple. It is not very clear how they apportion value, but the company put Apple's value at US$184 billion. Apple's brand value shows no sign of faltering. It will continue to be the key growth driver for them in Asia. There are many millions of people in Asia who do not own an iPhone but aspire to do so. Other mobile phone brands cannot say the same.
This has been one reason why Apple has started to boost its retail footprint around the continent. One could say they were slow to do this. 31% of worldwide revenue comes from Asia. However, only 11% of Apple's stores worldwide are in Asia. Now they finally seem to be ramping up more headline state of-the-art retail outlets in Asia, such as the store in Singapore pictured below: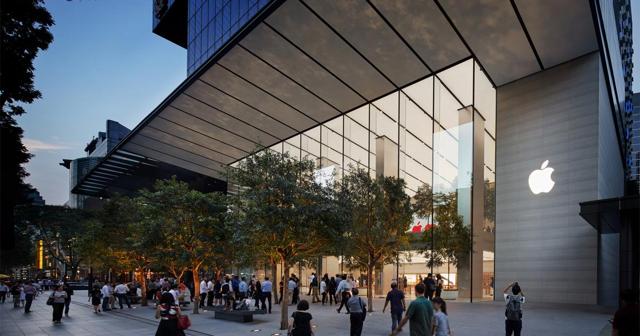 Despite the rise of e-commerce, bricks and mortar stores work for Apple. The stores do repairs and host free seminars. More importantly, they also give off a good image for the brand. Knowledgable staff advice customers without making a hard sell. Several Apple re-sellers in Singapore have closed shop since the Apple store opened.
Japan produces around 9% of worldwide sales, but there are only 7 Apple stores in the country. Compare this to, for instance, France with 20 stores or Spain with 11 stores. Both those countries have far lower Apple revenues than Japan. Apple did recently announce a new 5-year retail initiative in the country with new stores and renovation of existing ones. Precise details have not been released yet.
Various older stores, especially in China, are being renovated. A second store is due to open shortly in Macau. A new "global flagship" store is being planned for Melbourne, though there have been some delays for architectural reasons.
China
Previously many sceptics constantly opined that Apple would never succeed in China. They cited the low GDP per capita and the presence of local manufacturers. Time and again they have been proved wrong. Q3 was the fourth consecutive quarter that Apple has enjoyed double-digit growth in the country. Time and again Apple shows strong growth in China, even for the more expensive products. The success of the iPhone X there is the ultimate example of this.
Smartphone sales are forecast not to increase much this year in a market, which analysts reckon is fairly saturated at the higher end. However, overseas rivals such as Samsung (OTCPK:SSNLF) have seen an actual decline in unit sales. So the iPhone is likely to increase its share of this sector.
At the analyst call, Tim Cook noted that the top three selling phones in urban China were iPhones. The iPhone X, which many sceptics have said would be too expensive for the Chinese market, was the No. 1 seller. This is rather extraordinary when you consider that, according to Kantar Worldwide, in the more affluent USA the iPhone 8 outsells the iPhone X. Worldwide the trend was similar. Apple increased iPhone unit sales by 1% but increased revenues by a startling 20%
At the Q2 earnings call, Tim Cook had emphasised the depth of Apple's engagement in China. Wearables and services were booming there, and Mac was gaining market share. The number of developers was increasing rapidly. This trend has continued.
In Q3, revenue increased 19% year-on-year to reach US$9.55 billion. So about 20% of the company's total revenue comes from China. All product categories were strong there in this latest quarter. This evidences the depth of Apple's penetration in the country.
The number of downloads from the Apple store that emanate from China is just one example of the depth and breadth of Apple's penetration in the country: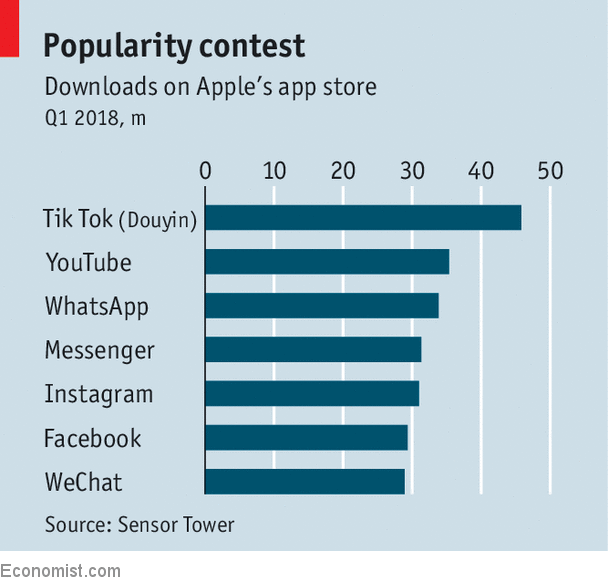 The biggest problem Apple has with China is that it could become a victim of its success there. The protectionist stance of the Trump Administration could mean Apple has too many eggs in one basket, both in terms of sales and manufacturing. If Trump's protectionist packages actually happen, China could retaliate against Apple.
At the Q3 call, Tim Cook was diplomatic as usual:
"I can't predict the future but I am optimistic that the countries will get through this and we are hoping that calm heads prevail."
At present, there is a 16% value added tax levied on imported phones. China is probably not keen to punish Apple. The company accounts for approximately 3 million employees in supply jobs and about 1.5 million app developers.
India
India is still very much a work in progress for Apple. This is perhaps shown by the lack of much commentary on India in the Q3 results.
I have previously written about the difficulties of the market for the company. These can be summarised as:
* Widespread corruption in the country at every level.
* Low GDP per capita making Apple products expensive.
* Wealth inequality reducing the number of potential customers.
*A difficult retail environment in various ways.
* Protectionist policies by the government.
Another problem cropped up for Apple last month with a threat to ban iPhones altogether by January 2019. This is because Apple have refused to allow an anti-spam app produced by the Indian Telecom regulatory authority to be sold on the Apple Store. Apple cites privacy concerns but will no doubt have to give in before January. The incident is another example though of the difficulties inherent in the Indian market.
The rising middle class is often cited by Western companies as reasons to invest substantial amounts in India. Tim Cook had talked about it in the Q2 earnings call.
There are many misconceptions about this rising middle class. A study by U.K. bank HSBC cited that 300 million middle-class Indians would become 550 million by 2025. However, this was somewhat misleading as "middle class" in India does not equate to people with a large amount of cash to spend on foreign branded goods. Amazon has found it difficult in India for the same reason.
As The Economist pointed out in an article earlier this year, the real "middle class" as the West would perceive it is nearer to 50 million. This is mainly due to income inequality. The top 1% earn 22% of the entire income pie. In China this figure is only 14%. That leaves China with a much larger pool of middle-class people with money to spend. This is illustrated below: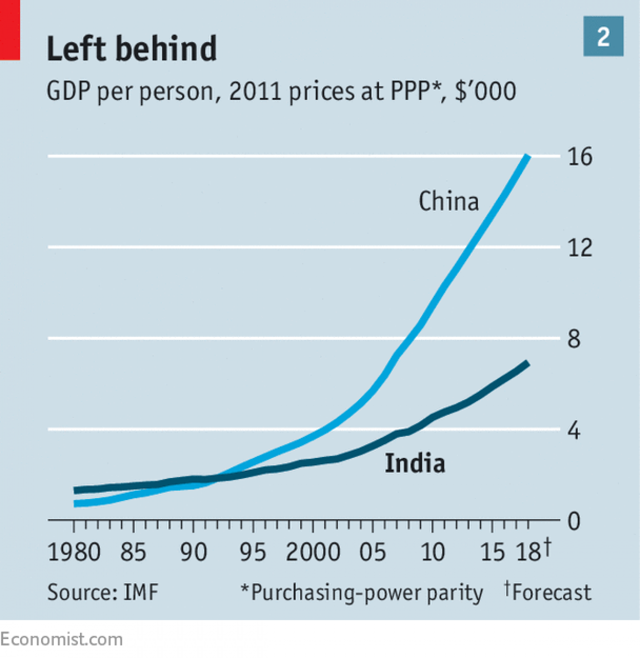 My article in March detailed some of the seemingly intractable issues Tim Cook has been trying to resolve with the Indian Authorities. These centre around taxation, local sourcing and retail regulations.
These are all hurdles that were overcome by Apple in China. The barriers are higher to jump in the case of India. The country has a very strong "Make in India" policy. Domestic manufacturers roll out around 500 million feature phones every year. Smartphones are mainly covered by overseas manufacturers with local production.
The 50 million or so affluent Indians are carrying Apple products into the country from overseas in large numbers. This particularly happens in Singapore where iPhone sales greatly outnumber iPhone users.
The Apple Watch was launched in India in October on a GPS basis only. In May, the company began sales of the LTE-capable Apple Watch. The high retail prices (Apple has no retail stores of its own in the country) might hold back sales though.
Recent developments have not gone as well as expected for the company in India. Staff turnover is a sign of this. Recently, the company replaced its heads of national sales and distribution, of commercial channels, and of television carrier sales.
They have been manufacturing the iPhone SE for some time there but sales have been somewhat disappointing. In April, they began production of the iPhone 6S through contract manufacturer Wistron at a new factory in Bengalaru. Apple also has a US$100 million research centre in Bengalaru.
Counterpoint reckon Apple sold 3.2 million iPhones in 2017. It said the first half of 2018 has started slowly for sales. Their latest Q2 sales estimate has Samsung increasing market share at the high end to 29% and Xiaomi to 28%.
Tim Cook's Q2 comments were more bullish than that as regards 2018 sales. The "premium brand" segment only represents 2% to 3% of the total smartphone market. The filings for Apple India for FY 17 had shown total income rising only moderately by 17%. Profits were all ploughed back into local operations rather than paid as a dividend to the parent company.
Elsewhere in Asia
1.8 billion people live in Asia outside of China and India. My previous article detailed some of these countries and I will not repeat that here.
These countries have been under-estimated by most commentators. There is, rightly, much talk of the potential of India for Western brands. However, many other countries have similar promise. For instance, South Korea with just 51 million people has the same total wealth as India with its 1.2 billion people.
Japan is an example of an individual country in Asia in which Apple can thrive. Indeed Apple has greater penetration there than anywhere else in the world. Over half of all mobile phones sold are from Apple. 46% of tablets are iPads. 3 out 5 of the top-selling phones in the country are iPhones. The Q3 revenue growth of 7% may have been a bit disappointing but can probably best be seen as solid growth for what is a very mature market, which Apple dominates.
In country after country, Apple leads the market in Asia. In most instances, it has usurped Samsung as the previous market leader. Figures released for Taiwan recently, for instance, show the iPhone at 27% market share against Samsung's 20%.
The ever-growing countries of the ASEAN group present strong opportunities. The 570 million people of ASEAN have GDP per capita varying from the US$3,000 of the Philippines to the US$59,000 of Singapore. All share growing populations and continuous economic growth. The Apple brand is strong everywhere. For instance, a recent special offer by a distributor in Malaysia for older models of the iPhone 5S and iPad Air 2 drew a crowd of 11,000 people to their warehouse.
Conclusion
Observers are always trying to identify what will be the next mega growth driver for Apple. Many analysts decry the fact that Apple has not produced another game-changer like the iPhone. Of course, such game-changers do not occur very frequently.
In product terms, the company has several strong growth drivers. One thinks particularly of the Wearables section comprising the Apple Watch, Beats and AirPods. Service revenues are at the forefront of growth everywhere.
Apple has the potential, and indeed likelihood, of strong growth in the short and medium term throughout Asia. The growing economies and populations of these countries will provide this even without startling new products. This macro demographic trend is an under-rated Buy factor for the company.
This article was written by
Nick Cox is a long-time entrepreneur and investor,currently living in Singapore.He has lived and worked in the Asia-Pacifci region for many years.He is a graduate in modern history and economics from University College,London University. His investment strategy is centred around finding long-term growth companies in the region based on inspiring Management and businesses at the cutting edge of new growth areas. Asia is the leading driver of worldwide economic growth today and for the medium term.
Analyst's Disclosure: I am/we are long AAPL. I wrote this article myself, and it expresses my own opinions. I am not receiving compensation for it (other than from Seeking Alpha). I have no business relationship with any company whose stock is mentioned in this article.
Seeking Alpha's Disclosure: Past performance is no guarantee of future results. No recommendation or advice is being given as to whether any investment is suitable for a particular investor. Any views or opinions expressed above may not reflect those of Seeking Alpha as a whole. Seeking Alpha is not a licensed securities dealer, broker or US investment adviser or investment bank. Our analysts are third party authors that include both professional investors and individual investors who may not be licensed or certified by any institute or regulatory body.