Introduction
It has been almost 5 years since beginning my journey in creating a paycheck replacement. Before this time period I was like most people building wealth through my company's 401k plan. Limited mutual funds were the only option available.
Once I reached my pre-retirement age 59-1/2, I began to rollover my 401k into an IRA. This is where I started to experiment with dividend investing which lasted two years from 2012 to 2013. The portfolio method I'm currently using was started in 2014 and continues to this day.
It must be noted I did not transfer my 401k balance all at once. I transferred slowly, once a year in a conservative manor to become familiar with dividend investing. The main drive for this process was to create a paycheck replacement and not to build wealth.
In the early stages of building my 50% BDC (business development companies) and 50% mREIT (mortgage real estate investment trust) portfolio I suggested the first read-point for the validity of my method would be at the 5 year mark. This event will occur the last trading day of 2018.
Since this event is only 5 months away I wanted to build a performance tracking chart that will not only document the past 5 years, but record the next 5 years. I'm a long term investor and look at 5 year chunks of time to determine the direction of my investment strategy. Short term quarterly reporting is just noise leading up to my 5 year performance.
This article is to establish a reference point for my 50/50 (BDC, mREIT) investment method beginning 2014 and going to 2023, a total of 10 years. It will show my pre-retirement beginning journey of both portfolio balance and income generation.
I have written many articles referencing my goal in achieving 75% of GEE (Gross Employment Earnings) going back to the beginning of my journey. The 75% number was based on my current expenses, with the ability to reinvest surplus dividends to grow the income stream.
My benchmark has always been based on my GEE and not the illusion of price changes dependent on the emotional stress of the market. Some people will argue this point, but I can't argue with the massive increasing cash hitting my account every month. Dividends are extremely stable compared to price.
Each investor must determine for themselves the path they choose that fits their own personal situation. This is my story and yours will be different, but I wanted to expose investors to an alternative strategy using high-yield in creating a paycheck replacement. Remember there are many paths leading to the same destination. Good luck to all income seekers; Joe HYI ;-)
High-Yield Performance for (BDC, mREIT) portfolio
Each quarter I will update this chart and place it into a blog where everyone can access and track the 50/50 performance well into the future. I believe I have created a portfolio that will not only survive, but continue paying dividends during a recession.
You are now given a chance to follow along and discover for yourself the possibilities of high-yield investing. This is an ongoing experiment based on two asset classes (BDCs and mREITs). The real test will be during the next recession.
NOTE: I have normalized the chart portfolio balance to $500,000 and a GEE value of $64,000 starting 2018. The normalized value is a ratio of my real portfolio based on my brokerage performance report. I will keep these values consistent to get a sense of future performance and to provide a tangible reference to actual currency.
Chart-1: 10 Year Performance Chart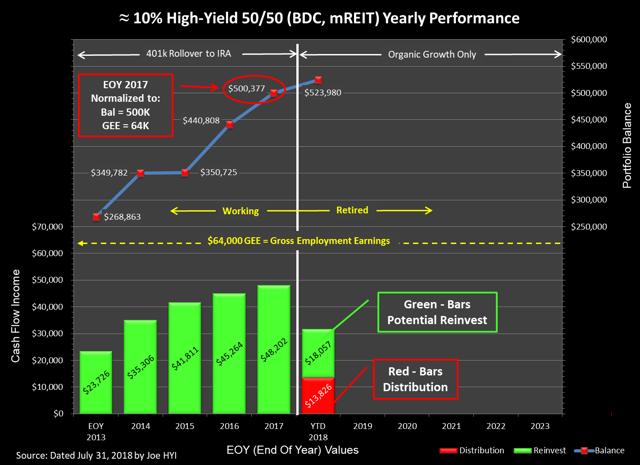 Results (7 months 2018)
Total return; ((523,890 + 13,826) - 500,377) / 500,377 = 7.46%
Income return; (18,057 + 13,826) / 500,377 = 6.37%
Price gain; 7.46% - 6.37% = 1.09%
Most of the return is from dividends as expected from High-Yield
Please note; I waited until the end of July 2018 before I completed this chart. I wanted to get a complete month of dividends and distributions for this article. The next update will be the end of the third quarter.
This chart looks intimidating at first, but only has three tracking elements. I placed a lot of notes on the chart to indicate my pre-retirement working phase and my full retirement starting in 2018; (vertical white line dividing the chart).
It should be noted the values of the portfolio balance, dividends and distributions are taken from my brokerage account performance table. They keep track of all the contributions and distributions during the year where I can get a quick snapshot of all pertinent data. The dividends are the actual collected values that are deposited into my account at the end of each month.
The chart is split in half, the top section is for the portfolio balance and the lower half is for income generation including distributions. I began this year with distributions to help pay expenses in retirement.
Income Cash Flow: I'll begin with the lower section of the chart left-vertical axis labeled "Cash Flow Income". It is important to note the only benchmark I'm interested in will be to replicate my last full year gross employment paycheck. I have normalized the GEE value to $64,000 beginning in 2018 and placed this level at the $64,000 mark, see the yellow chart note.
Side-note: No other index is considered a benchmark since they all rely on price gain. Price gain of any asset is immaterial to my investment method since my goal has always been income creation. Selling assets for income is not considered. The time for wealth building was during my working career and not in the pre/post retirement phase.
The green bars are surplus dividends to grow the income stream. As indicated I entered 2014 with $23,726 in dividends and with 401k rollovers the dividends grew to $48,202 at the end of 2017. This income hit my 75% GEE goal and it was time to retire at my FRA (mid-year 2017).
Distributions: I started taking distributions at the beginning of 2018, see lower half of the chart; red bars.
I set up automatic distributions from my brokerage account each month. The green and red bar total will be the income cash flow the portfolio generates. The goal will naturally be to increase the income level each year by reinvesting surplus dividends.
Another consideration using high yield investments; the option to have more income then what is required for withdraws. Without having to sell assets, I could just as easily tap into the surplus dividends to increase the distribution. Otherwise I'll just plow the left over dividends back into the money machine. Another margin of safety built into my plan to provide distribution sustainability.
Portfolio Balance: Moving to the top half of the chart is the portfolio balance using the right-vertical axis labeled "Portfolio Balance". Portfolio balance growth includes dividend cash, dividend reinvestment and price movement; displayed as the blue chart line. Along with the GEE I have normalized the 2018 beginning balance to $500,377.
I consider the balance as a secondary-metric since selling stock to support expenses is not an option. I have just eliminated the emotional stress of market-timing. Why should I sell the assets that are creating the income? Income generation is the focus of my method and reinvesting surplus dividends will allow price to follow along.
Price becomes subservient to income creation and not the other way around. This line of thinking takes on a mindset contradictory to the main-stream financial establishment. Only a small amount of investors understand this concept since it does not fit conventional thinking.
Current Portfolio Assets
Business Development Companies; the average yield for the BDC group is 9.15% based on individual yield and shares owned, July 31st 2018.
Goldman Sachs BDC Inc. (GSBD), TCG BDC Inc. (CGBD), MAIN Street Capital (MAIN), Golub Capital BDC Inc. (GBDC), PennantPark Floating Rate Capital (PFLT), Gladstone Investment Corporation (GAIN), Solar Capital Ltd. (SLRC), Newtek Business Services Corp. (NEWT), TPG Specialty Lending Inc. (TSLX), Fidus Investment Corporation (FDUS), Monroe Capital Corporation (MRCC), FSIC Investment Corp. (FSIC), Apollo Investment Corporation (AINV), 2xLeveraged Long Exchange Trade (BDCL), New Mountain Finance Corporation (NMFC), TCP Capital Corp. (TCPC), Hercules Capital Inc. (HTGC), Stellus Capital Investment Corp. (SCM), TriplePoint Venture Growth BDC (TPVG), Ares Capital Corporation (ARCC)
Mortgage Real Estate Investment Trust; the average yield for the mREIT group is 10.32% based on individual yield and shares owned, July 31st 2018.
Ares Commercial Real Estate Corp. (ACRE), TPG RE Finance Trust (TRTX), Guggenheim Strategic Opportunities Fund (GOF), Ladder Capital Corp Class A (LADR), Dynex Capital Inc. (DX), Starwood Property Trust Inc. (STWD), PennyMac Mortgage Investment Trust (PMT), Two Harbors Investment Corp. (TWO), PIMCO Dynamic Credit and Mort. (PCI), Invesco Mortgage Capital Inc. (IVR), Blackstone Mortgage Trust Inc. (BXMT), MFA Financial Inc. (MFA), Chimera Investment Corporation (CIM), AGNC Investment Corp. (AGNC), Apollo Commercial Real Estate (ARI), Annaly Capital Management Inc. (NLY), Cherry Hill Mortgage Investment (CHMI), AG Mortgage Investment Trust (MITT), New Residential Investment Corp. (NRZ), ETRACS Monthly Pay 2XLeveraged (MORL)
Conclusion
This article lays the groundwork in establishing the performance for a high yield portfolio; past, present and future. I'm in a unique position to present my first 4 years building my portfolio and to begin the distribution phase. I have written many articles describing my investment method from the perspective of portfolio management.
I realize my overall concept appears complex to some people, but in actuality it is based on the concept every working individual is faced with earning a paycheck. While working we have human capital to create income. We do not sell human capital to pay for expenses, but use this resource to create more income.
That's all I'm doing with my investments, just looking at cash flow, no-more-no-less. In creating income I use sound logical steps and strategies to add a margin-of-safety to manage real-life uncertainties related to risk probabilities.
I'm presenting this high yield performance chart and data to be a reference point to my specific selection of investments. I believe the income from this portfolio will withstand both a bull or bear market. Time will tell if this is the case and following the "High Yield Investor" over the next few years will either confirm or reject my thesis.
I will update my performance chart each quarter in a single blog to be reviewed by all interested investors.
Disclaimer: I am not a financial adviser, but an independent investor. Please note the stocks included in the 50/50 portfolio are not recommendations. They were personally selected by the author and contain a great deal of investment risk. The stocks in the portfolio are BDCs and mREITs. Both investment vehicles are "Regulated Investment Companies" and required to distribute at least 90 percent of their earnings as dividends to investors.
This is a live active IRA portfolio that I believe will withstand the markets' bull or bear cycles based on my own research. The progress will be updated and tracked for feasibility of this investment method over the years. The article titled 50/50 Portfolio (BDCs And mREITs) Baseline 2014 details how the portfolio was constructed. It must be noted that investment selections are dynamic and based on management's ability to navigate economic conditions. I have made changes during the years as any portfolio manager is expected to perform.
Disclosure: I am/we are long ALL STOCKS IN ARTICLE.
I wrote this article myself, and it expresses my own opinions. I am not receiving compensation for it (other than from Seeking Alpha). I have no business relationship with any company whose stock is mentioned in this article.