U.S. Oil Exports Rise To India, Drop To China
The VLCC Tianjin left the Corpus Christi lightering zone in the Gulf of Mexico on June 19 with nearly 2.1 million barrels of US WTI/Midland WTI crude on board. It has just discharged its cargo at Reliance's Jamnagar refinery in India, sneaking in before the end of the July to mark a record month of deliveries of US barrels to India.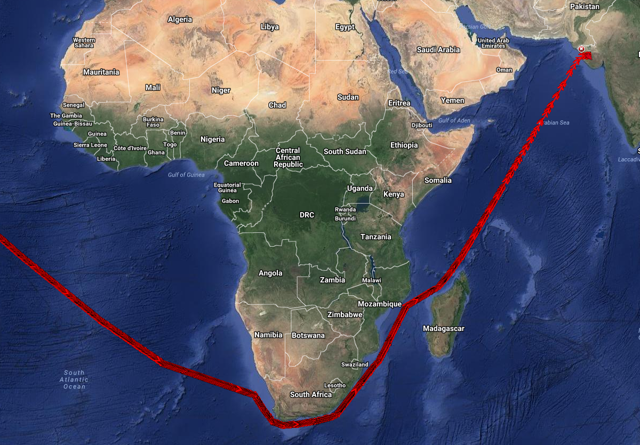 Despite this milestone, China continues to hold the mantle as the leading Asian destination for US crude. But that could change going forward, with the growing likelihood of impending tariffs.
Based on our projections, India is going to import nearly as much US crude as China in August, as its appetite for light sweet US crude increases...just as China loses theirs.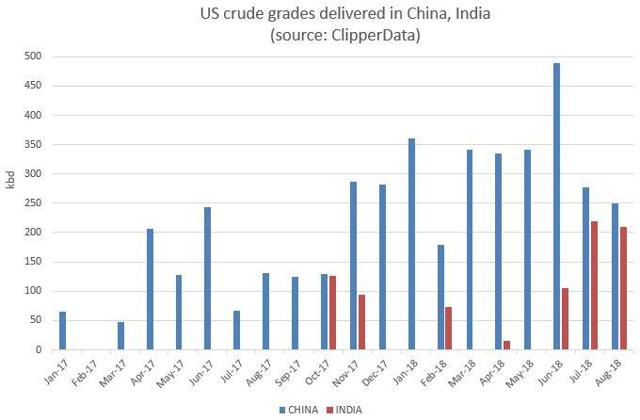 Tariffs look set to kick in as soon as September, meaning that any barrels arriving on Chinese shores will be hit with a 25 percent tariff - taking US crude from a ~$4/bbl discount versus global benchmarks to a premium of ~$13.50/bbl.
These unfavorable economics will slam the door shut on the US-China arbitrage. Given the 8-week journey time for US crude to China, this is why companies such as Unipec are already reducing their purchases.
As for India, things look decidedly more rosy. According to ClipperData projections, Indian receipts of US crude in August should be close to China's current pace of ~250,000 bpd. As US barrels look for a new home in Asia, India seems an ideal destination. We could even see light sweet Nigerian barrels being displaced from India, and heading to China instead.
While it is highly unlikely that India will absorb China's share of US crude - which averaged 330,000 bpd through the first half of the year - we could see other East Asian destinations such as Taiwan and South Korea also picking up some of the slack.
At the same time, the narrowing of WTI versus other global benchmarks in the last five weeks or so may be closing the window on higher exports going forward - something the latest weekly EIA data may be giving us a glimpse of already.
This article was written by
Matt Smith is a Director of Commodity Research at ClipperData. Matt specializes in extracting key themes from technical and fundamental analysis of the global energy market, and communicating these through daily and weekly deliverables. He also provides oil and natural gas analysis and commentary to national and international media outlets that include CNBC, Fox Business, Russia 24, the Wall Street Journal, MarketWatch, AFP, Reuters, and The Oil Daily. Prior to ClipperData, he spent eight years at Schneider Electric as a Commodity Analyst, where he also founded and authored the blog, Energy Burrito. Prior to Schneider, he spent eight years at the Royal Bank of Canada in London as a portfolio manager and financial analyst. When he is not reading, writing (or dreaming) about financial markets, he can be found enthusing about music, red wine, spicy food, or his family. And lamenting his soccer team, West Ham.