Arm Wrestling The Economy And Tariffs
Financial markets have been battling back and forth like a championship arm-wrestling match as economic and political forces continue to collide. Despite these clashing dynamics, capitalism won the arm wrestling match this month as investors saw the winning results of the Dow Jones Industrial Average adding +4.7% and the S&P 500 index advancing +3.6%.
Fueling the strength this month was U.S. economic activity, which registered robust 2nd quarter growth of +4.1% - the highest rate of growth achieved in four years (see below).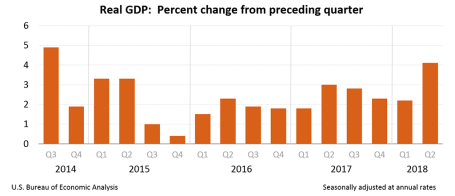 The job market is on fire too with U.S. jobless claims hitting their lowest level in 48 years (see chart below). This chart shows the lowest number of people in a generation are waiting in line to collect unemployment checks.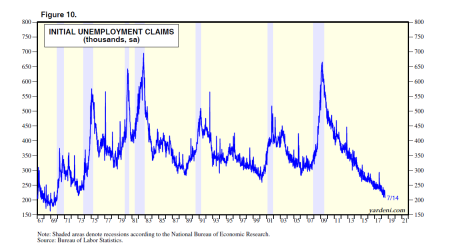 Source: Dr. Ed's Blog
If that isn't enough, so far, the record corporate profits being reported for Q2 are up a jaw-dropping +23.5% from a year ago. What can possibly be wrong?
Excess Supply Of Concern
While the economic backdrop is largely positive, there is never a shortage of things to worry about - even during decade-long bull market of appreciation. More specifically, investors have witnessed the S&P 500 index more than quadruple from a March 2009 low of 666 to 2,816 today (+322%). Despite the massive gains achieved over the last decade, there have been plenty of volatility and geopolitics to worry about.
Have you already forgotten about the Flash Crash, Arab Spring, Occupy Wall Street, Government Shutdowns, Sequestration, Taper Tantrum, Ebola, Iranian nuclear threat, plunging oil prices, skyrocketing oil prices, Brexit, China scares, Elections, and now tariffs, trade, and the Federal Reserve monetary policy?
Today, tariffs, trade, Federal Reserve monetary policy, and inflation are top-of-mind investor concerns, but history insures there will be new issues to worry about tomorrow. Ever since the bull market began a decade ago, there have been numerous perma-bears incorrectly calling for a deathly market collapse, and I have written a substantial amount about these prognosticators' foggy crystal balls (see Emperor Schiff Has No Clothes [2009] and Clashing Views with Dr. Roubin [2009]. While these doomsdayers get a lot less attention today, similar bears like John Hussman, who like a broken record, has erroneously called for a market crash every year for the last seven years (click chart link).
Although many investment accounts are up over the last 10 years, many people quickly forget it has not been all rainbows and unicorns. While the stock market has more than quadrupled in value since 2009, we have lived through about a dozen alarming corrections, including the worrisome -12% pullback we experienced in February. If we encounter another -5 -10% correction this year, this is perfectly healthy, normal, and should not be surprising. More often than not, these temporary drops provide opportunistic openings to scoop up valued bargains.
Longtime readers and followers of Sidoxia's investment philosophy and Investing Caffeine understand the majority of these economic predictions and political headlines are useless noise. Social media, addiction to smartphones, and the 24/7 news cycle create imaginary, scary mountains out of harmless molehills.
As I have preached for years, the stock market does not care about politics and opinions - the stock market cares about 1) corporate profits (at record levels) - see chart below, 2) interest rates (rising, but still near historically low levels), 3) the price of the stock market/valuation (which is getting cheaper as profits soar from tax cuts), and 4) sentiment (a favorable contrarian indicator until euphoria kicks in).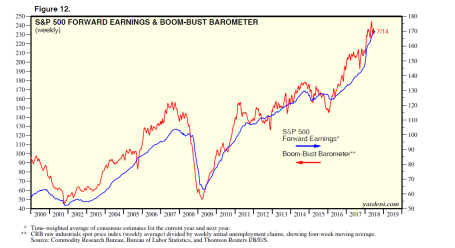 Source: Dr. Ed's Blog
Famed investor manager, Peter Lynch, who earned +29% annually from 1977-1990 also urged investors to ignore attempts of predicting the direction of the economy. Lynch stated, "I've always said if you spend 13 minutes a year on economics, you've wasted 10 minutes."
I pay more attention to successful long-term investors, like Warren Buffett (the greatest investor of all-time), who remains optimistic about the stock market. As I've noted before, although we remain constructive on the markets over the intermediate to long-term periods, nobody has been able to consistently prophesize about the short-term direction of financial markets.
At Sidoxia, rather than hopelessly try to predict every twist and turn in the market, or react to every meaningless molehill, we objectively analyze the available data without getting emotional, and then take advantage of the opportunities presented to us in the marketplace. Certain asset classes, stocks, and bonds, will constantly move in and out of favor, which allows us to continually find new opportunities.
A contentious arm wrestling struggle between uncertain tariffs/rising interest rates and stimulative tax cuts/strong economy is presently transpiring. As always, we will continually monitor the evolving data, but for the time being, the economy is flexing its muscles and winning the battle.
This article is an excerpt from a previously released Sidoxia Capital Management complimentary newsletter (August 1, 2018).
Disclosure: Sidoxia Capital Management (SCM) and some of its clients hold positions in certain exchange traded funds (ETFs), but at the time of publishing had no direct position in any other security referenced in this article. No information accessed through the Investing Caffeine (IC) website constitutes investment, financial, legal, tax or other advice nor is to be relied on in making an investment or other decision. Please read disclosure language on IC Contact page.
This article was written by
Wade W. Slome, CFA, CFP® is President and Founder of Sidoxia Capital Management, LLC and published author of How I Managed $20,000,000,000.00 by Age 32. In addition, Mr. Slome has been a media go-to resource as seen on CNBC and ABC News. He has also been quoted in the Wall Street Journal, USA Today, New York Times, Dow Jones, Investor's Business Daily, Bloomberg, Smart Money, among other media publications. Online, he is lead editor of the investment blog, InvestingCaffeine.com and a contributing writer to Morningstar, and Wall St. Cheat Sheet. Bloomberg identified him as the second youngest manager among the largest 25 actively-managed U.S. mutual funds in 2005. Besides his work at Sidoxia, Mr. Slome is an instructor at the University of California, Irvine extension department, where he teaches the Advanced Stock Investment course. Wade Slome holds an MBA from Cornell University with an emphasis in Finance. He earned a B.A. in Economics from UCLA. In addition, he holds the credentials of CFA (Chartered Financial Analyst) and CFP® (Certified Financial Planner). Mr. Slome managed one of the ten largest growth funds in the country ($20 billion in assets under management) at American Century Investments, and currently manages a hedge fund in addition to separate customized accounts for a selective client base at his firm (Sidoxia Capital Management, LLC) in Newport Beach, California.