On April 27, 2018, Micron Technology (MU), along with Samsung Electronics (OTC:SSNLF) and SK Hynix (OTC:HXSCL), were sued for alleged DRAM price fixing. The class action lawsuit alleges that Samsung, Hynix, and Micron conspired to limit the supply of memory, keeping consumer prices artificially high as a result.
On May 25, 2018, less than a month later, we learned that antitrust officials from China's Anti-Monopoly Bureau of Ministry of Commerce met with Micron Technology yesterday to "express concerns" about continued price increases for PC DRAM products.
Despite the implications that these three companies are in colluding or conspiring together secretly to cheat customers, in actual fact, they are competitors, meaning they compete against one another for sales.
A rising tide raises all boats
For the past year we have seen the explosive growth in average selling prices (ASPs) and stock values. And so, positive earnings for one company impacted stock performance of the others.
For example, in a July 26, 2018 news article from MarketWatch entitled "Micron stock rises after SK Hynix reports results," MU shares were up 1.6% on Thursday morning following SK's reported quarterly results.
The following comment from that article cements the relationship between positive demand for one company affecting another: "Hynix is expecting 2H DRAM prices to trend stronger (positive for Micron with ~65% of revenues from DRAM)," wrote Mizuho analyst Vijay Rakesh, who rates Micron's stock a buy.
Also, MU threads on Seeking Alpha are replete with cheers about SK's recent earnings report that for 2Q18, SK Hynix reported revenue of W10.4tr (+55.0% YoY, +18.9% QoQ) and a historic-high operating profit of W5.6tr (+82.7% YoY, +27.6% QoQ).
An Ebb Tide in the Future
The DRAM market we are experiencing now isn't the same as it was when it was PC-Centric. Demand is coming from not only PC demand but other applications like mobile and server demand. However, there is a cyclical component to not only DRAMs, but all semiconductor devices. This is brought on by two main factors:
1. The cyclical demand of the end application device brought about by memory purchased prior to the introduction of a new generation of smartphone, for example. There is an upturn in memory demand before a new iPhone comes out in September, for example, followed by a lull in demand until the same time the following year.
2. Periods of over supply because of two much capacity build followed by periods of undersupply when capex slows. In other words, chip manufacturers build fabs or expand lines to increase capacity to meet anticipated demand. Chip manufacturers don't have a crystal ball nor collaborate with competitors with respect to how much capacity build each needs to make to meet global demand. Thus, there is usually an overbuild until the demand increases. There is then a pendulum swing that demand exceeds supply a period of undersupply begins until the cycle starts again and more capacity is built. This is shown in Chart 1 for DRAMs for 2006, 2010, 2014, and 2017.

Chart 1
The memory industry is different today than it was in 2000. Chip companies are utilizing "Just-in-Time manufacturing techniques to monitor supply demand. MU management were asleep at the wheel in 2016 when they built no fabs, initiating the current undersupply situation that continues today.
Perhaps the biggest mistake in the DRAM industry came in 2000 when then Salomon Smith Barney analyst Jonathan Joseph, warned that DRAM demand was expected to slow to its lowest levels since the semiconductor industry's previous 1993 recession. In contrast, Klaus-Dieter Rinnen, a Dataquest (now Gartner) analyst, claimed the lack of new DRAM fab capacity coming on line meant supply wouldn't be able to keep up with OEM demand, even as chip vendors worked to shrink linewidths and die sizes and improve yields.
Gartner was wrong, and the entire semiconductor industry collapsed as end users started buying twice the DRAMs needed (because of fear of allocation) and chip manufacturers built more fabs to meet what they thought was real demand. More than $10 billion in inventory was lost in 2001 when there were no buyers for the DRAMs that no one needed. Klaus-Dieter Rinnen is a research vice president in Gartner.
But there is also a very important factor to the un-initiated. Equipment purchases do not necessarily result in increases in capacity. Yes, it's true, and here's why.
For DRAM production, the three companies have been migrating to smaller dimensions. Samsung is currently migrating to the 1ynm process, while SK Hynix and Micron Technology are switching to the 1xnm process
These transitions are proving difficult to achieve with high yields. Also, these migrations increase the number of processing steps used to make the chip, resulting in what is termed a "natural decline" in wafer throughput. In general, movement from one node to the next results in a 5-10% decline in capacity.
To counteract this "natural decline," capacity needs to be increased, which is achieved by building new fabs and lines and purchasing equipment. Thus, the 60% increase in equipment purchases exhibited in 2017 did not result in comparable increases in capacity.
SK Hynix Financials
According to Chart 2, which sums up SK financials, 2Q18 DRAM bit shipments increased by 16% and the ASP rose by 4%. For NAND Flash, the bit shipments increased by 19% while the ASP was lowered by 9% due to supply growth of the industry.

Chart 2 - SK Hynix Financials
Source: Hyundai Motor Investment Securities
SK was impacted by slower smartphone sales. According to a press release from SK following its 1Q18 earnings report:
"Quarter-over-quarter, DRAM bit shipments decreased by 5% due to weak mobile demand and lessened production days nevertheless of sustained robust server demand. However, the average selling price rose by 9% through evenly increased price for all DRAM product categories.

For NAND Flash, the bit shipments declined by 10% mainly due to the weak sales in the mobile sector. The average selling price was lowered by 1%."
The company's press release notes:
"SK Hynix will place its focus on expanding leading edge technologies to mass production to respond to the market demands. Therefore, it will consistently expand the portion of 1Xnm mainly in the sales of server and mobile DRAM, which are expected to have strong demand growth. The Company also plans to stretch its cutting-edge 72-Layer 3D NAND and make efforts to smoothly supply high density mobile solutions and enterprise SSDs.

Meanwhile, SK Hynix will complete the cleanroom construction of the new FAB in Cheongju by the end of this September. Considering the equipment setups in the cleanroom, the new FAB is expected to contribute to the Company's production capacity from the beginning of the next year. In addition, the cleanroom space expansion at Wuxi FAB will be completed by the end of this year as planned."
Clearly SK continues to make technology strides and spend money to increase output and gain market share. And in the heady days of 2017, when there was a huge undersupply of DRAMs and NAND chips, positive revenue growth for one company would be welcome news that demand continued and it would translate to positive growth for its competitors.
Samsung Electronics Financials
Samsung's financials are shown in Chart 3, but excludes recently reported Q218 data, which is still being analyzed. This illustrates that, while the memory industry appears to be moving in tandem, in fact growth is not the same when comparing SK Hynix (Chart 2) with SSNLF (Chart 3).
For example, SK's 2017 DRAM Bit Growth was 25.2% YoY and ASP change was 53.1%. Samsung's DRAM Bit Growth was 16.0% and ASP change was 44.8%.
The NAND sector difference was more marked. SK's 2017 NAND Bit Growth was 17.1% YoY and ASP change was 35.1%. Samsung's NAND Bit Growth was 26.4% and ASP change was only 19.1%.

Chart 3 - Samsung Financials
Source: Hyundai Motor Investment Securities
Market Share
Another differentiating factor between companies is market share. Samsung's share of the DRAM market share dropped from a high of 50.2% in Q3 2016 to 44.4% in Q1 2018. MU's DRAM share grew from 18.5% to 23.1% in the same period. Charts 4 and 5 illustrate this data.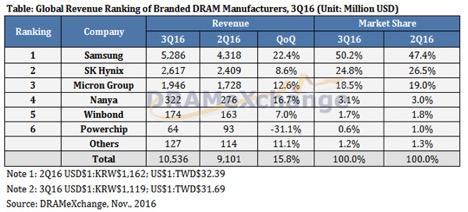 Chart 4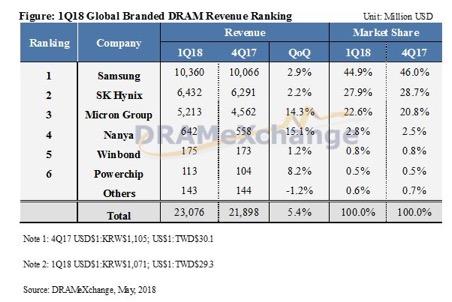 Chart 5
Capex Spend
Memory companies are spending money on new fabs and equipment to increase bit growth and capacity, as discussed above.
Chart 6 shows that CY 2018 DRAM capacity (in wafer starts) will increase between only 5.2% to 19.0% over CY 2017. In contrast, DRAM equipment spend increased 81% in 2017 from 2016.
Interestingly, MU is forecast to show the smallest growth in DRAM capacity in CY 2018. Yet I pointed out in the above SA article that its Operating Profit Margin increased 3,637% between FY 4Q 2016 and 2Q 2018 (equivalent to CY 1Q 2017 and 1Q 2018).

Chart 6
Chart 7 shows that CY 2018 NAND capacity will increase only between 5.2% and 23.2% over CY 2017. NAND equipment spend in 2017 increased 58% over 2017.

Chart 7
Samsung Electronics' memory equipment investments are set to drop to 11 trillion won ($9.9 billion) in 2018, which comprises DRAM investments of 9 trillion ($8.1 billion) and NAND investments of 2 trillion won ($1.8 billion).
SK Hynix spent a record 10.3 trillion won ($9.8 billion) to scale up capacity in next-generation chips and flash memory last year, and plans to increase its capital expenditure to 15 trillion won ($13.4 billion).
Micron Technology can spend as much as $8.1 billion, less than the other two manufacturers.
Samsung Electronic's DRAM and NAND bit growth should grow 25% and 45%. This has not been the result of increased investments but of better-than-forecast productivity at 1x nm DRAM and 64-layer NAND lines, enabled by higher yields and better fab layouts and logistics. Samsung plans to kick off volume production of its 10nm LPDDR 5 chips at its fab in Pyeongtaek in 2019.
SK Hynix has announced plans to construct a new memory fab at its headquarters in Icheon, South Korea. Construction on the 53,000-square meter site in Icheon will kick off in late 2018, and is scheduled to complete in October 2020. SK Hynix plans to invest KRW3.5 trillion (US$3.12 billion) in the new fab. In addition, SK Hynix continues to expand production capacity at its M14 fab in Icheon. The company is also scheduled to complete installing cleanroom facilities at its new fab in Cheongju by the end of September, with the fab set to come online in early 2019. In China, SK Hynix expects to complete cleanroom space expansion at its Wuxi fab later in 2018.
Micron is gearing up to expand production of 10nm-class DRAM chips at its Taiwan-based fabs between 2018 and 2019. Micron's factory site in Taoyuan, northern Taiwan will enter 1Xnm chip production in the second half of 2018 and will migrate to 1Ynm process node at the end of the year. Micron's factory site in Taichung, central Taiwan will transition to a newer 1Znm process in the second half of 2019 after already kicking off volume production of 1Xnm products.
In China, Jin Hua's 12-inch fab is expected to enter trial production of 20 or 30nm DRAM chips in September. China's recent move to protect its own memory industry by imposing partial sales ban on Micron's products in China could also affect the future development of the industry.
Having unveiled its engineering samples of 19nm 8Gb DDR4 products recently, Innotron is also expected to begin mass production for the chip in the first half of 2019.
China's YMTC began making 32-layer chip samples this quarter and is planning to mass-produce 64-layer products from end-2019.
Toshiba Memory just held a groundbreaking ceremony for its new BiCS 3D NAND flash memory fab, which is located in Japan's Iwate prefecture. Toshiba anticipates construction to be completed by late 2019 and expects its long-term partner Western Digital to participate in the project.
Toshiba is about to start using its Fab 6/phase 1 fab at the Yokkaichi Operations this summer. The move will help it to increase production of BiCS 3D NAND flash memory in the coming months. Next year the company is expected to deploy the Fab 6/phase 2 fab.
Competition
When supply-demand dynamics in the memory market were out of sync, chip ASPs surged in tandem with the stock market. Currently the memory market is moving into balance - the large demand continues, but bit growth has increased. ASPs for NAND are dropping and are forecast to drop in 2018 for DRAM.
Investors need to recognize that the stock performance of memory companies will not rise in unison because one company has good earnings. These companies compete for customers, and when there is an oversupply situation that we are and will be witnessing, customers can readily switch memory suppliers. Alternatively, suppliers could low-ball prices to win or maintain a customer. This means that memory suppliers are not allies, but competitors.
By the way, I did not originate this notion. It came from Micron Technology's 10-K report repeated below.
"We face intense competition in the semiconductor memory and storage markets from a number of companies, including Intel; Samsung Electronics Co., Ltd.; SK Hynix Inc.; Toshiba Corporation; and Western Digital Corporation. Some of our competitors are large corporations or conglomerates that may have greater resources to invest in technology, capitalize on growth opportunities, and withstand downturns in the semiconductor markets in which we compete. Consolidation of industry competitors could put us at a competitive disadvantage. In addition, some governments, such as China, have provided, and may continue to provide, significant financial assistance to some of our competitors or to new entrants. Our competitors generally seek to increase silicon capacity and bits per wafer, which may result in significant increases in worldwide supply and downward pressure on prices. Increases in worldwide supply of semiconductor memory and storage products also result from capacity expansions, either by way of new facilities, increased capacity utilization, or reallocation of other semiconductor production to semiconductor memory and storage production. Our competitors may increase capital expenditures or increase capacity at existing or new facilities, resulting in future increases in worldwide supply. Increases in worldwide supply of semiconductor memory and storage, if not accompanied by commensurate increases in demand, would lead to declines in average selling prices for our products and materially adversely affect our business, results of operations, or financial condition. Many of our high-volume memory and storage products are manufactured to industry standard specifications and, as such, have similar performance characteristics to those of our competitors. For these high-volume products, the principal competitive factors are generally price and performance characteristics including: operating speed, power consumption, reliability, compatibility, size, and form factors. For our other products, the aforementioned performance characteristics generally take precedence over pricing."
Editor's Note: This article discusses one or more securities that do not trade on a major U.S. exchange. Please be aware of the risks associated with these stocks.