Take-Two Interactive Is Most Likely Insulated From Fortnite
Summary
I provide an analysis of the recent gaming sector sell-off.
Electronic Arts' earning's call insights on Fortnite.
The potential impact of Fortnite on Take-Two's results, in particular RDR2.
I estimate RDR2's number of copies sold for its first year.
I perform a valuation for Take-Two, taking into account all the previously mentioned factors.
The gaming sector recently sold off. This event caused investors to suffer without an apparent cause. I believe that Electronic Arts' (NASDAQ: EA) earnings call might have spooked the market because it showed that Fortnite might have a negative impact on the revenues of gaming stocks.
However, I think the reaction was overdone. Particularly in the case of Take-Two Interactive (NASDAQ: NASDAQ:TTWO), because it should be insulated from Fortnite. After all, Red Dead Redemption 2 isn't competing for gamers with Fortnite. Therefore, I'll attempt to provide a reasonable estimate for RDR2 sales, and with it, a valuation for TTWO.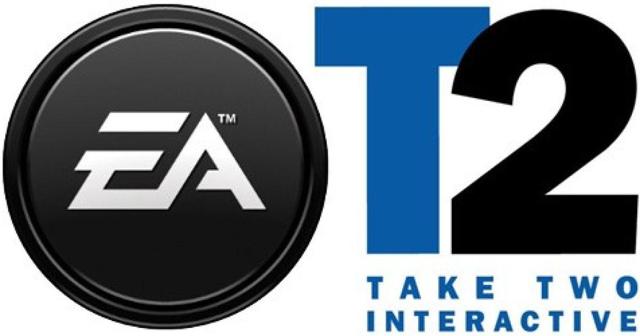 (Source: EA and TTWO logos)
Context
As you've probably have heard by now, Fortnite is a phenomenon that's revolutionizing the gaming market. The game proved that a completely free-to-play model could produce millions of dollars in profits for the developer.
Fortnite has popularized the "Battle Royale" game mode. This genre typically consists of a third-person shooter with a free-for-all element. In Fortnite's case, 100 players are thrown in a huge environment and battle each other until only one is left standing and wins. It sounds like a fun concept, and it's relatively new. It's similar to the movie The Hunger Games, but in a video game format and without any lore or background story.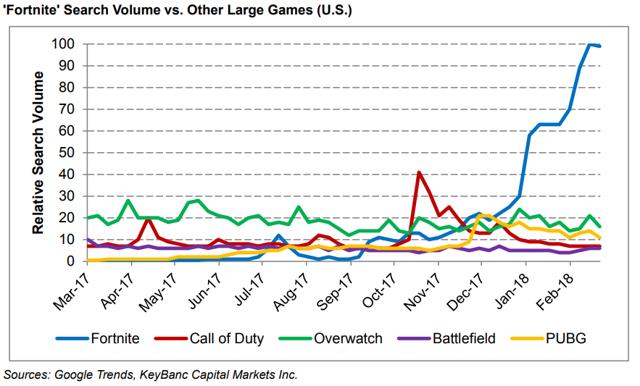 In the figure above, you can see how immensely popular Fortnite is. You probably have seen it for yourself by now. Fortnite gamers are everywhere. Search volume shows that Fortnite has dwarfed Call of Duty, Battlefield, and Overwatch. This trend indicates that big gaming companies shouldn't underestimate the free-to-play Battle Royale genre.
On a conference call with analysts, EA executives maintained their view that "Fortnite" is expanding the gaming market, especially among young people, casual gamers, and women.

Source: IBD
The prevailing narrative is that Fortnite has expanded the gaming market. As a consequence, the consensus is that it has brought in new gamers rather than gained market share from competitors like COD or BF.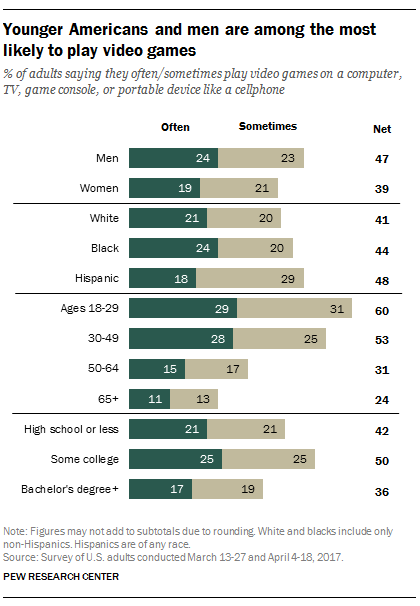 In the figure above, you can see that the percentage of women gamers is trailing male gamers by roughly 8% (net). This difference leaves much room for expansion, and it's possible that Fortnite is helping to narrow the gap (i.e., with the female, young and casual gamers). Plus, it's also possible that it is bringing the older people to the gaming market. However, being realistic, it's likely that Fortnite's primary audience is young men. This would imply that it is competing with games like COD and BF (and maybe RDR2, although they're different types of games).
In EA's earnings call, there was one essential element that investors noted. Live services performed below expectations. However, EA's management still expects that the segment will recover in the remainder of the year.
The implication here is that maybe Fortnite is having an impact on other games. EA's live services include microtransactions, just like Fortnite. After all, gamers have limited time for gaming. Thus, it stands to reason that as more gaming time (and money) is spent on Fortnite, less of it will be left for other games.
Dealing with the gaming sector pullback
Nevertheless, the gaming sector sell-off came after EA provided a weak outlook below analysts' estimates. Many gaming stocks gapped down following the news. Activision (ATVI) fell 3.9%, EA 5.5%, and Take-Two Interactive gapped down 6.9% (among the worst performers for the trading day). Below you can see a quote explaining EA's weak outlook.
For the fiscal second quarter, analysts model earnings of 58 cents a share on net bookings of $1.23 billion. The company said it expects fiscal second-quarter earnings of roughly 48 cents a share on net bookings of $1.16 billion. For the full year, EA expects earnings of about $3.55 a share and net bookings of $5.55 billion; analysts had been forecasting earnings of $5.02 a share on bookings of $5.61 billion.

Source: StockNews
As you can see, EA's outlook was well below the market's expectations. I imagine that this caused uncertainty among investors regarding Fortnite's impact on the gaming market. In the EA earnings call, management explained that roughly 50% of Live Services revenue came from FIFA's Ultimate Team.
We typically don't break out Ultimate Team on a quarterly basis, but you should assume that Ultimate Team is over 50% of the live services component in any one quarter and certainly in the quarter that we just closed out.

Source: EA earnings call transcript on Seeking Alpha
Moreover, remember that Fortnite also depends on microtransactions for revenue. Thus, it's reasonable to conclude that Fortnite had some impact on EA's live segment. Furthermore, it might even be the culprit for EA's lower-than-expected outlook (it's worth noting that currency headwinds played a factor as well). Nevertheless, management doesn't seem concerned over it.
(...) What we have seen is that Fortnite continues to what we believe expand the audience. We saw incredible engagement in our games for the quarter. As we talked about, we had over 15 million people join our World Cup mode in FIFA. So we expect that as they continued to expand the audience that provides a tremendous opportunity for us going into the holiday season, mainly as we think about launching Madden and FIFA and Battlefield into what is a growing player audience. (…) Without a doubt, it's (Fortnite) been a phenomenon in the industry, and I'm sure it's taken up people's time. We had a hard time pointing to exactly where that's impacted our business, but I'm sure it is taking up people's time across the industry. However, we also know that that means more and more people are brought in to play games and will enjoy games in the future, in particular, first-person shooter games down the road. – EA's earnings call. Seeking Alpha transcript (see link above).
In short, EA acknowledged that Fortnite is having an impact on gamers' playing time. However, the company doesn't think this will negatively impact its results. Then, it proceeded to provide a weak outlook. You be the judge.
Pre-Fortnite times
Before Fortnite came into the equation, an analyst firm forecasted great things for TTWO (and the whole sector). The optimism was due to better margins from the shift towards digital. The argument was that most of the gaming market sales would come from digital revenue in 5 years. This would benefit gaming companies because margins could potentially double, which would also improve earnings.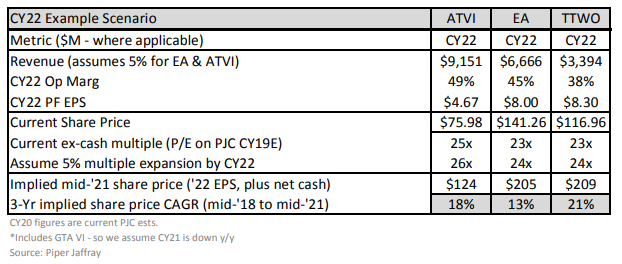 The figure above is a valuation model performed by Piper Jaffray. The key takeaway is that the shift to digital can potentially double net margins for gaming companies. With that assumption, they forecasted the results for the big three gaming stocks and priced them at standard P/E multiples (23-26).
That implied an outstanding annualized return for the big three gaming stocks, but in particular for TTWO. The last stock was forecasted to produce a three-year CAGR of 21% for shareholders. However, Fortnite came into the equation, and now investors are reassessing. After all, if the whole industry shifts towards the freemium business model and Fortnite remains at the top, then the big three gaming stocks might get impacted adversely. I think the gaming sector correction we saw this week was due to that reassessment.
Is the gaming sector correction over for TTWO?
Regardless, the whole gaming industry fell in sympathy with EA. I don't think that TTWO is as exposed as EA or ATVI to the freemium gaming trend risk. This is because GTA Online is, in fact, benefiting from it. Moreover, GTA (or RDR2, for that matter) doesn't compete with Fortnite because it's an entirely different game, whereas COD and BF are shooters that might see their player bases flock towards Fortnite.
Therefore, in TTWO's case, the stock's future rests now on Red Dead Redemption 2. The importance of RDR2 isn't news for anyone who's been following the stock for some time now. However, what's new is that we don't know how much Fortnite might impact its sales, and by extension, TTWO stock price.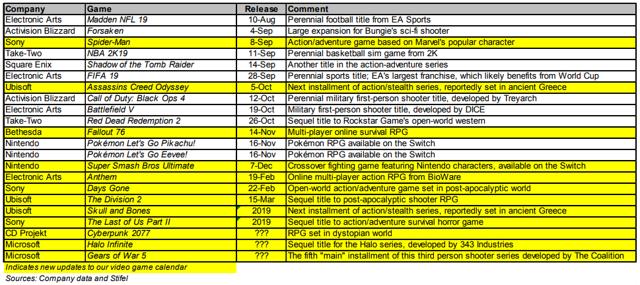 Sure, there are other games lined up for this year. Nevertheless, for TTWO, the only one that will move the needle is RDR2. The only other game that was significant enough to put on the chart above was NBA2K19 (Source: Stifel).
As I stated before, it's likely that RDR2 won't be materially affected by Fortnite. If anything, it might benefit from a bigger gaming market (thanks in part to Fortnite). However, that remains to be seen. After all, RDR2 is expected to have a similar business model to GTA V. This means that investors hope that TTWO will milk this franchise for a couple of years until GTA VI is released (there's no official date, but it should be at least until 2020).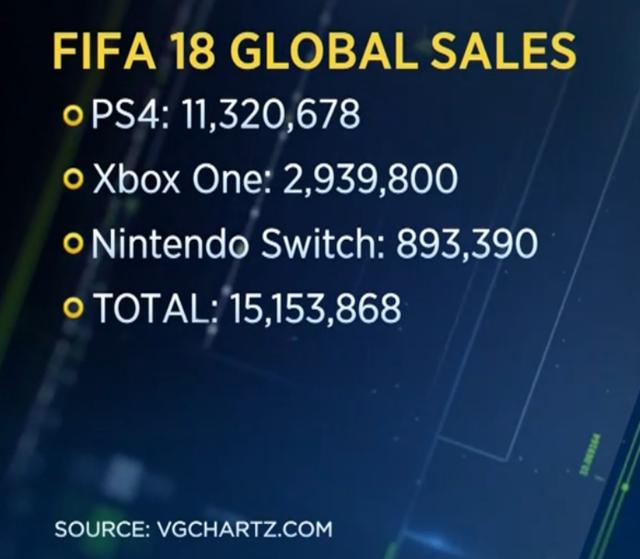 Piper Jaffray forecasts that the company will sell roughly 15.5 million RDR2 copies. In the link I provided, the author makes a good point suggesting that the 15.5 figure is overly pessimistic. After all, the same analyst projects that this year's COD will sell 21.5 million copies. For additional context, in 2018, FIFA sold 15.15 million copies.
E3 2018 showed just how scared other publishers seem to be of Red Dead Redemption 2.

Many major titles shown off are set to release in early 2019, possibly because the publishers didn't want these games to share a quarter with Red Dead Redemption 2. For example, the new Bioware IP Anthem being released next February. Compared to this, Ubisoft launching Assassin's Creed: Odyssey in October a bold power-move!

Source: RDR2.com (fan-made website, see link above).
Red Dead Redemption 2 sales estimate
In my view, 15 million copies sold for RDR2 is on the low end of any reasonable forecast. The first RDR sold roughly 14 million copies over its lifetime. Let's assume that 50% of those sales came in the first year - that would be equal to 7 million.
Moreover, you also have to take into account that RDR came out in 2010. Back then, the world economy was starting to recover from the banking recession. Also, US consumer spending was much lower than today, and the gaming market was less than half the size it is now. Furthermore, RDR came out of nowhere, and it didn't have a pre-release hype comparable to RDR2.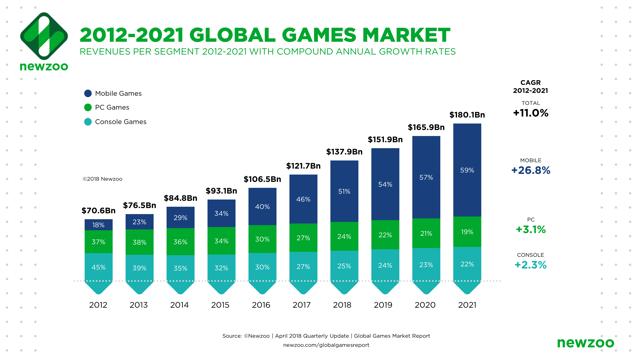 Therefore, I'll try to model the first-year sales for RDR2 based on those factors. In the figure above, you can see that the gaming market was much smaller back then in 2012. I couldn't find the precise value for 2010, but at the time, the gaming sector was growing at roughly $6 billion per year. Hence, I suspect that in 2010, the gaming market was approximately $58.6 billion ($70.6 – (6x2)).
Also, remember that now in 2018, the economy is booming (although it's in the late part of the business cycle). Furthermore, RDR2 is a sequel. Thus, it already has a loyal fan base. Plus, have in mind that the hype for this game is much higher than for the first RDR. Below you'll find my estimate calculations.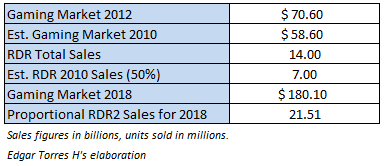 I estimate that RDR2 could sell as many as 21.51 million copies in its first year. This estimate is 38% higher than Piper Jaffray's. Oddly enough, it coincides with their projected sales for COD this year. In my view, this figure is reasonable for RDR2. Below you'll find the estimated average price for TTWO's most important games that I'll use in the valuation model.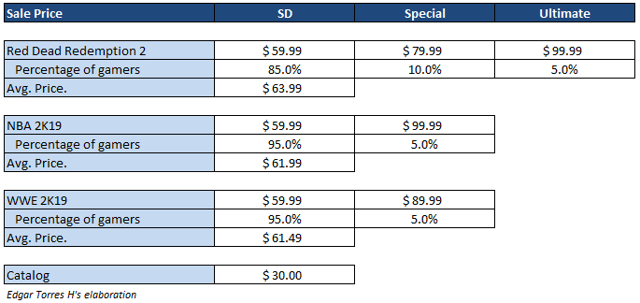 With that data, I can plug into the model provided by the Piper Jaffray and update it with my forecast. The bad and good scenarios differ from the average by roughly -10% and +10% respectively. Below you'll find the results.

Thus, I forecast sales of $3.63 billion for TTWO. This value takes into account all the relevant franchises of the company, plus revenue from GTA Online. I think the results in the figure above are a reasonable estimation.
TTWO's valuation
Now that I have the top line estimate for the company's results, I can forecast and value the EBIT of TTWO. This method will yield a good approximation to its fair value. Below you'll find my model for that.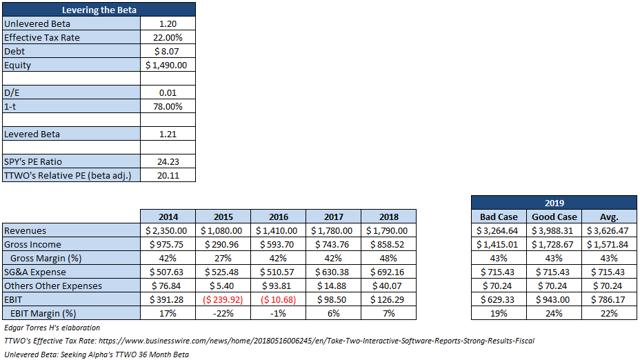 I noticed that the EBIT margins are projected to improve in 2019. I'm okay with this figure because you have to consider that the switch to digital and online revenues will enhance margins for gaming companies. Thus, the 17% EBIT margin that TTWO enjoyed in 2014 due to GTA should be comparable to the 19-24% margin in 2018 from RDR2 (taking into account digital margin improvements).
Then, I can value the 2019's EBIT at the estimated P/E ratio. Below you'll find the valuation results.

Conclusion
Fortnite seems to have affected EA's live services. This likely caused it to provide a weak outlook. It would seem that because of that, the gaming sector sold off as a whole.
However, Red Dead Redemption 2 shouldn't suffer from Fortnite. Maybe the online portion of RDR2 might get hurt, but that remains to be seen. In my view, Piper Jaffray's estimate for copies sold was very conservative. My estimate implies a discount of roughly 13% from current levels (average case).
It's worth noticing that this valuation model has a relatively high sensitivity to the number of RDR2 copies sold. This level of responsiveness makes sense, because TTWO's fate rests entirely on RDR2's sales. Hopefully, we'll hear good news from management regarding this subject in TTWO's next ER.
As a last note, at these levels, TTWO offers some decent upside for investors, but it's not a screaming buy. However, if the company's shares were to fall around the $100 level, then it would be a fantastic investment. Either way, I'm confident that RDR2 will be a success for shareholders.
Thank you for reading, and good luck.
This article was written by
Follow me for analyses of undercovered/overlooked stocks. My takes are based on numbers but without completely ignoring the underlying story. I'm not uncomfortable holding unpopular opinions, nor do I seek them. I just want to get as close to the truth as possible.I've been an Investor for over nine years. I write to structure my thoughts. I worked on my country's stock exchange as an analyst for private debt prospectus. I worked as a sell-side analyst and also as a broker. I love the markets and everything related, and now I'm able to be a full-time investor. I'm very grateful for this. I hope my comments/articles are of use to someone else. - "Veritas Super Omnia."
Analyst's Disclosure: I/we have no positions in any stocks mentioned, and no plans to initiate any positions within the next 72 hours. I wrote this article myself, and it expresses my own opinions. I am not receiving compensation for it (other than from Seeking Alpha). I have no business relationship with any company whose stock is mentioned in this article.

I'll be watching TTWO's next ER closely for insights on Fortnite and RDR2. No position until then.
Seeking Alpha's Disclosure: Past performance is no guarantee of future results. No recommendation or advice is being given as to whether any investment is suitable for a particular investor. Any views or opinions expressed above may not reflect those of Seeking Alpha as a whole. Seeking Alpha is not a licensed securities dealer, broker or US investment adviser or investment bank. Our analysts are third party authors that include both professional investors and individual investors who may not be licensed or certified by any institute or regulatory body.