Dividends By The Numbers For July 2018
July 2018 was a good month for the owners of dividend-paying stocks. Compared to June 2018, the number of dividend increases was up and the number of dividend cuts announced was down. And as long as we're looking backwards, things are better than they were last year.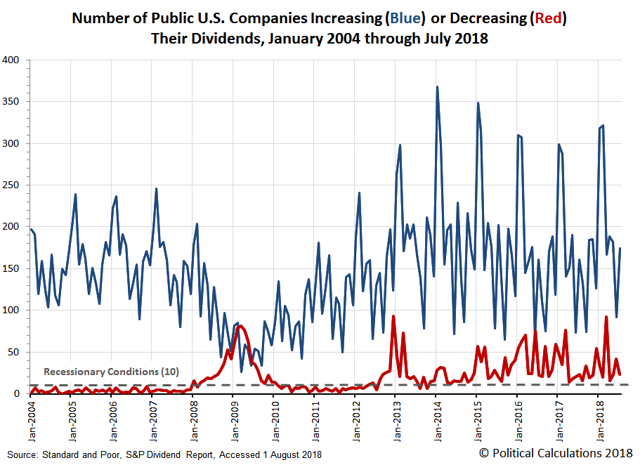 Let's get to this month's dose of dividend metadata! Here are the numbers....
Following an elevated number for the month ending 2018-Q2, there were 3,253 firms that issued some kind of declaration about their dividend policies in July 2018, which was down by 826 from the previous month's total of 4,079, but more importantly, up by 216 over June 2017's total.
There were 22 companies that revealed that they would pay out a special, or extra, dividend payment to their shareholders in July 2018, which was down by three from the previous month and also the same month in the previous year.
The number of firms increasing their dividends in July 2018 is 174, which is up by 82 over June 2018's figure of 92, and also up year over year by 13 from July 2017's 161.
July 2018 also saw an apparent decline to 23 dividend cut announcements from the 42 that had been reported in June 2018, which we strongly suspect to have accidentally duplicated a number of dividend cuts that had been declared in previous months, which went ex-dividend in June 2018. Meanwhile, the number of dividend cuts announced in the year ago month of July 2017 was also 23.
Perhaps the most surprisingly positive news is that 0 firms announced that they would omit paying dividends during July, making it the first month that's happened since September 2017. We would have to go back to September 2014 to find the now third-to-last time that happened! That figure was down from the 3

dividend omissions announced in June 2018 and also from the 6 that were recorded back in July 2017.
But wait, there's more!
After last month's apparent overcount of dividend cuts, we've gone to our two near-real time sources of dividend declarations to gather a sample of the firms that definitely announced dividend cuts in July 2018. Our count added up to 23 firms, where 11 represented closed end funds, which we typically exclude from our sample. The remaining 12 firms are listed below:
For those who like to keep track, 8 of these 12 are firms in the oil and gas sector, 3 are in the finance sector and 1, Pentair, is a manufacturing sector firm that may not really count as a dividend cut, since that company recently spun off its electrical division as a new company called nVent Electric (NVT), splitting Pentair's former dividend between the two.
Data Sources
Standard and Poor. S&P Market Attributes Web File. [Excel Spreadsheet]. Accessed August 1, 2018.
Seeking Alpha Market Currents. Filtered for Dividends. [Online Database]. Accessed August 1, 2018.
Wall Street Journal. Dividend Declarations. [Online Database]. Accessed August 1, 2018.
This article was written by
Ironman is the alias of the blogger at Political Calculations, a site that develops, applies and presents both established and cutting edge theory to the topics of investing, business and economics. We should acknowledge that Ironman is either formerly or currently, and quite possibly, simultaneously employed as some kind of engineer, researcher, analyst, rocket scientist, editor and perhaps as a teacher of some kind or another. The scary thing is that's not even close to being a full list of Ironman's professions and we should potentially acknowledge that Ironman may or may not be one person. We'll leave it to our readers to sort out which Ironman might behind any of the posts that do appear here or comments that appear elsewhere on the web!