In this report, I give a summary of my firm's economic and market outlook for the second half of 2018. But first, let's review the first-half predictions that I provided in my January 2018 Seeking Alpha article:
Our equity model's return forecast for the S&P 500 (SPY, IVV) for 1H-2018 was 6.4% at the time, and the index gained 2.6% in that 6-month period - low but still a positive return. This is below-average forecasting error; and importantly, it did not affect portfolio positioning: we were fully invested at maximum stock allocation (risk-on), and U.S. stocks delivered the best return globally. Can't complain.
Our outlook for GDP growth was 3.2%, well above what most strategists expected at the time. With GDP growth rising to 4.1% in Q2, our economy grew at 3.15% in the first half of 2018 – right in line with the outlook.
Our January 6-month outlook on inflation (2.1% core inflation expected, 2.2% actual) and interest rates (2.8% 10y Treasury expected, 2.85% actual) were right on. This was critical for fixed-income allocations because a 1.1% loss on U.S. aggregate bonds was expected under those conditions (the AGG lost 1.6%).
Our current outlook is below. The latest return forecast for the S&P 500 is calculated by our primary U.S. equity model, and our secondary fixed-income models give guidance for bond markets – both power our investment process. Our equity and fixed-income models are updated twice each month, so they will change as we go along. The rest are our qualitative views on the economy, inflation, and interest rates.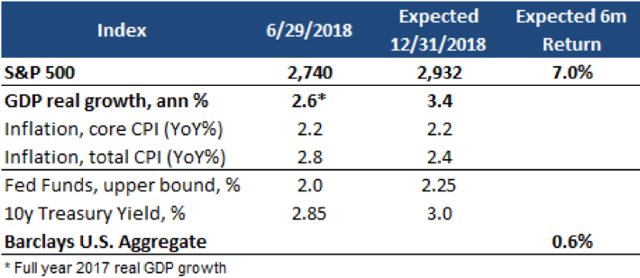 Source: Model Capital Management LLC.
U.S. Stocks
The forecast for the S&P 500 by our fundamentals-based model has increased to 7.0% in May-June from 4% earlier in the year when valuation was too high. The improvement is driven by lower valuation resulting from higher earnings and book values. Earnings growth reached a remarkable 24% in Q1, its fastest since 2010, and is expected to be nearly the same in Q2 (see chart). The stock market undoubtedly remains expensive, but this is typically the case during growth periods. Above-20% earnings growth is rare and is very positive for stocks. While market valuation remains moderately high, economic factors are very positive, indicating sustained growth in corporate revenues and profits.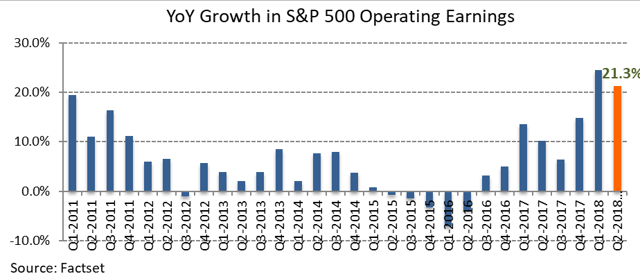 The Economy
U.S. economic growth accelerated to a 4.1% annual rate in Q2 (see chart) from the 2.2%-3.0% range, showing its fastest quarterly growth since 2014. Growth was boosted by business investment, in large part in energy production, and by net exports. Consumer spending also continued to be robust, most recently rising by 0.4% in June. The revival in manufacturing and energy helped spur job creation, evident by falling unemployment – particularly, minority unemployment fell to all-time lows – and by the lowest jobless claims in about 50 years.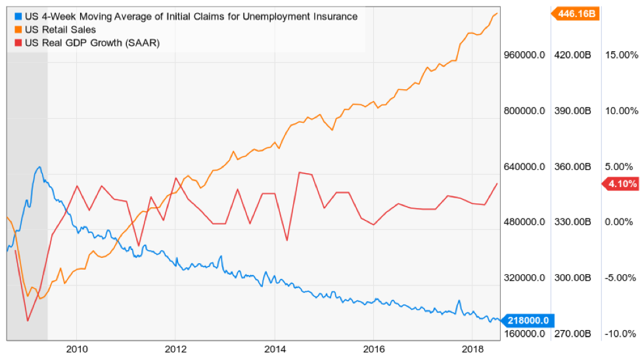 Sources: BEA, BLS, Census
Trade will be a significant positive factor going forward, in my view. Around $50 billion decline in net imports already had a positive effect in Q2. If President Trump's effort to equalize trade agreements is successful, it will reduce trade deficit and thereby increase U.S. production at the expense of foreign production. The European Commission President already offered attractive terms to President Trump during his visit to Washington last week (see full press conference here). So, a fair trade agreement with the EU will likely be first, followed by Mexico. Of course, it might take some time to make China, the source of the U.S. biggest trade deficit, to "play fair" - to reduce their trade and non-trade barriers and to stop its intellectual property theft.
In addition, the inventory overhang from the 2014-15 buildup is being reduced, but it will likely take several more months to get to the "sweet spot" below 1.3 inventory-to-sales ratio (more on this in another article). Thus, we expect GDP growth to continue at low-3% pace in Q3 and then rise in Q4 for a total expected growth of 3.4% in the second half of 2018.
Inflation and Interest Rates
Inflation rose as we expected at the beginning of the year: core inflation currently stands at 2.2% and total at 2.8%. However, the base effect, which drove it up, is about to end. We expect core inflation to stabilize around the current level and total inflation to recede somewhat by year-end. We also expect a more patient Fed to raise its Fed Funds rate one more time in 2018, to 2.25% and the 10-year Treasury yield to rise only slightly, to around 3%. Accordingly, the losses in longer-term Treasuries and aggregate bonds should end – our expected return for the AGG is 0.6% under these conditions. The European Central Bank has signaled an end to its bond-buying stimulus, and the Bank of England just raised its rate to 0.75% due to rising inflation in the U.K. - it's clear that European and global bonds should be avoided.
Portfolio Strategy
Economic growth has now stepped up from 3% (which appeared impossible two years ago) to 4% and is expected to shift to a higher gear by Q4. Consumer and business confidence continues to be extremely high. Corporate earnings are growing at 20-24% YoY. This environment will support continued asset flows into U.S. equities. We recommend to stay fully invested in stocks at your maximum allocation based on your risk tolerance. In such a growth environment, we also recommend Growth and Technology exposure (QQQ, XLK, QLD).
In fixed income, as I have been recommending since last year, avoid longer-term bonds (IEF, LQD) and run away from very long-term bonds such as TLT. We see attractive pockets in some U.S. bond assets, including inflation-indexed Treasuries (TIP, STIP) and some low-duration corporate bonds (VCSH) - more on fixed income in another article later this month.
Finally, this is all well and good, but will it last? Will we have a stock market correction? Of course, we will, by definition - the question is when. As always, be aware of risks in stocks investing and have a plan (which may be to do nothing if you apply buy-and-hold). As part of our tactical approach, we try to anticipate significant corrections - via both fundamentals (mid-term model) and technical indicators (short-term risk model) - and act accordingly. The models currently don't see any clouds on the horizon. I will provide updates here - follow me to stay tuned.
Disclosure: I am/we are long IVV, QQQ, XLK, QLD, STIP. I wrote this article myself, and it expresses my own opinions. I am not receiving compensation for it (other than from Seeking Alpha). I have no business relationship with any company whose stock is mentioned in this article.
Additional disclosure: Roman Chuyan is the president and general partner of Model Capital Management LLC ("MCM"), a Registered Investment Adviser. This article is for informational purposes only. There are risks involved in investing, including loss of principal. Roman Chuyan makes no explicit or implicit guarantee with respect to performance or the outcome of any investment or projections made by him or MCM. There is no guarantee that the goals of the strategies discussed in this article will be met. Information or opinions expressed may change without notice, and should not be considered recommendations to buy or sell any security.
Certain figures in this article represent return forecasts or outlook for certain asset classes and not for any strategy, and are not a guarantee of future performance. These forecasts are forward-looking statements based on numerous assumptions, risks, and reasonable beliefs of MCM, which change over time. They speak only as of the date they are made, and MCM assumes no duty to update them. Actual results may differ materially from those anticipated in forward-looking statements.