Market Volatility Bulletin: Vol Tumbles As Markets Ignore Trade Woes
Aug. 03, 2018 9:27 AM ET
GLD, SPY, QQQ, VXX, DIA, UVXY, XIV, IWM, TVIXF, XLK, SVXY, VIXY, ZIVZF, VXZ, VIXM, VMAX, VMIN, VIIX, CVOL, XVZ, TVIZ, XXVFF, IVOP, VIIZ, SH, TZA, SSO, TNA, VOO, SDS, IVV, SPXU, TQQQ, UPRO, PSQ, SPXL, UWM, RSP, SPXS, SQQQ, QID, DOG, QLD, DXD, UDOW, SDOW, VFINX, URTY, EPS, TWM, SCHX, VV, RWM, DDM, SRTY, VTWO, QQEW, QQQE, FEX, ILCB, SPLX, EEH, EQL, SFLA-OLD, QQXT, SPUU, IWL, FWDD, SYE, SMLL, SPXE, UDPIX, JHML, OTPIX, RYARX, SPXN, HUSV, RYRSX, SPDN, SPXT, SPXV
7 Comments
Summary
Spot VIX nears an eleven-handle as markets celebrate Apple's major milestone.
Have share repurchases made up a large proportion of EPS growth over the last decade or so?
With earnings season wrapping up, SVXY looks primed to reach new highs since the Feb. 5 wipeout.
Market Intro


CNBC: Thursday Close
Apple (AAPL) led US equities (SPY, DIA, QQQ, IWM) in Thursday's trading session as investors celebrated the milestone of the first US company to reach a $1T market capitalization. Congratulations, Apple! S&P vol took a beating as trade continued, after having opened quite a bit higher on trade concerns that were ultimately brushed aside.

MarketChameleon.com: AAPL implied vol
Post-earnings vol dumped hard on Apple shares. Interested parties looking for more upside on this highly valued company may decide to participate with relatively inexpensive options. As we'll see later, Apple as a single stock has about the same level of vol as the NASDAQ at present.

Not even a Treasury announcement that the size of debt auctions would be rising was enough to give gold (GLD) a respite. The yellow metal trades near seven-year lows, yet implied vol is just north of 11.
Thoughts on Volatility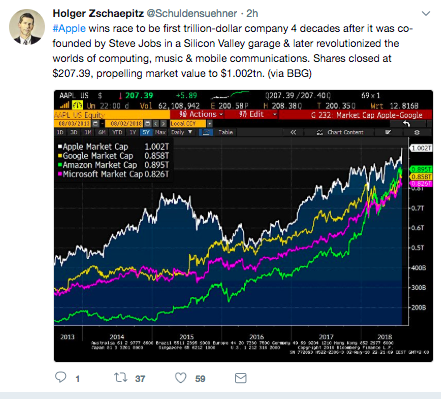 It was a reasonably tight race to the $1T mark. And it begets a question: which (if any) of the other contenders ((GOOG, GOOGL), AMZN, MSFT) will cross the line as well? The earnings and revenue growth for these firms are impressive to say the least. What does this titanic-cap (pardon the pun) phenomenon portend for risk assets and volatility? I think much of that depends on correlations between the assets.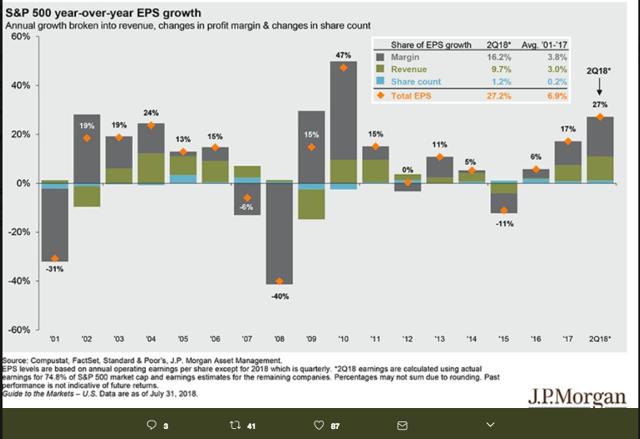 UrbanCarmel posted this tweet showing that only 3% of all EPS growth came from buybacks. This is a little tricky of a statement; however, as the JPMorgan figure really only looks at net buybacks (or buyback issuance).
Closer examination reveals that when we do not net, buybacks have made up a very great deal of EPS growth (maybe 50%). If you consider this to be an interesting or important topic, then there really are a couple different perspectives one may take on this matter.
For what it's worth, I think of share buybacks as more or less the same as dividends, so I don't look at this as some kind of huge red flag.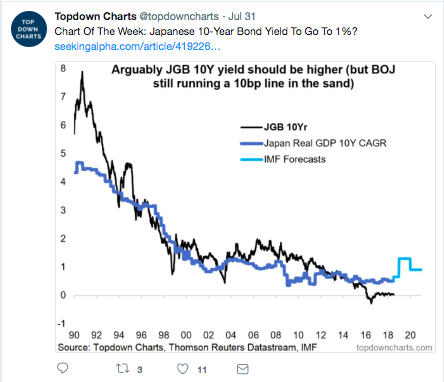 With the Fed's QT underway, one wonders what it will take for the Japanese 10-Yr JGB to ever get to a figure such as 1%. My suspicion is that the Japanese bond market is basically broken, as the BOJ owns such a great proportion of this market.
If inflation heats up in Japan, volatility across a variety of disparate asset classes may well ensue. Of course, we've not seen much in the way of Japanese inflation for any sustained period for many a year.
Term Structure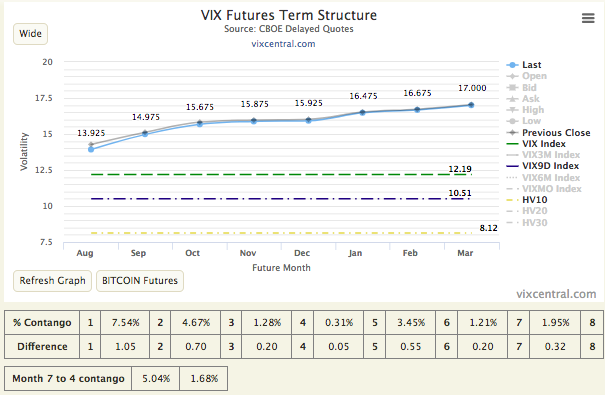 Spot VIX closed out the session near 12.00. We've seen this play out a few times over the last couple weeks, and spot has had real difficulties staying down for long. I think there's a good chance that this is where we see some traction.
SPX had a really good chance to dump in the Thursday session. Pre-market made the opportunity for equity bears to press their advantage a reality, and they couldn't hold the ball. It will become increasingly difficult to create an argument for long volatility (VXX, UVXY, TVIX) if realized vol doesn't do its part.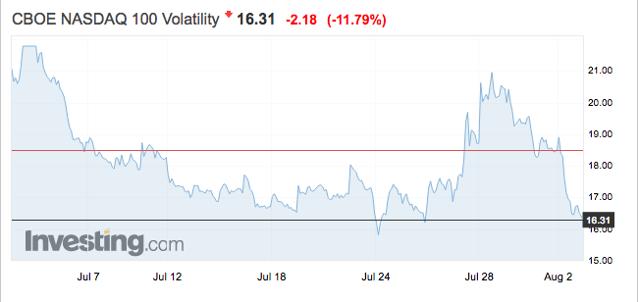 With Apple surpassing the $1T mark, the NASDAQ is in its full glory. Contrast this to just a week or so ago when Facebook (FB) led tech names (XLK) lower, throttling the VXN up 4.5 vol points in a short span of time. Low SPX vol now coincides with low VXN, and this with earnings season wrapping up and more or less positive.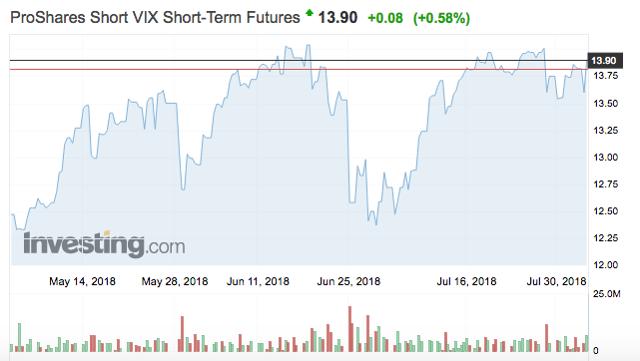 SVXY has a 52-week range of $9.53 to $139.47! So depending on how you want to look at things, the short-vol product is either doing really poorly or really well. At present we're basically seeing the highs since the thrashing of early February. What's more, if there was a credible time over the last three months or so for the front two months of the VX term structure to chase lower, I think we're there.
The market has decided, rationally or irrationally, to resolve many of its concerns for the time being. The case for the term structure to dump at the front end over a reasonably short time frame (a week or two) looks credible in the absence of some new large concern.
Conclusion
If this is your first time reading Market Volatility Bulletin, thanks for giving it a try. If you're a regular, we thank you for your ongoing contributions in the comments section.

It was good meeting up with Dave Lincoln a couple weeks back and doing a YouTube interview. I want to let readers know that Dave works really hard and posts a lot of info and interviews some thought leaders as it relates to volatility on his channel. He also has a Facebook group known as the "Volatility Trading Group". Give his work a look and see if it benefits you.
As a final note, today my wife Lindsay and I are enjoying our 15-year wedding anniversary! I've been so blessed to have her in my life these years, and we've had so many great adventures together. You can follow some of her thoughts and our ongoing travels on her website.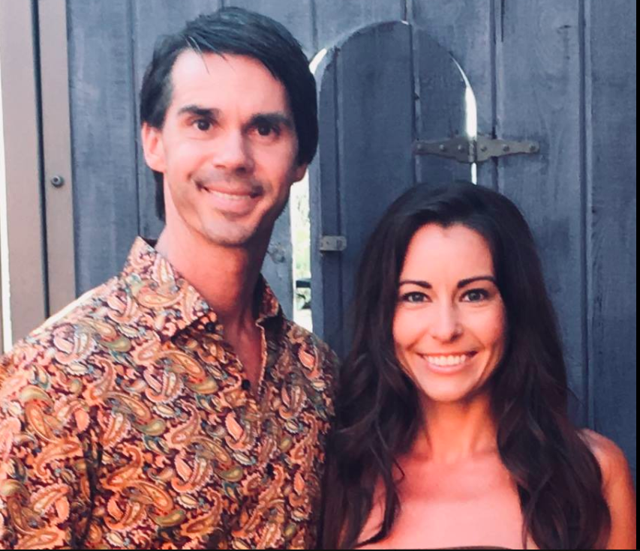 Thank you for reading.
Please consider following us.
This article was written by
Adam Zingg, CFA offers both practical and theoretical perspectives that will benefit readers who wish to learn more about how to execute  on views or strategies that interest them.  Whatever your overarching philosophy or expertise, I believe there is value in understanding how trading works. This is perhaps especially true for investors, who often take a more philosophical, less mechanical view when it comes to their processes. It is not my goal to:1) convince you which side of the market to be on2) establish your trading time frames3) have you directly follow any specific trade ideasInstead, I aim to demonstrate how complicated sounding ideas can be simplified and accessible.  My hope is to grow your tool kit of resources, and give you healthy confidence to execute your own personalized strategy.  Trading and investment are fascinating, applicable across a wide variety of fields and disciplines.  Greater focus on targeting, execution, and exit strategies build transferable life skills.  In reading my work, it is my goal that you will consistently glean useful insights and build skills that enhance your ability to trade and make important decisions.
Analyst's Disclosure: I/we have no positions in any stocks mentioned, and no plans to initiate any positions within the next 72 hours. I wrote this article myself, and it expresses my own opinions. I am not receiving compensation for it (other than from Seeking Alpha). I have no business relationship with any company whose stock is mentioned in this article.

I actively trade the futures and options markets, potentially taking multiple positions on any given day, both long and short. I also hold a more traditional portfolio of stocks and bonds that I do not "trade". I do believe the S&P 500 is priced for poor forward-looking returns over a long timeframe, and so my trading activity centers around a negative delta for hedging purposes.
Seeking Alpha's Disclosure: Past performance is no guarantee of future results. No recommendation or advice is being given as to whether any investment is suitable for a particular investor. Any views or opinions expressed above may not reflect those of Seeking Alpha as a whole. Seeking Alpha is not a licensed securities dealer, broker or US investment adviser or investment bank. Our analysts are third party authors that include both professional investors and individual investors who may not be licensed or certified by any institute or regulatory body.