Editor's note: Seeking Alpha is proud to welcome Simple Investor as a new contributor. It's easy to become a Seeking Alpha contributor and earn money for your best investment ideas. Active contributors also get free access to the SA PRO archive. Click here to find out more »
Introduction - What is Bilibili?
Bilibili (NASDAQ:BILI) is an iconic Chinese live-streaming, video hosting, and mobile gaming provider that focuses on anime-related content and video game culture. The company provides a platform for China's Millennials and Generation Z to watch pre-made contents and create their own entertainment channels. BILI's advantage lies in its ability to create a highly sticky community in the niche market derived from the ACG (Anime, Comics, and Games) culture.
BILI's entertainment ecosystem has attracted over 77 million MAUs as of Q1 2018 (up 35% y/y), 2.8 million of which are paying users (up 128% y/y). BILI as a live-streaming platform is similar to the US streaming giant, Twitch, where viewers interact with content creators during the live stream. With its most recognizable live commenting function known as "bullet chatting", BILI enables viewers to interact through the display of real-time comments on the video. This popular feature of BILI facilitates an active community by inducing viewers to participate through the chat and stay engaged.
To further develop into the interests of its niche target consumers, BILI expanded into the mobile gaming sector in 2016 in hope to capture the consumer synergy between the anime and gaming communities.
Business Model
BILI primarily generates revenue from three sources: mobile gaming (microtransactions), live broadcasting (subscriptions/microtransactions), and online advertising. It is worth noting that BILI's business took off very recently; the company's revenue went up 370% from FY 2016 to FY 2017. As of Q1 2018, mobile gaming, live broadcasting, and online advertising make up 81%, 11%, and 8% of BILI's total revenue respectively.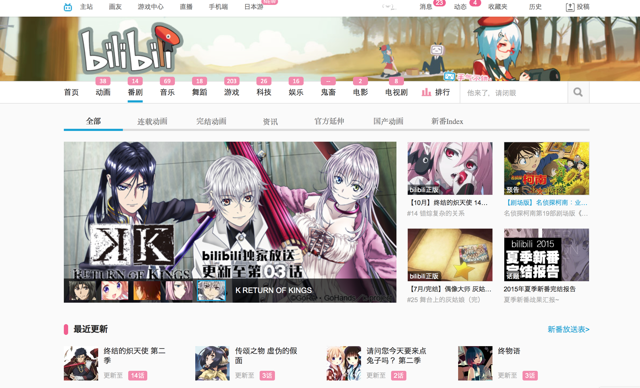 (Source: Google Image)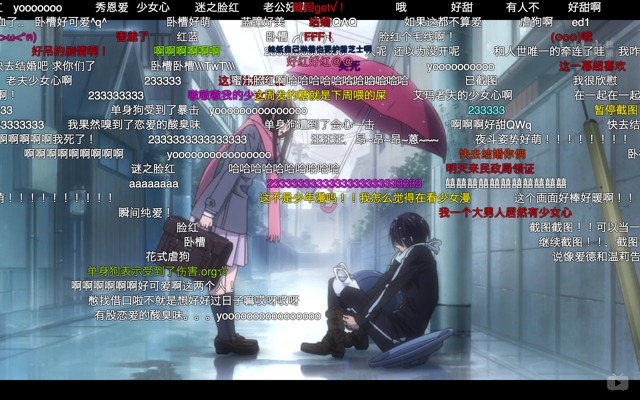 (Source: Google Image)
Mobile Gaming
The mobile gaming segment's success was largely due to two popular games, Fate/Grand Order and Azur Lane (launched in September 2016 and May 2017 respectively).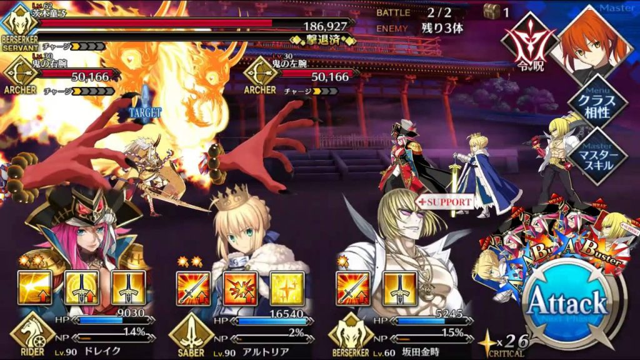 (Source: Google Image)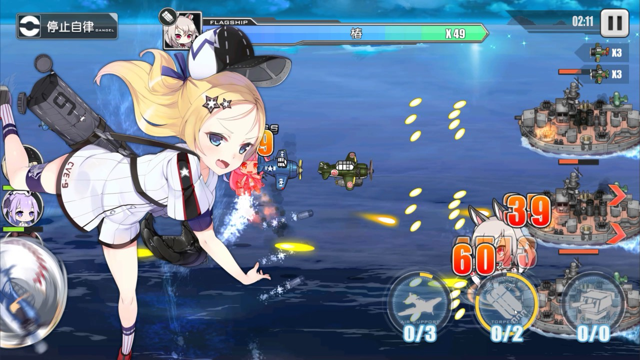 (Source: Google Image)
The concept for these mobile games is originated from popular contents of Japanese/Chinese anime. Players are able to relive engaging storylines by playing characters of their choices. These mobile games are free to download on the Chinese app store while BILI generates revenue from players' in-app purchases (micro-transactions). Players can obtain new items, characters, and loot boxes by completing daily missions and earning in-game currency. Many players choose to get ahead by exercising the option of spending real cash in exchange for loot boxes.
This type of business model is highly lucrative as it generates strong free cash flow as long as BILI can push out new in-game updates and strengthens its network effect by retaining player loyalty. ATVI (Overwatch), EA (Destiny), and TTWO (GTA V) are three US video game companies that benefit from this microtransaction business model. In FY 2017, those three companies converted 26% of their revenue into free cash flow alongside double digits revenue growth.
Online Advertising
BILI generates advertising revenue via display advertisements, performance-based advertisements, and in-program advertisements. Display advertising allows advertisers to place ads on certain areas of its platforms and the ads can be tailored within a particular format and time period based on the clients' needs. Meanwhile, performance-based advertising allows companies to connect with popular users to generate advertising campaigns for a specific product. In-program advertising, on the other hand, allows BILI to partner with content creators to permit advertisements to be placed in their channels.
Based on the latest guidance, management expects advertising revenue to increase as they roll out new advertising and marketing solutions. Performance-based advertising, as introduced above, is a new initiative launched in December 2017. Management expects this new line of advertising product to become a growth driver that will also help with improving its gross margin.
Live Broadcasting
BILI generates revenue from live broadcasting via the sales of virtual items. Viewers purchase these virtual items and send them to their favorite hosts as a way to show their support. The virtual items sold by BILI consist of items that create special effects and time-based items, such as privileges and titles. Additionally, BILI also generates revenue from value-added services such as premium membership subscription and paid content.
Although any users can visit BILI's platform to watch and search contents, viewers must register an official account to unlock basic interactive features such as liking videos or following their favorite content category. Additional interactive features such as bullet chatting will only be available to registered users after they become BILI's official members by passing the 100-question membership exam. Exam categories typically range from community etiquette to popular anime. Those who pass the exam will share a similar bond that further strengthens the networking effect within the BILI community.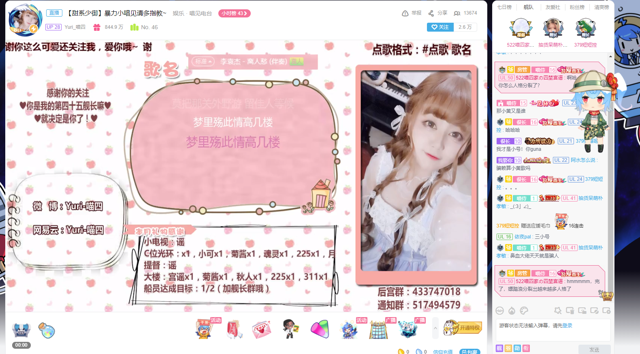 (Source: BILIBILI.com)
In the long run, CFO hopes to achieve a 50%, 30%, and 20% revenue split between gaming, advertising, and broadcasting respectively.
Industry Overview
Online entertainment, especially in the gaming, animation, and live broadcasting sub categories, has experienced explosive growth in the past few years. It is estimated that it will grow from $205.8bn RMB in 2016 to $752.7bn RMB in 2021, at a CAGR of 29.6% yoy (iResearch Report, 10-K).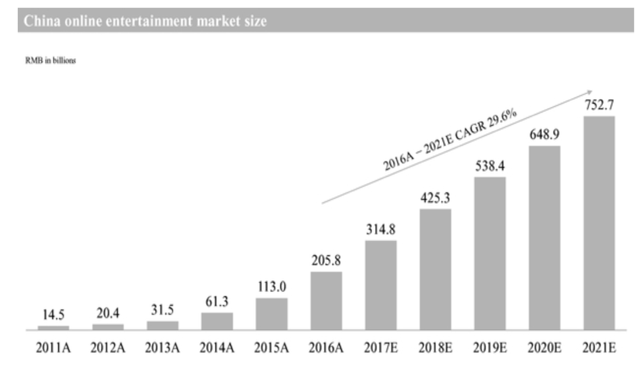 (Morgan Stanley Report)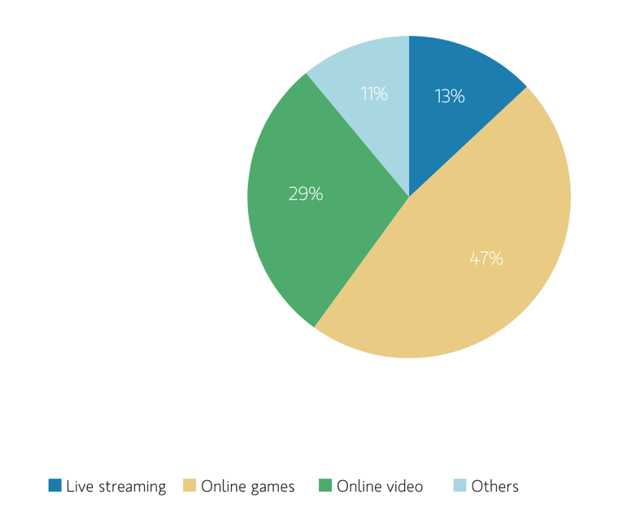 (Morgan Stanley Report)
According to Morgan Stanley's report, China's online entertainment market is expected to reach $739bn RMB ($116bn USD) by 2020. This type of growth is driven by the increase in discretionary income among Generation Z, growing esport ecosystem (streaming and gaming) and thriving lower-tier city households. There is a tremendous room for growth when we compare China's online entertainment spending as a percentage of their income as compared to its Asian counterparts such as Japan and South Korea. Chinese consumers only spend 3.49% of their disposable income while Japanese and South Korea consumers spend 7.25% and 7.08% respectively. As China's economy continues to thrive, it is predictable that Chinese consumers will dedicate a greater percentage of their income for entertainment purposes.
The most recent Anime Industry Report conducted by the Association of Japanese Animation shows that the Japanese animation market was able to experience phenomenal growth to a 2 trillion yen ($17.5bn) industry in 2016 due to 171.9% increase in the overseas market. One of the main culprits was China's increasing appetite for Japanese animation, culture, and its byproducts.

(Anime Industry Report)
According to the report, in addition to purchasing streaming rights for Japanese anime, Chinese companies also began to invest in Japanese animation studio. Since 2016, Chinese entertainment firms have been outsourcing their projects to these Japanese studios (Ressler & Hodgkins).
Notable Catalysts
Macro
Internal
Management plan to release new mobile gaming products in order to capture interests from the female audiences and music enthusiasts. BILI plan to roll out A3, BangG Dream, and Ark Order in 2018. Existing BILI users can sign up for Beta release. By increasing its products offerings, BILI can increase user retention rate, expand MAU, and drive top line growth.
Management will push out a cash incentive program for original content creator beginning in 2Q18 to award contents creators will 10,000+ followers. By providing stronger monetary incentives for its original content creator's base, BILI's community will benefit from engaging in high-quality contents that seek to capture viewers' interest.
Financial Health
As of Q1 2018, BILI has $165M in cash & equivalents and no short- or long-term debt. BILI also has short-term and long-term investments amounting to $35M and $116M respectively. BILI's investments are focused on esports and animation studios. Bilibili gaming is the esports arm which started competing in China's LoL Pro League this year. League of Legends is the most watched esports game in China. Last year's world championship was hosted in 4 different provinces in China and drew in more than 60 million unique viewers globally. Thus, it is believed that BILI's investment in esports can pay off in spades.
BILI has a large amount of unearned revenue that is still attributed to cash on hand. BILI's balance sheet is as healthy as investors can hope for in a hyper-growth company.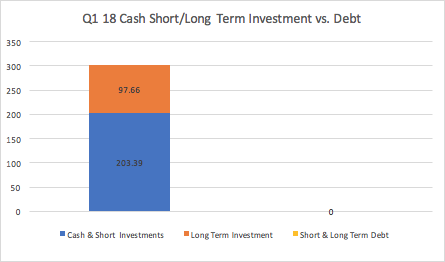 (Q1 2018)
Competition and Risks
BILI's hybrid business model does not have a direct comparison in the Chinese Internet space. As a result, we will break down the competition by product lines below.
In the live-streaming business, BILI competes with HUYA (YY's subsidiary) and MOMO. It's worth noting that each company has a niche in this space. HUYA's core business model concentrates on esport streaming contents. As of December 31, 2017, its live streaming contents covered over 2,600 different games, including mobile, PC, and console games. MOMO is known for online personality streaming that specializes in on-demand mobile streaming services. MOMO generates revenues from both microtransactions and premium subscriptions on its mobile broadcasting platform.
In the mobile gaming business, BILI's main competitors are NetEase (NTES), MOMO, and HUYA. The mobile games offered by these companies are very different. Similar to BILI, social networking firms such as MOMO and HUYA will be able to leverage their existing user base to develop mobile games that tailor to users' interests. While NetEase and Kingsoft's (OTCPK:KSFTF) mobile gaming line focus on Chinese mythology, BILI's product lines are developed for its anime-centric audiences.
In the video hosting space, BILI competes with Youku, iQIYI (IQ), and Tencent (OTCPK:TCEHY) video. All four streaming services offer similar popular anime contents (e.g Boku no hero Academia, Naruto Shippuden, One Piece). However, Youku, Tencent, and iQIYI focus largely on producing original contents. The fact that these companies invest heavily in producing original contents have them forced to give up on non-mainstream anime due to capital constraints. This, as a result, provides BILI with the opportunity to purchase license rights of non-mainstream anime at a discount. Even though some of the popular animes are available across all four platforms, viewers prefer BILI over its competitors as it is backed by a supportive community where viewers can freely discuss and express their opinions on the latest cultural trends.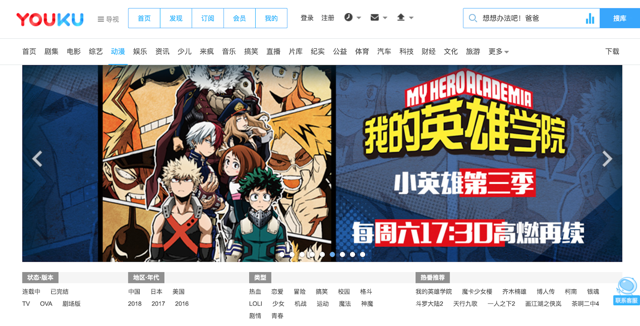 (Source: Youku.com)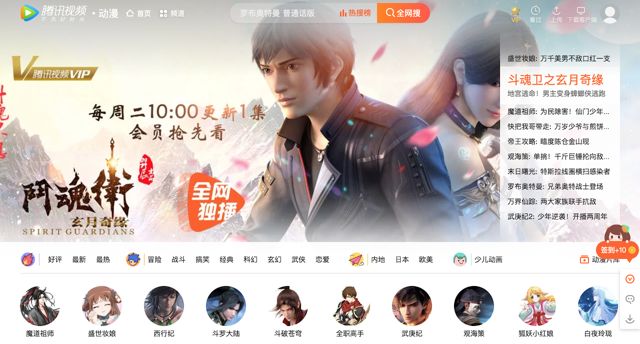 (Source)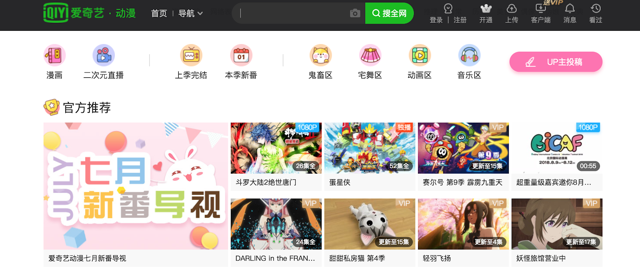 (Source)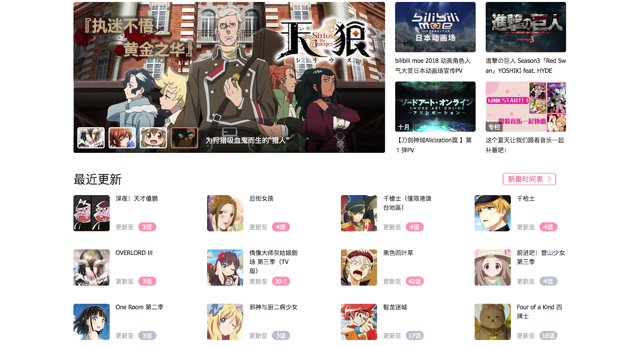 (Source: bilibili.com)
Business Risk
BILI derives 90% of its revenue from mobile games. Yet the nature of the mobile gaming space is highly competitive as the barrier of entry is relatively low. So if BILI fails to maintain the quality of its mobile games, paying users will move to better alternatives. To mitigate the revenue concentration exposure, BILI must diversify its current revenue mix. Fortunately, management has come to realize the dilemma and thereby introduced the new line of performance-based advertising services.
U.S. Vs. China Trade War Implications
The current trade war does not bode well for most Chinese companies that conduct businesses in the US (and vice versa). Chinese ADRs saw a broad decline in the past couple weeks as a result. So far, no high level of negotiations has been planned. The Trump administration plans to roll out $50bn in traffic on aerospace, information technology, plastics, autos, and machinery. Beijing also retaliated targeting American exports such as farm products, cars, and crude oil. Additional escalations in the trade war can push a major sell off across tech sectors in the equity market.
Valuation
As of July 19, 2018, BILI trades at a $3.81bn market cap. On a TTM basis, BILI's 6x price to sales and 100x EBITDA. It might seem rich at first glance but one must look deeper into the company's cash flow statement. In 2017, BILI generated $68.7M in operating cash flow despite reporting negative net income. The operating cash flow margin of 19% is quite impressive for a company that is focused on growth. Management reported that the company generated $70M in operating cash flow in Q1 2018, which represents a cash flow margin of 54.3%. BILI has shown its potential of being a high cash-flow business.
Management also guided ~154M in revenue (82% y/y) for Q2 2018. If we annualize the sum of Q1 2018 and expected Q2 2018 revenue, BILI would be trading at a forward Price to Sales of 8x. This is a conservative estimate because it assumes that the Q3 and Q4 revenue remain flat, which is highly unlikely. With 77.5 million MAUs, I see BILI as a company that began to realize its revenue potential.
In the chart below, we are comparing BILI's market cap per MAUs to other video/live streaming platforms such as IQ, MOMO, NFLX, and HUYA. BILI's $49 per MAUs is the lowest in its peer group. If we assume that BILI will be valued at $105 per MAU (average of IQ, MOMO, HUYA), we would arrive at a price target of ~$29. We must also take into account that BILI's 35% MAU growth is by far the highest in this peer group.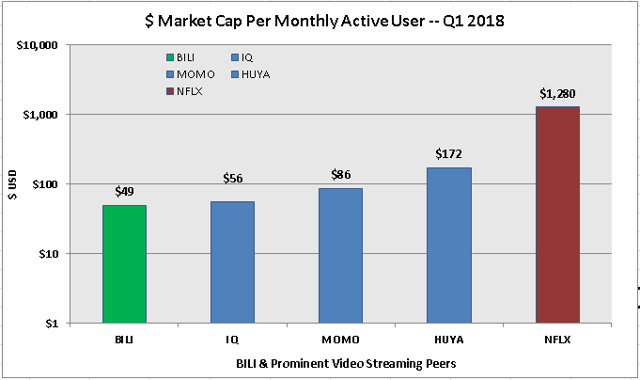 (Source Data: Q1 2018 Earnings Transcript)
The silver lining is that BILI's revenue per user is far below that of its peers. As we mentioned before, BILI recently started to focus on monetizing its user base. The company tripled its revenue from 2016 to 2017 by attracting Generation Z consumers with its mobile games. In December 2017, management began the high-quality ad initiative and recently partnered with I-Click Interactive to generate better-targeted ads. This will allow BILI to better monetize its large, fast-growing audiences of 77.5 million MAUs, which will significantly bolster the company's revenue per user. In the long run, management is aiming for a revenue split of 50%, 30% and 20% between gaming, advertising, and live broadcasting.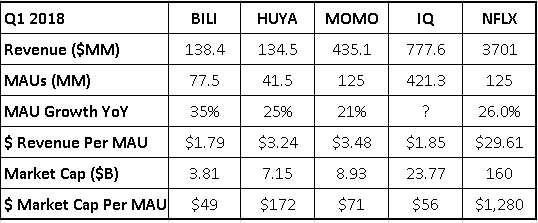 (Source: Q1 2018 Transcript Data)
Conclusion
BILI is a household Chinese Internet name that provides staple entertainment to both millennials and Generation Z in the form of live streaming, mobile games, and video contents. We believe the company's core business segments will continue to benefit from strong secular tailwinds in foreseeable future.
External macro forces such as increasing mobile coverage across cities, advent of CDRs for Chinese investors, and the growing discretionary income of the Chinese middle class also support the long-term growth thesis. MAU numbers are growing at an astounding pace and paying member numbers even more so.
The company's balance sheet is healthy with zero debt, substantial investments in growth areas such as esports, and solid cash on hand to keep innovating. Competitors for BILI's core business lines do not present a direct threat because they are serving consumers of different interests. The company was already cash flow positive in 2017 and reported higher operating cash flow in Q1 2018 than all of FY 2017 combined. As a result, we do not perceive cash flow generation to be an issue for BILI upon maturity. I recommend BILI as a conviction pick with its multi-bagger potential to enterprising investors.