Historically, this opportunity was only available to wholesale energy traders. As a result, the Canadian crude market is something that is not well understood. However, given this is the largest foreign supply to the U.S. (greater than Saudi Arabia), the reality is that its importance and influence is undeniable, and it represents an opportunity for a range of global investors.
Canadian Oil Facts
1. Canada is the largest foreign supplier of oil to the U.S. at more than 40% of all US imports. This is more than all OPEC producers combined and roughly three times what Saudi Arabia itself supplies. Almost all Canadian oil production goes to the US. See below: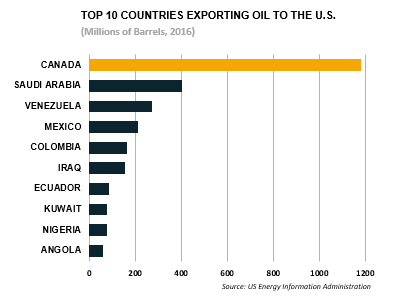 75% of Americans think the majority of their oil imports are from the Middle East. Source: UT Energy Poll (utenergypoll.com)
2. Canada has the third-largest oil reserves in the world, only behind Venezuela and Saudi Arabia.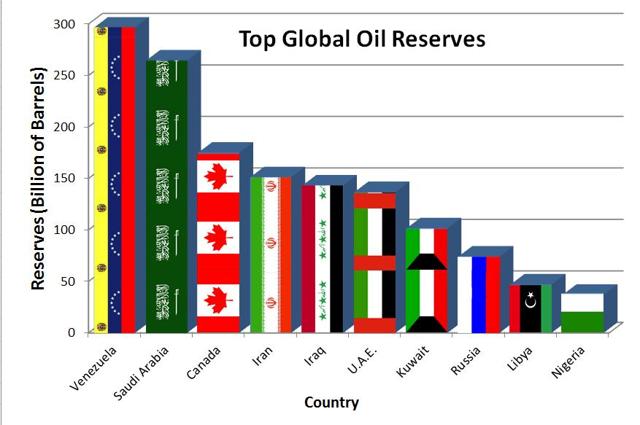 Source: Oil - Energy British Columbia
3. Canada ranks as the most socially progressive country of the top global oil producing nations. Think where you would vacation.
4. While Canada produces many types (grades) of crude, the "heavy sour" grade is the dominant grade. Most Canadian producers, which are some of the largest in the world, have heavy oil production linked to WCS.
Reasons for the discount
Given WTI is considered "light-sweet" and Canadian Crude is predominantly "heavy-sour," this is often the source of confusion that causes both controversy, misunderstanding and opportunity. As implied by the name, "heavy-sour," one cannot help but to think in negative terms and thus justify the lower price. However, Canadian crude is discounted primarily due to transportation constraints and costs, not the grade. Other global heavy grades trade much closer to WTI. See below:

Some Facts:
1. There's huge global demand for heavy crude for refining. According to the Canadian Association of Petroleum Producers, the US Gulf is now the world's largest heavy oil refining cluster, and refineries on the Gulf and Midwest have been purpose built or retooled for heavy crude. In a report from IHS Markit, by 2020 Canada could supply a full one-third of its refining market. As a result, since 2008 US imports of light-sweet have dropped to almost zero.
One Third of the U.S. Gulf Coast Heavy Oil Market Could Be Supplied by Canada by 2020, IHS Markit Report Says.
2. Refineries get better margins from heavy-sour crude and refinery demand is increasing. Per the graphic below, refineries are now able to manage sulfur content and produce a wider range of products targeting higher margins.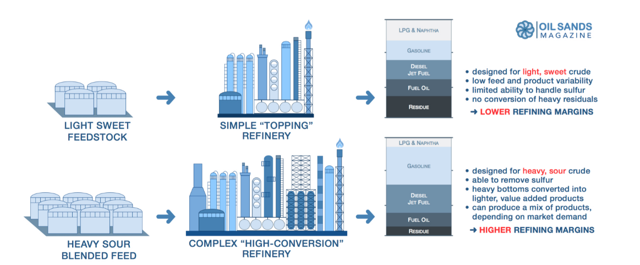 3. Alternative global sources of heavy-sour imports are facing supply constraints (such as Venezuela). Per a JPMorgan Global Commodities Research February 2018 Report:
"Canadian crude is extremely important for the refineries in the Gulf Coast of the U.S. With the declining supplies from Mexico and Venezuelan heavy crude… the need for Canadian Crude will only increase further."
4. Oil is moved from Canada to the U.S. by pipeline or rail at significant cost ($8-21 per barrel) while the cheapest method of oil transport is by oil tanker at only a few dollars per barrel. This is something Canada is getting closer to, which may change the balance of global oil supply and movement. The result may be substantially higher prices for crude oil from Canada.
Benchmark for Canadian Oil
While most people have heard of WTI, this is not the benchmark for the bulk of oil produced in Canada and sent to the US. The largest commercial oil stream in Canada is WCS, which is a heavy oil blend. Western Canadian Select combines a number of types of oil and is used by producers for pricing as a discount, or deduction from WTI.
As such, we reference a more simple benchmark that accurately reflects the commodity price, risk and volatility of Canadian oil. The CCI, or Canadian Crude Index, was created to compare the price of Canadian heavy crude to that of WTI in US dollars per barrel. Given the discount and the importance, and the ease of observing and tracking it through the CCI, this benchmark creates transparency and makes understanding the opportunities more obvious. More information at Commodity Indices.
CCI details:
The CCI represents a simple and liquid benchmark for heavy-sour oil that's produced in Canada. The CCI was created to give investors and traders simple transparency and access to one of the world's most important oil grades and progressive markets - heavy-sour oil from Canada.
Discount - Given Canadian crude trades at a discount to WTI, this differential, called WCS, is what we have subtracted from WTI to illustrate a price in USD per bbl.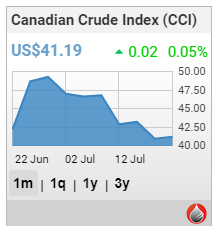 Source: Commodity Indices and OilPrice.com
The index is a three-month exposure thus reducing the effect of rolling contracts and the dreaded contango* that's often a criticism of commodity investments.
Why does this benchmark matter? When you trade Canadian crude, you are arguably trading the barrel that balances the US market, is most competitively priced, and the most important for setting prices for all other North American crude grades.
Opportunities
Given the U.S. dependency on Canadian crude supply and the massive demand, Canadian crude is extremely important to the pricing of crude oil in North America and has an important influence on the price of WTI.
Canadian crude is a leading indicator of price movement as refineries chase this important and cheap feedstock. Think of what happens when there's a supply disruption in Canada - prices such as WTI react quickly.
While highly correlated to WTI, the discounted price leads to an outperformance in price movements. For example, if you are bullish oil, a $10 move is 20% from a $50 CCI vs. only 14% from a $70 WTI price.
Volatility is higher in Canadian Crude and normalized returns are greater (both up and down - so buyer beware). This can create greater tactical trading opportunities for investors.
The discount over time: Recently the Canadian heavy oil price has been discounted deeply, below the -$14 to -15 average we have seen in recent years. With additional storage, pipeline optimization and rail capacity coming, deep discounts may be good entry points. See below:

Source: Commodity Indices
Canada with global access (beyond the US) changes a lot in world oil supply and demand economics. Refineries in Asia also are tooled for heavy-sour crude and pipeline transportation costs to tidewater by pipeline are only a few dollars. As Canadian producers and marketers find creative ways to get this oil shipped out of Canada, we believe the differential may change substantially. Moreover, added pipeline capacity to the U.S. and export capability to Asia also may narrow this spread.
There's only one investment product in the world with access to heavy crude, the Canadian Crude Index ETF (CCX on Toronto), including a forthcoming US dollar version.
Summary
If you or a client are looking for an edge in oil, consider the following:
1. Canada is the largest supplier of oil to the US, more than three times Saudi Arabia and all of OPEC combined.
2. Oil from Canada is critical to US energy security and in setting the price of all crude in North America.
3. The discount for Canadian heavy oil is primarily because of transportation costs to US refineries.
4. Heavy oil is demanded globally because refineries can make greater margins on the value-added products.
5. Until the launch of the CCX ETF, trading heavy oil was only available to wholesale (producers and banks) energy traders.
6. While highly correlated to WTI, the discounted price means material outperformance and more volatility in bull and bear markets. Since the oil lows in January of 2016, Canadian Crude ETF products have outperformed WTI-based ETF products. This is an opportunity for market speculators and investors.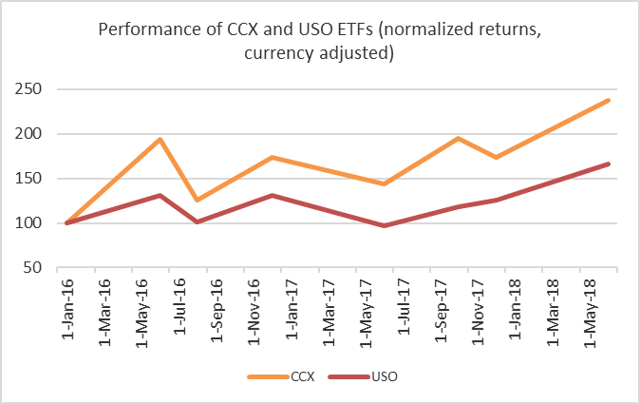 Source: Auspice and Bloomberg
7. If you are an energy investor with a view of oil price, the Canadian crude market should be a strong consideration for a percentage of your portfolio.
*Contango is a situation where the futures price of a commodity is above the expected spot price. Contango refers to a situation where the future spot price is below the current price, and people are willing to pay more for a commodity at some point in the future than the actual expected price of the commodity. This may be due to people's desire to pay a premium to have the commodity in the future rather than paying the costs of storage and the carry costs of buying the commodity today.
Disclosure: The author is a founder and principal at Auspice, the creator of the CCI index and CCX ETF. He may hold position in the CCX ETF.