Wearables maker Fitbit (FIT) reported second quarter numbers which topped expectations on both the top and bottom. FIT stock initially rose in response to those consensus-beating numbers. Since, though, FIT stock has sharply reversed course and is now trading deep in the red in response to the Q2 ER.
We think the sell-off in FIT stock makes sense. This stock had a huge run from $5 to $8 on irrational hopes that the company was beginning a new chapter in its otherwise trouble growth narrative. The recent post-earnings drop is simply the stock normalizing back to levels that make sense.
In the big picture, we don't believe the company's huge growth narrative through smartwatch and fitness data dominance is realistic. Instead, we think that this company has good, but not great, growth prospects over the next several years through mild smartwatch sales ramp and some expansion in the of the data business. From this perspective, we don't think FIT stock is worth buying until it drops below $5.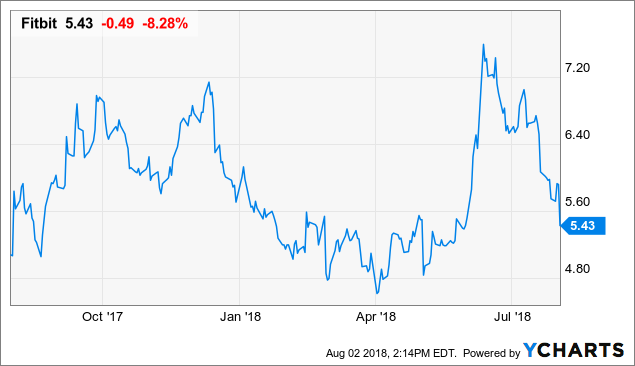 Despite the headline double beat, Fitbit's second quarter report wasn't that good. Revenues dropped ~15% year-over-year. Devices sold dropped ~20% year-over-year. Gross margins compressed 210 basis points. Net loss per share more than doubled from $0.08 to $0.22. Average selling prices rose just 6%, vs. a 16% rise in Q1 and a 20% rise in Q4.
In other words, although the headline numbers beat, the underlying numbers are still troubled at Fitbit. Revenues, devices sold, margins, and profits are all dropping. Meanwhile, the one growth part of Fitbit (higher average selling prices), significantly moderated in the quarter.
Overall, the quarter paints the picture of a wearables company that's still in hot water. The company's smartwatch pivot is playing out well, and Versa is leading the charge (smartwatch sales have gone from 15% to 55% of total revenues over the past two quarters). But, declines in the basic activity tracker business are still outweighing advances in the smartwatch business. Moreover, the smartwatch business has lower margins, so even when the basic activity tracker business is largely phased out, the company will still face margin headwinds.
Thus, the near-term outlook on FIT stock isn't all that great. Meanwhile, the long-term outlook isn't all that great, either.
Eventually, advances in the smartwatch business will overtake declines in the basic activity tracker business, and revenue growth will turn positive. But, the entire wearables market is projected to only grow ~15% per year over the next several years. Moreover, IDC data implies that Fitbit is rapidly losing market share in the wearables market. Market share erosion will moderate as the smartwatch business scales, but considering huge competitive threats from Apple (AAPL), Garmin (GRMN), and Fossil (FOSL), it is unlikely that Fitbit maintains current market share over time.
Thus, going forward, revenue growth should be less than 15%. Enterprise data partnerships will likely provide a lift to sales growth, but not that big of a push. We fail to identify a reason why enterprises seeking health and fitness data would want to partner with Fitbit as opposed to Apple, which has the same fitness tracker data, just on a far larger user base. Thus, we think tailwinds from data partnerships are greatly overstated, and that revenue growth potential herein is limited.
Overall, we think Fitbit is a 10% revenue growth company. Given management's guide for gross margins in the presently smartwatch dominated business to stabilize around 40%, we also think that Fitbit is a 40% gross margin business going forward. The operating expense rate is expected to drop to $740 million this year. Over the next several years, as revenue growth comes back into the picture, opex will rise from that base. But we believe that opex should be able to remain south of $800 million given cost-cutting measures.
Under those assumptions, see Fitbit netting $0.50 in earnings per share in five years, which is well ahead of consensus estimates. Nonetheless, $0.50 in earnings per share isn't enough earnings power to justify buying FIT stock above $5. A market-average 16x forward multiple on fiscal 2022 projected earnings of $0.50 implies a fiscal 2021 price target of $8. Discounted back by 10% per year, that equates to a fiscal 2018 end price target of $6. We would like to buy at a discount to that price target, so below $5 seems like a good entry.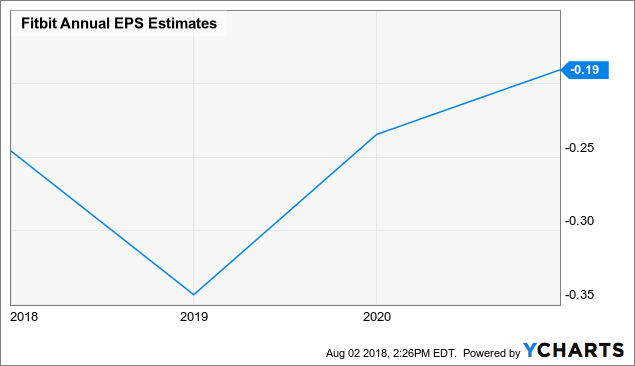 For what it's worth, FIT stock has consistently bottomed out around $5 over the past two years. We think the fundamentals support a similar bottoming out process happening soon.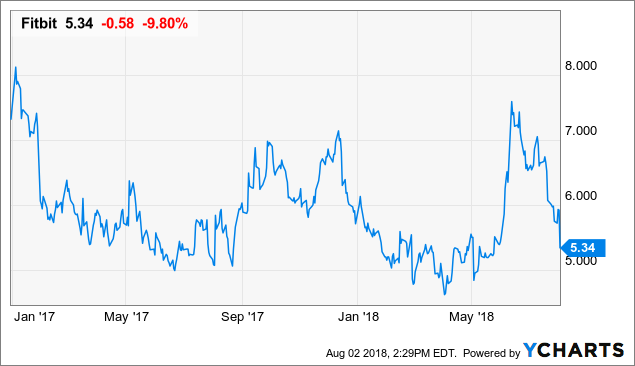 In the big picture, we think FIT stock got way ahead of itself when it rallied from $5 to $8 on unrealistic expectations for smartwatch business ramp and data business expansion. Now, the stock is normalizing. We think this normalization period will find a bottom around $5, and would consider buying this stock if its drops to and/or below $5.
Disclosure: I am/we are long AAPL, FOSL. I wrote this article myself, and it expresses my own opinions. I am not receiving compensation for it (other than from Seeking Alpha). I have no business relationship with any company whose stock is mentioned in this article.