U.S. Steel: Is The Post Earnings Sell-Off Justified?
Summary
U.S. Steel beat earnings and raised its full-year EBITDA guidance.
The company was able to grow total shipments.
I expect the stock to remain in its uptrend with support from economic growth and the company's asset revitalization program.
United States Steel (NYSE:X) just revealed a very strong second quarter. Not only did the company beat earnings estimates they also raised guidance and revealed further progress when it comes to the current asset revitalization program. I expect the stock price to continue its uptrend as long as there is support from strong economic sentiment.

Source: United States Steel
A Solid Earnings Beat In Q2
U.S. Steel reported EPS of $1.46. This is 36% higher on a year-on-year basis and the 5th consecutive earnings beat. It is also the 9th consecutive quarter with a positive growth rate since the second quarter of 2016. This shows that the company has been able to do quite well since the economic bottom of the first quarter of 2016 even though the company is operating in one of the most cyclical segments of the steel industry: flat-rolled steel.

Source: Estimize
Higher Shipments & Better Pricing
The first thing I look for when I research steel companies is the growth rate of shipments. Shipments exclude the impact of pricing and show the demand of steel products very well. In other words, it displays a company's ability to do business in a certain economic environment, in this case, an environment of above-average growth.
That being said, U.S. Steel did grow shipments in (almost) all categories. Flat-rolled steel saw a 3.5% shipments increase while tubular added 11.7%. U.S. Steel Europe, on the other hand, was unchanged (-0.09%). Total shipments increased 2.8%.
Moreover, every segment but U.S. Steel Europe benefited from both higher shipments and better pricing whereas U.S. Steel Europe's revenue increase was solely based on better pricing. Both flat-rolled and U.S. Steel Europe did see a higher adjusted EBITDA result in the second quarter while tubular saw a decline. This decline was due to very high input inflation which caused the price of raw materials to rally. Raw materials were also a drag on flat-rolled EBITDA which was still able to grow 5%.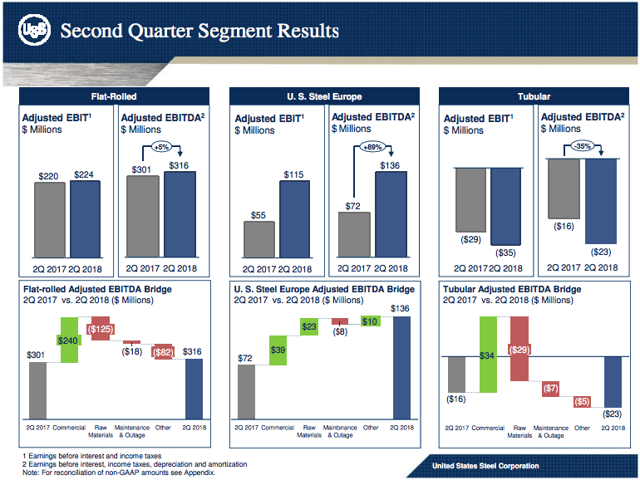 Source: United States Steel Q2/2018 Earnings Presentation
All things considered, I do not see any surprising results. Rising input inflation has been an issue for quite some time, and I cannot remember researching a capital-intensive company which did not mention rising input inflation.
Furthermore, all segments are seeing higher EBITDA growth on a YTD basis as you can see below.
Flat-rolled +41%
U.S. Steel Europe +49%
Tubular +36%
Asset Revitalization Program
One of the biggest secular 'themes' impacting U.S. Steel is the current asset revitalization program (hereafter referred to as AR program). This program aims to enhance operational efficiencies in the long term. In the second quarter, EBIT margins declined to 8.3% from 10.4% on year ago. The AR program aims to improve these margins by cutting waste in the production process. This program is based on a series of incremental steps to avoid high unplanned production outages. The total program is expected to cost $2.0 billion. $500 million of these costs are expected to be expenses that occur due to planned production outages connected to the implementation of the AR program.
The screenshot below gives a very good overview of the allocation of the $1.5 billion capital expenditures. Every part of the steel production process is being impacted ranging from the raw steel production to the finishing unit.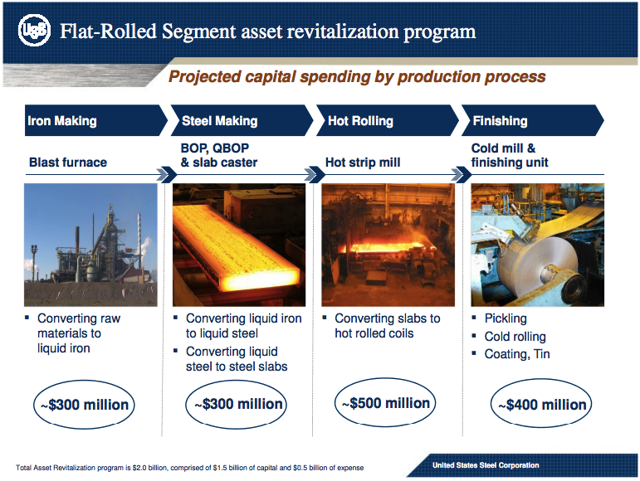 Source: United States Steel Q2/2018 Earnings Presentation
Moreover, the outcome from the AR program is expected to be an EBITDA improvement between $275-325 million in 2020. In 2018, these improvements are expected to be between $75-100 million. Adding to that, the company expects total production quality to be 25% higher compared to 2016 while reliability (unplanned maintenance) is expected to see a 16% improvement.
What's Next?
U.S. Steel raised its EBITDA guidance for the full year to $1.85-1.90 billion. This is up from $1.70-1.80 billion in the first quarter of this year. The reason is a strong economy and benefits from the AR program as I just mentioned.
Additionally, the company expects to generate EBITDA of $525 million in the third quarter. This number was lower than analysts expected. Also, analysts were not very pleased with the fact that most of the results were pushed higher by rising steel prices while shipments were still rather low. The result is an 8% sell-off after earnings while I am writing this.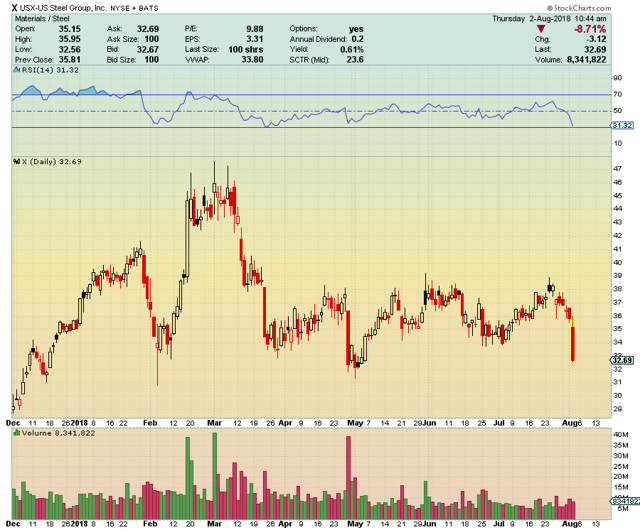 The current sell-off is nothing unique. U.S. Steel tends to perform really badly after earnings as the graph below shows. Note that the Es in the bottom of the graph indicate quarterly earnings. That said, it seems that post-earnings sell-offs are not able to break an uptrend during an economic expansion. It seems to be a re-pricing after a lower than expected Q3 guidance estimate.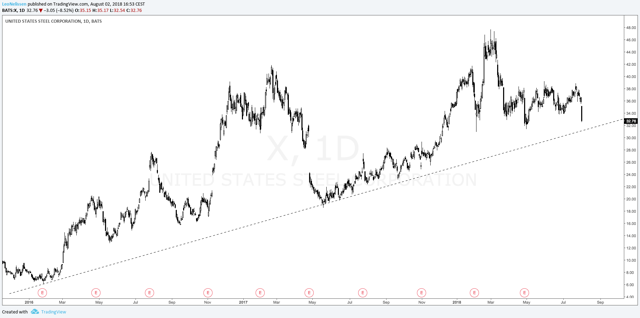 Source: TradingView
Adding to that, I added the ISM manufacturing index to the stock price index (graph below). This supports my thesis that higher economic growth tends to support the trend on the long term. At this point, I still expect U.S. Steel to be able to grow both shipments and total sales given that economic growth is at above-average levels. However, further sentiment declines could hurt the uptrend. For more information about the importance of leading indicators, feel free to read my article about this topic.

Takeaway
As a current shareholder of U.S. Steel, I am happy to see that the company was able to beat EPS estimates while growing both shipments and sales. I also think that the higher full-year EBITDA guidance confirms the current economic growth trend.
The problem is that traders are currently selling because of the weaker than expected third quarter EBITDA guidance.
At this point, I expect the stock to remain in its uptrend. This includes a possible bottom close to $31.30. The uptrend remains much more interesting thanks to a strong economy, higher outlook and a successful implementation of the asset revitalization program.
However, make sure to keep your position small if you are long or planning to go long. A volatile stock can do a lot of damage to your portfolio. Even if you turn out to be right in the long term.
Stay tuned!
Thank you for reading my article. Please let me know what you think of my thesis. Your input is highly appreciated!
This article was written by
Welcome to my Seeking Alpha profile!I'm a buy-side financial markets analyst specializing in dividend opportunities, with a keen focus on major economic developments related to supply chains, infrastructure, and commodities. My articles provide insightful analysis and actionable investment ideas, with a particular emphasis on dividend growth opportunities. I aim to keep you informed of the latest macroeconomic trends and significant market developments through engaging content. Feel free to reach out to me via DMs or find me on Twitter (@Growth_Value_) for more insights.Thank you for visiting my profile!
Analyst's Disclosure: I am/we are long X. I wrote this article myself, and it expresses my own opinions. I am not receiving compensation for it (other than from Seeking Alpha). I have no business relationship with any company whose stock is mentioned in this article.

This article serves the sole purpose of adding value to the research process. Always take care of your own risk management and asset allocation.
Seeking Alpha's Disclosure: Past performance is no guarantee of future results. No recommendation or advice is being given as to whether any investment is suitable for a particular investor. Any views or opinions expressed above may not reflect those of Seeking Alpha as a whole. Seeking Alpha is not a licensed securities dealer, broker or US investment adviser or investment bank. Our analysts are third party authors that include both professional investors and individual investors who may not be licensed or certified by any institute or regulatory body.