U.S. Private Sector Job Growth's Annual Pace Held Steady In July
Aug. 03, 2018 2:22 PM ET
SPY, QQQ, DIA, SH, IWM, TZA, SSO, TNA, VOO, SDS, IVV, SPXU, TQQQ, UPRO, PSQ, SPXL, UWM, RSP, SPXS, SQQQ, QID, DOG, QLD, DXD, UDOW, SDOW, VFINX, URTY, EPS, TWM, SCHX, VV, RWM, DDM, SRTY, VTWO, QQEW, QQQE, FEX, ILCB, SPLX, EEH, EQL, SFLA-OLD, QQXT, SPUU, IWL, FWDD, SYE, SMLL, SPXE, UDPIX, JHML, OTPIX, RYARX, SPXN, HUSV, RYRSX, SPDN, SPXT, SPXV, SPSM
Companies in the US added a moderate 170,000 employees to their ranks in July (seasonally adjusted), according to this morning's update from the US Labor Department. The gain was well below June's upwardly revised 234,000 increase but the latest rise represents a middling increase vs. recent history. Looking through the monthly noise paints a brighter picture by suggesting that the labor market's expansion is ongoing and steady.

Private payrolls advanced 1.9% last month vs. the year-ago level, roughly unchanged from the pace in the past two months. This year's re-acceleration in job growth may be slowing, perhaps even peaking. But for the moment the numbers reflect a healthy degree of forward momentum that looks set to keep the broad economic expansion bubbling.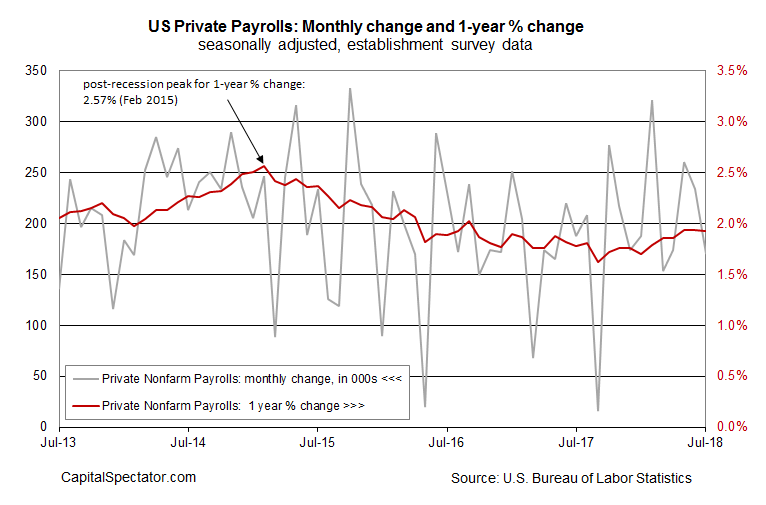 Today's report also showed that the unemployment rate for last month slipped below 3.9%, close to the lowest level in nearly two decades. Wage growth held steady at a moderate 2.7% increase on a year-over-year basis, based on average hourly earnings – a sign that suggests that inflation isn't set to increase in the immediate future.
The risk of a trade war between the US and China could create macro headwinds in the months ahead. The potential threat appeared to escalate today after China announced that it was imposing tariffs on US imports in retaliation to President Trump's recent announcement of new taxes on Chinese goods.
Trade-war risk is resonating with US corporations, according to recent data published by CB Insights. "Mentions of tariffs in earnings calls reached a historic high this past quarter," the consultancy advised last month.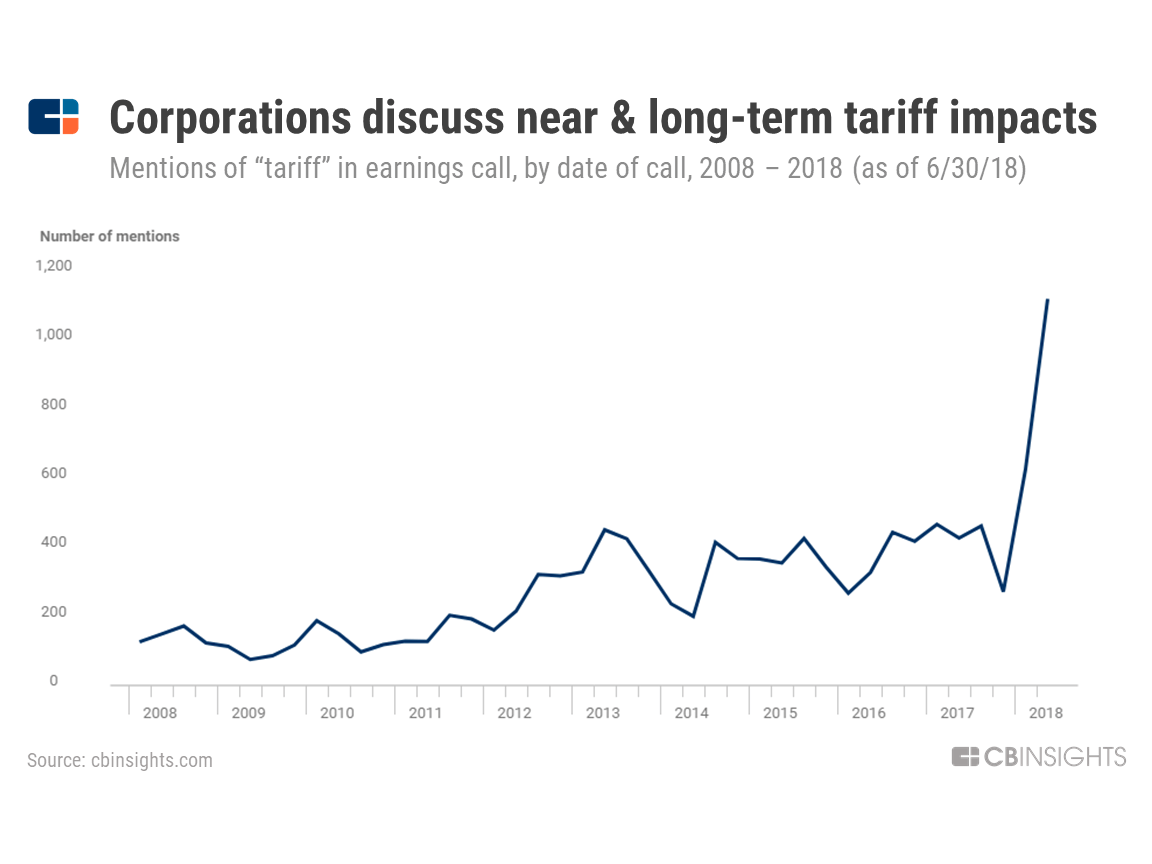 It's unclear how the trade issue will impact US economic activity in the months ahead. By some accounts, Trump's aggressive policy is just a negotiating tactic that will eventually bear fruit for the US. Pessimists counter that the president is playing a reckless game that could potentially trigger a global trade war that takes a heavy toll on the US economy.
No one knows which scenario will prevail, or if any trade-related blowback turns out to be a minor event for the US macro trend. What is clear is that the data published to date continues to reflect a solid pace of growth.
Preliminary estimates for third-quarter GDP growth indicate a continuation of the strong increase in Q2, when output accelerated sharply. Earlier this week the Atlanta Fed's initial Q3 estimate for GDP points to an even stronger gain unfolding in the current quarter. Although it's too early in Q3 to take the projection seriously, it's a reminder that the data at the moment looks encouraging and today's update on payrolls doesn't offer a reason to think otherwise.
In short, recession risk remains virtually nil at the moment. There may be trouble brewing for this year's second half, but such thinking remains rank speculation until or if the incoming data provides hard evidence for seeing a darker future in the works.
This article was written by
James Picerno is a financial journalist who has been writing about finance and investment theory for more than twenty years. He writes for trade magazines read by financial professionals and financial advisers. Over the years, he's written for the Wall Street Journal, Barron's, Bloomberg Markets, Mutual Funds, Modern Maturity, Investment Advisor, Reuters, and his popular finance blog, The CapitalSpectator. Visit: The Capital Spectator (www.capitalspectator.com)