Green Plains Partners, LP (NASDAQ:GPP) is the logistics MLP for U.S. ethanol and agricultural commodities producer Green Plains, Inc. (GPRE). Formed after a spin-off in June 2015, the MLP has outperformed its parent on both price and total return (the latter thanks to its hefty distribution) over the last three years (see figure). While Green Plains, Inc. has struggled through persistent low ethanol operating margins during that time, Green Plains Partners has benefited from strong ethanol demand amid a broader trend of rising gasoline consumption ever since fuel prices collapsed in late 2014. Recent developments have called into question the ability of both trends to continue, however, while Green Plains Partners' operations have remained closely tied to those of its parent.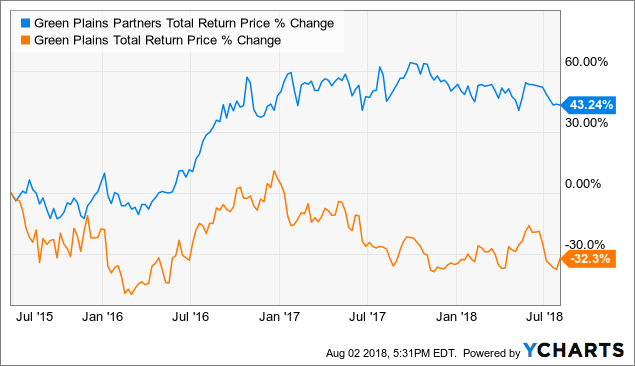 Green Plains Partners has much in common with refiners' logistics MLPs, with the primary difference being that it mainly handles fuel ethanol rather than petroleum-derived refined products. The differences end there, however, and Green Plains Partners owns storage, terminalling, and railcar services and operations. Most of its services operate on a fee - rather than price-based system, causing the MLP to benefit strongly from the low fuel prices that prevailed between late 2014 and late 2017 as these in turn prompted U.S. gasoline and ethanol consumption to rebound. The partnership's investors (including its parent company) benefited from this new trend in the form of a steadily-rising distribution and yield (see figure).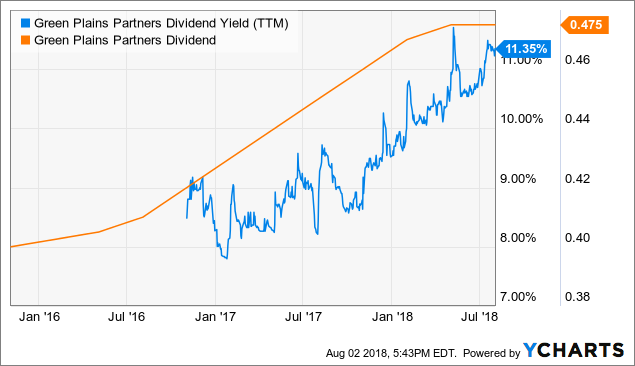 Several quarters of consecutive distribution increases came to an end last week after Green Plains Partners announced that it was keeping its latest distribution in line with the previous quarter, although the MLP's yield continues to trade near its all-time high due to a recent unit price decline. The lack of an increase came as the MLP reported modest misses on both lines in its Q2 earnings; the diluted earnings per LP unit of $0.42 missed by $0.03, while the revenue of $25.8 million missed by $1.4 million. More important than the misses was the fact that its income largely stagnated on a YoY basis. Net income rose slightly from $13.1 million to $13.7 million YoY on a similar increase to revenue (mostly deriving from an increase to revenue over the same period from the storage and throughput services segment), but adjusted EBITDA increased by a tiny 0.6% YoY. Distributable cash flow actually fell from $15.3 million to $15.0 million over the same period.
Investors could be tempted to attribute the latest quarter's lack of distribution growth to the MLP's $0.5 million YoY increase to interest paid resulting from a higher interest rate on its LIBOR-based credit facility. The volumes reported by each of its segments in Q2 suggest that the EBITDA and DCF stagnation that it reported for the quarter could be more than a one-off event, however. The storage and throughput services segment did record a roughly 10% YoY increase to its volume, which rose to 314.3 million gallons in the latest quarter. Likewise, the railcar segment's average daily capacity billed increased by 7.9% over the same period. Only the terminal services segment recorded a decline to its quarterly volume, although this was substantial at 13.5% YoY.
The Q2 volumes do not tell the whole story, however. Despite its volume increase, the railcar segment's revenue declined by almost as much as that of the storage and throughput segment's revenue increased YoY. Management indicated in both the earnings report and subsequent earnings call its belief that its segment volumes will rebound in Q3 since parent company Green Plains, Inc. reported an average utilization rate in Q2 that was only 80% of its production capacity. While some of this low utilization was due to planned downtime, management also identified "continued oversupply of domestic ethanol" as a contributing factor. This should worry investors.
As I have noted in other articles, U.S. ethanol producers have largely missed out on the rally in gasoline prices that has occurred over the last year due to continued oversupply. While low ethanol operating margins do not affect Green Plains Partners directly, the fact that it relies heavily upon its parent company for its segment volumes makes it vulnerable to periods of under-utilization at Green Plains, Inc. Management's comments about higher utilization rates in Q3 notwithstanding, the MLP's investors should be especially concerned by the fact that U.S. ethanol exports have fallen sharply in recent months as trade tensions with some of the world's largest ethanol importers have worsened.
Complicating matters further is the fact that the White House has taken steps in recent months to reduce the amount of ethanol that is blended under the U.S. biofuels mandate, hurting domestic demand even as export volumes are constrained by trade restrictions. It is notable that Green Plains, Inc. recorded lower total ethanol sales in the most recent quarter than in Q2 2017, especially given the substantial increase to gasoline prices that has occurred over the same period. In the earnings call, management pointed to the fact that the percentage of ethanol that is blended with gasoline in the U.S. has fallen from 10% in 2017 to 9.7% in 2018 to date, a result of the weaker blending mandate. The termination of a joint venture with Delek Logistics Partners (DKL) to purchase additional terminal assets won't help Green Plains Partners diversify its sources of volumes.
None of this is to say that Green Plains Partners is currently in any major financial difficulty. While its distribution coverage ratio did fall below 1.0x in the most recent quarter, the MLP has $251 million in cash and $510 million available via credit revolvers to make future acquisitions. Furthermore, the fact that U.S. ethanol demand is so sensitive to political decisions could result in a strengthening of the mandate and/or weakening of ethanol trade restrictions as the White House prepares for 2020's presidential election. That said, and as I have outlined elsewhere, Green Plains, Inc. has responded to these changing circumstances by streamlining its operations and focusing on ethanol exports and cattle-feeding operations, the former of which is looking increasingly tenuous for the reasons described above. The circumstances that caused Green Plains Partners to easily achieve regular distribution increases in the past no longer prevail. Even maintaining its current distribution could become challenging if reduced ethanol exports and weak domestic demand result in declining segment volumes for the MLP.