Real estate investors are increasingly asking whether the U.S. housing market has hit a peak. A series of recent sales and activity data have put some teeth behind this question for the first time in recent memory. As we'll see in this commentary, however, while a further slowdown in home buying activity in coming months is possible the likelihood is that the 7-year-old real estate bull market will live on.
Data released last week shows that new home sales in June dropped 5.3 percent and hit an annualized rate of 631,000, which is below a Reuters economists' consensus of 670,000. The June decline in home sales was significant in that it was the largest drop in eight months. The drop in home sales occurred despite a shortage of properties on the market, which has pushed housing prices to record highs in several major metropolitan markets across the country.
Real estate analysts have repeated the narrative of limited inventory, and higher prices on the available inventory, have curtailed affordability for middle-income prospective home buyers - especially first-time buyers. However, there's no denying that nearly all prospective buyers are feeling the pressure from housing prices which are rising faster than income. As a research report published by the St. Louis Federal Reserve has shown, when fewer people with more money are chasing rising housing prices, it tends to price out the majority of prospective home buyers who fall lower on the income scale. This has happened to an extreme in recent years in the San Francisco property market, as demonstrated by the graph of the S&P/Case-Shiller San Francisco Home Price Index (below).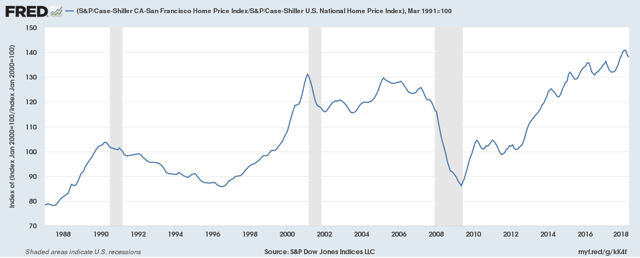 Source: St. Louis Fed
Existing home sales decreased 0.6 on a month-over-month basis in June to a seasonally adjusted annual rate of 5.38 million. This again was below consensus and is the third straight month that home sales have fallen. Consequently, it's being touted by many real estate analysts as another reason why the U.S. housing market could be in for a bear market.
The new home sales statistic is by far a more important barometer for where the overall national real estate market is likely headed than existing home sales. With that in mind, let's take a closer look at the new home sales trend.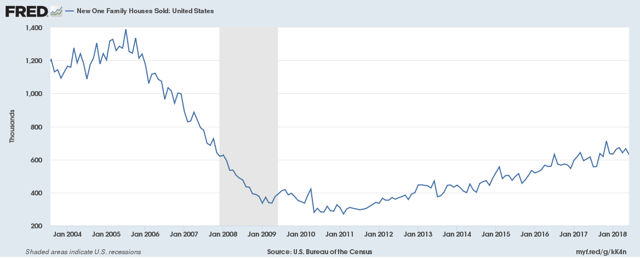 Source: St. Louis Fed
Here you can see that while there has been a slight dip in the rising trend in new home sales in recent months, the overall trend is still positive. What's more, the rising trend in home sales has been steady and rising at a very sustainable rate. This graph reflects the complete absence of anything like a "bubble" in home building, which would indeed be worrisome. As long as the new home sales numbers don't fall below the July 2017 low of 556,000 units sold, the overall upward trend will remain intact. For now, the bull market in U.S. residential real estate remains technically intact.
Another indication which shows that the U.S. real estate market remains on a sound footing is the mortgage rate trend. Freddie-Mac reports that the 30-year fixed rate mortgage averaged 4.60% as of early August, which is a 4.5-year high. A year ago mortgage rates averaged 3.93%, which means that rates have risen by 0.67% in the last 12 months. If we assume no change in the average home buyer's income, this means they can afford to buy less housing than they could have a year ago.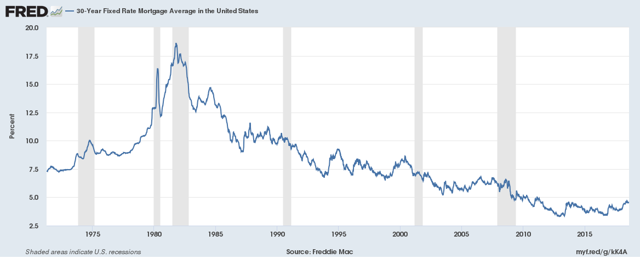 Source: St. Louis Fed
There's no question then that affordability remains an issue which will likely create a headwind for the housing market in the coming months. However, history shows that as long as mortgage rates remain below 6%, the overall U.S. housing market won't face significant dangers from higher rates.
Now let's consider what housing-related stocks are doing. This is arguably the closest thing to a real-time indicator for the housing market, for shifts in the demand for home construction are sure to be seen first in the stock prices of the major home builders before they show up in the government statistics. The iShares U.S. Home Construction ETF (ITB) is the largest ETF that tracks homebuilders. The fund aims to provide exposure to U.S. companies that construct residential homes by tracking the Dow Jones U.S. Select Home Construction Index, its benchmark index. The iShares U.S. Home Construction ETF benchmark index constituents include companies that construct residential homes, which include manufacturers of prefabricated and mobile homes. Thus ITB can serve as a useful proxy for trends in U.S. home construction and sales. Here's what ITB looks like going back over the last 12 years.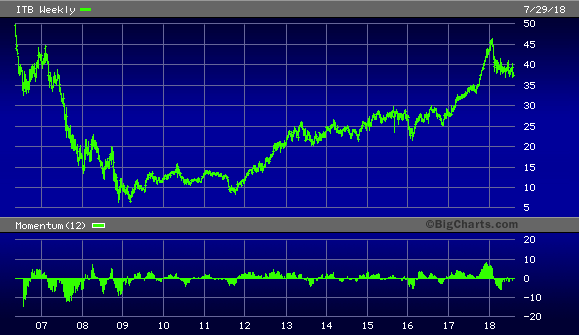 Source: BigCharts
As the above graph shows, ITB remains in a rising trend which began in 2012. At the last housing market peak in 2006, many of the leading home building stocks cratered ahead of the housing market crash itself. So until we see a major decline underway in ITB, investors should assume that the overall housing market remains in firm shape despite the recent slowdown.
Another way of looking at demand trends for the housing market is the graph of the iShares U.S. Real Estate ETF (IYR) shown here. IYR's forward momentum has stalled out since 2016 but the overall rising trend remains intact. Again, with IYR still in an upward trajectory, investors should assume the bull market in housing remains intact.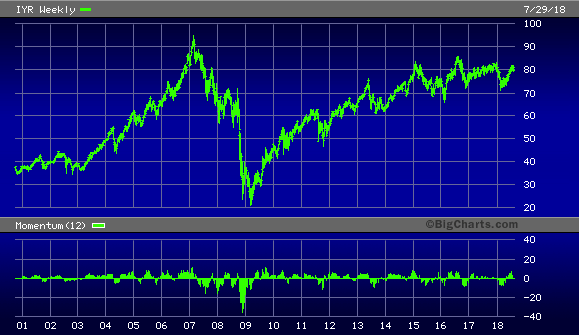 Source: BigCharts
Investors should remain optimistic that the U.S. housing market should remain in overall good shape for the rest of the year in spite of recent slowdowns in home building and sales activity. There is no reason on the immediate horizon for believing housing prices are about to collapse. As long as the above-mentioned indicators maintain their rising trends, real estate investors are justified in remaining long the home building stocks and in also assuming that the real estate bull market still has some room to run.