Trump can try to talk down the U.S. dollar all he wants. The fact is the USD is appreciating based not only on factors largely outside of the U.S. president's control but also because of the president's actual policies, not tweets. As Reuters reports "actions speak louder than words" and the appreciation in the U.S. dollar is largely a product of Trump's own making. Passing the tax bill encourages multinational corporations to move money back to the U.S., therefore, buying U.S. dollars. The larger deficit and economic improvement from tax cuts are also leading to higher treasury yields which support the USD to an extent. Exports only account for 14% of U.S. GDP, compared to around 40% for Europe, so the negative export effect from a strong currency is really overestimated for the U.S. economy by comparison.
The 10-year U.S.-German yield differential is near a multi-decade high. The ECB has pushed out the first interest rate increase through Summer 2019. The Federal Reserve is on pace to hike at least 10 times (beginning in December 2015) before the ECB even raises interest rates once. The U.S. economy has support of fiscal stimulus on top of operating at maximum employment, with target rate inflation and strong data/growth. There is also a general resiliency of the U.S. economy compared to many others and this can be seen in the U.S. leading the developed market economies since the Global Financial Crisis. Core inflation rates in Japan and Europe are running around 1%, far away from their central bank's targets.
The Federal Reserve is also actively reversing QE, through winding down their balance sheet by not re-investing all maturing MBS and treasury securities. This monetary policy tightening combined with higher U.S. fiscal deficits and increased treasury debt issuance is pushing up U.S. bond yields and leading to an increase in USD funding costs as Urjit Patel of the central bank of India has expressed.
High inflation is a driver of currency depreciation. Inflation in the United States is running near target rate slightly above (due to a rise in oil prices, which have since stabilized and come down a bit) and there is little momentum for U.S. inflation to greatly exceed target rate at the moment. The reasons are multiple. One is, emerging markets' currencies and equities are bearing the brunt of Federal Reserve tightening and with EM prospects goes commodity prices and inflation expectations as shown below by the 10-year breakeven rate. China's central bank, the PBOC, is allowing some yuan depreciation and moving to a more accommodative monetary policy stance. The year-to-date inverse correlation between the USD/CNY and gold prices is significant and I expect it to continue.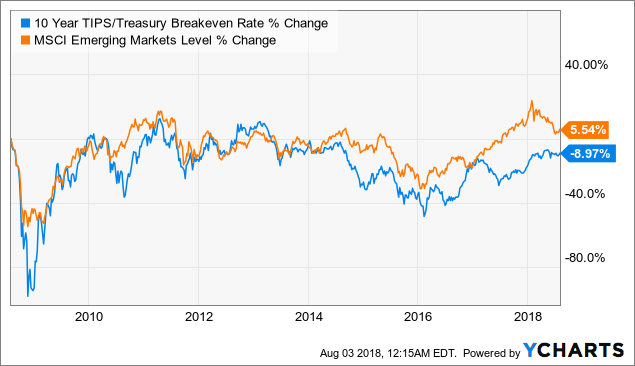 Another reason is, U.S. M2 money supply growth rates are actually falling. If one looks back to 2010 and 2011 when the commodity sector outperformed and inflation expectations were on the rise, the rate of growth of the money supply was increasing and the emerging market outlook was bright. Currently, M2 growth is falling (since peaking in 2012) and EM equities and currencies are under pressure year to date.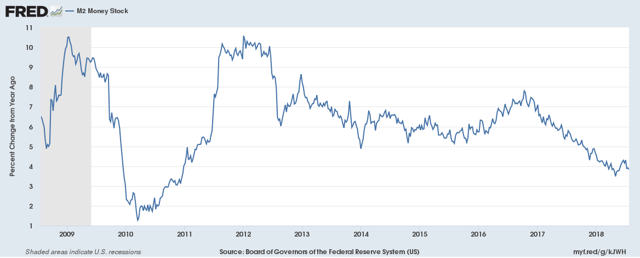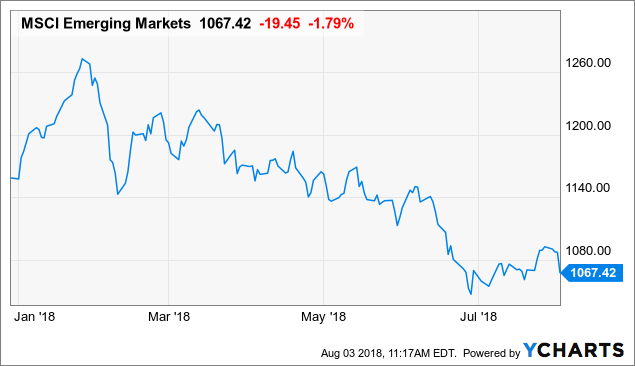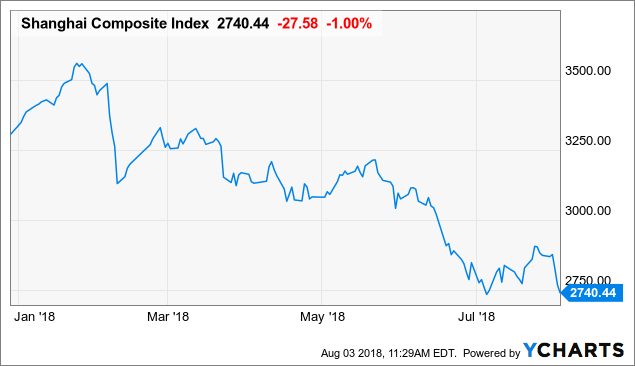 Inflation is also very muted in Japan and Europe. I expect a near-term stabilization in U.S. inflation rates around 2%, although inflationary expectations could fall due to commodity prices, emerging market concerns (specifically China), and international developments on trade. One could argue tariffs are inflationary and that is true to a point, but if it catalyzes a global slowdown, the demand destruction effect is of greater importance.
The Federal Reserve is not on a preset course, but the path and trajectory of monetary policy is continued tightening. Federal Reserve officials have expressed some concern over trade tensions, but it does not seem concerning enough to pause or reverse on monetary policy. Fed chair, Jay Powell, has repeatedly expressed optimism about the U.S. economy in post-FOMC press conferences and congressional testimonies. Also beginning in 2019, press conferences will be held after every FOMC meeting. This increases uncertainty because now every meeting will be live. The days of markets pricing in rate increases before they actually happen will be over.
Gold is on a solid downtrend and continues to make new lows. Mining stocks are underperforming currently. Precious metals prices such as gold and silver are largely determined by expectations for inflationary pressures and interest rates. The reason is, gold, for example, is an inflation hedge asset and doesn't earn interest so when bond yields rise it dents demand for non-interest bearing metals including gold. When inflation rises, it is positive for gold, but as stated above, risks for actual inflation and inflationary expectations (Fed tightening, slowing M2, EM concerns, commodity price declines, trade tensions) are tilted to the downside near term.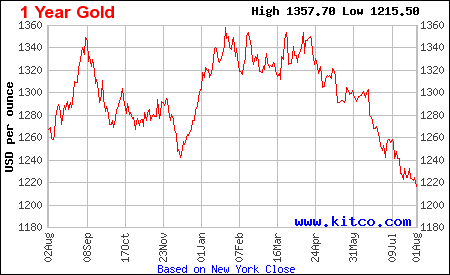 Although I am and have been short gold miners and metals companies, I am not a perma-bear on gold. I believe there will be a correct entry point in the future, but that time is not yet. Risks for gold longs are too great right now for reasons outlined in this article.
As a result of global quantitative easing and the massive expansion of the monetary base, the potential for an inflationary overshoot in the longer run is real. I think gold's eventual bull market will be driven by the Federal Reserve losing control of inflation to the upside, not reversing course or pausing on monetary policy tightening or deterioration in the U.S. economy. It will be a result of economies overheating. I also believe the next U.S. recession will be very Volcker-esque. In the long term, the Federal Reserve will be forced to tighten very aggressively at some point to end an inflationary scenario potentially tipping the economy into recession. In the near term, the Federal Reserve is actively defending against the risk of this Volcker-recession situation by somewhat gradually increasing rates and continuing to tighten policy.