Gold's woes continue with the metal's price continually hitting new lows for the year on almost a daily basis. Meanwhile, investors continue to pull money out of gold-backed ETFs at a record pace. The question we'll address in today's commentary is, "At what point does the extreme bearish sentiment evoke a reversal for gold?" As I'll explain here, weak internal momentum is likely to override the big buildup in short interest for a while longer before the final low is in.
Just how bearish has the crowd become on the yellow metal? Based on a cursory examination of the gold-related headlines around the Internet, the number of commentators expressing bearish views on gold has recently increased to its highest level of the year. Confirming this widespread bearish sentiment, gold-backed ETF holdings have fallen for months. From April 1 to July 24, for instance, physical gold ETFs experienced $2 billion in outflows, according to ETF.com.
Moreover, according to the World Gold Council, a combination of ETF outflows and weak gold bar demand has resulted in the lowest 6-month overall demand globally since the Great Recession of 2009. This data was reported in the WGC's Gold Demand Trends Q2 2018, published on Aug. 2.
While some investors look for gold buying in major bullion consumers such as China and India to lend support to the physical gold market with increased purchases of physical bullion, the deck appears to be stacked against gold in the short term. Whenever there is residual downside momentum in an asset, like there is now with December gold (GCZ8), and prices hover precipitously above a critical chart support (like gold is doing now with the pivotal December 2016 low at the $1,170 level), watching this major longer-term benchmark level becomes critical. A test of the longer-term low at around $1,170 before the latest decline reaches its final terminus is a distinct possibility.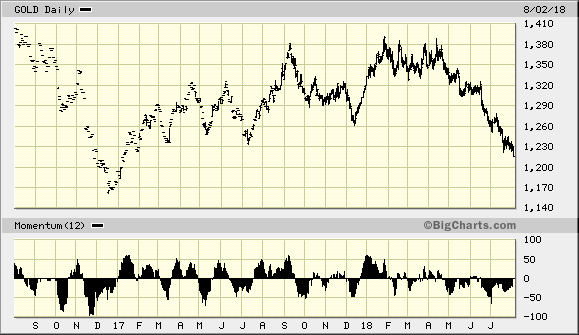 Source: BigCharts
Meanwhile, the iShares Gold Trust (IAU) remains in free-fall after a failed test of its 15-day moving average on Tuesday emboldened the bears to resume the attack. IAU is now beginning to accelerate its latest declining leg and could fall to the December 2016 low near the $11.00 level (which roughly corresponds with the $1,170 level for December gold mentioned above). At this point, it's anyone's guess as to the level where IAU eventually finds support and established a bottom. But as long as the gold ETF remains under its 15-day MA, the immediate-term trend should be assumed to be down.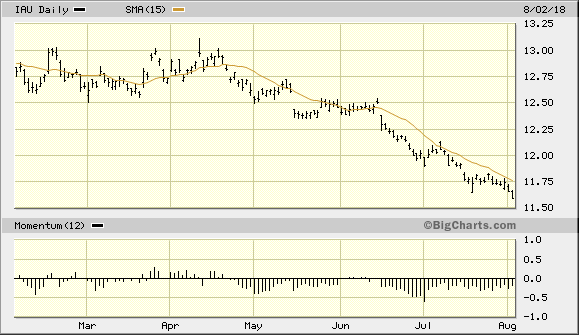 Source: BigCharts
Providing most of the pressure in recent days has been the rallying dollar. The U.S. dollar index (DXY) has been threatening to break out from its two-month holding pattern by making a new high, which would result in a collapsing gold price. For now, the DXY remains below its July lows, but based on Thursday's lively breakout above the 15-day moving average (below), the dollar is primed for a move to a new high for the year which would mean more bad news for gold.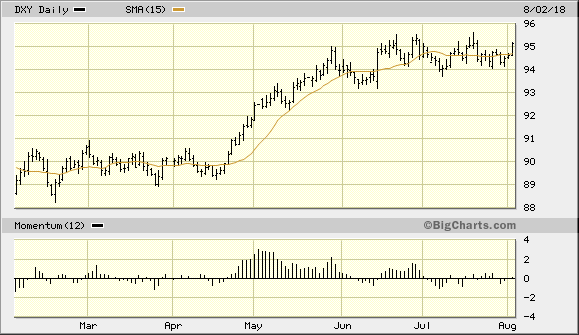 Source: BigCharts
The leading gold mining stocks also remain in a confirmed downtrend as defined by the 15-day moving average. The iShares MSCI Global Gold Miners ETF (RING), one of my favorite mining sector proxies, has fallen to a fresh low for the year as of Aug. 2. Since the mining stocks tend to be leading indicators for the physical gold price, we should ideally see bottoming activity in RING before the yellow metal price finally turns. Unfortunately, the latest RING performance suggests gold could be in for more weakness in the immediate term.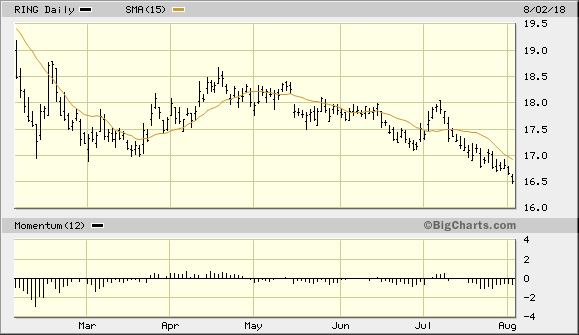 Source: BigCharts
Strategically, I continue to recommend that investors avoid new commitments to the iShares Gold Trust (IAU). As previously mentioned, the burden remains on the gold bulls to prove the metal's immediate overhead supply problem has been resolved and that they are serious about regaining control of gold's immediate-term trend. Until they do, remain in cash.
Disclosure: I/we have no positions in any stocks mentioned, and no plans to initiate any positions within the next 72 hours.
I wrote this article myself, and it expresses my own opinions. I am not receiving compensation for it (other than from Seeking Alpha). I have no business relationship with any company whose stock is mentioned in this article.