By Mickey D. Levy
July marked a solid month for the U.S. labor market according to the US Department of Commerce's Employment Report released this morning. As economic momentum continues, the labor force is still growing and unemployment is receding, resulting in a tick down in the unemployment rate and a rise in the employment-to-population ratio. U.S. establishments added a net new 157,000 jobs, following the upwardly revised average gains in May and June of an outsized 258,000.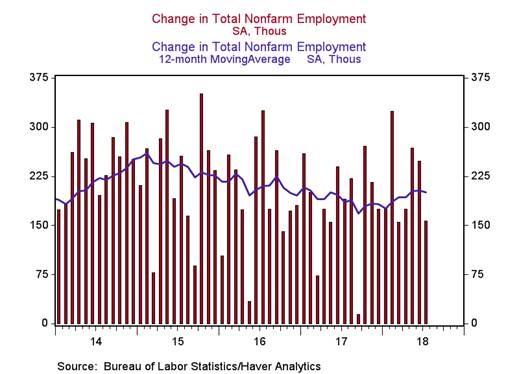 The unemployment rate ticked down to 3.9% from 4% as unemployment fell by 284,000 and the labor force rose 105,000 - way below the Fed's 4.5% estimate of the natural rate of unemployment.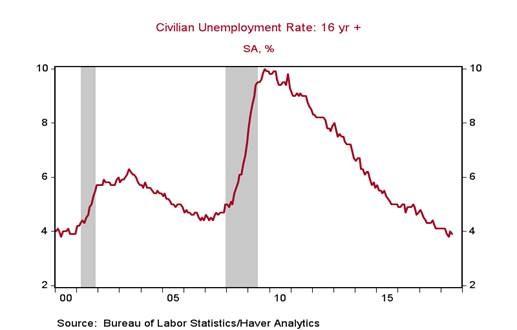 Meanwhile, average hourly earnings increased slightly, as the tightening labor market continues to put only modest upward pressure on employee earnings.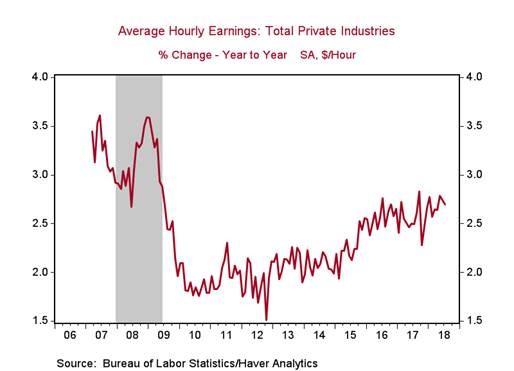 Job gains have averaged 215,000 so far this year, an acceleration from 2017 (182,000) and 2016 (195,000) averages. This is a noteworthy acceleration at this advanced stage of the labor market expansion, and, if sustained, will lead to further declines in the unemployment rate. The solid rate of hiring reflects strong production, business confidence, and plans for expansion. Job gains, low unemployment, and flexibility in labor markets have lifted household optimism about the jobs market to its highest level since the early 2000s.
The household survey was stronger than the establishment survey in July, with its measure of employment rising by 389,000 and the labor force increasing by 1.8 million.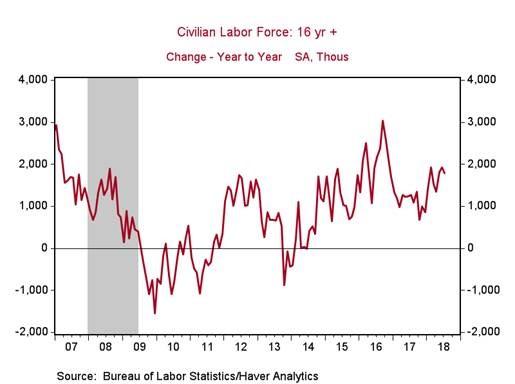 Although the labor force participation rate was unchanged at 62.9%, it increased for the prime working-age cohort (25-54 years). The employment to population (EP) ratio for that group also rose to 79.5%, the highest it has been since May 2008. Our research shows that wage and salary growth, and the EP ratio for the prime working-age cohort are closely correlated, pointing toward further gains in wage growth.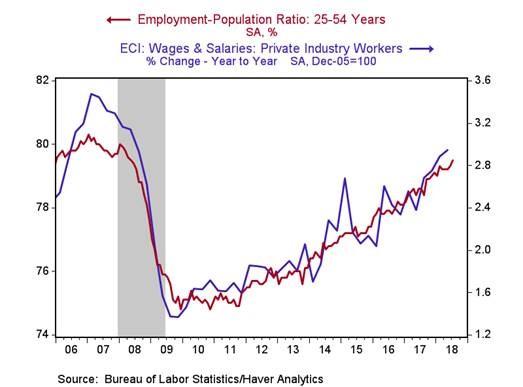 Voluntary job quits remained very elevated, reflecting strong household labor market confidence. Increased labor market churn will place upward pressure on wages.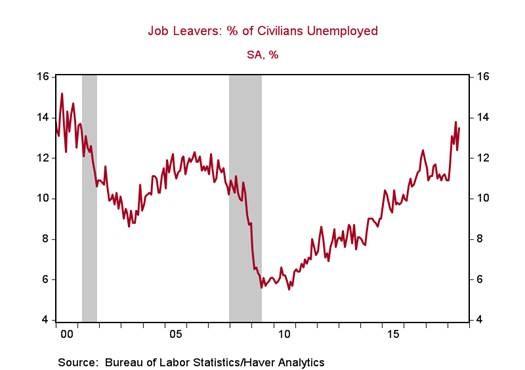 Hiring in the goods-producing sector rose by 52,000, in line with its strong recent trend, while job growth in the service-providing sector moderated to 118,000 from outsized 182,000 and 204,000 gains in June and May, respectively.
Although labor shortage is a constant concern in the construction sector, it added 19,000 jobs in July, lifting its 2018 total so far to 170,000 (2017 total: 250,000). Wages for construction production and non-supervisory workers are rising, far outpacing other industries, reflecting a short supply of labor relative to demand.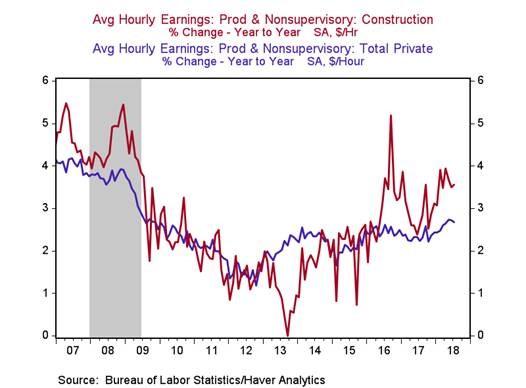 Manufacturing employment continued to rise briskly, by 37,000 in July, in line with business optimism in the sector and on track to far outpace last year's 207,000 gain. Mining employment registered its first decline in 10 months in July (-4,000) but is likely to bounce back with higher energy prices propelling activity in the sector. Most service sectors posted below-trend gains after a very strong prior two months, with only leisure and hospitality (+40,000) and professional business services (+51,000) posting solid gains.
Employment gains remained strong in manufacturing and other tradeable goods industries, while all of the job growth slowdown in July occurred in the service-producing industries that have less exposure to trade. This refutes the notion that the slower overall gain in jobs for the month reflected the impact of tariffs.
As we move into Q3, expect this combination of job gains and moderate gains in hourly earnings to increase personal incomes that will support continued solid gains in consumer spending.