Market Volatility Bulletin: Stocks End The Week On A Strong Note
Includes:
DDM, DIA, DOG, DXD, EEH, EPS, EQL, FEX, FWDD, HUSV, IVV, IWL, IWM, JHML, JKD, OTPIX, PSQ, QID, QLD, QQEW, QQQ, QQQE, QQXT, RSP, RWM, RYARX, RYRSX, SCHX, SDOW, SDS, SFLA, SH, SMLL, SPDN, SPLX, SPUU, SPXE, SPXL, SPXN, SPXS, SPXT, SPXU, SPXV, SPY, SQQQ, SRTY, SSO, SVXY, SYE, TNA, TQQQ, TVIX, TVIZ, TWM, TZA, UDOW, UDPIX, UPRO, URTY, UVXY, UWM, VFINX, VIIX, VIIZ, VIXM, VIXY, VMAX, VMIN, VOO, VTWO, VV, VXX, VXZ, XVZ, XXV, ZIV
by: The Balance of Trade
Summary
The jobs report was relatively blah, but the S&P picked up some in the afternoon.
We are born pattern detectors, every last one of us. That's not a problem necessarily, so long as we keep our limitations in mind.
A washout in vol is under way: likely not yet time to get into long-vol products yet.
Market Intro
Bureau of Labor Statistics

CNBC: Friday Close
US stocks (DIA, QQQ) had a rather mixed performance on Friday, depending on the index. While the S&P (SPY) ended the day up 12.50 points, all the upside action basically took place in the afternoon with the close on the highs.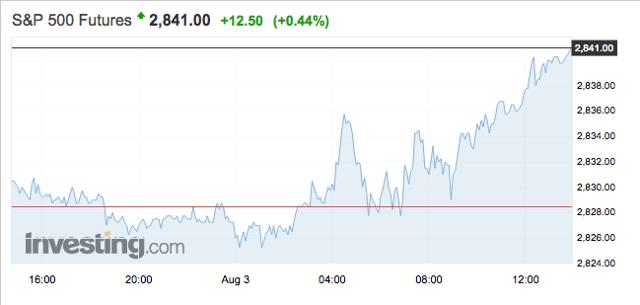 There was little response to what amounted to a fairly "meh" jobs report. Spot S&P volatility ran lower as the session wore on. Small caps (IWM) took a breather, but small-cap implied volatility ran higher.
Thoughts on Volatility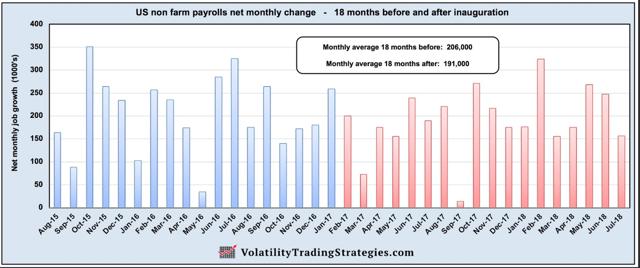 While economic growth was arguably stronger over the last eighteen months than the prior eighteen months, the average monthly jobs created was fifteen thousand fewer over the comparable periods.
The better question might be whether in raw count there has been a difference at all. The formula for measuring whether two means are statistically different involves generating a test statistic and finding out whether it is large enough to warrant rejecting the null.
The t-stat formula can be seen below. In any event, given the variation in the monthly data above, it may well be the case that there isn't much (if any) of a statistical difference between the two adjacent time frames.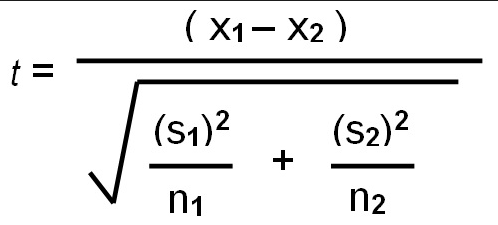 I bring this up because as humans, we look for patterns all the time. Sometimes our ability to pick up on these relationships can be quite good, and other times not. Both as writers and readers, we're looking for clues to suggest whether change is afoot in a given market for some reason or other.
We are barraged by such signals (MVB is in fact no exception). My take is that the key is not to "buy" someone's argument, but rather just to listen and process what they have to say. What could make the prognosis true? How could it be erroneous? I don't think that simply agreeing or disagreeing is all that useful to developing one's own understanding on a matter.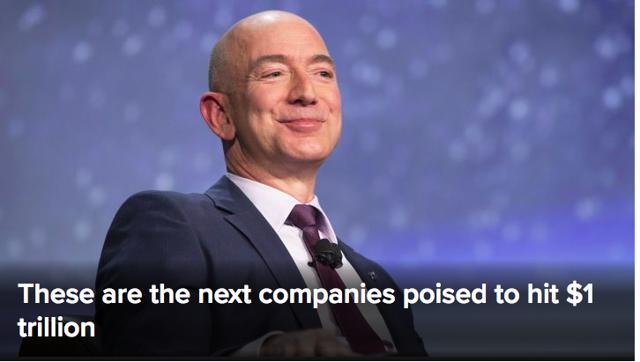 CNBC
The stock market can be a dangerous place to count pre-hatched chickens. None of us should preclude the possibility that one or more of the big-tech stocks (GOOG, AMZN, MSFT) will fail to make it past the $1T mark. On the other hand, it's by no means a given either.
Back in 2008, crude oil was "bound" to get to $150/barrel… it got as high as $147, and then plummeted into the $30s within a matter of about six months.
Term Structure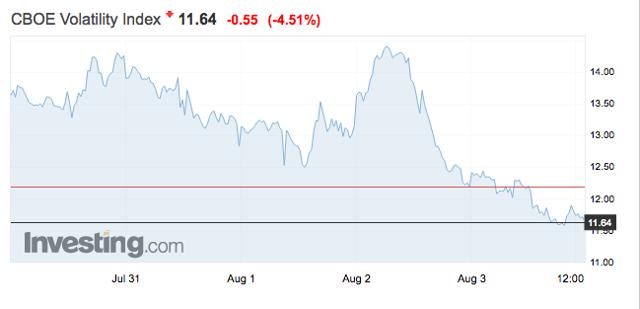 Spot vol took quite the spill between Thursday's pre-market (when trade concerns were flaring again) and Friday's blissful close. When we know the outcome, that result seems inevitable.
But we should step back and appreciate the recent drubbing that the VIX just took, if for no other reason than to note that vol really can deflate on rather short notice (many believe that vol can only move higher in short order): that was about an 18% drop in thirty-six hours with not that great of an explanation.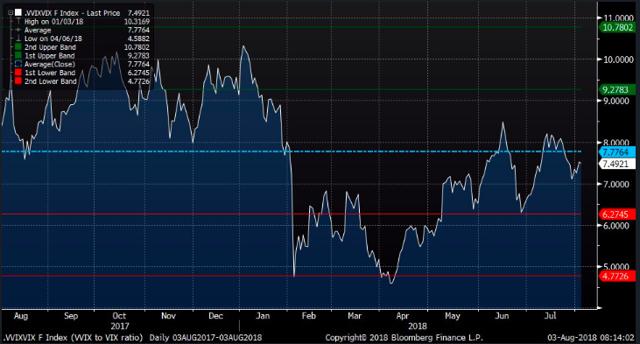 Pat Hennessy, CMT features a graph on his Twitter feed that displays the one-year fluctuation in the VVIX:VIX ratio. We're near six-month highs. Mr. Hennessy points out that one may be able to get better convexity exposure at the moment by trading VX options rather than SPX.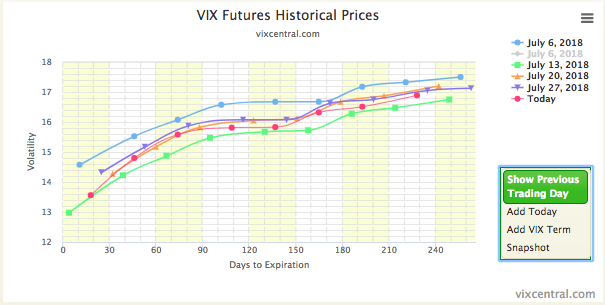 The term structure today is reasonably comparable to that of mid July. As you can see, the mid July date was much closer to the front-month expiration. But if spot VIX can hang in the 10-12.5 region for a few days, then I think you'll see some hard buckling in the front couple months (SVXY) followed with some half-hearted drops in the back end (ZIV). Personally I think that's the most likely scenario, after which time feathering back into long vol (VXX) becomes more viable in my view.
Conclusion
If this is your first time reading Market Volatility Bulletin, thanks for giving it a try. If you're a regular, we thank you for your ongoing contributions in the comments section.
My appreciation goes out to regular MVB readers, and I'll share ideas from Silent Trader posted in the last article relating to share buybacks: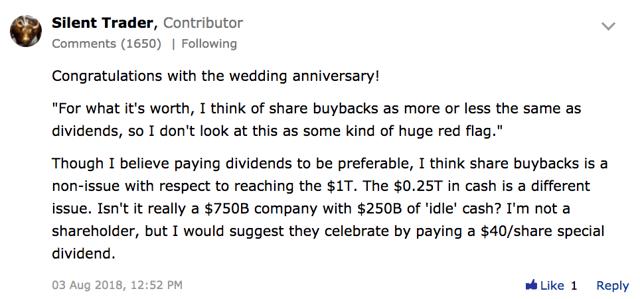 ST and I disagree on share buybacks. I concur that perhaps different incentives are needed for management, but I have no problem with buybacks as a legitimate use of company funds.
For those of you who are interested in the topic, I recommend that you click here to read his subsequent comment on why buybacks may well constitute a suboptimal policy. I find the issue to be quite engaging, and I encourage you to join the thread and share your ideas on this matter.
Thank you for reading.
Please consider following us.
Disclosure: I/we have no positions in any stocks mentioned, and no plans to initiate any positions within the next 72 hours. I wrote this article myself, and it expresses my own opinions. I am not receiving compensation for it (other than from Seeking Alpha). I have no business relationship with any company whose stock is mentioned in this article.
Additional disclosure: I actively trade the futures and options markets, potentially taking multiple positions on any given day, both long and short. I also hold a more traditional portfolio of stocks and bonds that I do not "trade". I do believe the S&P 500 is priced for poor forward-looking returns over a long timeframe, and so my trading activity centers around a negative delta for hedging purposes.