"Planning is about bringing the future into the present, so you can do something about it now." - Alan Lakein
Mistakes, for those that have plenty of experience in the markets, it's no great revelation that we have made mistakes, lots of them. Miscues are part of the game and they have to be accepted. Investors also need to realize the fact that in this game you will find yourself making the same mistake over and over. That is the human emotion machine at work and it takes a long time to break that cycle.
Benjamin Graham is the father of value investing, Warren Buffett's mentor, and the author of the greatest and/or most read financial book ever, "The Intelligent Investor". A little know fact is that Mr. Graham made some huge mistakes. And not only did he get destroyed, he did so through the use of leverage;
"In 1930, thinking the worst was over, Graham went all in and then some. He used margin to leverage what he thought would be terrific returns. But the worst was not over, and when the Dow collapsed, Graham had his worst year ever, losing 50%. He personally was wiped out in the crash. Having ducked the 1929 cataclysm, he was enticed back into the market before the final bottom. In the four years from 1929 to the bottom in 1932, Graham lost 70%."
Before any investor embarks on a strategy they have to know themselves, understand and play to their personality strengths. Above all, don't blame the market or someone else for a mistake. Be brutally honest with yourself.
Then there are the situations where no matter how much we may have prepared for a certain outcome, an event could come along an turn that plan upside down. It happens. Investing isn't easy.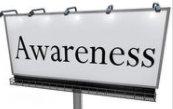 Extremes, whether it be in valuations or investor emotions are warnings signs of a potential problem. Reversion to the mean or the correction of any extreme usually is an unpleasant event when it comes to the markets. That comes about because not only is the swing back to the norm volatile, but as we have seen in the past the market then typically overshoots in the other direction.
This is exactly what is taking place now. The growth sectors which have been huge winners, are being sold off, as that money moves to other areas of the market. It seems this is unnerving a lot of investors. For sure the market pundits have highlighted this event every minute of every day lately. Many like to point out that its a bad omen for the general market. Lose leadership then the entire market rolls over. That would be true IF one decided to view one data point, and concentrate on one area of the stock market.
If an investor takes the time to look around and see the other data points they might find there is hardly any roll over going on in the overall market. Week after week the market breadth statistics are showing what a broad rally this has been. Dig a little deeper and one might find some of the stocks selling off have posted exceptional earnings and the outlook remains favorable for future earnings growth. Time to abandon ship?, I don't think so.

Anyone thinking the technology and growth trade is over might be making a very big mistake, a mistake that has been made before in this bull market run. It might just be time for some to stop making the same mistake over and over. What we are witnessing now in the price action in the general market is a positive development.
Valuations are kept in check. The big moves that we have seen are now being tempered by this recent spate of selling in stocks that have posted the largest gains. It is how a healthy market works as it avoids excess and bubbles. So if one is complaining about how growth stocks are slowing down, and speaking about what the ramifications might be, they need to look at the alternative. Growth stocks heat up and cause that bubble where everyone is screaming about valuations. This isn't 2000, excesses are being worked off, and that's why this rally in technology and the general market is far from over.
Ever notice how articles about any controversial issue say it will "end badly"? For once I would like to see a controversial issue brought up with a statement that this will all "end well". I realize that will never happen, it's the human mind at work, always leaning to the conclusion that brings out our fears.
So here is a tid bit for those that are inclined to "worry". Since 1980, no month has been worse when it finishes red. When August is down it is really down.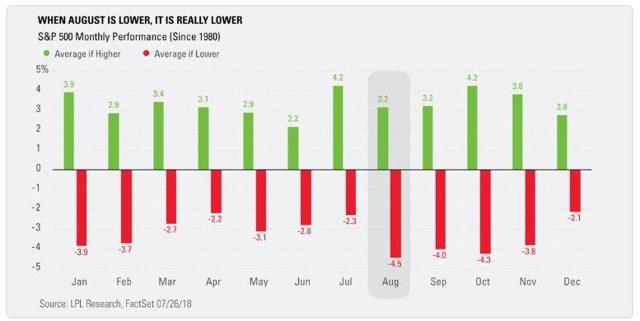 Then again where is it written that August HAS to be down? Last year August finished flat.

Economy
Urban Carmel recently made this observation on the state of the present economy;
"GDP growth is trending up. If past is prologue, the next recession is unlikely until 2Q19 or later".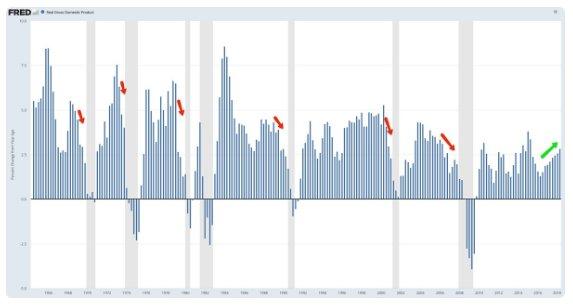 Chart courtesy of Urban Carmel, Data source; Federal Reserve Data base.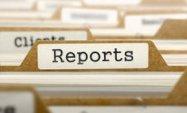 Reports this week show an economy that's not too hot , not too cold.
The robust expansion in Texas factory activity continued in July, according to business executives responding to the Dallas Fed Manufacturing Outlook Survey. The production index, a key measure of state manufacturing conditions, rose six points to 29.4, signaling an acceleration in output growth.
Chicago PMI rose another 1.4 points to 65.5 in July after the 1.4 point uptick to 64.1 in June. It's a fourth straight increase and is the best since January's 65.7. The 67.8 print from December was the highest since March 2011. The 3-month moving average rose to 64.1 from 61.5.
Construction spending fell 1.1% in June, which undershot estimates, though the levels of construction activity sharply exceeded estimates through Q2. That was due to upward revisions that reflected huge gains in the home improvement residual, which unfortunately does not factor into GDP calculations.
Final July Markit manufacturing PMI eased fractionally to 55.3 after falling 1.0 point to 55.4 in June. Despite the dip to a 5-month low, the index is still at a robust level, and is up from the 53.3 a year ago. Chris Williamson, Chief Business Economist at IHS Markit;
"The US manufacturing sector continued to expand in July, but shows increasing signs of struggling against headwinds of supply shortages, rising prices and deteriorating exports. The latest survey showed output rising at a rate roughly equivalent to an annualised 1% pace of expansion, which is the weakest since late last year. While a weakening of new export orders for a second successive month suggested foreign demand has waned compared to earlier in the year, the slowdown can be also in part attributed to increased difficulties in sourcing sufficient quantities of inputs. Suppliers' delivery delays were more widespread than at any time in the survey's history. With producers often scrambling to buy enough raw materials, suppliers enjoyed greater pricing power. Not surprisingly, with tariffs also kicking in, cost pressures spiked higher again."
Final IHS Markit U.S. Services Business Activity Index registered 56.0 in July, down from 56.5 in June. Tim Moore, Associate Director at IHS Markit;
"U.S. service providers experienced strong growth conditions at the start of the third quarter, with business activity rising at only a slightly softer pace than in June. Strong domestic demand helped to support another improvement in new order levels and a solid expansion of payroll numbers in July. However, business expectations across the service economy edged down to a six-month low. Survey respondents cited concerns about rising costs and trade frictions, alongside difficulties sustaining the tempo of new business growth seen in the second quarter of 2018".
July ISM non-manufacturing index dropped 3.4 points to 55.7, much weaker than expected, after edging up 0.5 ticks to 59.1 in June. It's the slowest rate of expansion since 55.2 last August.
Personal income increased 0.4% in June, with consumption rising 0.4% as well. The 0.4% gain in May income was not revised, though the 0.2% gain in April was bumped up to 0.3%. Meanwhile, the 0.2% May spending uptick was revised up to 0.5%, while April's 0.5% gain was nudged up to 0.6%.
Consumer confidence rolls in at 127.4. versus the estimate of 126.The index hit a 17-year high at 130.0 in February.

July vehicle sales are running at a 16.8 million rate, with Ford, GM, Chrysler, Toyota, Honda and Nissan all reporting. This is slower than the 17.2 million pace in the prior four months. A 16.8 M vehicle sales rate should translate to a 0.3% rise for retail sales in July, and a 0.5% retail sales ex-autos increase.

It's been said that U.S manufacturing is dead and can't be revived. Even MIT weighed in on the topic coincidentally right after the last election. Things that make you go Hmmmm. The chart posted below says differently.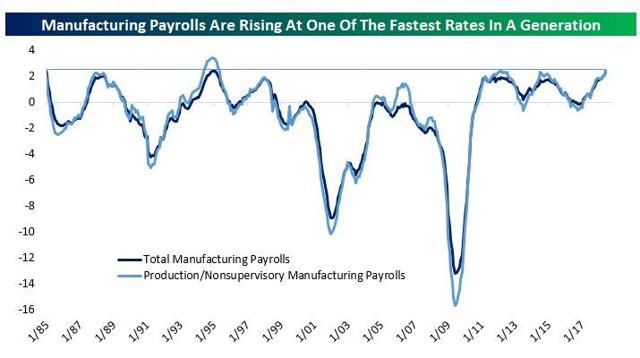 Source: Bespoke
Ok we all get it, technology surely plays a huge role in the equation, no one will argue that, BUT jobs in the manufacturing sector are rising at the fastest pace since the mid 1990s.
The July Non farm payrolls numbers rolled in at 157k, lower than estimates, June was revised higher by 35k, to 248k. The manufacturing sector added 37k jobs for the month, a respectible number. Before anyone steps out on the ledge believing the job market is slowing, the 3 month average moved to 224K, which is ramping higher.

Pending home sales index bounced 0.9% to 106.9 in June , more than erasing the 0.5% slip in May to 105.9. The index was as high as 113.0 in April 2016 (which was the best since April 2006), and hit a relative low of 104.3 in January. The index was at 109.6 a year ago. Lawrence Yun, NAR chief economist;
"An uptick in existing inventory helped lift contract signings in June. After two straight months of pending sales declines, home shoppers in a majority of markets had a little more success finding a home to buy last month".

"The positive forces of faster economic growth and steady hiring are being met by the negative forces of higher home prices and mortgage rates. Even with slightly more homeowners putting their home on the market, inventory is still subpar and not meeting demand. As a result, affordability constraints are pricing out some would-be buyers and keeping overall sales activity below last year's pace."

Global Economy
For all the talk about barriers to trade going up, it doesn't appear as though trade is in any way slowing down. Please look at the Baltic Dry Index, which is considered a proxy for dry bulk shipping costs. After bottoming out at under 300 in early 2016 at the lows of that China-induced correction, the Baltic Dry Index has been steadily trending higher for over two years now.
This week, the index topped out at 1,774, which is the highest level for the index since January 2014. Note also that since early April alone, the index is up over 85%. Granted, the index is volatile, but 85% in under four months doesn't seem to suggest that international trade activity is slowing down.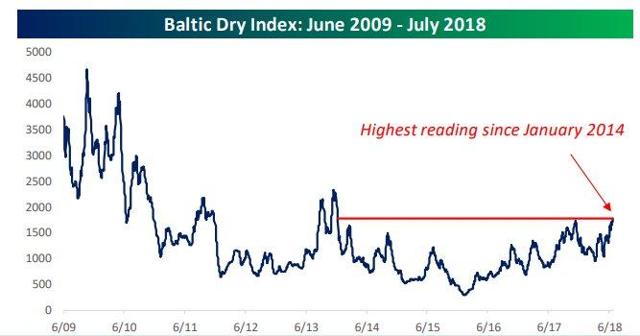 Source: Bespoke

The final IHS Markit Eurozone Manufacturing PMI posted 55.1 in July, unchanged from the earlier flash estimate, this was only a minor recovery from June's 18-month low of 54.9 and over five points below the record high registered at the end of 2017. Chris Williamson, Chief Business Economist at IHS Markit;
"A marginal uptick in the PMI provides little cause for cheer given it is the second weakest number for more than one-and-a-half years. The past two months have seen the most subdued spell of factory output growth since late-2016. Worse may be to come. Even this reduced rate of output growth continued to outpace order book growth, resulting in the smallest rise in order book backlogs for two years. The clear implication is that manufacturers may have to adjust production down in coming months unless demand revives.

"Clues to the current soft patch lie in the export growth trend, which has deteriorated dramatically since the start of the year across all member states to reach a near-two year low, with France and Austria seeing exports fall into decline in July."
The pace of euro area economic expansion eased in July, giving up most of the momentum gained in the prior survey month. At 54.3, the final IHS Markit Eurozone PMI Composite Output Index was down from 54.9 in June and unchanged from the earlier flash estimate. Rob Dobson, Director at IHS Markit;
"The final PMI numbers confirm the euro area economy started quarter three on a softer footing. July saw rates of expansion in both output and new orders cede the momentum recaptured in the prior survey month, returning to a picture of sliding growth rates seen through much of the year-to-date. If the headline index continues to track at its current level, quarterly GDP growth over the third quarter as a whole would be little changed from the softer than expected expansion of 0.3% signalled by official Eurostat data for quarter two."
German retail sales rose 1.2% in June beating forecasts.

Chinese Manufacturing PMI came in at 51.2, down form the June read at 51.5. Services PMI eased to 54 form the July reading of 55.
Caixin Purchasing Managers' Index – a composite indicator designed to provide a single-figure snapshot of operating conditions in the manufacturing economy, fell from 51.0 in June to 50.8 in July. Although still above the neutral 50.0 mark, the latest figure highlighted the slowest improvement in the health of the sector since November 2017. Dr. Zhengsheng Zhong, Director of Macroeconomic Analysis at CEBM Group;
"The Caixin China General Manufacturing PMI slipped to 50.8 in July from June. The reading has not been this low since November 2017. "The sub-indexes for output and new orders both fell, but remained in expansionary territory, while the employment sub index picked up despite remaining in contractionary territory. New export orders shrunk at the fastest pace since June 2016, indicating the export market continued to deteriorate."
Caixin China Composite PMI data which covers both manufacturing and services, fell from 53.0 in June to 52.3 in July. Dr. Zhengsheng Zhong, Director of Macroeconomic Analysis at CEBM Group;
"The Caixin China General Services Business Activity Index dropped to 52.8 in July from June. The sub-index of new business remained in expansionary territory, but fell significantly to its lowest level since December 2015, a clear sign that demand for services had worsened. This change led to slower increases in employment and prices charged. The sub-index of input costs expanded at a slower pace. The subindex of business expectations, a gauge of companies' confidence for the next 12 months, remained above 50, but slumped to its lowest level since October 2015, indicating that their confidence had been shaken".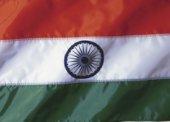 The Nikkei India Manufacturing Purchasing Managers' Index posted 52.3 in July, down from 53.1 in June. Although modest, the latest improvement in the health of the manufacturing sector was the second-strongest (behind June) since January. Aashna Dodhia, Economist at IHS Markit;
"The recent improvement in Indian manufacturing conditions lost some impetus in July, with softer rises in output, new orders and employment all recorded. However, we must not lose sight of the fact that the sector continued on a steady expansionary path, as production and new business rose at marked rates. Moreover, July survey data pointed to strong demand from both domestic and international sources. "It will be reassuring for policy makers to see input cost inflation easing from June's near four-year high to a level more in line with the series trend."
Nikkei India Services Business Activity Index posted above the neutral 50.0 threshold for the second consecutive month in July. Moreover, rising from 52.6 in June to 54.2, the latest reading signalled the strongest rate of output growth since October 2016. Favourable demand conditions were cited by panellists as the key factor behind the latest upturn".

Nikkei Japan Manufacturing Purchasing Managers Index – a composite single-figure indicator of manufacturing performance, declined to 52.3 in July, from 53.0 in June, thereby pointing to a softer rate of improvement in manufacturing sector business conditions. Joe Hayes, Economist at IHS Markit;
"Latest survey data signalled a slowdown to manufacturing sector growth at the beginning of Q3. Output growth eased and there was a noticeable softening of demand, while export sales failed to record any upswing for a second month running. "There was also evidence that supply-side constraints were beginning to bite harder. Employment growth slipped and was weaker than rates seen earlier in the year, meanwhile delivery times for inputs lengthened to the greatest extent in over seven years."

GfK's consumer confidence index dipped one point to -10 in July from the month before. Expectations for the general economic situation over the next 12 months decreased one point to -26; two points higher than July 2017.
The BoE hiked rates in a unanimous decision that signals a very low potential growth rate; UK GDP growth has slid to the lowest in the G7 following the decision to leave the EU, and the BoE still believes the economy is running much hotter than potential.

Markit Canada Manufacturing Purchasing Managers' Index fell only slightly from June's survey record high of 57.1 and remained indicative of a strong improvement in overall business conditions. Christian Buhagiar, President and CEO, SCMA;
"The manufacturing sector continued to perform strongly during July, with growth proving resilient against a backdrop of intense supply chain pressures and escalating concerns about global trade. Output volumes expanded at the fastest pace for almost a year-and-a-half, supported by strong order books and successful efforts to rebuild production capacity in response to rising client demand. While domestic sales remained the main growth impetus in July, the latest survey indicated another solid upturn in new export orders."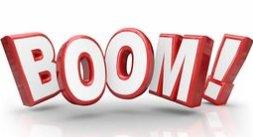 Earnings Observations
The EPS beat rate remains above the readings seen in the prior two quarters, and while this number is likely to fall a bit in the coming weeks, it should still finish the season strong compared to the long-term average beat rate of just over 60% that we've seen since 1999.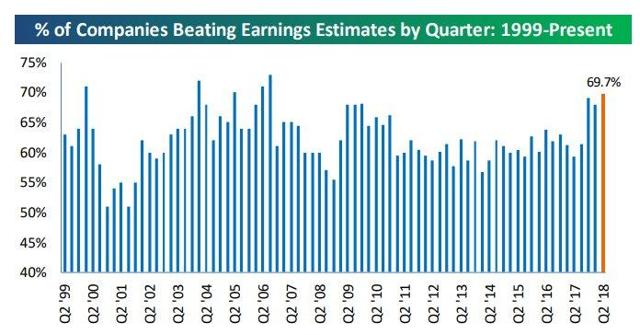 Source: Bespoke
At 67.3%, the revenue beat rate is still stronger than average, but a weaker sequential reading for the second quarter in a row is a sign that companies are having a bit of a tougher time meeting revenues than they had been in recent quarters.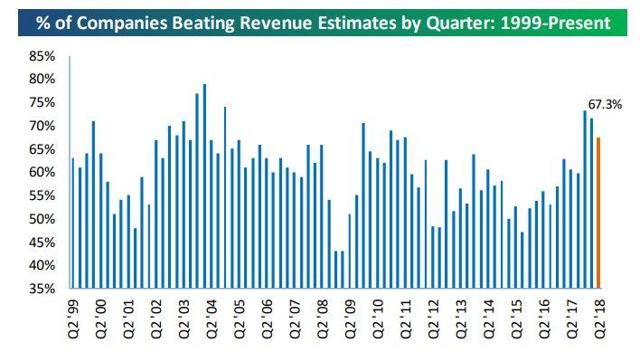 Source: Bespoke
The percentage of companies raising guidance this season is down quite significantly. After five straight quarters where more companies raised guidance than lowered guidance, this earnings season we are seeing a reversal of that trend.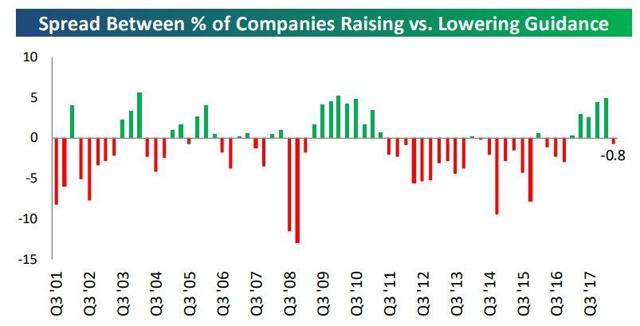 Source: Bespoke.
I am not surprised. No company executive will go out on a limb if they don't have to with the trade tariff headlines as the perfect excuse. Therefore any company that is raising guidance, and there are plenty of them, are candidates dates for research.
Factset Research Weekly update:
The blended (combines actual results for companies that have reported and estimated results for companies that have yet to report), year-over-year earnings growth rate for the second quarter is 24.0%, which is above the earnings growth rate of 22.8% last week.

The blended, year-over-year sales growth rate for the second quarter is 9.8% today, which is above the revenue growth rate of 9.3% last week.

The forward 12-month P/E ratio is 16.5, which is above the five-year average and above the 10-year average.
All 11 sectors are reporting year-over-year earnings growth. Ten sectors are reporting double-digit earnings growth, led by the Energy, Materials, and Information Technology sectors.

The Political Scene
Sometimes I wonder if anyone is paying attention. Then again maybe it is how the trade tariff situation is being presented. Trade war, tariff talks, constant rumblings about China, Mexico, Canada, the eurozone, Nafta, et al. The issue is framed as;
"What is the problem? This issue is still not resolved. The ramifications are enormous. If we aren't in a trade war now, we surely will be."
In one word, spin.
Here is another word. One that the that the pundits need to start using to explain the entire situation, Negotiation. noun
"discussion aimed at reaching an agreement"
"a worldwide ban is currently under negotiation"
| | |
| --- | --- |
| | discussion(S), talks, deliberations; |
Bloomberg reports;
"U.S., China said to seek to restart trade talks. The U.S. and China are trying to restart talks to avoid a full-blown trade war".
This report on the NAFTA situation seems pretty clear. Yet it never seemed to make the headlines. Now it appears Mexico sees an agreement on trade in a few days. That headline may be indicative of the first phase in the negotiations, yet it remained in the background.
The EU - U.S zero tariff deal was announced as a continuation in the negotiation process, but apparently that wasn't good enough to keep the spin machine satisfied.
The absurd observation that the market doesn't care is now making the rounds. Another of the complacency arguments that implies danger ahead. Perhaps not. Sure the China issue is still there and how can we forget it. The issue is being highlighted hourly.
This is all a negotiation process and it will go on for a while. My observation; To date the market (2% off highs) is looking at the situation the way I see it.
None of this may matter much because there easily could be resolution to many if not all of the issues. In addition, some of these issues will have little to no impact.

The Fed and Interest Rates
The Federal Reserve notes for July;
"Information received since the Federal Open Market Committee met in June indicates that the labor market has continued to strengthen and that economic activity has been rising at a strong rate. Job gains have been strong, on average, in recent months, and the unemployment rate has stayed low. Household spending and business fixed investment have grown strongly. On a 12-month basis, both overall inflation and inflation for items other than food and energy remain near 2 percent. Indicators of longer-term inflation expectations are little changed, on balance.

"Consistent with its statutory mandate, the Committee seeks to foster maximum employment and price stability. The Committee expects that further gradual increases in the target range for the federal funds rate will be consistent with sustained expansion of economic activity, strong labor market conditions, and inflation near the Committee's symmetric 2 percent objective over the medium term."

"Risks to the economic outlook appear roughly balanced. In view of realized and expected labor market conditions and inflation, the Committee decided to maintain the target range for the federal funds rate at 1-3/4 to 2 percent. The stance of monetary policy remains accommodative, thereby supporting strong labor market conditions and a sustained return to 2 percent inflation."

Sentiment
According to the weekly sentiment survey from the American Association of Individual Investors, bullish sentiment dropped from 31.52% down to 29.11%.

Crude Oil
The EIA weekly inventory report showed a 3.8 million barrel increase. Gasoline inventories went the other way and declined by 2.5 million barrels.
Absolute levels of crude inventories continue to trend below their five-year average. WTI closed the week at $68.55, down $0.49 for the week. A narrow trading range in place now as WTI pulled back from the mid $70 level. Support showed up earlier in the $67 range. That level was tested again this week, and it will be interesting to see if that support holds again.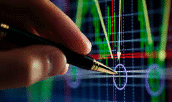 The Technical Picture
The week the S&P tested and rebounded each time it approached the 2790-2800 range. Going forward this level is the foundation that investors will focus on as the index attempts to take out its January highs.
It has now been 130 trading days since the S&P 500 last closed at an all-time high, making the current streak the third longest drought without a new high since the bull market began in March 2009. If the current streak continues through August 10th, this drought will move up into second place.
That last point seems to be making some people very nervous. We hear the market has stalled here, this could be the top. Maybe so, we can never rule out anything, BUT the preponderance of evidence does NOT suggest that.
There are no clocks that the market pays attention to. I'll counter with the notion that despite ALL of the negativity around concerning tariffs and the like, the S&P remains resilient as it stands less than 2% from January's high.
Two weeks ago the watch words on the technical picture were;
"What usually occurs next. Once this latest rally is exhausted, look for a retest right back to the upper end of that consolidation box at S&P 2,790-2,800 as first support".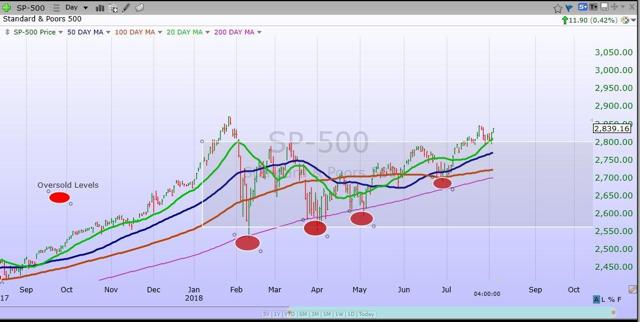 Chart courtesy of FreeStockCharts.com
That played out this past week as the index bounced off the top of the consolidation range. What was once resistance may now be support. The longer price stays above the consolidation range, the more meaningful it becomes.
What's ahead? The S&P could now be set up for a run to new highs, or more sideways action before that attempt. At the moment nothing in the technical picture suggests a major pullback is in the cards. Short term support stays at the 2790 - 2800 zone. Resistance at the 2845 and then the old high at 2872.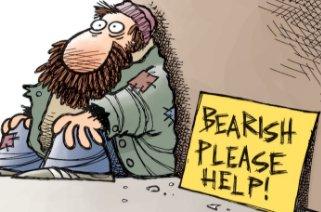 Market Skeptics
Corporate EPS and Margins are moving higher. Remember all the folks saying profit margins had peaked and were going to revert back to the mean a couple of years ago.
Tony Dwyer, Canaccord Genuity;
"Well here we are in 2018 and non-financial after-tax margins made a new high and only makes "the" peak for a cycle after a yield curve inversion".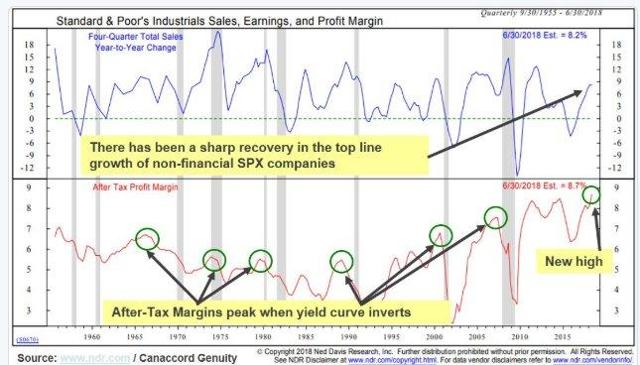 The month of July played true to form as the equity market extended its monthly winning streak to four. Both the Dow (+4.7%) and the S&P (+3.5%) had their best gains since January. From a fundamental perspective, earnings are not disappointing. The technical view still has the S&P remaining above the very short term 20 day moving average. Anyone finding weakness in that view is conjuring up a picture that simply isn't there.

The talk of a pull back is still around. Primarily because some are worried about the weakness that has often beset the equity market in August and September. As I like to say, a conversation about a correction cannot begin while the index remains above the 20 day moving average, and that is where it resides today.
Recency Bias, what do we know, what do we remember. This condition is a huge contributing factor that has kept investors away from stocks and is now feeding the psyche of the "this will end badly" crowd. That group continues to proclaim, "We are not going to be fooled again". Investors are suffering from a real bad case of thsi malady.
Plenty of market participants have witnessed not one, but two market meltdowns in the past 28 years. Therefore the conclusion that comes to mind is another one has to be right around the corner. Problem is many started to peek around that corner in 2015, and if they positioned themselves with that in mind, it was a huge mistake. What happens next is simple. All sorts of evidence is dug up to support that view. Once that is set in motion all else is dismissed. A mistake is compounded by yet another mistake.
There is no reason to out think the situation presented. The equity markets remain resilient in the face of many negatives. No it isn't complacency, it is about what matters most. As we wind down the latest earnings season, one need look no further for the reason that stocks keep surprising to the upside.
Market participants can conjure up many scenarios why all of this will end next week or in the very near future. For myself, I watch the price action and that is telling me to stay the course.

I would also like to take a moment and remind all of the readers of an important issue. In these types of forums readers bring a host of situations and variables to the table when visiting these articles. Therefore it is impossible to pinpoint what may be right for each situation. Please keep that in mind when forming your investment strategy.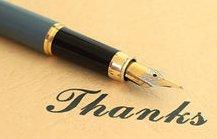 to all of the readers that contribute to this forum to make these articles a better experience for all.
Best of Luck to All !