Breakout Forecast Selections for Week 32:
Market conditions continue with low breakout momentum and worsening negative momentum. The positive momentum gauge has improved slightly above the red at 32 down from a value of 23 at the end of the prior week. These low momentum conditions signal a reduction in momentum selection reliability - be cautious.
The negative momentum gauge increased slightly from a value of 40 last week to a medium value of 42 for negative momentum. The all time low for the positive momentum selection gauge is 8 during week 14 of 2018 and all time high is 120 during August 2017. Last published report: Week 31 Breakout Forecast
My momentum gauges are based on the count of the momentum stocks screened as either positive accelerating and negative accelerating stocks based on my research algorithm. The combination of the two different types of momentum categories screened by my algorithm may help validate the quality of the overall market momentum strength.
Total Return Chart: +78.59%
The Total Return Chart reflects total return of all stocks in the weekly portfolio.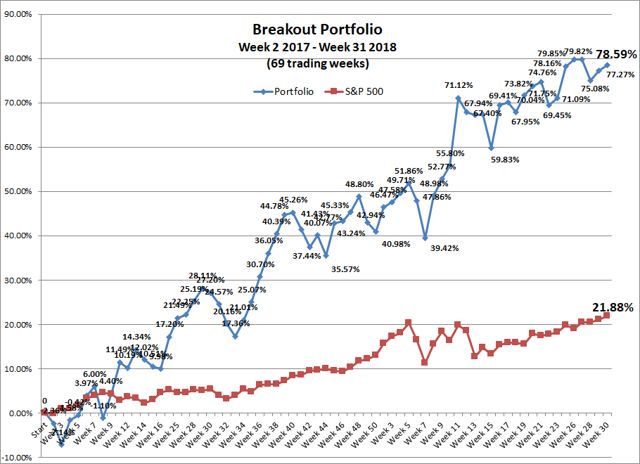 Market fund flow update August 3rd from ETF.com:
Investors added $3.7 billion to U.S.-listed ETFs during the week ending Thursday, Aug. 2, according to the latest data from FactSet. The haul brought year-to-date inflows up to $145.2 billion.

After several weeks of tossing money into the group, investors largely ignored U.S. equity ETFs this week. The group had net outflows of $143 million. SPY, the world's largest ETF topped the outflows list for Thursday, Aug. 2 with nearly $3 billion in redemptions.

On the other hand, U.S. fixed-income ETFs continued to steadily build assets thanks to inflows of $2 billion. International equity ETFs followed, with inflows of $1.3 billion. ~ ETF.com
This week I have selected 8 breakout stocks from the following sectors: 1 services, 1 basic materials, 1 industrial goods, and 4 technology.
The new selections of positive momentum stocks for this week include:
Aerohive Networks (HIVE) - Technology / Communication Equipment
Identive (INVE) - Technology / Computer Peripherals
Thumbnail images of the 2 sampled Breakout Forecast Portfolio Week 32

Caution: These stocks are not necessarily recommended for long term buy/hold unless you are comfortable with very large price swings. As I continue to observe, strong momentum events usually last from one to three weeks and may encounter some substantial decline before returning again to positive gains.
Note: These are the most volatile selections I offer from among all the different Value & Momentum portfolios. Proposed entry points for each of the selected stocks are as close to the highlighted prices in yellow on the charts at market open. All stocks are selected for high short-term breakout results over one to three weeks.
Breakout Stock Selections for Week 32
Note: all breakout stocks are selected based on my algorithm to increase the frequency of 10% gains within a short period of time. Price targets are estimated through an unrelated technical charting process for those who are looking for estimated exit points, however it is possible the momentum in these selections may move well beyond the initial target.
Pick #1 : Aerohive Networks (HIVE) - Technology / Communication Equipment

Price Target: 6.00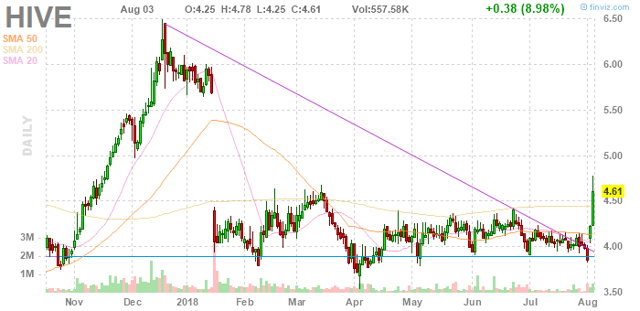 Aerohive Networks, Inc., together with its subsidiaries, designs and develops cloud networking and enterprise Wi-Fi solutions in the Americas, Europe, the Middle East and Africa, and the Asia Pacific.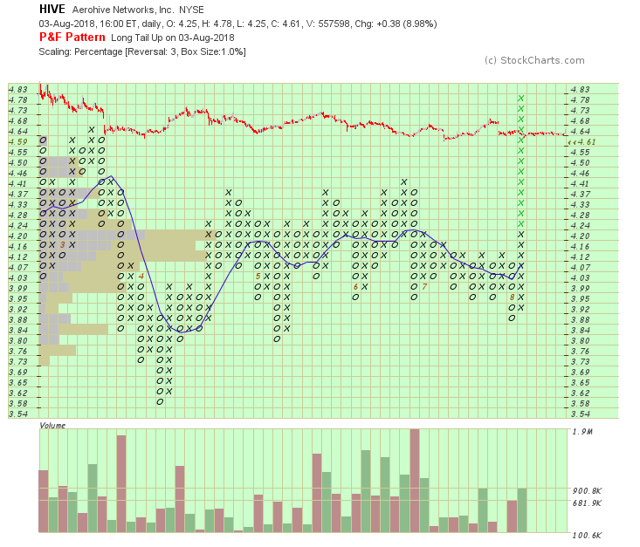 Pick #2: Identive (INVE) - Technology / Computer Peripherals

Price Target: 7.50

Identiv, Inc. operates as a security technology company that secures and manages access to physical places, things, and information primarily in the Americas, Europe, the Middle-East, and the Asia-Pacific.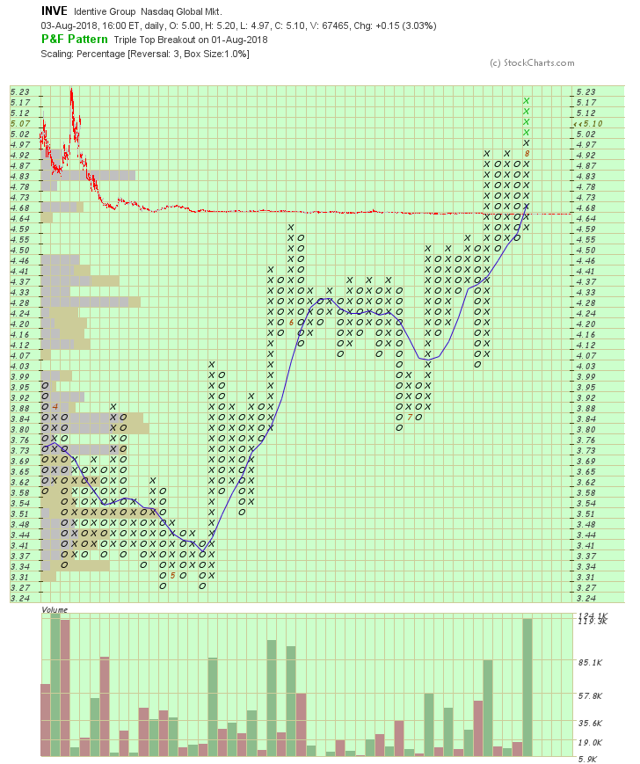 2018 Chart: +37.40% YTD
Cumulative return with 1-Week holding period.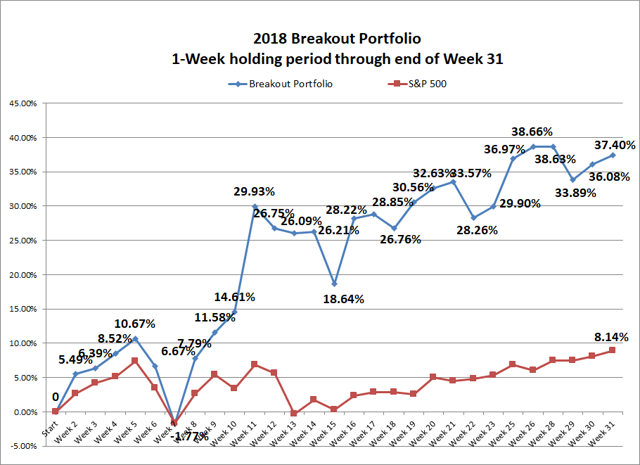 A detailed holding period analysis for Q1 2018 sampled Breakout Stocks is available here for review: Value & Momentum Breakout Stock Returns For Q1 2018
Long Term Portfolio Returns
As a reminder of the other longer term portfolios being tracked and updated regularly with portfolio spreadsheets listed in the Tools section, here are the returns through Week 31.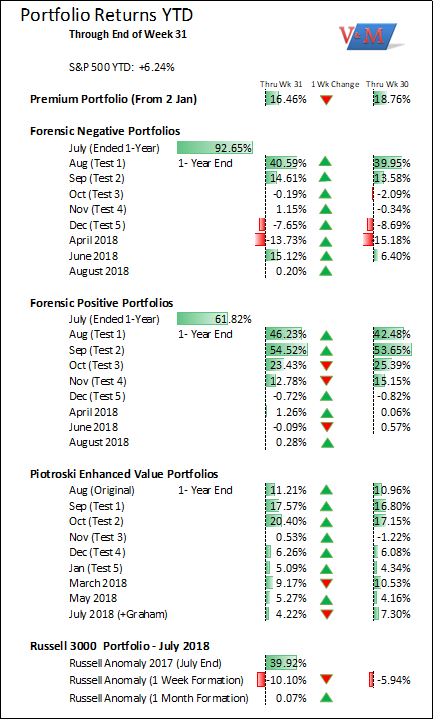 Sample of Winning Portfolio Stocks from Week 30 from across all the portfolios except the Premium Portfolio exclusive to members. Week 31 winning portfolio stocks will be released shortly and include Tandem Diabetes Care (TNDM), Energy Fuels (UUUU), RLJ Entertainment (RLJE), Turtle Beach Corporation (HEAR), NII Holdings (NIHD), P.A.M. Transportation Services (PTSI), and Solaris Oilfield Infrastructure (SOI) and others.
Click the "Follow" button at the top of the page to enjoy free updates and select real-time alerts if you want timely updates on the progress of each of the different portfolios I offer that are outperforming the S&P 500 in each of their respective time periods.
To Subscribe to Value & Momentum Breakouts, click on the link HERE.
I think these breakout stocks will serve you well in Week 32 and beyond. I hope you all do well with these stocks and always diversify to minimize some of the market risks. All the very best, and have a great week of trading!
JD Henning, PhD, MBA, CFE, CAMS
Editor's Note: This article covers one or more microcap stocks. Please be aware of the risks associated with these stocks.