Roku: Riding The Wave Of The OTT Revolution
Summary
Operates in a rapidly-expanding market.
Has successfully competed with giants for years.
High-margin platform revenues have doubled y/y, based on big growth in user count and in revenue per user.
Roku reports Q2/18 results on August 8, with analysts expecting revenue of $141.8M and an EPS loss of $0.15/share.
I would like to see Roku report at least 22.5 million active users and ARPU of at least $15.80.
Investment Thesis
Roku (NASDAQ:ROKU) is the smallest company and the largest player in the over-the-top ("OTT") streaming market.
This is a rapidly-expanding sector: Data shows triple-digit growth in global streaming TV consumption year-over-year. That growth is likely to continue with the proliferation of streaming services (including new services from Disney and AT&T) and continued cord-cutting trends.
The OTT market used to be a market made up of set-top boxes such as the Apple TV (AAPL) and Roku's player products. Increasingly, the market is moving away from those boxes and moving towards integrating streaming television software into smart televisions. Hardware players continue to be made and sold, but Roku's value stems primarily from their software rather than their hardware. Roku and Google (GOOG; GOOGL) are the two largest competitors in the smart TV streaming software market. Amazon (AMZN) is also in the market but is a smaller player (at least for now).
Roku's value to investors is based on their growth and margins in their software (their "platform" segment) rather than in their hardware (their "player" segment). Roku makes money through their software through advertisements (such as in the Roku Channel through Direct Publishers) and when people sign up for subscription services using their Roku device.
Roku's platform revenue is booming right now, with platform revenue showing triple-digit growth in the last quarter. This growth is thanks to a 46% y/y increase in active accounts and 42% y/y growth in revenue per active account. And this revenue is high-margin: Roku's gross margins in the platform category were between 71% and 77% in the last four quarter.
In short, Roku is a small-but-strong competitor in a market that has substantial tailwinds. Because of this, Roku's most important segment more-than-doubled in size last year and will see continued growth moving forward. Roku will be aided by the continued momentum of its segment, may be the target of a takeover, and its primary risks relate to the size and strength of their competitors like Google.
Streaming TV Content Is Booming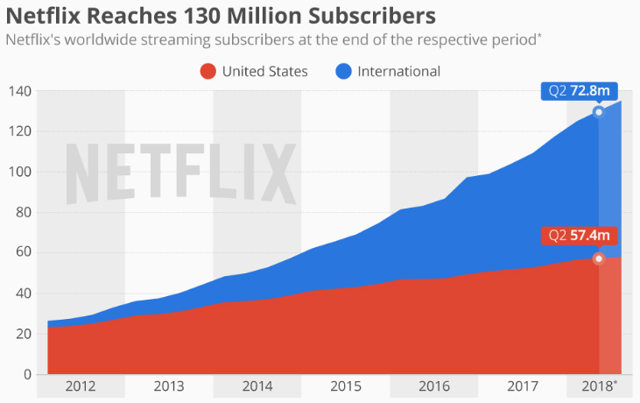 Source: Statista.
Streaming TV content over the internet is booming, with consumption more than doubling in the past year. The boom in streaming TV is fueled by advancing technology (enabling high-quality video streaming), cord-cutters (increasing demand for content), and the launch of new streaming services (increasing demand for compatible services/devices).
Years of advances in video streaming technologies and the proliferation of fast broadband connections has enabled videos to be streamed over the internet at video qualities that rival or beat those offered by satellite, cable, or broadcast television.
Meanwhile, the cord-cutting trend has picked up stream. According to the Video Advertising Bureau, the number of cord-cutters has tripled in the last five year. There are now 14.1 million households who only receive content via over-the-top streaming services, or 11% of TV-watching households. These absolute numbers are still small, but they are growing. According to one study, cord-cutters save an average of $85/month by dropping cable TV, even after the amount spent on internet service and streaming video providers. These cord-cutters each represent potential customers for Roku and their competitors.
The launch of new online streaming services will also be a major catalyst for Roku and its peers moving forward. These new services will attract new subscribers who will seek a way to watch that content, including using an OTT streaming media player or purchasing a compatible smart TV.
The most notable streaming service launch this year has been the launch of ESPN+ by Disney (DIS) in April 2018. The service is offered for $4.99/month, and Disney is aggressively marketing the service and acquiring new content. Disney streamed the most recent Manny Pacquiao fight live on ESPN+ last month and signed a $750 million deal with the UFC to offer live UFC events on the ESPN+ platform beginning in January 2019. Disney is throwing their weight behind this offering, which will also stream live games from MLB, the NHL, MLS, and college sports. AT&T (T), via Time Warner's Turner Sports, has also launched a competing live sports streaming service, with the spring launch of B/R Live in March 2018.
Disney is also planning a high-profile launch of its own direct competitor to Netflix in 2019. That service will include content from Disney's varied properties including Disney, Marvel, and Star Wars. Disney is also paying a staggering $71B to purchase Fox's (FOX; FOXA) entertainment assets, driven in part by Disney's desire to add more content to their forthcoming streaming service. Disney's streaming service is likely to attract tens of millions of subscribers (potentially into 9 digits over time, if well-executed).
Each new subscriber to ESPN+, B/R Live, Disney's streaming service, or other services is a potential customer for Roku and its peers. To watch this content on their TVs, users will need either a smart TV or a compatible device such as a streaming media player or a gaming console.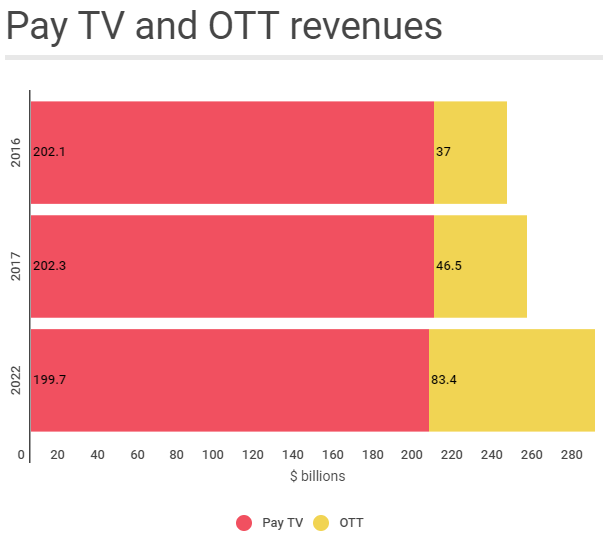 Source: Digiday.
As a direct result of this boom, OTT revenues (such as streaming revenues) are expected to double between 2016 and 2022, from $37B up to $83.4B.
In short, Roku operates in a rapidly-expanding market. That expansion is likely to help every firm in that market, including Roku.
David vs Goliath: Competing with 3/5ths of FAANG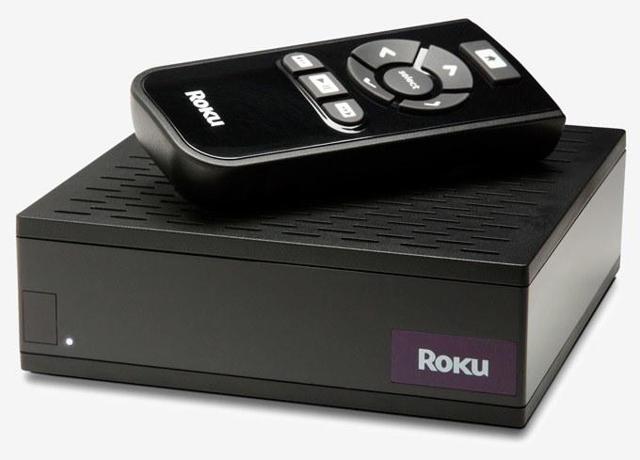 Roku's Netflix Player, circa 2008 (a "little treasure chest" according to Wired)
Roku has a market cap of ~$4.7B. Despite that modest size, Roku's life story is more connected to the "FAANG" stocks than any peers its own size. Roku was originally born of a FAANG, having been spun out of Netflix (NFLX) when Netflix decided not to launch their "Netflix Player" as the last minute in December 2007:
"We were getting so close to shipping the hardware, and Reed [Hastings, Netflix CEO] decides, 'I changed my mind–I don't want to do hardware anymore. If we ship our own hardware, it could be viewed as competitive,'" Wood [Anthony Wood, Roku CEO] recalls. Inside Netflix's Project Griffin: The Forgotten History Of Roku Under Reed Hastings, Fast Company, 2013
Today, Roku competes with three of the largest companies in the world: Apple, Google, and Amazon. This competition originated in the hardware box market: The Apple TV was the first product on the market, with the first version launched in January 2007. Google entered the market with the Google Chromecast in 2013, while Amazon launched the Fire TV in April 2014.
Each of these products offers the ability to stream TV content from the internet to your television. This allows users to watch content from Netflix, Amazon Prime, MLB.tv, or others on their television, even if that television is not a "Smart TV."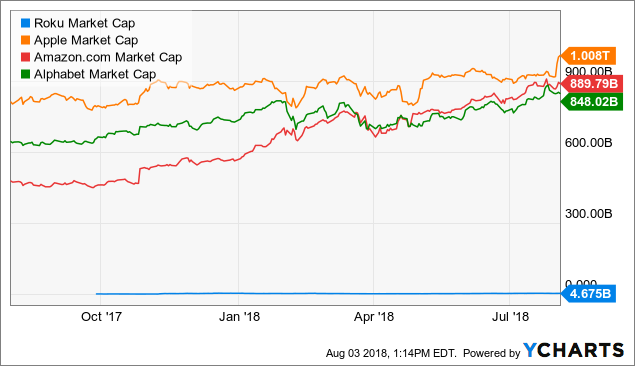 This is a minnow fighting giants - each of Amazon, Google, and Apple have market caps more than 180x as high as Roku. Despite fighting three massive companies for over four years (and for Roku's entire history, in the case of Apple), Roku continues to more than hold their own: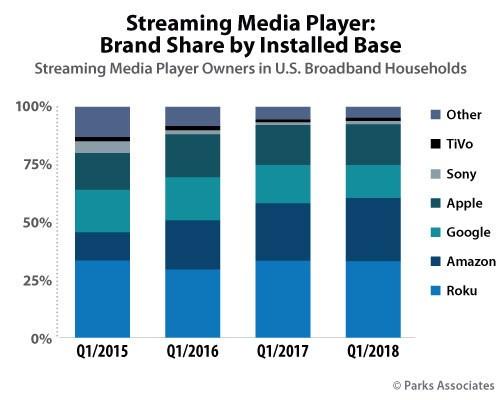 Source: Cord Cutters News, May 2018.
Roku remains the streaming media player with the largest market share, even after years of fighting against giants.
| | | | |
| --- | --- | --- | --- |
| Market Share (Source) | 2016 | 2018 | Change |
| Roku | 37% | 37% | Flat |
| Amazon Fire TV | 16% | 25% | +9 pp |
| Apple TV | 15% | 15% | Flat |
| Google Chromecast | 21% | 18% | -3 pp |
| Other | 11% | 5% | -6 pp |
The battle for streaming media player share continues, and Roku continues to hold their own. In my view, however, a more important battle is the battle for smart TV market share. Smart TVs include streaming software on them, meaning that their owners are unlikely to ever purchase a streaming media player from Roku or from others. Instead, they will use the software built into their TV to stream content from Netflix, Hulu, Amazon Prime, and others.
The Shift to Smart TVs
In the past, smart TV software would often be proprietary. Today, however, more and more smart TVs are moving to platforms developed by the streaming media player companies, primarily Google and Roku.
Using software from Google or Roku relieves the TV manufacturer from having to write their own software and provides users with the security of knowing that their smart TV platform will continue to be well-supported into the future. For example, as new streaming services launch from Disney (DIS) or AT&T (T), older proprietary smart TVs may not be able to use those services due to a lack of app (or even the ability to add apps). Smart TVs running the Google or Roku software will be able to support those services with the installation of an app.
Thus, smart TVs running Roku or Google software are better for the user than older smart TVs running proprietary software. Were I shopping for a television today, I would strongly prefer a TV powered by Roku or Google over one that ran proprietary software, due to both broader current support for streaming services (huge app stores) and guarantees of support for future streaming services that don't even exist yet.
Today, the Roku platform can be found on televisions from companies including Insignia, Sanyo, RCA, Sharp, and Hisense. Roku's competitors have also been active: Google's Android TV is offered on televisions from brands including Sharp, Philips, and Sony, while Amazon has partnered with Best Buy (BBY) to sell Fire TV-enabled televisions from Insignia and Toshiba.
Despite competition from Google and Amazon, Roku is doing well in the smart TV operating system market:
"Our strategy to build scale of our installed base by selling streaming players and licensing our TV operating system is working well [...] by the increase in Roku's smart TV U.S. market share. It was one in four in Q1 up from one in five last year. The Roku OS is the number one licensed TV OS and Roku TVs are in aggregate the number two best-selling smart TV in the United States and we're growing fast." - Anthony Wood, CEO of Roku, Q1/18 CC
The primary competitor in this arena will continue to be Google going forward. During the Q1/18 CC, one analyst even posited that Amazon's partnership with Best Buy was a win for Roku:
"My question to you is does that mean that Amazon Fire will no longer be competing with you in Walmart and Costco which are 50% of your unit sales and so that actually gates them as a competitor going forward which is good for you or not? [...] I do think it's a material upside driver if Amazon is going to be left as a competitor in every retail side other than Best Buy." - Laura Martin, Needham, Q1/18 CC
As of this writing, Apple does not offer their Apple TV software in a smart TV. That may change in the future, although Apple's normal mode of operation would suggest that their software would only be put onto a television made by Apple: Neither iOS nor MacOS are offered to other manufacturers for use on their smartphones and computers.
Roku has shown a lot of strength in the US smart TV marketplace, as Wood describes. IHS Markit, in July 2018, expects Roku TV to gain share globally:
"According to IHS, Roku TV and Fire TV, currently only available in North America, will gain share, as brands seek common platforms from increased margin pressure. Over the next five years, Roku TV is expected to expand beyond North America." - IHS Markit via Media Play News, July 2018
Similarly, according to Conviva, "Among connected TV platforms, Roku continues to emerge as a leader with 22% of all viewing hours and 8% of all plays." Conviva further notes that, "PC use for streaming TV is declining in favor of mobile devices, especially for short-form content, while connected TV platforms, led by Roku, are favored for long-form content." Consumer preference for mobile for short-form content explains why Roku's proportion of viewing hours is so much higher than their proportion of plays.
Roku is competing with giants, but they are more than holding their own.
Huge Platform Growth (>100%) and Margins (>70%)
Roku divides their business into two segments, player and platform.
Player revenue includes revenue from selling Roku devices, while platform revenue includes advertising and subscription revenue generated on the Roku OS on Roku devices and Roku TVs.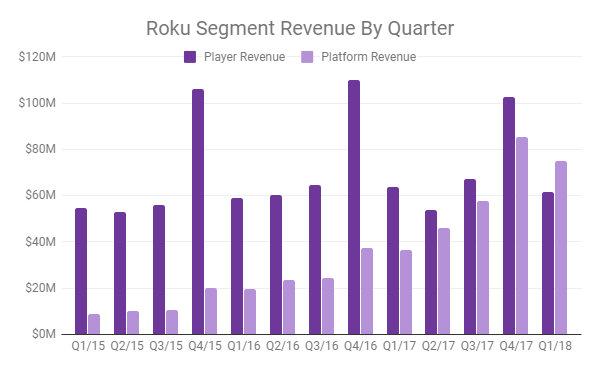 Source: Author based on company filings.
Over the past three years, player revenue has been relatively stable, growing from $270M in 2015 to $285M in the past four quarters - a growth rate of 2.5%. If Roku was a player company only, this would be a low-growth, stable company with little reason to trade at high multiples.
However, Roku is not only a player company.
Over the past three years, platform revenue has exploded. In 2015, platform revenue was $50M or ~16% of company revenue. Over the past four quarters, platform revenue is $264M or ~48% of company revenue. Trailing annual platform revenue is 430% higher than it was in 2015, growing at an average of 110%/year. Similarly, trailing annual growth (L4Q over the 4Q before that) is ~117% and the most recent quarter saw growth of ~106% over the same quarter last year (Q1/18 over Q1/17).
Roku's platform revenue can be broken down into two components, both of which have grown rapidly in the past three years. Platform revenue can be calculated based on the number of active users multiplied by the average revenue per user ("ARPU"). Both the user base and the ARPU have been growing rapidly.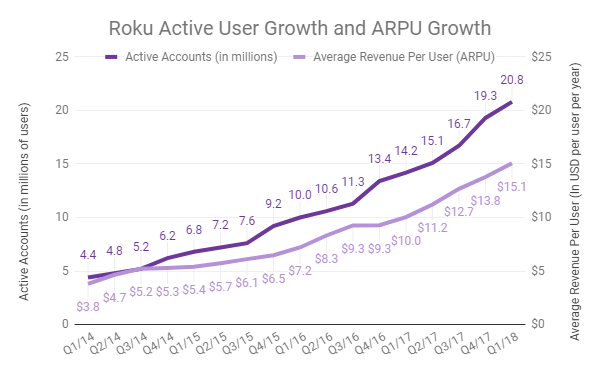 | | | | | |
| --- | --- | --- | --- | --- |
| | Q1/15 | Q1/16 | Q1/17 | Q1/18 |
| User Growth y/y | 55% | 47% | 42% | 46% |
| ARPU Growth y/y | 42% | 33% | 39% | 50% |
Source: Author based on company filings.
Growth in both users (active accounts) and ARPU has been both consistent and phenomenal. In each of the past four years, Roku has grown their active accounts by 42% to 55%. Similarly, in each of the past four years, Roku has increased their ARPU by 33% to 50%.
The growth in both of these metrics has fueled Roku's triple-digit platform revenue growth. It is inevitable that this growth will eventually come back to Earth, but as of yet, growth in both ARPU and active accounts remains as strong as ever.
This growth is especially valuable to Roku because of the high margins offered by their platform segment: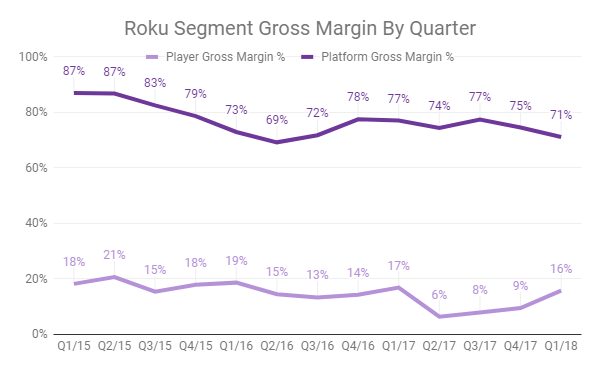 Source: Author based on company filings.
Roku's fast-growing platform revenue also boasts Roku's best margins.
Player gross margins over the past couple years have been between 6% and 17%. These low margins make sense, given that players are a "loss leader" to add more users to the Roku platform ecosystem. When customers are selecting an OTT device, few people would be willing to pay a premium to purchase a Roku device over a comparable device from Apple, Amazon, or Google. Accordingly, Roku players are priced-to-move, often with single-digit gross margins. Given operating costs, these devices are never intended to help Roku achieve profitability directly, but rather just to grow the platform.
Platform gross, meanwhile, has been between 69% and 73% since the start of 2016. Over the last twelve months, gross margins on Roku's platform segment has averaged ~74%.
Roku's platform revenue is growing by triple digits each year and offering gross margins of ~74%. That is the reason why Roku trades at the lofty multiples it does (with a price/sales of ~8.5x - nearly as high as Netflix at ~10.8x). Roku players are nearly irrelevant to Roku's value: Players serve only to grow Roku's platform further, enabling the company to grow its user base and therefore to expand its high-margin platform revenue.
Improving Adjusted EBITDA For Seven Quarters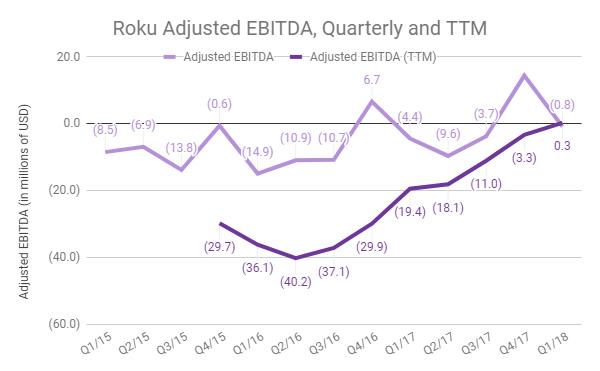 Source: Author based on company filings.
Roku has not yet attained profitability, although their losses are narrowing thanks to the high-margin growth in platform revenue.
In Q1/18, Roku posted operating losses of $6.9M on revenue of $136.6M with net losses of $6.6M. Operating losses and net losses were both down y/y, from $7.8M and $8.7M.
Roku prefers to report their results using adjusted EBITDA, which excludes share-based compensation. Adjusted EBITDA loss in Q1/18 was $0.8M, down from a $4.4M loss one year ago. Over the past twelve months, Roku posted an operating loss of $18.6M and but a positive adjusted EBITDA of $0.3M. As illustrated above, this was Roku's first positive trailing adjusted EBITDA on record and continued a seven-quarter positive trend in trailing adjusted EBITDA.
Roku expects to post a net loss of $25M-$40M in 2018 and post an adjusted EBITDA between ($10M) and +$5M.
Looking Forward: Q2/18 Earnings on August 8
Roku will report their Q2/18 earnings on August 8, 2018. Roku's guidance for these earnings, and for the year are:

Source: Roku Q1/18 Letter, May 9, 2018.
Roku only has three quarters of shareholder letters since going public, so they only have two prior quarters to compare their outlook to their actual results. In both available quarters, Roku beat the midpoint of their guidance on all four metrics:
Q4/17
Q1/18
(millions USD)
Guidance
Actual
Beat
Guidance
Actual
Beat
Revenue
182.5
188.3
5.8 (3%)
125
136.6
11.6 (9%)
Gross Profit
61
73.5
12.5 (20%)
55
63.1
8.1 (15%)
Net Loss
(11.0)
7.0
18.0
(18.0)
(6.6)
11.4
Adjusted EBITDA
(3.0)
14.4
17.4
(13.0)
(0.8)
12.2
Source: Author based on company filings. All guidance at midpoint.
From this past, it may be reasonable to expect Roku to beat the midpoint of their guidance. According to Yahoo Finance, analysts expect Roku to posts an EPS loss of $0.15/share (a loss of ~$7.3M) on revenue of $141.48M, beating the midpoint of guidance on both of those metrics.
In my view, the most important metrics for Roku going forward are going to be their active accounts and their ARPU. My rationale here is straight-forward. Player revenues are largely irrelevant for Roku, since those revenues are so low-margin. Further, operating expenses have been a relatively consistent percent of Roku's revenues for the past several years: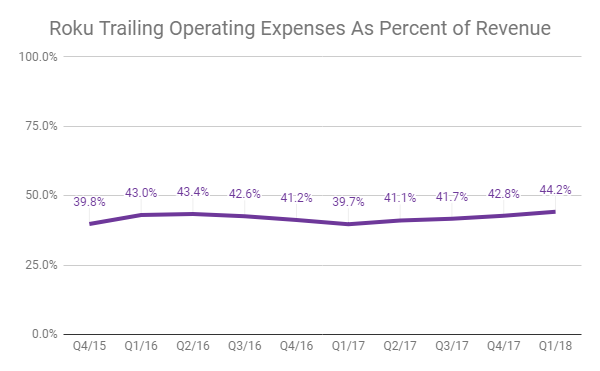 Source: Author based on company filings.
While operating costs have trended up somewhat, this trend is relatively minor and is more than compensated for by the gains in gross margins due to increasing platform revenue. Thus, in my view, the two biggest drivers of Roku's value are going to be the factors that drive platform revenue: active accounts and ARPU.
During the Q1/18 CC, Roku's Steve Louden, CFO, gave a lot of further guidance on Roku's outlook for the quarter and for the year. Based on his statements about future margins and revenue growth, I currently model the following active account and ARPU figures:
Q1/18
Q2/18 E
Q3/18 E
Q4/18 E
Active Accounts (in millions)
20.8
22.5*
24.3*
27.2*
Average Revenue Per User (

ARPU

)
$15.07
$15.8*
$16.5*
$17.4*
Source: Company filings (Q1/18) and author's estimates (Q2/18 to Q4/18).
These estimates would result in Roku performance for the year that is approximately in line with Roku's guidance in my model - annual revenue of $695M with gross profit of $305M - at the midpoint and high end of guidance, respectively. Based on Roku's history of beating guidance, I would not be surprised to see Roku beat these figures.
In my view, having 22.5 million active accounts and having ARPU of ~$15.80 should be seen as "par" for Roku on their August 8th earnings. If Roku can substantially beat these figures, I expect Roku shares to rise, and if Roku fails to meet these figures, I expect Roku shares to fall.
We will find out on Wednesday.
Takeaways
Roku operates in a segment - streaming TV content - that is growing rapidly and looks poised to continue to grow rapidly. Companies like Netflix, Amazon, Disney, and AT&T are pouring money into online streaming content. This gives Roku strong secular tailwinds that are likely to continue for years to come.
Roku is competing against much larger competitors. The ~$5B Roku actively competes with three different >$850B companies in Apple, Amazon, and Google. Despite over four years of competition with these giants, Roku has maintained the highest market share in the streaming media player segment.
Streaming media players themselves look likely to decline as smart TV proliferation continues. Roku and Google are the two primary players licensing smart TV OS software to TV manufacturers, although Amazon also offers their Fire TV software through Toshiba and Insignia. Roku has a solid foothold in this market, with their ~20% unit share in the U.S. increasing to ~25%.
These factors will help Roku to continue to grow their revenue in their important platform segment. Roku's player revenue is stable and low-margin, but platform revenue is high-margin (~74% gross margins TTM) and high-growth. Over the past few years, Roku's platform revenue has experienced triple-digit annual growth, driven by increases in both active accounts (~46% TTM) and increases in average revenue per user (~50% TTM).
Roku will report Q2/18 results on Wednesday, August 8. Based on Roku's guidance, analysts expect revenue of $141.5M and a loss of $0.15/share (~$7.3M). I will be more interested in Roku's active account figures and ARPU. I would like to see Roku report at least 22.5 million active accounts and an ARPU of at least $15.80.
Roku has beaten guidance (at midpoint) in each of the last two quarters.
Let's see if they can make it three.
Did you like this article? Please consider giving me a "Follow" by clicking the orange button above.
This article was written by
I used to run a Marketplace service called The Growth Operation.  That service has subsequently been moved to Julian Lin, who is highly-skilled in analyzing and evaluating the cannabis investing marketplace.Julian has renamed the service to The Weed Investors, and it promises to continue to be a great resource and community for investors interested in this growing sector.  I am a contributor to Julian's The Weed Investors community.Thank you to each and everyone who previously subscribed to The Growth Operation.  I appreciate all of your support.-J. Cooper
Analyst's Disclosure: I am/we are long ROKU, GOOGL, AAPL. I wrote this article myself, and it expresses my own opinions. I am not receiving compensation for it (other than from Seeking Alpha). I have no business relationship with any company whose stock is mentioned in this article.

I am long ROKU with an ACB of ~$40.
Seeking Alpha's Disclosure: Past performance is no guarantee of future results. No recommendation or advice is being given as to whether any investment is suitable for a particular investor. Any views or opinions expressed above may not reflect those of Seeking Alpha as a whole. Seeking Alpha is not a licensed securities dealer, broker or US investment adviser or investment bank. Our analysts are third party authors that include both professional investors and individual investors who may not be licensed or certified by any institute or regulatory body.