With this article we introduce a new feature - a sector deep dive which we plan to revisit periodically whenever we feel we have something to say about a particular fund sector.
Our inaugural foray is into the leveraged loan space, particularly relevant as interest rates have been moving higher over the last few years. Please let us know what you think.
Leveraged Loans - Hot Stuff or Hot Air?
There are a few ways in which the Loan sector, owing to its structural qualities, has disappointed investors in in the recent past. What are these qualities?
First, it's important to remember that about half of all leveraged loans have embedded a borrower option to switch between 1-month and 3-month Libor indices. This means that when 1-month Libor is sufficiently below 3-month Libor, as has been the case in the last few years, partly due to the money-market reform but also as the Fed hiking cycle gathered steam, borrowers can and have switched to the lower rate which lowers loan coupon rates.
Secondly, borrowers have an option to refinance if credit spreads tighten. This repricing of existing loans can be a drag on returns in a strong credit environment, such as we've seen in 2017 when about half of all loans were repriced to lower spreads.
Thirdly, and this is the flip-side of the floating-rate benefit - the loan sector will not react as positively to a risk-off market environment which would see lower interest rates and higher Fixed-Income asset prices. Hey, you can't have everything!
Credit Quality
Credit quality is the primary pillar behind the appeal of the Loan sector. This support, however, has taken a beating this cycle. We review the drivers of credit quality and the medium-term outlook below.
First, the share of CCC, or lowest-rated loan issuers, has grown appreciably in this cycle and is at the higher end historically.
Secondly, the number of loan-only borrowers has increased from about 5% to 30% since the GFC. This means that loans from these borrowers, which tend to be lower-rated, do not benefit from a more senior position in the capital structure because there are no securities outstanding that will provide this cushion in case of default.
Thirdly, covenant-quality has been decreasing through this cycle as well, moving from 2.5 to 3.5 on a 1-5 points scale, as measured by Moody's. In fact, the rating agency's Loan Covenant Quality Indicator finished 2017 at the lowest score ever. Interestingly, in 2018 full-covenant deals carried a high double-digit spread premium over cov-lite deals which suggests to us that it is in fact not the cov-lite deals that we should be worried about but the quality of issuers that are able to snag standard-covenant loans.
Fourthly, the aggressive practice of EBITDA add-backs has become more common. This relates to a way of potentially understating the borrower's leverage by taking into account expected cost savings in the future.
Fifthly, higher LIBOR resets lead to higher loan coupons, however, they also lead to worsening interest coverage on the part of the borrowers. By some estimates, the expected hikes in 2019 would push coverage ratios to pre-crisis levels.
At the end of the day what investors care about are default rates and recovery rates. Default rates on loans are actually expected to be higher than that of High Yield bonds, due to the prevalence of lower-rated borrowers in the sector. And, due to the factors above as well as the positive correlation between default rates (which are expected to be higher this cycle) and recovery rates, recovery rates are expected to converge much closer to those of High-Yield bonds as well. What all this means is losses across Loans and High-Yield bonds should be roughly similar - the historic advantage of Loans in a distressed scenario will most likely disappear.
Leveraged Loan Sector in Context
To get a big picture of the sector performance within the Credit/Debt closed-end fund space, we plot sector performance below. We can clearly see that Loan performance has been pretty middling.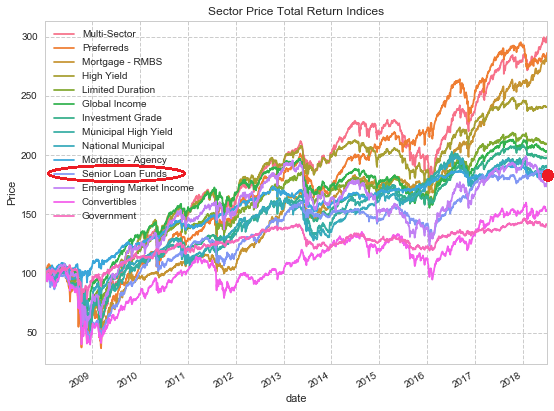 Source: ADS Analytics LLC
Summarizing the return statistics, we can see that not only has the annualized return been relatively low, the Sharpe Ratio is not anything to write home about either.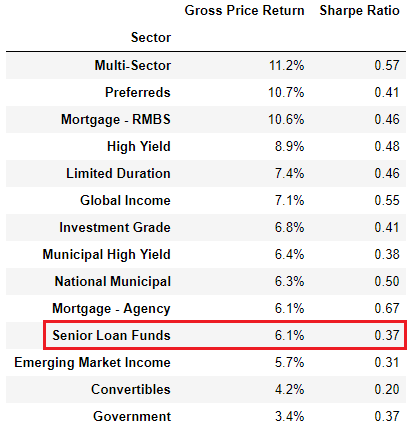 Source: ADS Analytics LLC
Breaking down the space into annual returns, it is particularly disappointing that the sector has not shined in the last few years - when interest rates have been increasing.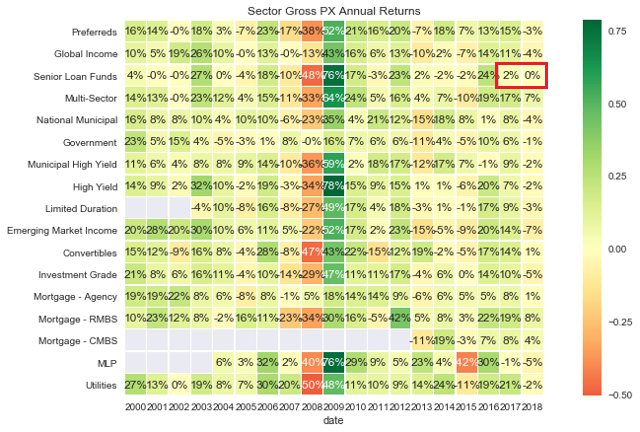 Source: ADS Analytics LLC
The benefit of the sector, however, becomes clear in its low correlations to either stocks or bonds. We think just this feature means the sector deserves a place in a diversified portfolio.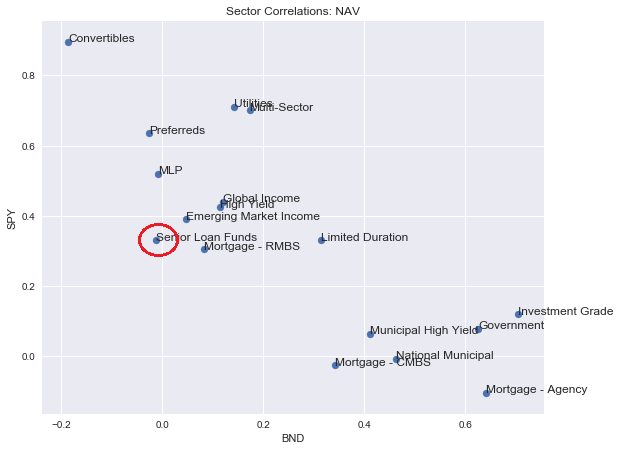 Source: ADS Analytics LLC
The distribution rate of the sector has been consistently below the average of the Fixed-Income space. The yields on Leveraged Loans are just now catching up to that of High Yield bonds so we think this underperformance may not last for too much longer, unless sector prices shoot up.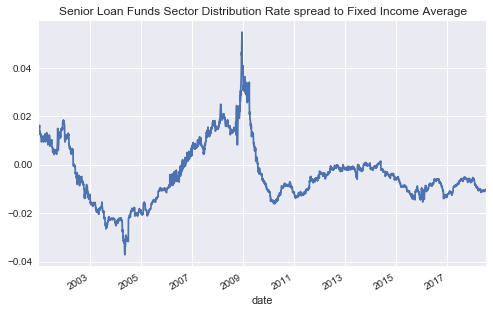 Source: ADS Analytics LLC
Taking a look at our usual weekly sector summary, we see that the sector is reasonably attractive on a discount and Z-score basis as well as price volatility and drawdown. The 3Y dividend ratio is a healthy 91%, meaning the sector has only cut 9% of its distribution from 3-years ago.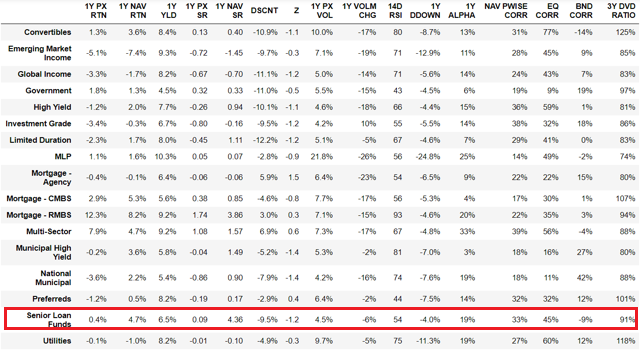 Source: ADS Analytics LLC
Digging into the Sector
One thing that strikes us immediately and that we find somewhat puzzling is the fact that the CEF Loan sector has not actually increased its distribution, even as the LIBOR rate has grown significantly.
Below is a chart of Loan sector distributions, normalized to 100 in the year 2000, which shows how total distributions have evolved in the sector. We can see that sector distributions have tended to fall, with the exception of two periods: 2005-2008 and 2010-2013. The first period coincides with a rise in LIBOR - from April 2004 but not the second which remains somewhat of a mystery to us.
It has now been almost 3 years since the low in LIBOR so it is disappointing that we are not seeing this increase in improved distribution rates. Part of the explanation may be that the funds are still clawing back from the distribution damage due to repricing of the previous years but we are open to other arguments.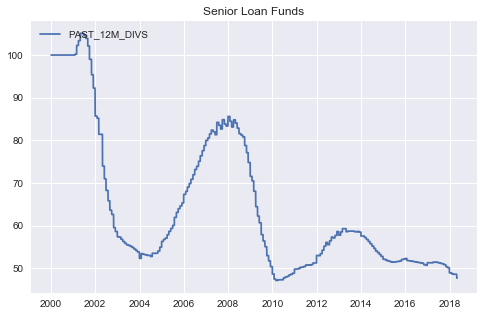 Source: ADS Analytics LLC
To get a sense of which funds may be attractive, we run our screen on the sector and sort the results by a Score which is a sum of the ranking of each variable in the table.
Fund are sorted by:
Low Discount Rank
Low 3-Year Z-score Rank
High trading volume Rank
Low 1-Year NAV Vol Rank
High GNAV (Gross NAV) 3-Year Return Rank
Low 1-Year Drawdown Rank
The best funds are presented at the top.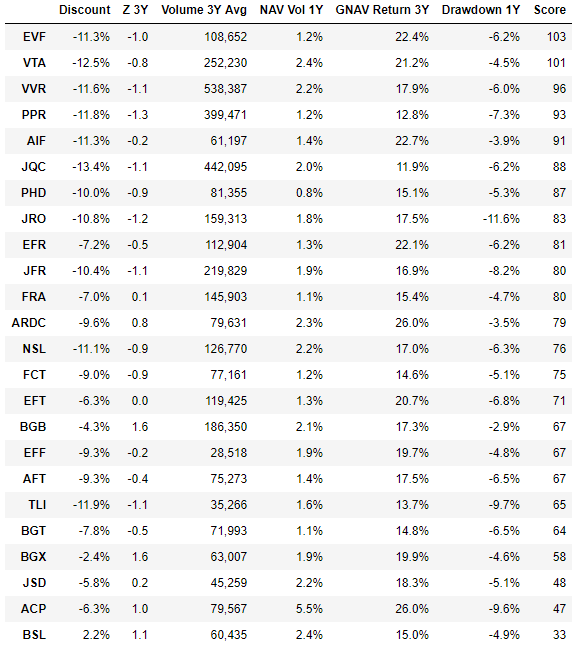 Source: ADS Analytics LLC
An Annual Gross Price return for those keeping score at home is below.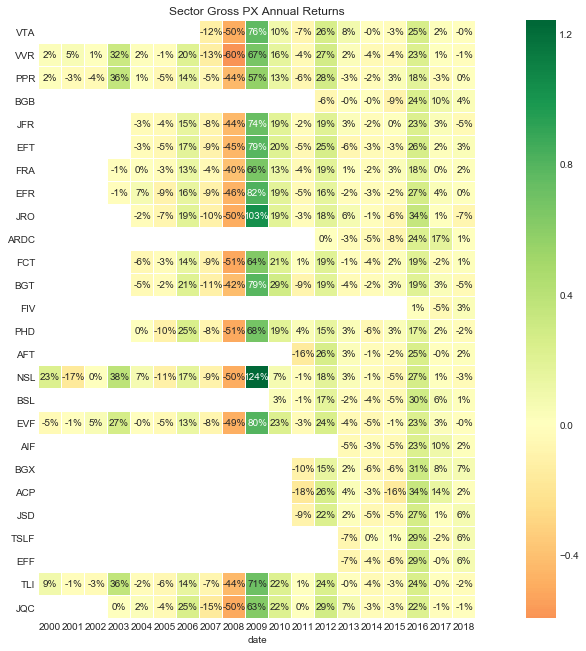 Source: ADS Analytics LLC
There are some interesting divergences in performance, particularly in 2017. Some of this appears to be due to CLO and CCC exposure.
Conclusion
We think the value of loan funds in a diversified portfolio comes from historically better credit quality which translates into lower volatility and drawdowns as well as the floating-rate which outperforms whenever interest rates increase. The credit quality plank of this thesis has begun to fall away somewhat as we discussed above and the floating-rate argument has not yet been felt.
Ultimately, we think it's worth paring loan funds with an allocation to fixed-income as higher interest rates may very well be their own demise by pushing leverage and interest coverage to unsustainable levels. If a recession were to follow, we would expect interest rates to fall which would benefit fixed-income more than loan funds, all else equal.
Good Luck!
Disclosure: I/we have no positions in any stocks mentioned, and no plans to initiate any positions within the next 72 hours. I wrote this article myself, and it expresses my own opinions. I am not receiving compensation for it (other than from Seeking Alpha). I have no business relationship with any company whose stock is mentioned in this article.
Additional disclosure: This article is for information purposes only and does not constitute investment advice or an offer or the solicitation of an offer to buy or sell any securities. Past performance is not a guarantee and may not be repeated. Investment strategies are not suitable for everyone and you should always conduct your own research or speak to a financial advisor. Although information in this document has been obtained from sources believed to be reliable, ADS ANALYTICS LLC does not guarantee its accuracy or completeness and accept no liability for any direct or consequential losses arising from its use. ADS ANALYTICS LLC does not provide tax or legal advice. Any such taxpayer should seek advice based on the taxpayer's particular circumstances from an independent tax advisor.