Shares of furniture e-commerce company Wayfair (W) essentially doubled in a few months from May 2018 to July 2018. That big rally, however, hit a speed bump recently amid a rough earnings season for all tech stocks and specifically Wayfair, which reported a wider-than-expected loss in its second-quarter earnings report.
At its core, the second-quarter earnings report didn't do much to resolve the debate between bulls and bears. Instead, it featured still big revenue growth (what bulls love about Wayfair) and still big losses (what bears hate about Wayfair). Thus, the quarter didn't really affirm either side of the bull-bear debate.
We think investors would be wise to ignore the Q2 report and instead focus on the big picture here. The big picture is that there is a pathway for Wayfair stock to hit $400 in the long run (8-10 years out), but there are a ton of risks which cloud that pathway and make a $400 price tag unlikely. More realistically, Wayfair stock hits $200 in the long run, making the current $110 price tag seem slightly overstretched.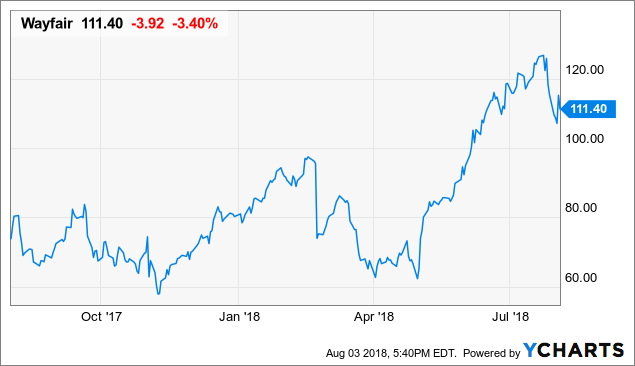 We view the Wayfair debate as having two sides. The bullish thesis, in a nutshell, is as follows:
Wayfair controls a very small part of the huge and rapidly growing global e-commerce market. As this market grows over time and Wayfair takes a bigger and bigger piece of the growing pie, the company's revenues and customer base will become quite big. Meanwhile, gross margins are healthy around 23-24%, and the big revenue growth should force the operating expense rate down over time. Thus, the prospects of huge profits in a long-term window look quite promising. This robust long-term earnings growth narrative will power Wayfair stock higher. See Amazon (AMZN).
Meanwhile, the bearish thesis is as follows:
Wayfair controls a very small part of the huge and rapidly growing global e-commerce market. As this market grows over time, more competitors will enter the space, and increased competition will keep Wayfair's market share relatively depressed, which will lead to disappointing revenue growth in a long-term window. Meanwhile, gross margins are actually falling back right now due to investments, and operating losses are widening. In other words, the only pathway to profitability involves huge revenue growth. But without market share gains, Wayfair's revenue growth won't be big enough to drive consistent profitability. Lack of profitability will eventually weigh on the over-extended valuation, and Wayfair's stock will drop.
We understand both sides of this argument. Trying to reconcile both bull and bear, here's our take:
Data suggests that Wayfair only controls about 0.2% of the global e-commerce market, and 1% of the domestic e-commerce market. Meanwhile, the global e-commerce market is growing at a 20%-plus rate. Thus, Wayfair has a unique ability to substantially grow share in a 20%-plus growth market. But there are reasons why Wayfair only controls 1% of the U.S. e-commerce market despite huge advertising spend, and those reasons include big competition and niche product offering. Those headwinds get bigger on the global stage, meaning it is unlikely that Wayfair scales to 1% global market share (we are projecting steady share around 0.2%). Meanwhile, gross margins are largely stable, and could head towards 25% and up once the international business scales. Big revenue growth should also drive the operating expense rate down, but not by as much as management is guiding for. Long-term, we see Wayfair as a 15% revenue growth company with an 8% operating margin profile.
Under the above assumptions, we see Wayfair's long-term earnings power as $9.50 per share. We also think the company can get there in 10 years. A growth-average 20x forward multiple on $9.50 implies a nine-year forward price target of $190. Discounted back by 10% per year, that equates to a year-end price target of under $90.
In the big picture, then, we think Wayfair stock is ahead of itself here at $110.
That being said, for fairness sake, we would like to mention that if Wayfair can scale its global market share to 0.5% in 10 years (half that of its domestic market share), we think $20 in earnings per share is plausible in a decade. Under that scenario, the stock could hit $400 in 10 years, equating to a year-end price target of ~$185.
Overall, while we see how Wayfair stock could trend towards $200 by the end of this year, we also think that such gains are highly unlikely given long-term competitive risks. It is more likely that shares retreat further from here, and fall back under $100 and closer to $90 before taking another leg higher.
Disclosure: I am/we are long AMZN. I wrote this article myself, and it expresses my own opinions. I am not receiving compensation for it (other than from Seeking Alpha). I have no business relationship with any company whose stock is mentioned in this article.