François Trahan: Cycle Peak Leading To Change In Leadership
Aug. 06, 2018 1:22 AM ET
SPY, QQQ, DIA, SH, IWM, TZA, SSO, TNA, VOO, SDS, IVV, SPXU, TQQQ, UPRO, PSQ, SPXL, UWM, RSP, SPXS, SQQQ, QID, DOG, QLD, DXD, UDOW, SDOW, VFINX, URTY, EPS, TWM, SCHX, VV, RWM, DDM, SRTY, VTWO, QQEW, QQQE, FEX, ILCB, SPLX, EEH, EQL, SFLA-OLD, QQXT, SPUU, IWL, FWDD, SYE, SMLL, SPXE, UDPIX, JHML, OTPIX, RYARX, SPXN, HUSV, RYRSX, SCAP, SPDN, SPXT, SPXV
2 Comments
François Trahan, Co-Head of Portfolio Strategy at Cornerstone Macro, and named #1 in portfolio strategy in 8 out of the last 10 years by Institutional Investors Magazine, recently sat down for an interview with Consuelo Mack on WealthTrack. Whether one agrees or disagrees with his perspective, it is important insight to include in one's evaluation of the market. Much of François' investment thesis centers around his belief that the economic cycle has peaked.
He reviews a number of variables, but of his favorite indicator is the Purchasing Mangers Index and he believes the PMI in the U.S. has peaked. The PMI measure remains in expansion territory as it is above 50. However, in the PMI report for July, 9 out of the 11 categories that are measured declined or are slowing. As the below chart shows, one could make the case that PMIs around the world may have peaked as well.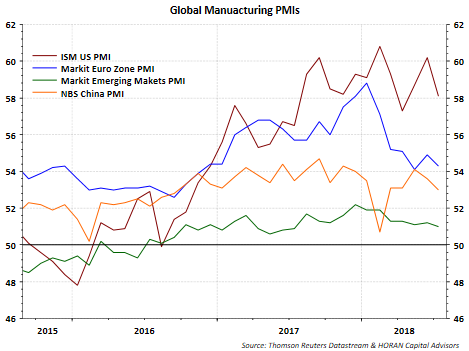 He cites a number of data points occurring now that commonly occur at peaks or inflection points in the economy and the market:
market returns not matching spectacular earnings growth
contraction in P/E multiples
single digit market returns with higher volatility, and
an economy that looks to be doing okay
At this point in the cycle, Trahan believes growth type companies are where investors should focus their efforts. As he notes, this seems difficult given a nearly eleven year streak where growth has outperformed value stocks. He believes this is the result of a sub-par economic growth environment since the end of the financial crisis, resulting in growth type companies outperforming value.
Historically, as he notes in the interview, until this cycle, the mantra was, "live in value and vacation in growth" and that has changed now. Where once value seemed a safe haven, he points to the fact the beta on value stocks is higher than the market today. So investors leaning towards value might be unpleasantly surprised in a market pullback.
If nothing else, readers should gain additional perspective from the entire interview that may be applicable to their portfolios at this point in the investment cycle.
This article was written by
HORAN Capital Advisors is an SEC registered investment advisor that manages investment portfolios for individuals and institutions. Our firm utilizes a disciplined investing approach that should create wealth for our clients over time. Our investment bias is to invest in companies that generate a steady return over time, i.e., singles and doubles. This singles and doubles approach tends to lead to investments in higher quality dividend growth/cash flow growth companies. On the other hand, there are times when a company's stock price seems to be trading below its fair valuation. Short term gains are possible in these situations. I have been managing investment portfolios for individuals and institutions for over fifteen years and believe investing is like running a marathon and not a sprint. Taking the road less traveled, more often than not, leads to higher returns. Visit: The Blog of HORAN Capital Advisors at (https://horanassoc.com/insights/market-commentary-blog)