When you're feeling like investing with your conscience, a company like Alexion Pharmaceuticals (NASDAQ:ALXN) can give you that warm and fuzzy feeling. Alexion develops treatments for rare diseases where no other treatment is available. As a conscientious investor, you can feel great about how Alexion improves the lives of individuals. Of course, if the stock achieves strong gains, you will also feel great about that.
Alexion is set to grow revenue and earnings at above-average double-digit rates. Strong sales of the company's pharmaceuticals is driving this growth. I expect the stock to outperform as the price is driven higher from above-average growth from a reasonable valuation.

Soliris
Alexion established itself as a sustainable, profitable pharmaceutical company. The company makes most of its money from sales of Soliris, a treatment with three FDA approved indications:
1. Paroxysmal nocturnal hemoglobinuria [PNH]
2. Atypical Hemolytic Uremic Syndrome [aHUS]
3. Anti-AchR+ generalized Myasthenia Gravis [gMG]
Patients with PNH have red blood cells that break apart prematurely. This can lead to fatigue, difficulty in breathing when exercising, rapid heartbeat, chest pain, and headaches. Alexion's Soliris acts as an inhibitor to reduce the hemolysis that causes these symptoms.
Soliris is the largest contributor to Alexion's revenue as it comprises 86% of the company's Q2 drug sales. Sales of Soliris increased 10% in Q2 to $898.2 million. Soliris achieved an 11% increase in volume growth in Q2.
Soliris has an indication for aHUS patients. The condition aHUS, in severe cases, can cause the following patient symptoms: severe high blood pressure and kidney failure. Therefore, the availability of Soliris is important to treat this rare condition to improve and save the lives of these patients.
Soliris' indication of gMG helps patients who suffer from the effects of generalized Myasthenia Gravis, which is a chronic autoimmune neuromuscular disease. The symptoms of gMG are weakness in the muscles that control eye and eyelid movement, facial expression, chewing, talking, and swallowing. Muscles that control the neck, limb movements, and breathing can also be affected.
In an extreme case, a myasthenic crisis can occur with gMG. This crisis is when the breathing muscles weaken to the point of needing a ventilator to breathe. This happens in 15% to 20% of those with gMG.
From an investment standpoint, sales of Soliris have continued growth potential because the drug is the only FDA approved drug option for these conditions. There are other companies with drugs being developed in the pipeline for PNH. However, these alternatives are in Phase 2 studies. So, it could be a few years until they hit the market if they are found to be successful in treating PNH.
There are no drugs being developed by other companies for treating aHUS. Alexion dominates all of the studies for this condition. So, Soliris will dominate the treatment of aHUS for many years.
There are a number of universities and companies studying drugs to treat gMG. There are a few studies in Phase 2 trials. There are 2 companies with Phase 3 studies with drugs to treat gMG. Catalyst Pharmaceuticals (CPRX) is studying Amifampridine Phosphate for gMG. However, this is a long-term study which has an expected end date of 2020. Grifols S.A. (GRFS) has IGIV-C in a Phase 3 study for gMG. The IGIV-C study was completed in April 2018, but I did not see any information yet on the results. So, this will be something to keep an eye on.
Strensiq
Strensiq comprises 12% of Alexion's net sales from pharmaceuticals. Strensiq's net sales increased 50% in Q2 to $125.1 million. Volume growth increased by 55%. Strensiq is the only prescription medication for the treatment of perinatal/infantile- and juvenile-onset hypophosphatasia [HPP].
HPP is a rare genetic disorder characterized by abnormal development of bones and teeth. This condition is a result of defective mineralization. So, bones and teeth do not take up minerals properly, which is required for bone hardness and strength. Therefore, HPP patients have soft bones that are at risk for fractures and they can suffer from premature tooth loss.
Strensiq treats the underlying cause of HPP by replacing alkaline phosphatase. This allows minerals such as phosphate and calcium to be taken up by bones and teeth, making them stronger and healthier.
I did not see any other company developing a treatment of perinatal/infantile- and juvenile-onset HPP. Therefore, Alexion is poised to benefit from many years of sales growth from Strensiq. The lack of competition for this indication gives Alexion a market share moat for Strensiq.
Kanuma
Kanuma comprises 2% of Alexion's drug sales, so it is not a large growth factor for the company at the moment. However, Kanuma is the only FDA-approved treatment for lysosomal acid lipase deficiency [LAL-D]. The company achieved a sales increase of 40% in Q2 to $21.4 million with 51% volume growth.
This condition affects the body's ability to produce the LAL enzyme, which is needed to break down fats and cholesterol in cells. This leads to liver disease and high LDL or bad cholesterol levels.
I didn't see any other companies developing a treatment for LAL-D. Although Kanuma comprises a small portion of Alexion's sales, the growth rate is strong. Therefore, it is likely to comprise a larger portion of Alexion's total sales as the number of patients using Kanuma increases over time.
Pipeline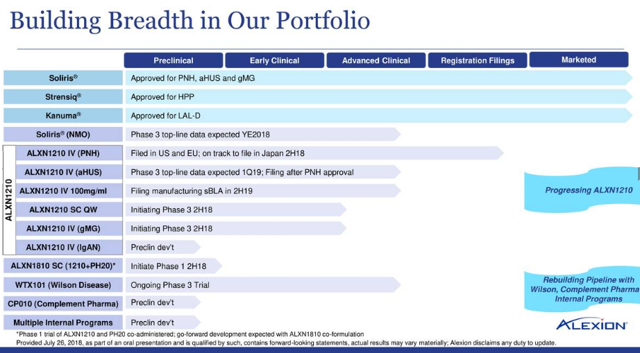 Source: Alexion Q2 2018 Earnings Call Slides
Alexion has the drug ALXN1210, which completed the Phase 3 study for the treatment of PNH and has been submitted for approval in the U.S. and in the E.U. ALXN1210 is a long-acting C-5 inhibitor, which works by inhibiting the C-5 protein. When the C-5 protein is activated in an uncontrolled manner, it can lead to conditions such as PNH, aHUS, and MG.
Alexion has ALXN1210 in 2 Phase 3 trials for treating aHUS. Both adults and children are a part of these Phase 3 trials. ALXN1210 could help treat more patients if they did not respond favorably to Soliris for PNH or aHUS. Therefore, the drug will be another driver of growth for Alexion if it achieves FDA and EU approval.
There are also other drugs in the pipeline in advanced development stages. The company has WTX-101 in Phase 3 for patients with Wilson disease. Wilson disease is a potentially life-threatening liver disorder.
Soliris is in advanced development for relapsing neuromyelitis optica spectrum disorder [NMOSD]. This is a life-threatening autoimmune neurological disorder. NMOSD can lead to severe weakness, paralysis, loss of bowel and bladder function, respiratory failure, blindness and premature death.
So, the pipeline has some important conditions to address to help improve and save lives. If these drugs become approved for these indications, Alexion will be able to add to its current growth. The company also has some drugs in earlier clinical stages. However, they will take many years to reach the approval process, so I'm focusing on the drugs in advanced clinical stages at this time.
Valuation
Alexion is trading at 14.4x next year's expected EPS of $8.58. This is lower than the Biotech industry's average forward P/E of 20.6. Alexion's PEG ratio is also low at 1.08. I see this as an attractive valuation for a company that is expected to grow earnings at an above average pace of about 17% annually over the next five years. Therefore, the stock has room to move higher as earnings continue to increase.
Outlook for Alexion
I have a positive outlook for Alexion. However, investors should be aware that the stock is volatile. Large swings in price of over 20% are common in short periods of time (within a month or two). This is one of the risks of owning the stock. So, investors should have a strong stomach to hold Alexion stock.
Another potential risk is keeping an eye on potential competition. Currently, there is not much competition for the indications that Alexion addresses. However, it would be a good idea to watch the development of Amifampridine Phosphate and IGIV-C for the treatment of gMG. If those drugs are approved, it could eat into Alexion's market share of Soliris.
Overall, Alexion does a great job of addressing unmet needs for rare disorders. There is not much in the pipeline from other companies to take that away other than the few drugs I mentioned. Therefore, Alexion is likely to benefit from multiple years of strong revenue and earnings growth.
With the valuation at an attractive level, the stock should be able to increase at least in line with earnings growth over the long term. The stock is volatile. So, expect sharp fluctuations in price. Looking one-year out, I give the stock a price target of $150 for a 21% gain. This is based on average earnings growth of about 21% for the 2nd half of 2018 and the first half of 2019. This would take the forward P/E up to about 17 based on expected EPS of $8.58 for 2019. That would still be below the industry's forward P/E. With the company improving and saving lives, you can feel good about your investment.
Let me know your thoughts on the company in the comment section below. If you like getting free analysis for great investment ideas, click on "Follow" at the top of the article near my name. That will allow my articles to display on your homepage as they are published.