With the S&P 500 (SPY) having recently finished reporting Q2 2018 earnings it looks to have been an excellent quarter for company earnings across the board, with an overall market boost from varied results by sector.
The economy is now red hot and the market seemingly is pushing upwards despite the tariffs conflict, with undoubtedly many now wondering whether we have reached a top in which growth can only now slow.
I believe that while growth may begin to slow a bit from the currently sky-high levels that the overall U.S. market likely will continue to see gains for several quarters to come, as the earnings and revenue growth will still be substantial and given the current market valuation levels.
Q2 2018 Was Excellent, But No Top To Market Growth
According to Thomson Reuters the S&P 500 showed roughly 23.5% year-on-year earnings growth compared to Q2 2017. This is just as high as Q1 2018 and this kind of year-on-year growth remains historic in comparison to this past decade's comparatively lower earnings growth rates.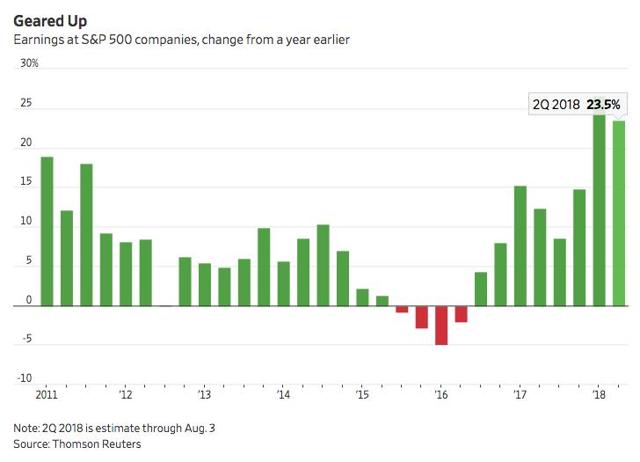 (Source: The Wall Street Journal)
The strongest sector growth was in energy while the weakest was in real estate and utilities, which nonetheless still showed year-on-year gains.

(Source: Thomson Reuters)
At this level, many undoubtedly worry that we've reached a top and that the overall market may have trouble continuing to grow as growth rates potentially decline. While this maybe slightly so, according to projections it appears S&P 500 earnings will continue to grow at current 20%+ year-on-year rates for another two quarters before returning back to 2017 growth rates of roughly 10%.
It is worth noting that these are all still growth projections, as it appears that the current economic environment remains upbeat and a recession appears unlikely for years still. U.S. economic growth remains exceptionally strong and is expected to continue at a heightened level for quarters to come.
The S&P 500's forward 12-month P/E ratio is in fact only 16.8 based on current estimates. While this is not necessarily the lowest of the past decade, it is also not the highest and remains a positive indicator for continued general market gains.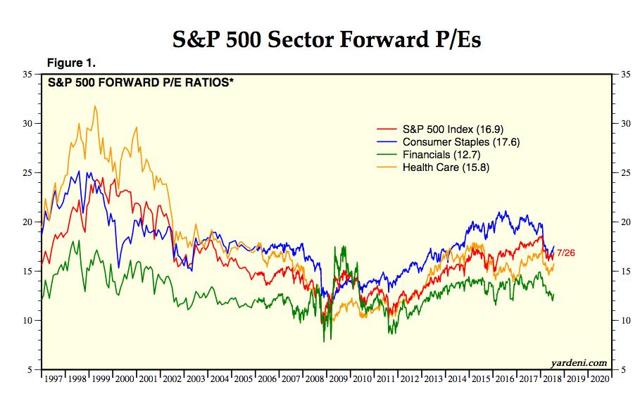 (Source: Yardeni Research, Inc.)
The overall market is now almost recovered to the level it was in January 2018 before the whole current trade war tariffs battles completely changed the fundamentals of a lot of the factors to consider in valuing it.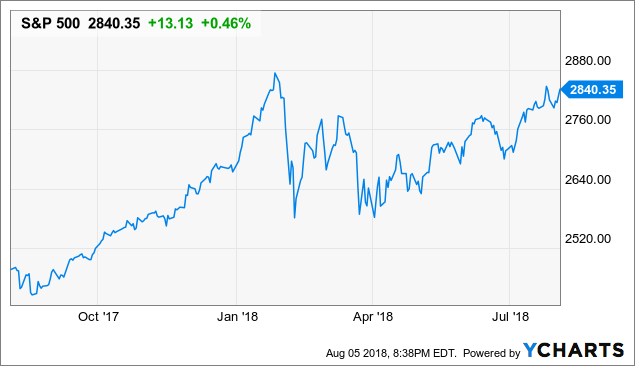 Inflation remains moderate, with it being neither too high nor too low.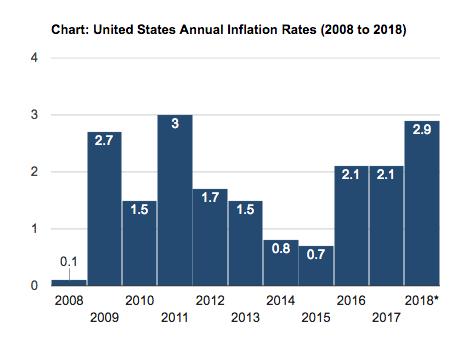 (Source: U.S. Inflation Calculator)
Based on all of this I expect that the U.S. domestic equity markets likely will continue to show some moderate levels of growth this upcoming year, as the economic environment remains supportive and company earnings continue to justify valuation increases at a multiple similar to now.
Undoubtedly there also are some uncertain factors, as we've seen how the tariffs conflict has occasionally over these past few months caused price drops in various sectors.
Furthermore, a major reason why the S&P 500 has not jumped as much as earnings have - with the S&P 500 up only 14.88% year-on-year compared to the 23.5% year-on-year earnings increase - is because some of the major tech stocks have had turbulent market reactions to mixed or positive earnings reports. We saw this with companies such as Twitter (TWTR), Facebook (FB), Netflix (NFLX), and others.
I believe tech's decline is a temporary market effect, created by both unique scandals and incidents at the moment combined with downgraded but not dramatically impactful future revenue and earnings projections. When this contradiction between earnings and valuation resolves itself the market likely will show more growth as well.
Conclusion
It has been a great quarter, and indeed an excellent year, for company earnings and many company valuations are reflecting that growth as is the market as a whole. While growth may have difficulty keeping the same pace as its current levels, nonetheless that doesn't mean the overall equity markets don't still have room to grow as well.
Based on the overall current valuation of the market and still-strong growth rates in upcoming quarters, as well as a positive economic environment expected to hold up for a few more years, I think the market likely will continue to chug along with gains as well.