Midstream made gains for a 5th straight week, again led by MLPs. It was the best week for the MLP Index since January 2017. Good vibes and momentum carried through from last week with strong results from EPD, OKE and ENB among others, punctuated by the earlier than expected ETE/ETP simplification. After this week's move, the MLP Index has produced total return of 11.3% since June 25th.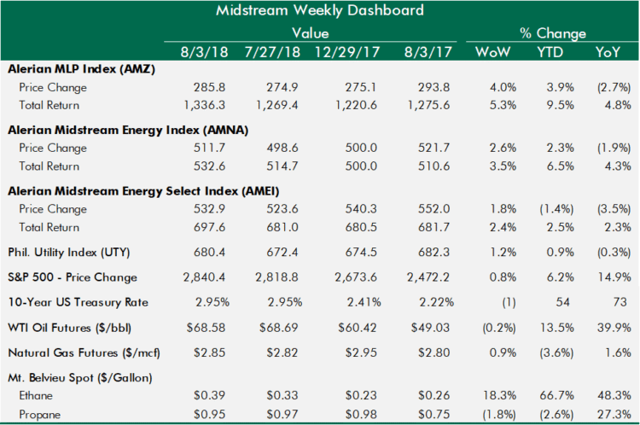 Earlier this week, I published a note on the monthly performance of MLPs and midstream (click here to read it). The MLP Index had its 4th month this year with 5%+ total return, and the record is 6 in 2009.
If You Re-Build It, They Will Come
This summer has been an exercise in faith for midstream believers. Midstream companies needed to show evidence that the universally-acknowledged positive fundamental environment would flow through to positive midstream results, and it wouldn't be immediately swallowed up by IDR payments, dilutive equity issuance or low returns on capital. Distribution cuts, leverage reduction through asset sales and IDR simplifications set midstream up to start showcasing per share cash flow growth.
The faith part was believing the market would care, and that there would be money ready to jump back in if midstream companies re-built some credibility by making promises and delivering on them. Even if MLPs did that, there would still be looming distribution cuts from large MLPs ETP and BPL that would serve as an overhang on interest in MLPs and midstream by extension. This week's resolution (via backdoor distribution cut) on the future of ETP's distributions removes the biggest overhang, and the market reacted positively.
This week's action could be chalked up to short covering or re-positioning within (e.g. out of OKE, into ETP). Over the next few weeks and months, we'll see if fresh money lines up to buy midstream stocks like the line of cars at the end of Field of Dreams after Kevin Costner's character "builds it."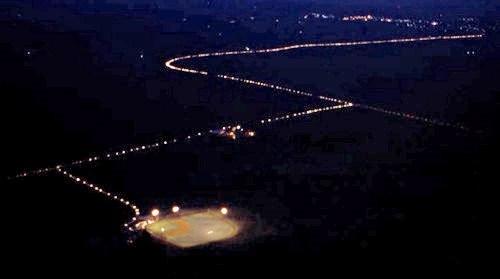 Doing the Bull Dance, Feeling the Flow, Working It…
There has been some hesitancy to give midstream companies the full benefit of the doubt, which provides a nice tailwind for midstream if estimates need to increase after the strong results so far this year. EPD had a huge quarter, and on the EPD earnings call CEO Jim Teague paused during Q&A to ask an analyst the following: "How bad did you miss it?"
More humility from management teams is probably warranted in the still nascent midstream recovery, but the quote is a reminder of how gun-shy the market has been when layering in the upswing in margins and volumes after being conditioned to expect less the last few years. Perhaps a positive feedback loop is just beginning.
I am reminded of the following quote from Kevin Nealon's character in Happy Gilmore: "Oh yeah. Lotta pressure. You gotta rise above it. You gotta harness in the good energy, block out the bad. Harness. Energy. Block. Bad. Feel the flow Happy. Feel it. It's circular. It's like a carousel. You pay the quarter, you get on the horse, it goes up and down, and AROUND. It's circular. Circle, with the music, the flow. All good things."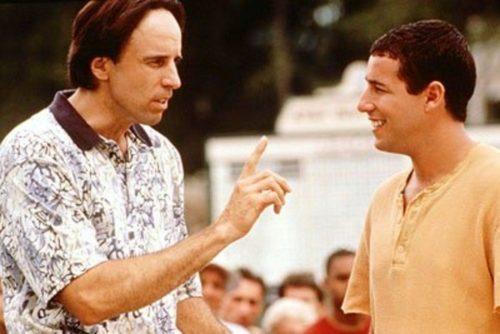 Implications: Role Models and Peer Pressure
Energy Transfer's announcement was a big deal this week. ETP was expected to be rolled up into ETE eventually, but it wasn't the next IDR simplification in most people's minds. The announcement puts the market in the unfamiliar position of wishing that other MLPs would behave more like ETP, at least in the case of under-promising and over-delivering on simplification.
The cynical view is that ETP's announcement is a good way to avoid an outright distribution cut by doing it back door and having time between announcing the deal and closing the deal to ramp up cash flow from pending projects. The more hopeful view: ETP's simplification is capitulation by an old school management team that reluctantly acknowledges the IDR structure is no longer palatable.
The simplification could be a catalyst to stimulate further interest in MLPs and midstream. But, it also creates a problem for some large MLP managers who have held big positions in both ETE and ETP. That concentration will become very clear pro forma the merger and might lead to some selling pressure during the process. It may hasten the switch towards more midstream corporation exposure because the number of liquid MLPs keeps shrinking.
IDR holdouts will have added pressure to simplify, and MLPs with IDRs were bid up enthusiastically Thursday on hopes of a similar deal and similar reaction to ETP when their IDRs are collapsed. WES, PSXP, DCP, SHLX, EQM, ENLK and AM all have still have IDRs, but the big players have addressed their IDRs and reset distributions such that by next January, MLP Indexes may have yields that can start to be relied upon again.
Winners & Losers
ETP was far and away the winner of the week on its simplification merger. Not too far behind was ENLK and CNXC, which posted strong results, and WLKP that traded up on an IDR announcement of its own. Among the losers, HCLP gave back some of its incredible rally from last week. AMID continued to linger towards the bottom of the group. APU posted weak results and sold off.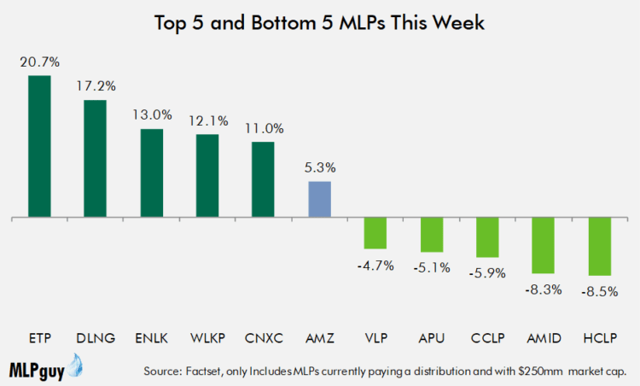 The YTD leaderboard has transformed the last two weeks. HCLP joined the top 5 last week, and ETP catapulted to second place with a 46.3% total return since the beginning of the year. It has been so long since ETP was in the top 5 that its old ticker symbol (SXL) hasn't been eliminated from my chart database, apologies for the error in the chart. BPL's rally Friday helped it climb out of the bottom 5.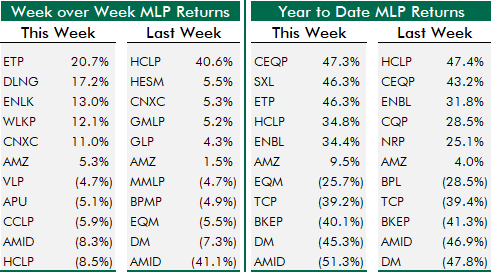 General Partners & Midstream Corporations
GPs and midstream corporations didn't see quite as much volatility as MLPs this week, and they underperformed the MLP Index as a group. But there were still some pretty big moves, most notably ENLC, WMB and ETE on the upside. Cheniere was hurt Friday on potential tariffs on U.S. LNG exports to China. OKE's beat and raise weren't enough to match elevated expectations, while AMGP's results were overshadowed by lack of resolution on simplification.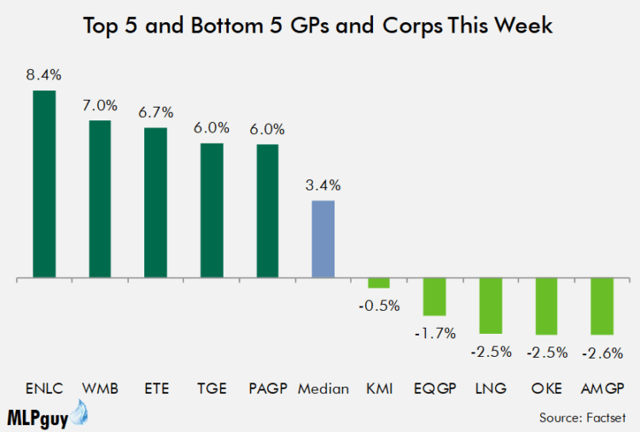 Lots of movement on the YTD leaderboard this week, but even after selling off a bit this week, OKE is still on top. PAGP and ETE leapfrogged LNG and are each up 15%+ for the year. ENLC's big week left it outside of the bottom 5, replaced by KMI.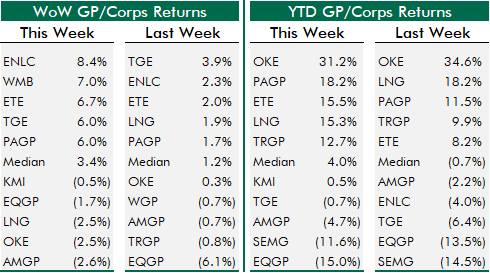 Canadian Midstream Corporations
Canadian midstream stocks were positive across the board this week as positive midstream momentum made its way to Canada this week. Pembina (PBA), Enbridge (ENB) and TransCanada (TRP) posted strong results and seem to be on their way to hitting the high end of their respective guidance ranges. Keyera (OTCPK:KEYUF) and Inter Pipeline (OTCPK:IPPLF) report next week.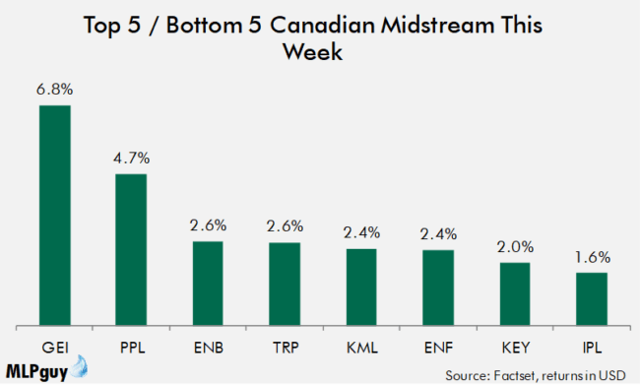 YTD leaderboard is starting to look better, but there was no change to the order of the YTD performance vs. last year. ENB has made up some ground the last few months, but remains at the bottom, alongside fellow mega-cap TRP.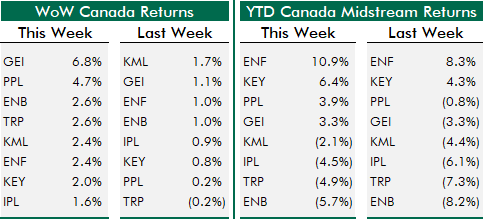 News of the (Midstream) World
Lost a bit in the ETE/ETP simplification news were some big transactions announced early in the week from Williams, a massive potential pipeline project from TGE and another natural gas pipeline from a consortium that includes TRGP.

Capital Markets
Viper Energy (VNOM) priced public offering of 9mm units at $31.25/unit, raising $281mm (press release)

Overnight offering, priced at 2.3% discount, and traded up 10.1% in the following session
Global Partners (GLP) priced offering of 2.4mm of 9.75% Series A Fixed-to-Floating Rate Cumulative Redeemable Perpetual Preferred units at $25.00/unit, raising $60mm in gross proceeds (press release)
Growth Projects/M&A
Energy Transfer Equity (ETE) announced merger with Energy Transfer Partners in all-stock transaction that will eliminate incentive distribution rights structure (press release)

ETP unitholders will receive 1.28 ETE units for each ETP unit they own
Ratio represents an 11% premium to prior closing price
ETP unitholders will see a 31% reduction in distributions received
ETP expects to maintain investment grade credit rating pro forma the transaction
ETE's GP will maintain control by waiving its existing contractual pre-emptive right to purchase additional ETE units and will instead receive newly created Class A units to keep its ownership percentage
Williams (WPZ, WMB) announced two transactions resulting in the company gaining DJ Basin exposure and exiting its Four Corners Area in New Mexico and Colorado (press release)

WPZ sold its Four Corner assets to Harvest Midstream for $1.125bn at an implied 13.7x 2018 EBITDA

The system encompasses more than 3,700 miles of pipeline, two gas processing plants, and one CO2 treating facility

WPZ and KKR entered into a 40/60 JV which acquired Discovery Midstream from TPG Growth for $1.173bn at an estimated 5-6x 2020 EBITDA, including additional $250mm investment

Discovery operates in the south portion of Colorado's DJ Basin and includes a 60 MMcf/d gas processing plant with an additional 200 MMcf/d plant that is fully permitted and under construction
WMB will be the operator and has committed to fund additional capital to bring its economic ownership to 50%
Targa Resources (TRGP), NextEra Energy (NEE), MPLX, and WhiteWater Midstream announced the agreement to jointly develop the proposed Whistler Pipeline Project which will transport natural gas from the Permian to markets along the Texas Gulf Coast (press release)

The 42-inch, 450-mile long project will have capacity of 2 Bcf/d from Waha, TX to NEE's Agua Dulce market hub with an additional 170 miles of 30-inch pipe from Agua Dulce to Wharton Country
Operation is expected to begin in Q4 2020 and the project will be constructed by NEE and operated by TRGP
Magellan Midstream (MMP) announced plans to expand the capacity of the western leg of a pipeline system in Texas to 175,000 bpd from 100,000 bpd (press release)

MMP had previously planned to expand capacity to 150,000 bpd before its recent supplemental open season
Capex expects to be $500mm and the additional capacity is expected to be available mid-2020
MMP also announced a $120mm expansion of the infrastructure of Seabrook Logistics, a 50/50 JV with LBC Tank terminals (press release)

Expansion includes 700,000 barrels of additional crude oil and condensate storage as well as a new Suezmax dock with 400,000 bpd of dock capacity
Tallgrass Energy (TGE) announced open season for a large-scale crude oil pipeline from Cushing to the Gulf Coast, with potential for export-capable terminal (press release)

Proposed Seahorse Pipeline is expected to be 30 inches in diameter and 700 miles long with 800k bbls/d with batch capabilities allowing for crude volumes from PXP to flow through Cushing to reach refineries and export markets
Proposed Plaquemines Liquids Terminal (PLT) is a joint project with Drexel Hamilton Infrastructure Partners and is being structured as a public, private partnership (P3) with Plaquemines Port & Harbor Terminal District, a Louisiana state agency
TGE expects that PLT and its 20mm barrels of storage would be in-service in 2Q 2020, with potential offshore pipeline extension to load VLCCs to be operational by 3Q 2021
Very ambitious project overall, and dependent on commitments through the open season that starts 8/15 and runs 45 days
TransCanada (TRP-CA) announced agreement to sell its 62% share of the Cartier wind power facilities to Innergex Renewable (INE-CA) for $630mm (press release)
EnLink (ENLC) announced binding open season for expansion of its Greater Chickadee crude oil gathering system located in the Midland Basin (press release)

Expansion will increase capacity to 100,000 bpd from 62,000 bpd
Southcross Energy (SXE) announced termination of merger agreement with American Midstream (AMID) (press release)
Other
Westlake Chemical (WLKP) announced IDR reset well above current distribution that removes any IDR burden for the next 10 years (press release)

Preserved optionality on the future IDR stream 10 years from now
Distribution Announcements
Editor's Note: This article discusses one or more securities that do not trade on a major U.S. exchange. Please be aware of the risks associated with these stocks.