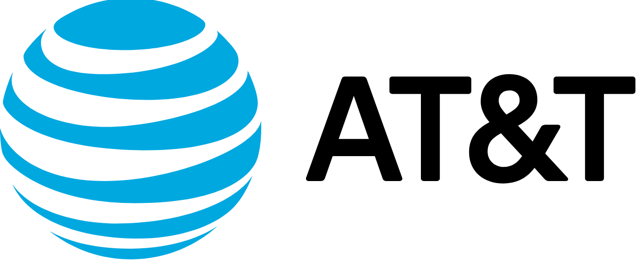 AT&T (NYSE:T) is a media and telecom behemoth. While the company has been in the news a lot lately because of its highly publicized court battle to get its acquisition of Time Warner approved, the market seems to be ignoring the most important facts about AT&T: its incredibly good proposition for investors.
Sporting a 6.2% dividend yield and a forward P/E multiple of 8.9x, AT&T trades at a significant discount to its peers. It also trades at a significant discount to itself, with the current P/E and dividend yield approaching the lowest levels seen since the financial crisis.
But there is no financial crisis at the company. In fact, AT&T has very strong long-term prospects. In my humble opinion, AT&T is the largest untold value story of 2018 and it's hiding in plain sight.
The Current State of AT&T's Telecom Empire
AT&T is organized into 4 segments: Mobility, Business Solutions, Entertainment, and International.
Mobility
Mobility is AT&T's wireless data and voice services business. The company has 142 million wireless subscribers in the United States and has a leading wireless network which covers over 400 million people in North America with LTE service.
In recent years, the wireless business has been under pressure to because of a price war in the industry. The price war has seen the segment's revenue decline by 15% from its peak in 2014 to the end of 2017. The good news is that there are signs that the industry is starting to rationalize (Source: "AT&T, Verizon show stabilization in wireless in Q2").
The next big hurdle for the segment is 5G deployment. 5G will start to be deployed at the end of 2018, but likely won't be fully rolled out nationwide until around 2020. 5G will be a game changer. It will boast speeds of up to 4 gigabits per second and could usher in the era of delivering internet directly to the home via wireless (Source: "AT&T and Verizon's 5G networks are coming this year and your internet speeds will be insanely fast when they arrive"). This will translate into greater wireless revenues for AT&T, as the company will be able to up-sell packages to existing and new customers. While all the major wireless companies are developing 5G technology, AT&T and Verizon are best positioned to benefit, as they have the best scale to lay out the necessary capex while capturing strong economics. This should prove to be a competitive advantage in the coming years.
Business Solutions
The Business Solutions segment houses all of the voice and internet services provided to private businesses and public organizations. There isn't much exciting news to talk about with this segment. Results have been flat for years as more businesses have cut their landlines and negotiated bargains in their packages.
Entertainment Group
The Entertainment Group segment houses a diverse collection of assets, including consumer pay-TV, consumer internet, consumer landlines, digital advertising, and now Time Warner.
AT&T has been very acquisitive in pursuing growth for this segment. Recent acquisitions include DirecTV (2015), AppNexus (2018), Time Warner (2018). The net effect of these deals is that the company has expanded its reach into digital advertising (AppNexus), content creation (Time Warner) and greater scale in pay-TV (DirecTV).
International
The International segment provides internet, wireless, TV and voice services to Latin American countries. The segment was greatly enhanced with the acquisitions of DirecTV and Iusacell in Mexico. Over the long term, this segment should grow nicely, as internet penetration in Latin America is quite low when compared to the US in addition to faster-growing demographics.
Transformation of the Telecommunications Space
AT&T acquired AppNexus and Time Warner because it wants to stay ahead of the trends in telecom convergence. The idea behind this is that due to technological innovation and competition, communications companies continue to bundle services in order to better monetize their assets and offer differentiated services versus their competition. The first wave of convergence saw pay-TV bundled with landline phones. Then we saw triple plays with internet included in phone and TV packages. Finally, we had quad plays, including wireless (Source: Tech, media, and telecom convergence in 2016").
The current wave of telecom convergence involves bundling with content. For example, T-Mobile (NASDAQ:TMUS) offers to pay for users' Netflix (NASDAQ:NFLX) subscriptions. Sprint (NYSE:S) bundles with Hulu. We are starting to see "skinny bundles" offered with a select group of TV packages. The more media properties a communications firm has access to, the more ways it can offer its services to customers. We may start to see HBO Go being bundled with AT&T wireless services, as an example.
The other side of convergence is better monetization of owned assets. AppNexus is a leading digital and programmatic advertising platform. AT&T can now leverage this platform to sell mobile ads and TV ads.
In another example, Verizon (NYSE:VZ) acquired AOL and Yahoo, which each had major advertising networks. In doing so, Verizon became the third largest digital advertising company in the world (only behind Google (NASDAQ:GOOGL) and Facebook (NASDAQ:FB)) (Source: "Where Will Verizon's Oath Stand In The Digital Advertising Market?"). Furthermore, it established a foothold in digital media with dozens of highly trafficked websites such as Huffington Post and TechCrunch. Verizon can now leverage its place in digital advertising to find interesting ways to monetize its wireless or internet offerings. This will be an interesting story to watch play out in future years. (I am also long VZ.)
AT&T's Valuation
So, what does the largest US telecom company trade for? Surprisingly, very cheap. AT&T trades at the absolute lowest valuation multiple and has the highest dividend yield among all of its peers.
Why is this the case? Perhaps a size or complexity discount? Perhaps because investors think the Time Warner merger was messy and weren't sure how to handicap the odds of the deal getting through. Sure, AT&T's wireless and pay-TV businesses have been under pressure recently, but you could point to similar trends at its competitors. This valuation discount on both a relative and absolute basis just makes no sense to me.

Sentiment has gotten so bad on AT&T that its current dividend yield at 6.2% is approaching levels not seen since 2009 during the Great Financial Crisis.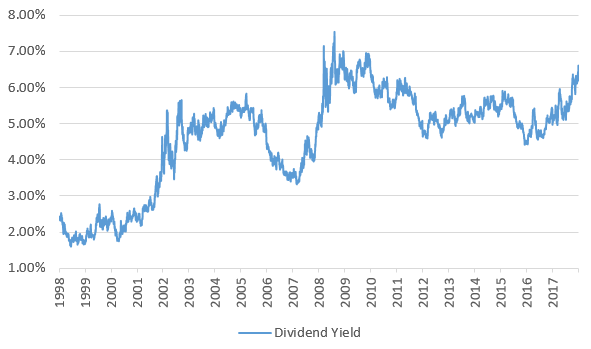 (Source: Capital IQ, Author's work)
AT&T is not just cheap on a dividend basis. The stock's forward price-to-earnings multiple is also approaching 2008 levels, which is the lowest P/E multiple it has carried over the past 20 years.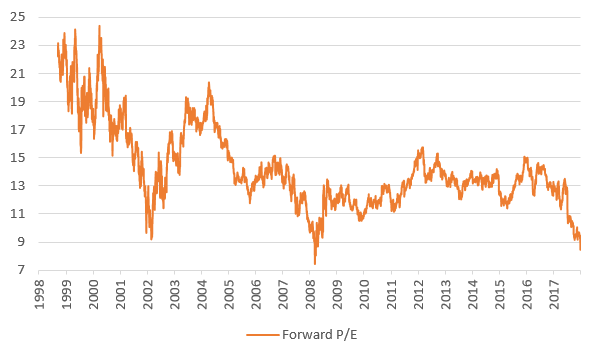 (Source: Capital IQ, Author's work)
Is the Dividend Safe? Yes
Usually, when P/E multiples are this low and dividend yields are this high, it is a red flag that the company is in some kind of financial stress. However, this is simply not the case at AT&T. The dividend not only appears safe, but the company has pledged to continue growing the dividend per share payout.
Below is the analysis I used to determine the safety of the dividend. I use Wall Street consensus estimates for AT&T's 2018E and 2019E financials, which bake in the effects of all the mergers the company has done (including shares issued, debt issued, and expected synergies). What we see is that dividends only use up two-thirds of AT&T's free cash flow (which is after interest payments on the debt issued to finance acquisitions). In fact, the Time Warner acquisition appears to have given the company more capacity to pay dividends.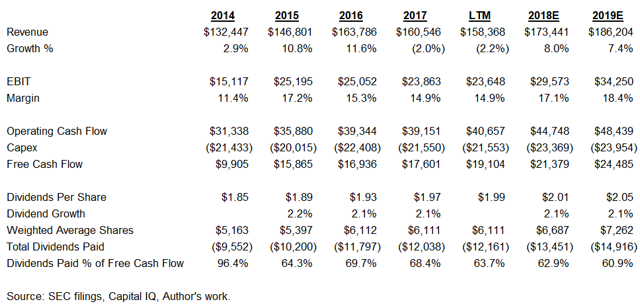 Key Investment Risks
In my opinion, given the low valuation and the fortitude of AT&T's business and balance sheet, I believe the stock is fairly low-risk. However, some factors that could result in a lower share price include:
A step-up in competitive pressure in wireless
An increased trend of consumers cutting the pay-TV cord
Issues integrating the recent mergers
Disclosure: I am/we are long T, VZ.
I wrote this article myself, and it expresses my own opinions. I am not receiving compensation for it (other than from Seeking Alpha). I have no business relationship with any company whose stock is mentioned in this article.