I first started writing about Career Education Corporation (Nasdaq: CECO) in late 2014. Since I first started buying, the stock has performed as I expected, going from around $3 to $18. In addition to outperforming the markets by a very wide margin (it's had a similar 5-year performance as Amazon (NASDAQ:AMZN)), it has also left its peers in the dust.
Despite this, the company remains under-followed by both retail investors who almost never comment on it via the normal channels, or by analysts on calls, investor events, etc.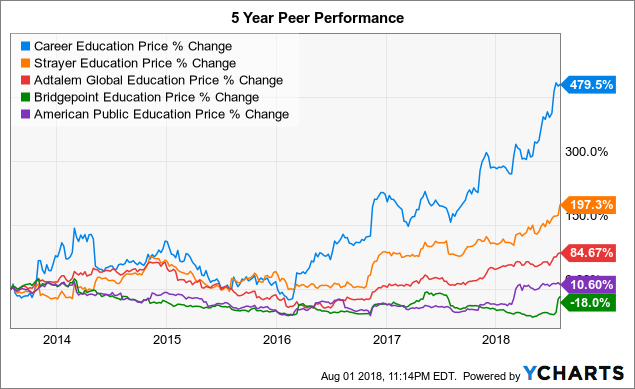 While the company continues to perform well operationally, its financial future has finally arrived and will soon be broadly recognized by the markets.
The company remains under-priced by half, as I will explain.
To understand this more, you have to understand the transition the company is now completing as well as GAAP financial requirements, which hid actual underlying strength and profitability for years.
The Last 3 Years
Beginning in May 2015, and to a certain extent before that, the company made the tough but prescient decision to divest or close (meaning "teach-out") all of its unprofitable segments.
But unlike most companies that simply pivot from losing propositions, CECO was required to teach-out its unprofitable divisions rather than simply close them. In short, this required the company to continue running the schools without taking new enrollments. While the necessary thing to do, it was also incredibly burdensome on the company and shareholders who continued carrying expense costs for several years on an ever-dwindling revenue base.
For example, in 2016 (one year after announcing the teach-outs), the company reported year-end operating income on continuing operations of 45 million and an operating loss from teach-out schools of 77 million. A large GAAP loss. In 2017, the company reported operating income on continuing ops of 95 million and an operating loss from teach-out schools of 61 million. A small profit overall, but still discontinuing ops that represented a huge chunk of earned profits.
Even this year, the company is spending approximately 410 million running a few remaining schools for what were only 100 students at the start of the year, and now 10 students at mid-year.
These cash negative teach-out operations had the effect of masking otherwise stable and profitable ongoing operations. And due to changes in GAAP accounting policies in 2015, the company couldn't even report these teach-out operations as discontinued! Counter-intuitive for sure.
They have been reported the whole time as ongoing operations even though in practice they are anything but.
While the company has taken certain steps to bifurcate its earnings reports to demonstrate the strength of continuing operations, to many investors, including any using automated tools that pull from GAAP data, the details were likely lost.
If all one does in analyzing Career Education is to look at a stock screener or major website that pulls from GAAP financials, the effort most investors ever give, they will see a business without profit (or only very recently profitable), a company with systemically declining revenues, etc. Even a recent Seeking Alpha story on the company said as much. However, this isn't the actual story.
A New Day
Career Education's ongoing financial performance is predictable, consistent and growing.
Due to a number of exogenous factors - many politically driven - but also due to the great recession, for profit education hasn't had an easy time. That is beyond the scope of this article, but I recommend you read my prior articles on this subject.
Needless to say, this regulatory environment has turned 180 degrees. The remaining two institutions the company runs (all but 10 of the company's 31,700 students) are Colorado Technical University (NYSE:CTU) and American Intercontinental University (AIU). CTU has, and remains, the best performer generating a steady and increasing amount of cash year after year. Operating profits from CTU look like this:
| | | | |
| --- | --- | --- | --- |
| 2014 | 2015 | 2016 | 2017 |
| 69 million | 87 million | 99 million | 109 million |
(Yearly operating profits data from company filings. Compiled by author.)
AIU's profits have been mostly flat, but very predictable, and finally showing signs of improvements. For example, the company recently enacted 8% tuition hikes at AIU, and this division is showing industry-leading enrollment trends. The company expects (and I expect) that AIU numbers will more closely resemble CTU's numbers in the future.
CECO's financials by year-end will finally show its actual ongoing business for what it is. As management stated in 2015, the model - online, adaptive, etc. - will generate some of the highest margins in the business, with each incremental dollar being highly accretive to the bottom line.
Dovetailing this with a favorable regulatory environment, and favorable (or even very favorable) economic conditions, the business could take off in a significant way.
The Market Opportunity And Career Ed's Competitive Moat
Education is and remains one of the largest sectors of the economy. And not just largest, but also important. The ways in which higher education is taught are at the same time, more expensive than ever, and transmitted in ways that many young Americans are out of sync with. See my prior stories outlining this in greater detail.
The future of higher education is one that is online, asynchronous, adaptive, and mobile. In short, built around the students - not the institutions.
Compare that to how most colleges function today - largely the same as they did 10 or 20 years, or even 100 years ago. They are either not online, or have poor contrivances that suffice as such. They are largely taught live, in a classroom - not asynchronous. Think morning and afternoon classes, 4 or 5 days a week either across town or in another city you have to move to. They are not adaptive, meaning that students are not taught in ways that they learn best. As for mobile, the vast majority of schools have no strategy whatsoever around providing an app experience for learning and progressing.
At the end of the day, higher ed learning is built around the betterment and sustainability of the institutions and those working there rather than the student. This explains the out of control costs, disengagement by students and the high failure rate of many.
The industry is ripe for disruption.
So What Should CECO Be Worth?
Short answer - a lot more.
The number of investible options has shrunk dramatically. Let's take a look.
The major players remaining are the newly formed Strategic Education (STRA) - a merger of Strayer Education and Capella, Adtalem (ATGE), American Public Education (APEI), Bridgepoint (BPI) and Career Education.

(Market data from company 10Ks. Compiled by author.)
On an Enterprise Value/Continuing Operating Profits perspective, CECO trades for far less than their peers. For example, Strategic Education's reported operating income last year from its two institutions were 117 million, while its Enterprise Value sits over 2.4 Billion. This is a multiple of 21.
Career Education has a similar multiple of 9.
And further magnifying this difference, companies like Strategic Education and Devry carry much higher capex costs (see table), which further reduce free cash flows. They also pay taxes at the full corporate rate.
Career Education is far less capital intensive than other successful companies in the space (see table). More than 90% of Career Education students are online. Unlike other peer companies that have a large real estate footprint, CECO has been perhaps the most deliberate in avoiding this, seeing the future of education as online and anywhere. They have spent years building a sustainable, competitive advantage around technology rather than trying to identify which office spaces their students might want to go to next year, or in 10 years.
Career Education has substantial deferred tax assets that will help it avoid cash taxes for years. As the CFO said this week, "we do not expect to pay any federal income taxes due to the $215.5 million of federal net operating loss carry forwards that existed as of December 31, 2017."
So if one were to add back in the deferred tax assets which Career Education carries, it makes future income that much more profitable to shareholders and the gap between CECO and its peers even more pronounced.
Put another one, the company has not provided an exact estimate on future free cash flows, except to say that there will be a dramatic improvement based on teach-out operations winding down going forward.
But we can infer free cash flows. For instance, the company has stated that on June 30, 2018, the company had 190 million in cash, and that at year-end, they expect to have approximately 220 mm in cash. Additionally, in the third quarter the company will be incurring a one-time settlement expense of approximately 13 million. As such, adding back the one-time expense, we can reliably estimate free cash flow generation in the second half of 2018 at approximately $43 million.
Annualized that is 86 million for 2019, assuming no additional improvement, which there is still likely to be (see comments below).
Compare that to Strategic Education, which will also generate $86 million in free cash flows in the most recent fiscal year. However, Strategic has a market value of approximately $2.8 billion, while Career Ed is 60% less. Another strong indication that Career Ed should double (or more).
Or compare to Adtalem Education. In the last full fiscal year, Adtalem reported free cash flows of $179 million. On a comparative basis, this is twice that of Career Ed, but they have a market cap 3 1/3 times larger.
Also, Career Ed will significantly reduce their transitional lease costs in 2019 and thereafter by about 75% compared to 2018, with even greater reductions in out years (page 32 of current 10-Q). This benefit alone will add 15 million going on 20 million of yearly additional cash flows on a permanent basis.
Should Career Education be valued similar to other peers, it should be trading at between $30 and $36 today.
Q2 2018 Update
The company reported total operating income for the YTD that is 68% higher than last year. 24% for the current quarter. Total enrollments at CTU were at a 6-quarter high, and new AIU enrollments rose 9%.
The drop appears to be related to a bottom line miss of 8 cents (based on 1 or 2 analysts' opinions) based entirely on a small one-time event that clears up a potential future liability.
The stock remains woefully under-followed and misunderstood by analysts.
That said, the stock (as of this writing) dropped as much as 17%.
Management expects operating income on a GAAP basis to improve by 500% next quarter from $4.5 million to approx $22 million. If next quarter is anything like anytime in the last two years, they will beat that $22 million.
They also expect continued strength at CTU, and outsized strength at AIU, both in new and total enrollment. Numbers they ought to have good insight into given that the quarter is 30 days in and enrollment numbers and trends for the Fall likely set.
In Conclusion
Higher education is probably more important today than it has ever been. At the same time, state funding is far more squeezed, and what were traditionally more affordable public options, have become ever more expensive. Many schools cannot handle the demand and thus turn away valid prospects, and more nefarious, but not talked about, provide such poor support that many students simply quit, regardless of price. Other students (not fitting the traditional model), have life to deal with and don't find the traditional higher ed model something that works for them.
Also, due to regulatory pressure, and due to certain consequences of the great recession, far fewer for profit educators exist today than in past times. Some closed. Others have been taken private either merging with public institutions that see the changes afoot in online education, or by private equity that sees the same thing. Think University of Phoenix, Kaplan and soon Devry. Other large players closed, and this presents the companies that remain with a unique opportunity to grow in a less competitive environment.
Career Education is one of the largest companies in the space. Their continuing operations (which is really all that remains now), are both predictable and growing. Because they are online, the company's operating profits essentially fall to the bottom line and don't get eaten up by a large cap ex footprint or taxes. The company has no debt.
Other peer companies have much greater capex, cash taxes payable, and some carry debt payment as well.
Yet despite this, CECO still trades at a significant fair value discount.
Filling this discount would equate to a stock price of between $30 and $36.
But a few things that might make the stock go even higher than that:
Should the company improve AIU's operations to look more like CTU, as the company expects can happen.
Should an economic dip occur that sends more students back to school as it has traditionally. New students are highly accretive to shareholders.
Should the company's organic projects continue (as they have consistently done) to increase margin.
This author expects that any or all of these events are likely to send the stock even higher than the range outlined here. I have been saying to buy from $3. Yet even today, the stock remains undervalued by half, with greater upside beyond that.
Disclosure: I am/we are long CECO. I wrote this article myself, and it expresses my own opinions. I am not receiving compensation for it. I have no business relationship with any company whose stock is mentioned in this article.