Shares of fast casual burger concept Shake Shack (SHAK) are plunging after the company reported second quarter numbers that didn't quite live up to the hype. Headline revenues, comparable sales, and earnings topped expectations. But SHAK stock had rallied big into the report, and the headline beats simply weren't big enough. As a result, SHAK stock is dropping.
We think this is just the beginning of what could be a huge sell-off in SHAK stock. Over the past several months, the stock price sprinted way ahead of fundamentals on euphoria regarding a return to positive comparable sales growth. But euphoria always dies down and is eventually substituted by more sustainable fundamentals.
Unfortunately, those fundamentals point to further downside in SHAK stock. We realistically don't see this stock being worth much more than $40 today, making the present $60 price tag seem significantly overstated. As such, we think the post-earnings sell-off is just the beginning of what could turn into a multi-month rout in SHAK stock.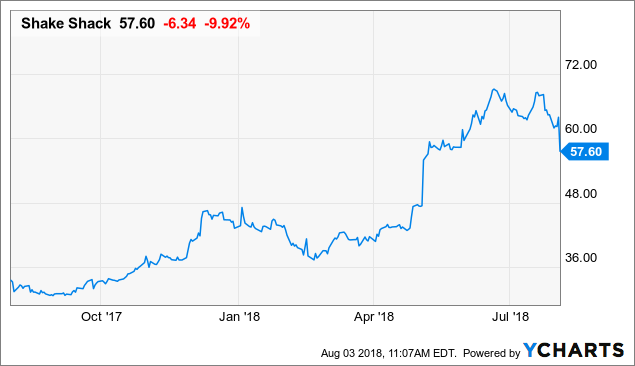 Shake Shack's quarter wasn't all that bad. Revenues topped expectations. So did earnings. Comparable sales came in at 1.1%, slightly ahead of expectations. Unit growth remained robust. The guide was fairly strong. Overall, not an awful quarter for Shake Shack.
But SHAK stock was trading at a triple-digit forward earnings multiple heading into the report. At such a huge multiple, Shake Shack needed more than "not an awful" quarter to send SHAK stock higher. The company needed to report a near perfect quarter in order to boost the stock. Unfortunately, the quarter was far from perfect, and the numbers were at a total disconnect with a triple-digit valuation.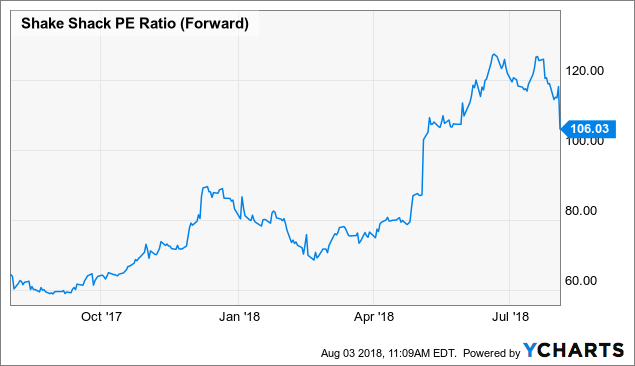 We identify three core problems with the bull thesis on SHAK stock. Those problems are as follows:
Traffic is in decline. Positive comparable sales growth is being driven by price hikes, not traffic growth. For the past several quarters, traffic has been in decline. Granted, the decline moderated sequentially, but a 2.6% decrease in guest traffic is far from a good thing. This dynamic of positive comparable sales growth through higher prices and lower traffic does not seem sustainable, and if lower traffic persists, that will eventually result in negative comparable sales growth.
Unit volumes and margins are falling back. Due mostly to lower traffic, Shake Shack's average unit volume and average weekly sales at company-operated stores are dropping. Just a few years back, average weekly sales were clocking in around $96,000. Year-to-date, average weekly sales are just $85,000. The drop in average unit productivity has catalyzed a concurrent drop in Shack-level profit margins, which have fallen from 29% a few years ago to below 27% year to date.
Valuation is massive, and profit growth isn't massive. SHAK stock trades at a triple-digit forward earnings multiple. That is a multiple normally reserved for the likes of Amazon (AMZN) and Netflix (NFLX). Both those companies are growing earnings by more than 100% year over year. Shake Shack's earnings growth last quarter was under 40%. That is big, but not big enough to warrant a triple-digit forward earnings multiple.
The big picture idea here is that Shake Shack is having trouble emulating heritage market success at scale, and that such struggles will only grow as the business expands into new markets. That means positive comparable sales growth is a big question mark going forward. It also means that average weekly sales and unit volumes will likely keep dropping, which, in tandem with wage hikes, will weigh on profit margins. Lower profit margins mean lower profit growth, and if SHAK stock wants to maintain its huge valuation, profit growth can't afford to head any lower.
We understand that investors want to own this name because of the unit growth potential. Management keeps touting 200 domestic company-owned stores by 2020 and 450 in the long run. That is totally plausible. But, at the current rate of roughly 35 new stores per year, it will take roughly 10 years to get to 450 domestic company-owned stores. The likelihood that average weekly sales continue to drop as the store base grows is high. Thus, at that point in time, it is likely we see average weekly sales volume of roughly $80,000. As a result of lower unit sales volume, unit profit margins will struggle, and this business isn't one to really benefit from economies of scale. Thus, the likelihood operating profit margins are lower in 10 years than where they are today is also high.
All together, modeling this company out 10 years to 450 stores, we still don't think earnings per share power is much more than $4.20 in 10 years. A McDonald's (MCD) type 20x forward multiple on that implies a nine-year forward price target of $84. Discounted back by 10% per year, that equates to a year-end price target of roughly $40.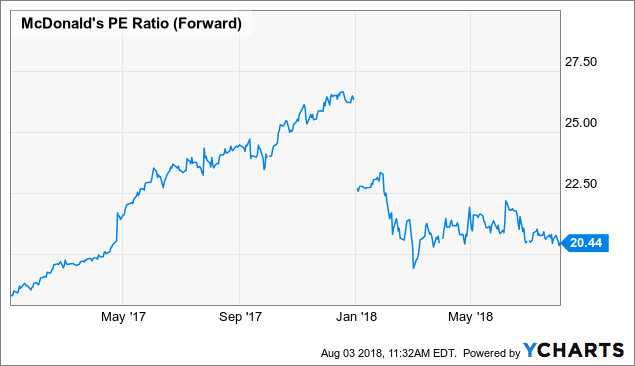 Overall, we think SHAK stock is woefully overvalued at this point in time. Declining traffic, declining unit volumes, declining margins, and mild profit growth are all things to worry about with the stock trading at a Netflix and Amazon-level valuation. We think this post-earnings sell-off could turn into a multi-month rout in the stock and don't see fundamental support until $40.
Disclosure: I am/we are long MCD, AMZN. I wrote this article myself, and it expresses my own opinions. I am not receiving compensation for it (other than from Seeking Alpha). I have no business relationship with any company whose stock is mentioned in this article.