Market Intro

CNBC: ACWX
While US stocks (SPY, DIA, QQQ, IWM) hem and haw without much direction in early Monday trade, international shares (ACWX) are taking to the back foot. It is notable that this tradable index of only foreign stocks is trading closer to 52-week lows rather than highs.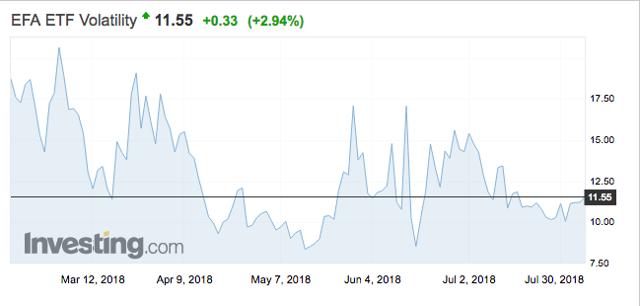 The collective inability for foreign stocks to storm higher has not translated to high volatility readings. Above is the VIX of the EFA, or developed international equity index: the index currently prints very near to SPX spot VIX.

CNBC: 10:57 AM EST
The US 10Yr (IEF, TLT, AGG) yield has flirted with the 3-handle for the better part of 2018. While the initial rise was quite rapid, the capital markets have had time to digest the move and to adapt to a benchmark risk-free rate that is more or less at seven-year highs. Sovereign yields appear well behaved for now, which contributes significantly to the low vol levels observable in risk assets.
Thoughts on Volatility

10.2% sales growth is stunning for this economic expansion. We saw such a figure for the S&P in 2007, and something similar in 2010 when the economy really was getting back on its feet.
When sales pump higher, and margins go on to make a new high (which in the short run higher sales frequently beget higher margins), it is no big surprise to see some large DPS growth. Go US economy and corporate America!

I saw a survey on which company was going to be the first to make it to $2T. And of course, why not? But even if one of the Big Four (AAPL, AMZN, GOOG, MSFT) do go on to achieve such a feat, Ms. Sonders reminds us that long-term returns for the "nicest house on the block" are frequently quite muted relative to peers.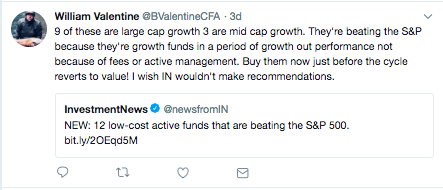 While I am not confident in Mr. Valentine's ability to call when we will switch from growth to value investing, his point stands: people chase performance. That turned out to be a major and unfortunate theme among short-vol investors not long ago. Trend following can be a higher profitable strategy, just so long as it is paired with sensible risk management.
Term Structure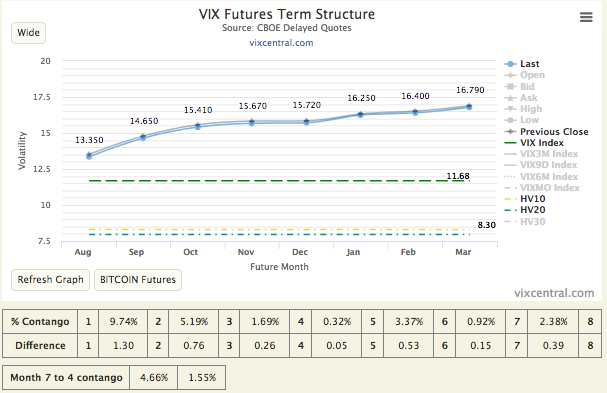 The S&P looks as though it wants to take another crack at all-time highs. With the exception of a couple weeks in June, realized SPX vol has more or less melted away this summer. Recall that almost exactly a year ago the VIX complex got a major wake-up call, but I don't think the two environments share that much in common other than the calendar. Contango on the M1-M2 pair is 9.74%, but more importantly the yield decay between M1 and spot is well over 10%, with plenty of time before August VX expiry.

My view is that for the time being, the overall setup favors short vol (SVXY, ZIV); there are, however, indicators which argue against my read on the matter. Andrew Thrasher observes that the pitch of the VX term structure steepened a little too quickly. He suggests that this may be an overreaction that could be reversed with a rise in the front month (VXX, UVXY).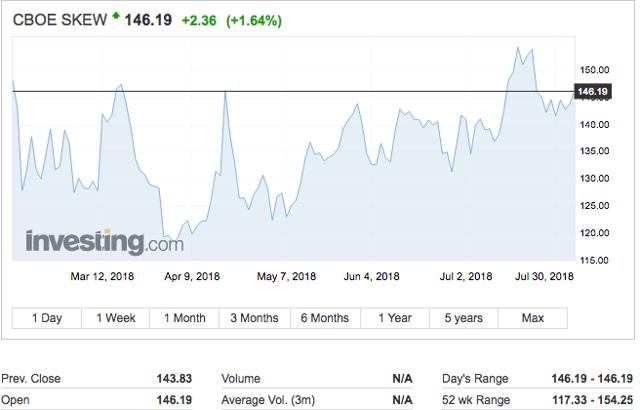 Another metric that points to the possibility of soon-rising volatility is the CBOE SKEW index. SPX options skew (as measured by this index) hit an all-time high earlier in the year, just before stocks dumped (around mid March).
More recently, the high skew preceded the swift rush from SPX 2850 down to 2800 in just a couple days. No index is perfect, but certainly skew readings favor a long-vol stance at the moment.
Conclusion
If this is your first time reading Market Volatility Bulletin, thanks for giving it a try. If you're a regular, we thank you for your ongoing contributions in the comments section.
Thank you for reading.
Please consider following us.
Disclosure: I/we have no positions in any stocks mentioned, and no plans to initiate any positions within the next 72 hours.
I wrote this article myself, and it expresses my own opinions. I am not receiving compensation for it (other than from Seeking Alpha). I have no business relationship with any company whose stock is mentioned in this article.
Additional disclosure: I actively trade the futures and options markets, potentially taking multiple positions on any given day, both long and short. I also hold a more traditional portfolio of stocks and bonds that I do not "trade". I do believe the S&P 500 is priced for poor forward-looking returns over a long timeframe, and so my trading activity centers around a negative delta for hedging purposes.