Attention With KP-415 Is Better Than The Market's Attention On KemPharm
Summary
There is almost no question regarding eventual approval of KP-415 (likely in late 2019).
The market has put too much focus on the 30 minute and 13 hour post-hoc analysis of SKAMP scores, leading to a 42% pullback.
The market is ignoring the importance of Human Abuse Potential data.
The profile of KP-415 compares very favorably to all current MPH stimulants on the 7 key characteristics of a stimulant medication.
KP-415 Data Release
On July 9th, KemPharm (KMPH) released results for their Phase 3 study of KP-415 for the treatment of ADHD. Top-line results were positive, with the primary endpoint of mean change in SKAMP score across all time points being easily met (0.54 for placebo vs. -4.87 for KP-415; p<0.001). Even without the post-hoc analysis (which I'll get to below), this was a highly significant result. As a secondary measure, the change in SKAMP at every time point from 1 hour until 10 hours was also met. Furthermore, the PERMP showed significant improvement from 0.5 to 13 hours even without the post-hoc analysis. This data is unequivocally positive, and even without the post-hoc analysis, it gives some support to the claim that KP-415 kicks in within 30 minutes and lasts 13 hours. It most certainly kicks in within an hour and lasts 10 hours. This information alone is sufficient for FDA approval for a stimulant - especially given the Human Abuse Potential studies that I will discuss further below. I fully expect KemPharm to file an NDA in early 2019 and easily obtain approval in late 2019.
The Market Does Its Best Impression of ADHD
Despite these positive results, the market responded by slashing the market cap of KemPharm by 42%. There are two reasons cited for this. The primary one is that using the pre-specified Visit 5 baseline, the results on the SKAMP were not significant at 30 minutes or 13 hours. The secondary reason is that there are concerns about cash flow and the need for a dilutive secondary offering.
I'll address the second one of these first - KemPharm does indeed need to raise cash. However, they have multiple options at this point that do not require dilution. They have active discussions ongoing for their approved drug, Apadaz, that could generate some cash. The KP-415 results are excellent enough that Shire (SHPG) and others will almost certainly be interested in partnering or an acquisition. Shire has first right of refusal for KP-415, but I suspect that they may have some competition to drive up the bids. Ultimately, I think that if Shire-Takeda puts emphasis on their Neuroscience unit, then partnering with KemPharm for KP-415 is almost a no-brainer. It is an excellent complement to their #1 ADHD drug, Vyvanse.
However, even if partnerships for Apadaz or KP-415 do not come soon enough to help with cash flow, KemPharm could likely take on more debt based on what they have in Apadaz and KP-415. While this would not be the preferred route, it could avoid dilution (for now) and buy time until a partnership is made. In the event that KemPharm DOES choose to dilute, I suspect that there are quite a few investors ready to buy who have been waiting on clarification of cash flow. It could be a situation where dilution removes an uncertainty and the stock price actually goes HIGHER after a dilution.
Going back to the primary concern that led to the stock price tumble, I believe that the market was hyperfocused on something that is basically a distraction in my eyes. In fact, it reminds me of my favorite ADHD phrase (inspired by the movie "UP!")...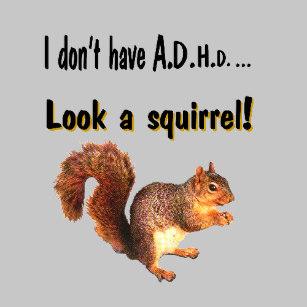 The market has somehow decided that not being statistically significant for SKAMP improvement at 30 minutes and 13 hours makes KP-415 almost worthless. One could argue that a market cap of 70 mil and enterprise value of 160 mil is reasonable for Apadaz and the pain pipeline alone - which would mean that KP-415 would be given no value. This is despite the following facts:
1) The PERMP was significant at 30 minutes and 13 hours - which may in itself be sufficient for FDA labeling of 30 minute onset and 13 hour duration
2) The FDA actually had suggested to KemPharm that Visit 6 be used as a baseline rather than Visit 5. Visit 6 was right before medication or placebo was taken at hour 0. Visit 5 was a week earlier. KemPharm chose Visit 5 over Visit 6 as a baseline due to worries about carryover effect that turned out to be misplaced. Had KemPharm chosen Visit 6 to begin with (which was strongly considered), then the post hoc analysis wouldn't have even been necessary. In my opinion, they should have chosen Visit 6 to begin with, but hindsight is 20-20, and I understand why they went with the Visit 5 option. Regardless - Visit 6 gives the true baseline of where the kids were on the morning of testing before KP-415 or placebo was given.
3) Once approved, physicians should be able to look at the data and will compare to clinical experience. Physicians prescribing KP-415 will already be familiar with Focalin XR and IR (dexmethylphenidate ER and IR). KP-415 contains 30% dexmethylphenidate IR (the rest is prodrug). Even without showing the data, this fact alone will tell physicians that onset will be close to 30 minutes. Many physicians won't even question the onset due to this. Duration will be more questioned, but the PERMP improvement out to 13 hours should be enough for physicians to give it a try - and then clinical experience will take over. I'm not sure how much it will matter if the FDA allows 13 hour post-hoc SKAMP analysis from the Visit 6 baseline or not. As long as they allow the PERMP data (which they will) - I think it will be sufficient. The post-hoc data would just be icing on the cake to strengthen the case.
The necessity of the post-hoc data to me is a squirrel that is in the area and therefore matters but shouldn't be the primary focus. It certainly shouldn't distract the market so much that it forgets about the good news.
Meanwhile, the Human Abuse Potential Data is Ignored
Lost in the distraction of the Visit 5 vs. Visit 6 discussion and the post-hoc data is what I consider to be the "secret sauce" for KP-415. I have said many times in previous articles that the Human Abuse Potential data is more important than the market seems to think. Let me compare two methylphenidate drugs:
Drug A:
30-minute onset
12-13 hour duration
Similar Addictive Properties to Most Long Acting Stimulants
Drug B:
1-hour onset (possibly 30 min)
10-hour minimum duration
Reduced Human Abuse Potential
I could make the argument that Drug A already exists... possibly 2 of them (although 30 minute data is lacking in long acting stimulants as a whole). Drug B is unique because of the Reduced HAP. Only one other stimulant (so far) has shown similar data. That was Vyvanse by Shire (a $2 billion per year drug). While Vyvanse has more impressive 13-hour data than KP-415, I believe that a large part of Vyvanse's success was because it was a prodrug with some HAP data. For this reason, I believe that Drug B would actually outsell Drug A. Now, let's compare the profile of KP-415 to Vyvanse. This is not exactly apples-to-apples because Vyvanse is an amphetamine, but it illustrates the point.
KP-415:
3 0min-1 hour onset (depending on SKAMP vs. PERMP)
10-13 hour duration (depending on SKAMP vs. PERMP)
Significantly Reduced Human Abuse Potential
Vyvanse:
1 1/2 hour onset
13 hour duration
Modestly Reduced Human Abuse Potential
I think a physician (like myself) looking at these head to head would view them as very competitive even if they did not find KP-415 to be superior. Yet KemPharm as an entire company has a market cap that is only 3.5% of the sales of Vyvanse this year. Even if the debt is included, the Enterprise Value is only 8% of the sales of Vyvanse this year. While I don't think it's a home run that KP-415 can equal Vyvanse sales (although I do believe it is possible), I think expecting 10% of Vyvanse sales may be a conservative estimate at this point. How many stocks that have completed Phase 3 and are filing an NDA can you purchase for an EV of less than 0.8x projected peak sales?
I will put one note of caution here: I am generally assuming that the Human Abuse Potential data for oral and intranasal is as impressive as the IV data. I believe that this is a reasonable assumption, but that is the one question mark I have that needs to be answered before a final peak sales projection. If both of these studies failed, then my peak sales projection could lower to as low as $50-100 million/year. In that instance, the current market cap would be near the projected peak sales number. Of course, this would be ignoring Apadaz and the pain pipeline, which I stated above are worth the current EV in my eyes.
Comparing What We Know About KP-415 to Current Long Acting Methylphenidates
Using my 7 key features of a stimulant (found in this article), I will now compare what we currently know about KP-415 to current long acting stimulants. Please note that I am leaving 2 long acting stimulants out of this comparison due to my speaking contract work for Tris Pharmaceuticals. This table is a compilation from the available studies as well as the clinical experience of myself and other child psychiatrists.

In the table, features where the compared drug are significantly better are marked in Green. Features where they are significantly worse are marked in Red. There is only one drug in the table that is superior on any of the 7 features (outside of generic vs. brand availability). That is Cotempla-XR-ODT by Neos Therapeutics (NEOS), which beats KP-415 on the fact that it can be taken by those who can't swallow pills without needing to open a capsule. KP-415 would require opening the capsule but could be mixed in almost any liquid or food. Outside of that feature, there is no methylphenidate that is significantly superior to KP-415 on ANY of the other 6 critical features. In contrast, KP-415 appears to be superior in at least 2 categories when compared to any listed methylphenidate other than Cotempla. It appears to be superior in at least 3 categories compared to any of the medications that are available generically. This will certainly need to be verified clinically in "real world" (not classroom laboratory) situations, but this is the reason that I believe KP-415 has excellent commercial potential.
Conclusions
It is my belief that the market is hyperfocusing on one aspect of the KP-415 study that, while important, is only a tiny part of the overall picture. That fact is certainly not a reason for a 42% decline in the stock price. The cash flow concerns are real, but I believe that partnerships will materialize soon. Any other cash raise would at worst be a short term negative but may ultimately prove to be a positive catalyst due to removing uncertainty.
KP-415 is headed towards approval, and it is my estimation that it will be a $200 million/year drug at the least. I certainly believe that the potential is there for it to be much higher with the right partnership and marketing. I fully expect KP-415 to be the most successful commercial stimulant since Vyvanse - the question for me is how close can it get?
Author's note: Thank you for reading my article. Please follow me for additional articles covering the biotech space with an emphasis on neuroscience. As always, I will disclose below which drug companies I have mentioned in the article for which I am the recipient of direct marketing. My articles include my personal opinions and are neither financial nor medical advice. They are solely intended to show my perspective and due diligence on a given subject. Please consult with the proper professional if you are looking for specific advice for your situation.
Editor's Note: This article covers one or more microcap stocks. Please be aware of the risks associated with these stocks.
This article was written by
I am a Physician (Board Certified in Child Psychiatry, Adult Psychiatry, and General Pediatrics) and I have been an investor in individual biotech companies for about 7 years. I first published on Seeking Alpha in 2014 and began writing regularly in mid 2017. My focus is finding value in Biotech companies while also reviewing technical aspects of their stocks.  I concentrate on Neuroscience companies and share my perspective in this area.
Analyst's Disclosure: I am/we are long KMPH. I wrote this article myself, and it expresses my own opinions. I am not receiving compensation for it (other than from Seeking Alpha). I have no business relationship with any company whose stock is mentioned in this article.

I am contracted to speak for Tris Pharmaceuticals, a private company whose interests include 2 ADHD medications that were not included in this article due to this relationship. I have had ~4 marketing lunches provided to my office in the last year by Shire and Neos. I have never had direct marketing from KemPharm. I anticipate that all of these companies may/will provide additional marketing lunches in the future. I have never been paid by any of the public companies mentioned for speaking or writing articles.
Seeking Alpha's Disclosure: Past performance is no guarantee of future results. No recommendation or advice is being given as to whether any investment is suitable for a particular investor. Any views or opinions expressed above may not reflect those of Seeking Alpha as a whole. Seeking Alpha is not a licensed securities dealer, broker or US investment adviser or investment bank. Our analysts are third party authors that include both professional investors and individual investors who may not be licensed or certified by any institute or regulatory body.