Intrinsic Value Of Acadia: Deep Dive And Financial Analysis
Summary
Historical safety and efficacy data of NUPLAZID.
Forward looking on revenue growth & expansion of other indications.
Valuation by DCF model: bull for long term; weak and volatile for short term.
The stock price of ACADIA Pharmaceutical Inc. (NASDAQ:ACAD) dropped >60% in the last 9 months from ~40 to 14-ish. A few reasons may explain this dramatic fall including 1) lack of catalyst in terms of clinical readout and market/regulatory events; 2) concerns on sustained revenue growth; 3) negative opinions brought up recently on the safety/efficacy profile of Nuplazid. More than dozens of articles on ACAD were published in Seeking Alpha in the last 3-5 years; however, the author thinks it is worth to do a deep dive to revisit the revenue growth potential and recent catalysts. In addition, financial models were conducted for equity valuation based on the probability of success to expand indications for the sole product, NUPLAZID. In summary, the recent weakness in the stock price greatly reduced the downside risk of ACAD. The weakness of stock price might remain in the next 3-6 month due to two upcoming binary events but it also creates a good entry point for long-term investors.
Historical safety and efficacy data of NUPLAZID
Key takeaway
1. Highly unmet clinical needs, the only FDA-approved drug for this indication and extremely high burden on society.
2. A unique mechanism for treatment of PDP without compromising Parkinson disease. Adequate efficacy including 13% placebo –subtract complete response (no psychosis symptoms after treatment).
3. Comparable safety profile to previous "standard of care" (off-label use of antipsychotics) and no new risk identified in the 2-year real-world practice.
4. Very low risk for imposing additional restriction on its medical use, and the impact on the sales should be minimal and temporary.
Nuplazid® (pimavanserin) is the sole product for ACADIA and it is currently used for the treatment on Parkinson disease psychosis (PDP). Recently, the "controversial" efficacy and safety profile, and the unsmooth development/approval process were brought up again by news (media) on April 9, April 25, and covered by a (short report) on Jul 9, 2018. Those negative opinions triggered concerns on the revenue growth potential for ACAD. It is not surprising to see very different views because of the complexity in understanding the risk and benefit of this medicine. Several key critiques were raised in those reports as shown below.
1. "Poor" safety profile including higher serious adverse events and death compared to the placebo in the clinical trials and FDA Adverse Event Reporting System (FAERS) post-approval
2. "Weak" efficacy and several failed clinical trials prior to a single successful phase 3 trial which leads to the approval
To better understand these criticisms and the risk associated with them, below is the analysis of both safety and efficacy data.
Deep dive of safety data
First, Parkinson disease psychosis (PDP) patients belong to an elderly population and death associated with PDP is unfortunately a relatively common event. Mean survival times of 2-4 years are accepted in the literature as valid estimates for PDP patients according to (FDA document) (page 20). From drug prescription (information), the clinical trial database for NUPLAZID consists of over 1200 subjects and the mean age was about 71 years at study entry in the controlled trial settings. An epidemiology study recently confirmed that in the cohort of PD patients with psychosis was significantly higher than in the cohort of PD patients without psychosis (28.2 vs 7.3 deaths per 100 patient-years; p<0.0001) (ACADIA response). The fact that roughly 11% (51/459 in the pimavanserin long-term trial, and over 300 patients have been treated for more than 6 months; over 270 have been treated for at least 12 months; and over 150 have been treated for at least 24 months) of the pimavanserin-exposed patient population with PDP died appears lower than 28.2 deaths per 100 patient-years mentioned in the epidemiology study.
Secondly, it is commonly observed that other antipsychotic drugs have higher adverse effects than placebo as well. Analysis of 17 dementia-related psychosis placebo-controlled trials for antipsychotic drugs revealed a risk of death in the drug-treated patients of between 1.6- to 1.7- times that in placebo-treated patients. For Nuplazid's case, serious adverse events occurred in 7.9% patients taking pimavanserin 34 mg versus 3.5% placebo-treated patients in the PDP population (FDA document), which is comparable to other antipsychotic drugs.
Thirdly, the attack on the adverse events including death reported for Nuplazid in FDA Adverse Event Reporting System (FAERS) is not a valid argument. As FDA mentioned in the website, FAERS data alone cannot be used to establish rates of events, evaluate a change in event rates over time or compare event rates between drug products. Just to satisfy curiosity, the author did look at the adverse events of Pimavanserin, as well as other commonly used antipsychotic drugs in FAERS and compiled the data below. Based on the sales in the last few quarters, an average 30-40 million revenues were recorded and monthly cost of Nuplazid® (pimavanserin) is ~ $2000. It translates to roughly 6000-7000 patients were taking this drug (35 million/$2000/3-month=5833 patients) in the last two years given ACADIA provided 28-/14-day free sampling program for new patients in the past. A simplified calculation shows that 10-15% death rate (887/6000=14.7%) in the real-world post approval. Assuming majority patients taking the medicine with an average of six-month duration (a conservative estimation given the product is on the market for >1.5 years as of Mar 2018 and the drop off rate is low after the first couple months), it is in the ball park with the historical death rate of 28.2 deaths per 100 patient-year. The serious/death cases for other antipsychotics also provide some background information for general tolerability/safety signals within antipsychotic drugs.
Reported serious adverse events and death cases in FAERS for antipsychotic drugs including Pimavanserin
| | | | |
| --- | --- | --- | --- |
| Drugs | Serious cases | Death cases | Data collection since |
| Olanzapine | 38761 | 6950 | 1996 |
| Quetiapine fumarate | 36918 | 4686 | 1997 |
| Clozaril | 38659 | 7996 | 1989 |
| Pimavanserin | 2184 | 887 | 2016 |
Data as of March 31, 2018.
On April 10, 2018, the FDA stated that based on adverse events reported with NUPLAZID that are submitted to the FDA Adverse Event Reporting System, the FDA has, at this time, not identified a specific safety issue that is not already adequately described in the product labeling." On April 25, 2018, the FDA stated again that its evaluation does not mean the Agency has determined the medicine has a new risk and does not suggest healthcare providers should not prescribe it nor that patients should stop taking the medication (Press release).
Last but not least, ACADIA initiated a safety study in May 2018 to assess the safety and tolerability of pimavanserin compared to placebo in adult and elderly subjects with neuropsychiatric symptoms related to neurodegenerative disease (ClinicalTrials.gov Identifier: NCT03575052). This new clinical study is most likely designed to address a specific safety question raised recently. This is a Randomized, Double-blind, Placebo-controlled, 300-patient study and expect to complete by May 2021. After reviewing patient inclusion/exclusion criteria and based on all the historical safety data (consists of over 1200 subjects) observed so far, we don't think the result from this 300-patient study will change the conclusion of risk assessment which was already described in the black box labeling. The good thing is this study will provide a definite and clear answer, and relieve patients/physicians/investors' safety concern from long-run perspective.
Understanding of significant unmet clinical need & Efficacy
First of all, Nuplazid® (pimavanserin) is the first and only FDA approved drug for PDP treatment. The previous treatment for PDP patients is off-label use of other antipsychotic drugs (such as clozapine, quetiapine) which had not been evaluated by FDA for this indication. In addition, PDP is a significant unmet clinical need which leads to high mortality rate and extremely high burden for caregiver/family as well as the whole society (Reference for background).
Secondly, pimavanserin is a selective serotonin inverse agonist (SSIA) so it selectively blocks serotonin 5-HT2A receptors but avoids blocking dopamine and other receptors commonly targeted by antipsychotics. This is a distinguished advantage compared to other antipsychotics as typical Parkinson's disease therapy consists of drugs that stimulate dopamine to treat patients' motor symptoms. NUPLAZID does not interfere with patients' dopaminergic therapy and therefore does not impair their motor function (Product description).
Thirdly, statistically significant differences on the primary, secondary and exploratory endpoints were achieved in a single phase 3 pivotal trial. The primary endpoint was the SAPS-PD, a modified 9-item Scale for the Assessment of Positive Symptoms [SAPS] hallucinations and delusions score. The secondary measures of efficacy were the Clinician Global Impression-Severity (CGI-S) and Clinician Global Impression-Improvement (CGI-I). Exploratory endpoints included the scales for outcomes in Parkinson's Disease-sleep and the caregiver burden scale. All these efficacy endpoints showed statistically significant difference as well as clinical meaningfulness. More impressively, a placebo-subtracted 13% complete response (the percent of patients on drug who had their hallucinations and elusions symptoms reduced to zero at endpoint after being at least moderately ill at enrollment) was demonstrated in the clinical trial. >50% patients has >5 points improvement which deem to be clinical meaningfulness (FDA Briefing Document). As a result, Psychopharmacologic Drugs Advisory Committee (PDAC) voted (12-2) that the benefits outweigh the risks for Nuplazid® (pimavanserin) in Mar 2016.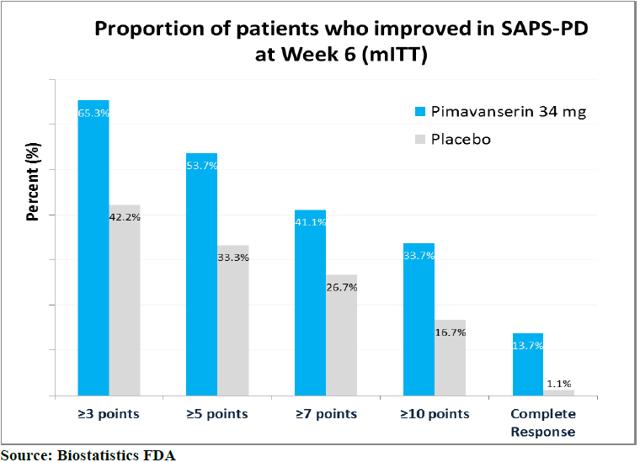 SOURCE: FDA slide-deck for AD COM
Some common criticism for Nuplazid's development/approval process
1. Approved by a single phase 3 pivotal study
Due to significant unmet clinical needs, pimavanserin was granted a breakthrough designation in 2014 for PDP. In April 2013, ACADIA met with FDA and gained agreement that an NDA would be accepted for filing on the basis of data from a single, strongly positive study (ACP-103-020) with supportive safety and efficacy data from earlier trials (Press release). FDA usually requires evidence of more than one positive, adequate, and well-controlled trail for drug approval; however, this is not uncommon for a highly unmet clinical needs and the regulatory agency has the authority to justify this (Approval based on a single pivotal study). About one-third of new drugs introduced in the U.S. from 2005 to 2012 were approved by government regulators on the basis of a single large clinical trial (link).
2. Three failed clinical trials prior to a pivotal phase 3
There are a few reasons for three failed clinical trials prior to a successful pivotal phase 3 trial.
1) Lower doses tested. 8.5 mg and 17 mg were tested in the first few attempts and it was found later that 34 mg is an efficacious does;
2) Study inadequately powered and unexpected high placebo effects. The previous study did show positive trend indicating efficacy, but it did not show statistically significant difference due to high placebo effect and inadequate power (FDA medical review)
3. Endpoints changed from 20-item SAPS to 9-item Schedule for the Assessment of Positive Symptoms – Parkinson's Disease (SAPS-PD) scale
Scale for the Assessment of Positive Symptoms (SAPS) was originally used as the primary efficacy variable. This scale, which was originally developed for schizophrenia, failed to show a statistically significant improvement in psychosis symptoms in three of the trials. Considering these results, Acadia met with the FDA in 2010 and got agreement to adjust SAPA to a 9-item scale to improve clinical relevance for PDP. In my opinion, this is a pre-defined efficacy variable before the pivotal phase 3 trial and has scientific rationale to justify for it as it is more relevant to PDP compared to previous 20-item scale which is originally developed for schizophrenia. Since then, this 9-item SAPS-PD scale was used in the pilot study of nelotanserin (developed by AXON) in patients with dementia with lewy bodies (DLB) and Parkinson's disease dementia (Reference).
Forward looking on revenue growth & expansion of other indications
The driver for stock price appreciation depends on the future revenue growth in PDP and expansion to other indications on Nuplazid®. Below is the summary of all indications that Nuplazid® (pimavanserin) is expanding with probability of success and projected market penetration.
Indications

When to have Clinical readout

Clinical stage

Probability of success

U.S. Patients

Projected % Market

penetration

Parkinson disease psychosis

Approved in 2016

Approved

N/A

~72,000

>60%

Demntia-related psychosis

1Q 2020

Phase 3

>75%

>600,000

25%

Schizophrenia negative symptoms

2Q 2019

Phase 2

50-60%

~500,000

5%

Schizophrenia inadequate response

1Q 2019

Phase 3

30-40%

~700,000

3%

Major depressive disorder inadequate response

4Q 2018

Phase 2

30-40%

~1 million

3%
Source: clinicaltrial.com, company presentation, author's projection
Revenue growth potential for PDP
Two key factors determine the revenue growth for PDP, 1) competition from other generic antipsychotics; 2) continued education to raise awareness
Some antipsychotic drugs, such as clozapine, were used off-label as "standard of care" for PDP before Nuplazid was approved in 2016. The drawbacks for clozapine use are dose titration (start from low dose) and white blood cell monitoring due to leukopenia concern, but the efficacy of clozapine looks comparable to pimavanserin for PDP as shown below.

Source: P Pollark, 2003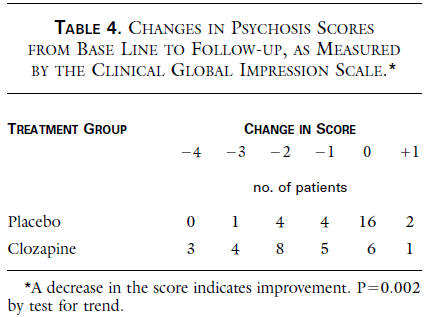 Source: Parkinson study group, 1999
Although Nuplazid® (pimavanserin) is the only approved drug for PDP, the competition with generic clozapine is a realistic concern due to cost-effectiveness consideration and previous usage history. Clozapine is a generic drug with the annual (cost) less than $1000. In comparison, Nuplazid® with an annual cost of $24,000 is much less favorable from payer's perspective. Based on 3Q 2017 earning call, the management announced that Nuplazid® is considered the first line choice for PD psychosis by 43% of movement disorder specialist. Also from Nuplazid's clinical data, there are >53% patients who can get significant clinical benefits (more than 5 points change in SAPA-PD). Therefore, 60% market share is a conservative estimation for peak sale projection.
Market analysis: The (Reference) shows that at least 60,000 new PD patients are diagnosed every year in the US, and 40% of them (Reference) will develop psychotic symptoms eventually with an average of 3-year survival time, this is a market with at least 72,000 PDP patients requiring therapy every year (a conservative estimation without considering existing patient population). However, historically, physicians and patients have focused mainly on treating the motor symptoms of Parkinson's disease without emphasizing the psychosis treatment. Based on the revenue (~49 million) reported in 1Q 2018, only ~8000-9000 patients are estimated taking this drug currently, which represents <15% market penetration after 2-year product launch. This demonstrated the importance to further raise awareness within physician and patients to get benefit from Nuplazid. From a different angle, it also indicates lots of room for sustained growth.
Peak sales: Assuming an annual drug price increase at 10-15% (mentioned in previous earning call that the price increase is comparable to other drugs in the pharmaceutical industry), $35,000 is assumed as an average Net price in next 5 years given some discounts for Medicare and commercial payers. Therefore, the peak sales of $1.5 billion for PDP (60%*72,000 patients*35,000 annual cost) seems reasonable. We only consider the US market in the valuation as the EU market is more sensitive on cost-effectiveness and no clear EU approval timeline yet. The sale projection will be used in DCF model later in the article.
2. Probability of success for Demntia-related psychosis and market potential
Key takeaway: High POS for the phase 3 trial and large market potential. However, late clinical readout may not move the needle in the short term.
The previous phase 2 clinical study (Study-019) evaluating Demntia-related psychosis demonstrated clinically meaningful and statistically significant efficacy of pimavanserin over placebo on the primary endpoint as measured by the Neuropsychiatric Inventory-Nursing Home (NPI-NH) psychosis score at week 6 of dosing (p=0.0451) and more severe psychosis patients got more relief as shown below (Reference). In that study, pimavanserin demonstrated antipsychotic effect without impairing cognition, which is a distinguished advantage compared to other antipsychotics.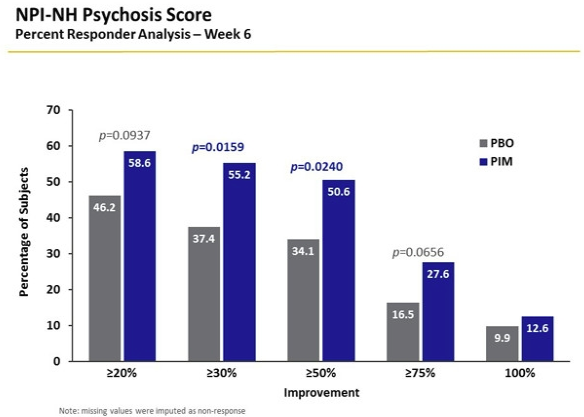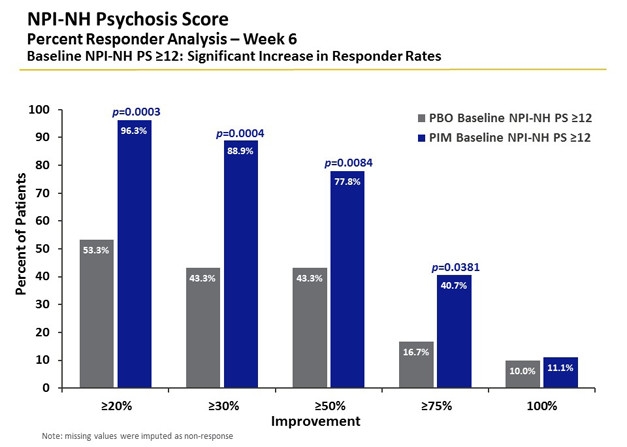 Source: news
Currently, there is no FDA approved drug for patients with AD psychosis. The FDA has granted Breakthrough Therapy Designation (BTD) to pimavanserin for dementia-related psychosis in Oct 2017 (Press release). More importantly, FDA has agreed to an efficient development path for this important program. Following an End-of-Phase II meeting with the FDA, ACADIA believes that robust positive results from one Phase III Study, together with supported data from prior studies with pimavanserin could serve as the basis of a supplementary New Drug Application (2017 Q3 earning call).
Phase3 trial design leads to high POS: the study design was agreed by the FDA and the primary endpoint is to compare the relapse time between treatment and placebo group. As shown below, only the responders screened from the first 12-week open label study will be randomized to the double-blind period for the final 26-week study. Based on the management comment in 2017 Q3 earning call, they are recruiting moderate to severe psychotic patients, and will monitor response at both week-8 and week-12. Only patients that have a stable response and meet improvement criteria at both time points will be randomized to the double-blind phase.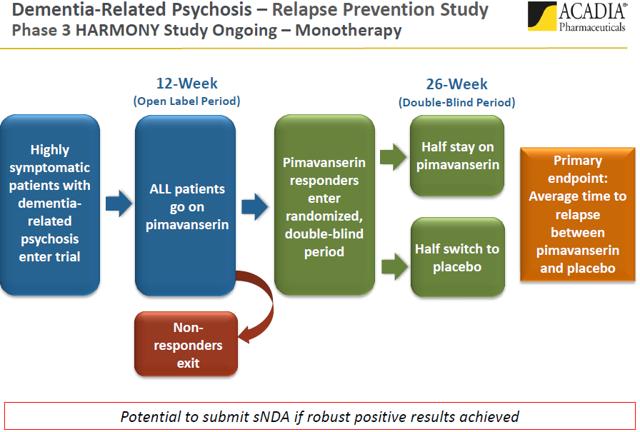 Source: company presentation
1) The response criteria was not clearly defined yet, but based on the phase 2 data, patients with 20, 30% or 50% psychosis score improvement might be defined as responders. It represents 50-80% patients screened in the open-label will move forward by eliminating 20-50% patients who have less response.
2) The definition of relapse is not defined yet. Based on other Alzheimer disease clinical trials, 30% increase of psychosis score might be defined as relapse. What will be considered acceptable difference on relapse time between treatment and placebo was briefly discussed in 2017 3Q earning call and ACADIA believes that >20% relapse time difference is considered clinical meaningful. There is a concern from previous phase 2 study that the effect of pimavanserin was not statistical significance by large placebo effect at week 12 (Pimavanserin Phase 2 ADP paper). However, another trial evaluating (Risperidone) for the use AD psychosis showed that a significant difference on relapse time between Risperidone and placebo group by end of 16 week with a total of 180 patients. The whole evaluation period is 26-week; therefore, the chance to fail this phase 3 trial is small considering comparable efficacy we saw before between Risperidone and Pimavanserin (elaborated in the next paragraph) and a total of 360 patients recruited in the current study to have sufficient power to mitigate large placebo effect. Overall, we assign 75% of POS for this P3 trial considering 25% of probability of failure due to unexpected strong placebo effect.
Market potential: the patient population for all dementia-related psychosis is much bigger than PDP alone as it includes alzheimer's, Lewy Body, vascular and frontotemporal dementia. New Alzheimer patients are 400,000 every year (Alzheimer statistics), and 30% of them will develop psychosis with an average 4.5-year survival time (reference). It translates to 600,000 AD psychosis patients receiving treatment every year. However, it faces the same challenge encountered by PDP marketing efforts which is the competition from other generic antipsychotics and raising awareness. The good news is that Pimavanserin appears to have comparable or even better efficacy than other generic antipsychotic drugs in dementia-related psychosis based on the phase 2 clinical data. The effect size of risperidone on treating dementia-related psychosis is 0.2 (Review) while the effect of size of Pimavanserin is 0.32 for pooled dementia patients. Patients with more severe symptoms showed better response to treatment with an estimated effect size of 0.29 for risperidone whereas 0.73 for Pimavanserin (P2 data). We noted the caveat of comparing clinical data from different clinical trials, but at least it suggested Pimavanserin has impressive efficacy for severe psychosis patients (the effect size of 0.73 is very much clinical meaningful) and may outperform generic antipsychotics in severe psychosis patients which account for ~30% of dementia-related psychosis population. In theory, the addressable market for Pimavanserin on AD psychosis is risk-adjusted ~4.5 B (75% of POS for the clinical results) given a conservative 30% market share. Considering only six years remaining for the commercialization (assuming this indication will be approved by 3Q 2021) before the patent expires by Jun 2027 and the gradual market penetration, the peak sale for Pimavanserin on dementia-related psychosis is adjusted as ~3B.
One thing worth to mention is this Phase 3 study has a late clinical readout until 1Q 2020. Considering the time needed for preparing NDA submission and FDA reviewing, the meaningful impact of this indication expansion on revenue will be early 2022 at the earliest. Therefore, although the market of dementia-related psychosis is large with high POS in phase 3 trial, the stock price may not be much impacted by this indication in the next 3-6 months.
3. Probability of success for Schizophrenia and market potential
3.1 Schizophrenia negative symptoms
Key takeaway: Moderate (~50-60%) POS for the phase 2 trial due to previously positive results on Schizophrenia negative symptoms from Pimavanserin/other 5-HT2a receptor targeted drugs, and generally weak efficacy from other antipsychotic drugs
The current phase 2 clinical trial (ADVANCE) is to evaluate efficacy and safety of Pimavanserin as Adjunctive treatment for the negative symptoms of Schizophrenia by comparing "pimavanserin + other antipsychotic drugs" with "antipsychotic drugs + placebo". Treating negative symptoms in schizophrenia has always been a challenge and currently there is no FDA-approved treatment for Schizophrenia negative symptoms (loss of interest, emotional withdrawal, etc).
The previous study showed that significant efficacy enhancement of pimavanserin over risperidone LD was observed for both positive and negative symptoms (Press release). In addition, two 5-HT2a targeted drugs showed positive effect on negative symptoms. 1) ITI-007/ Lumateperone (Developed by ITCI) is in the Phase 3 to evaluate its effect on negative symptoms and it showed a positive effect in improving negative symptoms in patients in a way that appeared greater than risperidone (news). 2) MIN-101/ Roluperidone, an antagonist of the Sigma-2 and Serotonin 5-HT2A receptors developed by (NERV) showed a statistically significant difference in PANSS negative factor score, with lower scores for the MIN-101 32 mg/day and 64 mg/day groups compared with the placebo group (effect sizes, d=0.45 and d=0.57, respectively) (Reference). The success of other 5-HT2a receptor targeted drugs de-risk this clinical trial to some extent although both of them have some other receptor targets.
Market potential: since no FDA-approved treatment for Schizophrenia negative symptoms, the overall market is large. However, a few drugs with the similar mechanism targeting 5-HT2a receptor (ITI-007 and MIN-101) are in phase 3 trials. Pimavanserin is 2 years behind and it may lead to significant market disadvantage if all of them show similar efficacy.
3.2 Schizophrenia inadequate response
Key takeaway: low-moderate POS for the phase 3 trial due to high bar for success on Schizophrenia inadequate response
The current phase 3 clinical trial (ENHANCE) on Schizophrenia inadequate response is to compare efficacy of "pimavanserin + other antipsychotic drugs" with "antipsychotic drugs + placebo". It is built upon a positive phase 2 back to 2007 (Press release) which evaluated two co-therapies, Pimavanserin/Risperidone and Pimavanserin/Haloperidol. Co-administration of pimavanserin/risperidone demonstrated a statistically significant efficacy measured in Positive and Negative Syndrome Scale (PANSS) as compared to the risperidone low-dose arm (p=0.01), and similar efficacy to the risperidone high dose arm. In comparison, co-administration of pimavanserin/haloperidol showed improvement compared to baseline but did not show statistical difference comparison to haloperidol alone.
An analysis of phase 2 results and the other competitor indicated a high risk for the ongoing phase 3 trial.
1) The Patient inclusion criteria in P3 trial stated " Has had a partial but inadequate response to antipsychotic treatment". Typically for the patients who do not respond well to medication, high doses are often used. For risperidone (dose), 2 mg is an ultra-low dose and 4-6 mg is standard-lower dose range. It is clear at 6 mg dose, co-administration of Pimavanserin/Risperidone did not further improve efficacy compared to Risperidone alone. Similarly, co-administration of Pimavanserin/Haloperidol did not show statistical difference comparison to haloperidol alone neither.
2) ITI-007 (ITCI), a potent 5-HT2a antagonist (also targets D2, D1 and SERT), showed a similar efficacy in Schizophrenia patients compared to 4 mg Risperidone at two studies (ITI-007-005 and ITI-007-032) (Press release). Although this is not an apple-to-apple comparison due to other receptors' involvement, it can provide a general idea of the efficacy which we can expect from blocking 5-HT2a pathway.
It is fair to mention the rationale to move to this phase 3 trial is partially based on an observation that about 50% more patients in the Pimavanserin/Risperidone arm responded to treatment compared to each of the risperidone LD (p< 0.008) and risperidone HD (p< 0.03) arms. A responder was defined as a patient showing at least a 20% reduction in the PANSS (Press release).
Another thing worth to mention is that typically two phase 3 trials for Schizophrenia indication are required before regulatory submission. So even this one is successful, another phase 3 is required and it introduces additional uncertainty as ITI-007 succeeded in the first P3, but failed at the second one due to large placebo effect (Press release). From discussion above, we would assign 40% of POS for this indication in the phase 3 study.
Market potential: The second P3 clinical trial will be completed by 2Q 2021 (clinicaltrial.com), so the earliest time for this indication expansion will be late 2022. In addition, with so many generic drugs approved by FDA on Schizophrenia, it is hard to compete with those generic antipsychotics due to high cost unless the efficacy is much better. Therefore the impact of indication expansion of schizophrenia on the revenue will be much less compared to PD and AD psychosis even both P3 trials are successful by 2021.
4. Probability of success for Major depressive disorder and market potential
Key takeaway: low-moderate POS for the phase 2 trial due to high bar for targeting patients with inadequate response to standard antidepressant therapy
The current standard therapy to treat depression includes Selective serotonin reuptake inhibitors (SSRIs), Serotonin and norepinephrine reuptake inhibitors (SNRIs) and Norepinephrine and dopamine reuptake inhibitors (NDRIs) (Reference). This phase 2 trial is to evaluate co-therapy of Pimavanserin + SSRI/SNRI in patients with major depressive disorder who have an inadequate response to standard therapy.
There were some 5-HT2a related drugs approved for depression, such as nefazodone and mirtazapine (Reference). Recently, Lumateperone/ITI-007 (a potent 5-HT2a receptor antagonist) started its phase 3 on the evaluation of bipolar depression based on the positive results in phase 2 trial. However, the effectiveness of 5-HT2a targeted drugs and SSRIs/SNRIs appears to be generally comparable from some limited historical data (Reference). It brought up a concern whether the co-therapy will behave significantly better than SSRI/SNRI alone. It is not clear whether ACADIA observed some positive trends in improving depression symptoms from some subgroup analysis in previous clinical trials. However, even some post-hoc subgroup analysis showed the trend, it does not guarantee a success. Without any prior data demonstrating it, we would assign <50% chance to be successful for this phase 2 clinical trial.
Market potential: The overall population for depression is large; however, as discussed above, there are many different types of drugs approved for depression so the competition is tough. If Pimavanserin is successful in this indication, it could serve as a second/third line therapy with a sizable market.
Valuation
We evaluate the equity with discounted cash flow (DCF) model. A few assumptions/inputs are listed below.
1. Weighted cost of capital (WACC)
Risk free rate=3.0%, beta=1.3, market risk premium=8.0%, Cost of equity = (3+1.3*8.0%=13.4%); since no debt, (WACC) is 13.4%
2. Future equity dilution
From company's financial statement, the average cash burn is around $250-300 million/year in the last 3 years. With the revenue increase at 50% over next few years, we expect the cash burn rate will decrease to $150-200 million/year. Based on current cash amounts (~$340 million by end of Q1 2018) and the reduced cash burn rate, another ~$500-700 million equity dilution/debt is needed before ACADIA turns to profitable by early 2021. It represents ~25-30% equity dilution for the existing shareholders. The current number of shares is 123 million, and we project 164 million of number of shares by 2027 (represents 33% dilution) in the DCF model.
3. Free cash flow to firm (FCFF)
We use FCFF to value the stock. Based on the last 2-year revenue growth rate. We assume the revenue will maintain 50% increase rate annually for the next three years. It can be breakdown to ~10-15% contributed by unit price increase and ~30-35% contributed by organic volume increase. It is consistent with management's guidance that the annual price increase will be comparable to the industry standard and a high single digital increase on the volume on a quarter basis. If no new indication expansion, the revenue growth rate will gradually decrease until it hit peak sales at 2026. If AD psychosis is approved in 2021, the revenue growth rate will re-accelerate from 2022 and maintain 50% increase rate. Gross profit margin is assumed at 90% (~90% gross profit margin in the last 4 quarters and with revenue increase this margin should maintain or even slightly higher due to greater economies of scale). SG&A increases proportionally with the revenue. Research & Development cost maintains the same increase trend until 2022, after that the research cost will dramatically reduce since no major clinical trials.
4. Terminal value
The generic pimavanserin patent (composition of matter) will expire in 2021, but the company has a series of patents covering the indications currently under development until Jun 2027. For small molecules, the patent cliff is steep and usually results in ~90% revenue loss at the first year after patents expire, so we assign -90% growth rate after Jun 2027. The terminal value after Jun 2027 is less than 3% of cash flow from July 2018- Jun 2027 in the DCF model.
Scenario analysis
We provide three scenarios to project peak sales and apply the projection values in the DCF model
Assumption

Bear case

Base case

Bull case

Indications (Probability of success in parenthesis)

1. PD psychosis

1. PD psychosis

2. AD psychosis (75%)

1. PD psychosis

2. AD psychosis (75%)

3. Schizophrenia negative symptoms (60%)

4. Schizophrenia inadequate response (40%)

5. Major depression disorder (40%)

Market breakdown by indication (adjusted by Probability of success & % market penetration)

$1.2 B

$1.5 B for PD psychosis

$3 B for AD psychosis

$1.8B for PD psychosis

$4 B for AD psychosis

$0.8 B for Schizophrenia

$0.5 B for Major Depression disorder

Market penetration

50% market share

60% market for PDP, 25% for ADP

70% market for PDP, 30% for ADP, 3-5% for others

Projected peak sales

$1.2 B

$4.5 B

$7.1 B
For bear case, revenues were projected based on the only indication, PDP, assuming all ongoing trials will be either failed or commercially unsuccessful. Also a conservative 50% market penetration was provided for this first-line therapy in PDP.
For base case, risk-adjusted revenues were projected based on PD and AD psychosis indications, assuming 60% and 25% market penetration, respectively. This valuation does not account for other indication expansion such as Schizophrenia.
For bull case, the risk-adjusted revenue on other indications was added. In addition, the market penetration is projected at 70% and 30% for PD and AD psychosis indication, respectively, to reflect the recognition of brand awareness.
Below are the calculated stock values from the DCF model with different (WACC) based on the projected peak sales in bear case, base case and bull case.
| | | | |
| --- | --- | --- | --- |
| WACC | Bear case | Base case | Bull case |
| 15% | 9.2 | 24.7 | 29.9 |
| 14% | 9.6 | 26.2 | 31.8 |
| 13% | 10.1 | 27.9 | 33.9 |
| 12% | 10.7 | 29.7 | 36.1 |
| 11% | 11.2 | 31.7 | 38.5 |
Source: this projection is conducted by author in Excel spreadsheet
Risk
This is a one-product company; therefore the risk is very high in case there is any unexpected adverse events (clinical readout, negative news, etc) occurring for this product. Also this product is to relieve symptoms instead of curing. Before its patent expires by 2027, there is some risk that similar mechanism drugs or even more revolutionary product (gene therapy etc) might be available to take away the market share.
In summary, the DCF model suggests a price target at $27 at base case, which represents ~80% upside. However, the bear case also suggests that the price could go down to ~$9-10 if all ongoing trials will be either failed or commercially unsuccessful. Given the forecasted low-moderate POS for two upcoming clinical readouts (inadequate response for depression and Schizophrenia at 4Q 2018 and 1Q 2019), and the temporary impact on revenue due to negative media report, the stock price may remain weak and/or volatile in the short-term. It will be a pleasant surprise if one or both of clinical studies are successful. For long-term investors, the weakness of stock price may create a good entry point considering a high POS for the AD psychosis indication which targets a lucrative market.
This article was written by
Scientist. Focus on Biotech/Pharma pipelines, clinical trials and regulatory approval updates.
Analyst's Disclosure: I am/we are long ACAD. I wrote this article myself, and it expresses my own opinions. I am not receiving compensation for it (other than from Seeking Alpha). I have no business relationship with any company whose stock is mentioned in this article.
Seeking Alpha's Disclosure: Past performance is no guarantee of future results. No recommendation or advice is being given as to whether any investment is suitable for a particular investor. Any views or opinions expressed above may not reflect those of Seeking Alpha as a whole. Seeking Alpha is not a licensed securities dealer, broker or US investment adviser or investment bank. Our analysts are third party authors that include both professional investors and individual investors who may not be licensed or certified by any institute or regulatory body.